The only times doctors have ever come near David's mouth was to shove a ventilator down his throat. Obviously he at least subconsciously remembers that since he refuses to let ANYONE (or anything) touch his mouth.
So I didn't figure this would be fun at ALL.
But the pediatric dentist we chose specializes in special needs kids, and it went better than I expected.
The dentist reminded me of Willie Nelson - ponytail and all - but he talked and played with David for a few minutes, until David was comfortable with him before attempting to look in his mouth. They also asked our nurse, Joni, to sit with him and hold him so David would feel even more comfortable.
Once he began working, David had a fit - but the dentist worked quickly and within a few minutes he was finished. He said that David's teeth look great. He has a couple of molars in the back that haven't completely come in yet, but to keep brushing with a soft toothbrush and it would help them finish breaking through the skin.
They finished by giving David two new toothbrushes and a couple of stickers, and we were out of there within an hour.
Anyways, here's the pictures.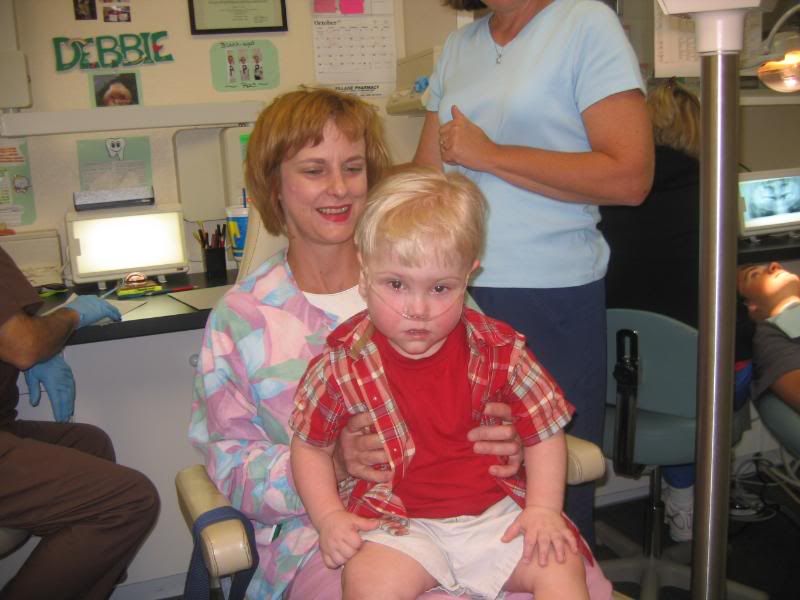 His sticker says "I made my first trip to the dentist today!"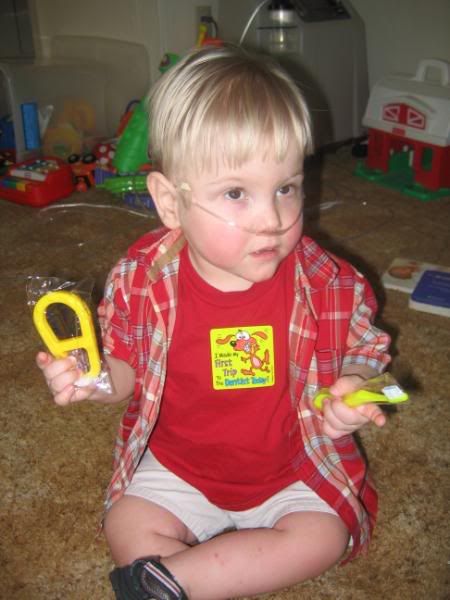 They want us to come back in 6-7 months.
*******
ECI asked me to fill out a questionnaire because they wanted David's story to be in their next newsletter as the feature!
Anyways, here's what I wrote.
Name: David Christopher
Parents: Javier and Samantha
Referred to ECI by: Northwest Texas Hospital
When: January 2006
Story: David was born on August 3rd, 2005 at 26 weeks gestation, weighing in at 1lb, 4oz. He spent the first six months of his life in the hospital. On January 23rd, we were finally released from the hospital and soon learned the challenges we were going to face in order to get David all the help he needed. The doctors had diagnosed David with cerebral palsy and periventricular leukomalacia, which is a type of brain injury due to lack of oxygen when he was very small. At six months old, David was not even able to hold his head up. We had what seemed like a million miles to go to catch him developmentally. And the almost constant trips to the hospital for weekend stays weren't helping - we couldn't seem to keep him home for more than a week without him getting sick - even though we were doing everything we knew how. The therapists were doing all they could to help him developmentally, but when he could hardly breathe, it was impossible to teach him to do much else.
On April 7th, 2006, our world changed. David was admitted to the hospital for dehydration - by the time he got there he had to be put on a ventilator to help him breath. That night, David went into pulmonary hypertension crisis. His heart stopped for two full minutes while the doctors tried desperately to bring him back to life. He was placed on a high frequency ventilator, which he stayed on for three days before being transferred back to a conventional ventilator. David was also put in a medically induced coma in order to keep him calm and prevent him from fighting the ventilator while his weak body was healing. He was finally taken off the ventilator on June 3rd. It was then that we were able to begin working with his muscles again. He stayed in the hospital until June 22nd, when we were finally allowed to take him home.
The doctors told us that even though David miraculously did not sustain any additional brain damage, the chances of him ever walking or leading a "normal" life were slim. Our family was not phased - we had faith in our little boy. ECI sent out their therapists - we qualified for physical, occupational, and speech therapy. David endured therapy nearly three times every week. It was a long, long road to get him to where he is today, but I'm happy to report that it has been 15 months since we've been in the hospital. David is 25 months old and he is cruising along the furniture! It won't be long until he's proving all the doctor's wrong by taking his first steps and learning to walk - even run! We still have a ways to go in order to catch him up developmentally, but our little miracle is growing and learning in leaps and bounds.
I like most about ECI: The best thing about the therapists is that they have as much faith in David as I do. They have extensive knowledge in their fields and always know different tricks to teach David how to do things that most kids learn on their own. All of our therapists, Linda, Angie, Annette, and Dana, plus our coordinator Julie - have always been there with me to praise David and help him to move forward. Whenever I feel discouraged about David's progress, one of the therapists will step in to remind me of how far he's come, and show me that he really is capable of doing so much now.
**********
I've decided on David's Halloween costume:
I can't WAIT!!!
******
Well, I did something stupid. Oops.
In case anyone is wondering - if you think a two year old will sit still long enough for an unexperienced person to wave scissors around their face, you're wrong.
That's right, I tried to cut David's hair.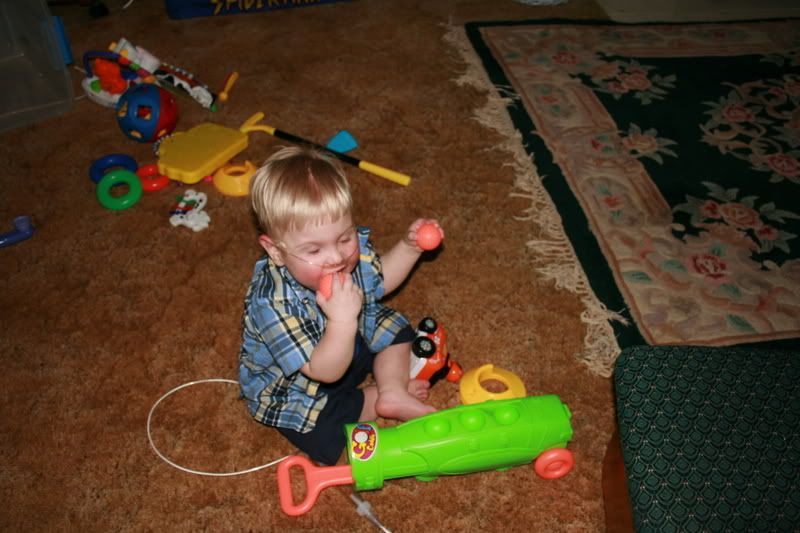 Oh well, it'll grow back.
*****
This is the doll that is the exact size and weight of David when he was born: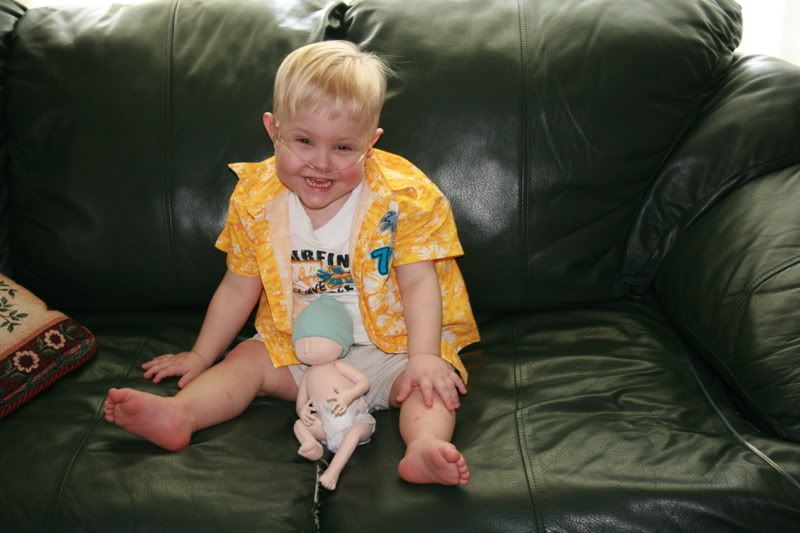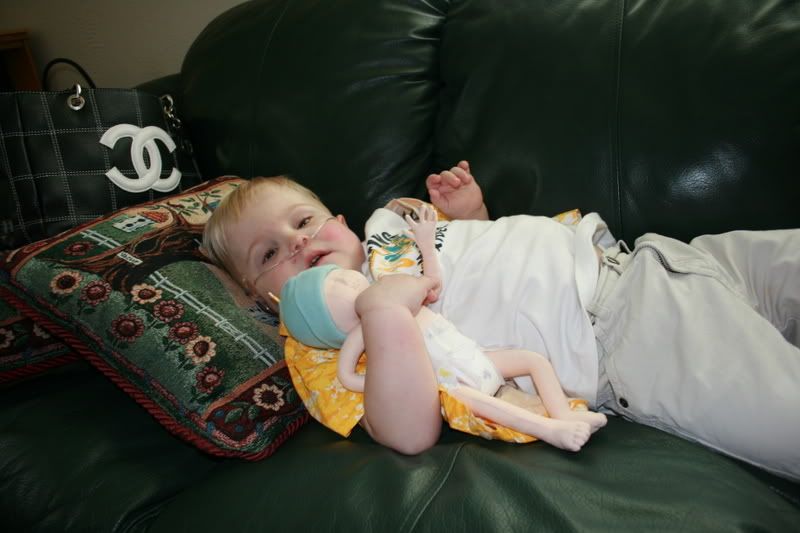 And I took this picture to show you his new "look"... if looks could kill...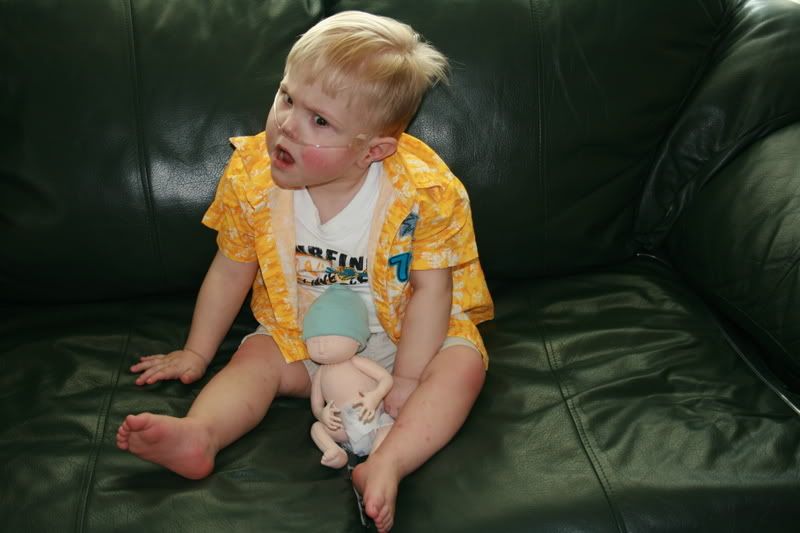 ******
BritKare came the other day and picked up the feeding pump because David is FINALLY tolerating bolus feeds. We haven't used the feeding pump in over a week now.
******
Last but not least, here's a couple of random pictures that were on my camera.
This is what David looks like when he's fake crying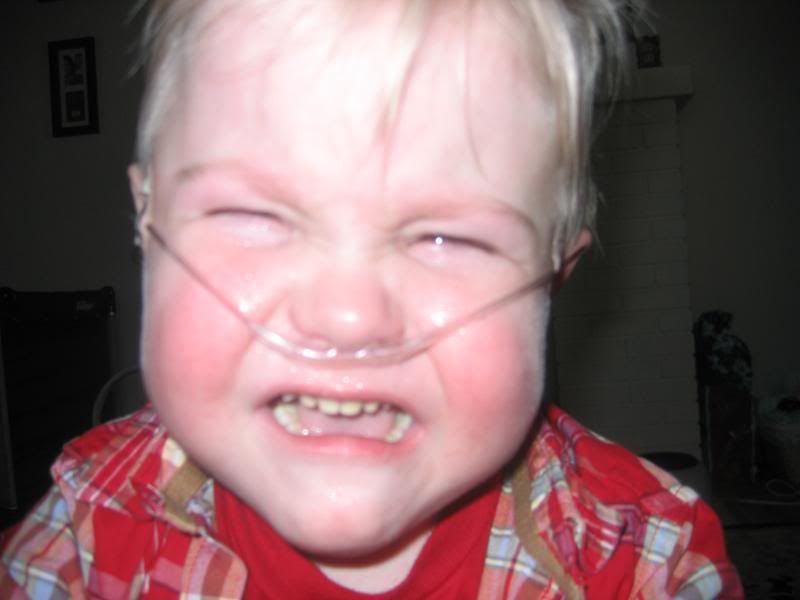 And a couple more of him in his spiderman pajamas - I just thought he looked cute.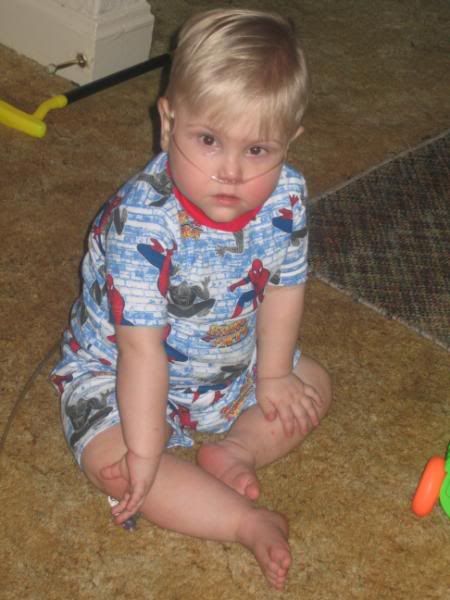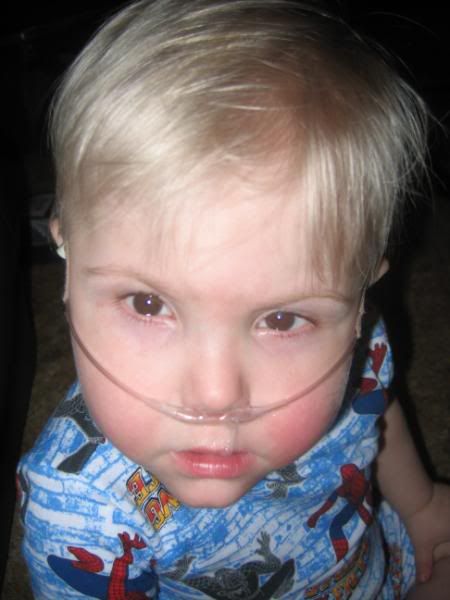 Gross. hahaha....