What a crazy year it's been so far. I didn't think we'd ever get out of winter. Every time I thought there might be a chance, the forecast would call for snow again.
But it's finally nice outside. And David's out for summer vacation - he only has one more year of PPCD before we have to decide what comes next.
Let's see.
My parent teacher conference with David's teacher was in January. I came out with lots of new ideas to work on in the future. Some of them include working on tearing apart velcro (to build strength in his hands) cutting paper, techniques on how to hold his hand so he can hold a pencil correctly, stringing beads with yarn, introducing him to different textures like shaving cream.
One idea I really liked was freezing a small object (like a small plastic letter or something) in ice and letting him figure out how to get it out. She said alot of what they work on this year is problem solving.
The same day, David had an appointment with the eye doctor. Which came just in time because he officially BROKE his glasses a few weeks before that. As in, broke them so bad they couldn't be fixed. So we went in and tried on new glasses.
David's teachers recommended me getting David some plastic frames instead of the wire ones. They said he would probably wear them better. So that's what we got.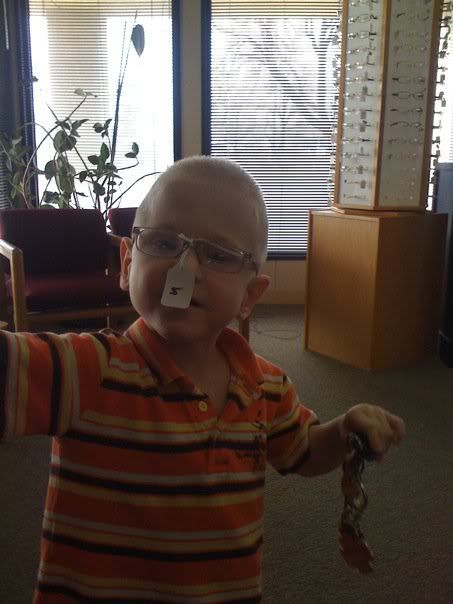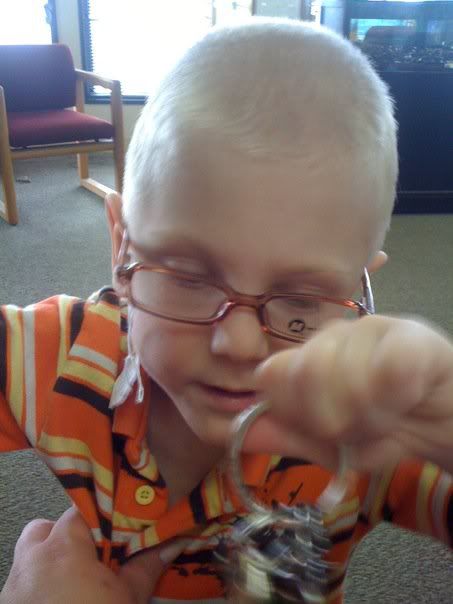 Those glasses worked for about three weeks before he broke them. Now we have a pair of glasses that are made out of rubber - they're called
MiraFlex
and they don't break. The Division of the Blind was kind enough to buy us a pair. Hopefully they'll hang in there for a while. There are some pictures of him wearing those down further.
Here's a picture of David after bathtime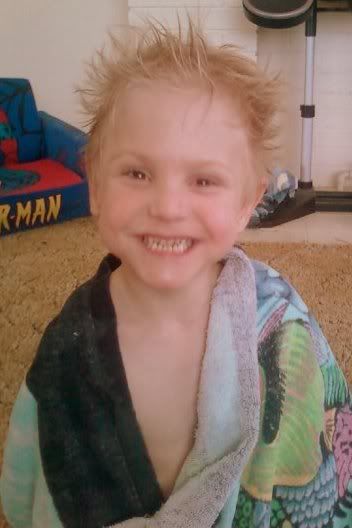 Our winter was seriously crazy this year. Here's a couple of shots of *one* snow storm we had.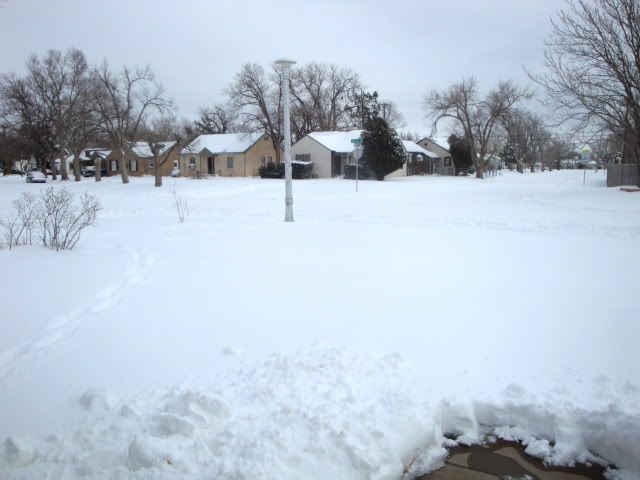 Every once in a while we would have a warm day thrown in there, but it was enough to be able to come outside and play, if only briefly.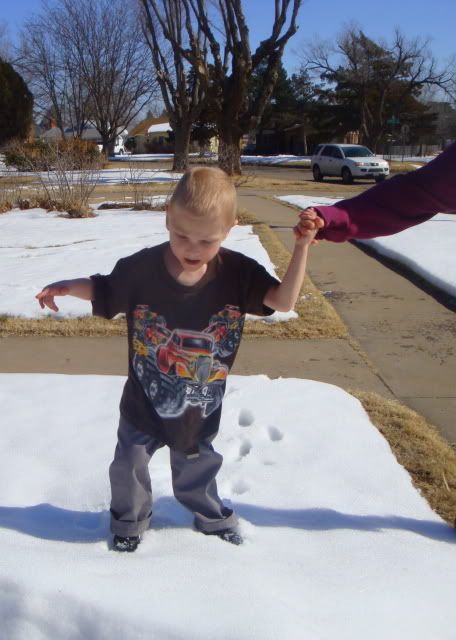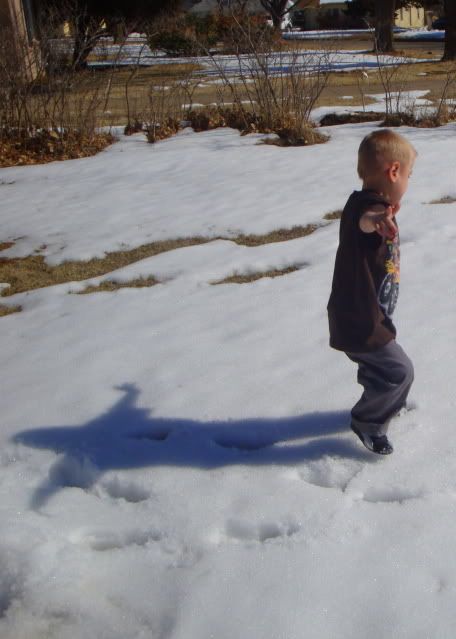 Here's some pictures from David's Valentine's Day party:
The whole class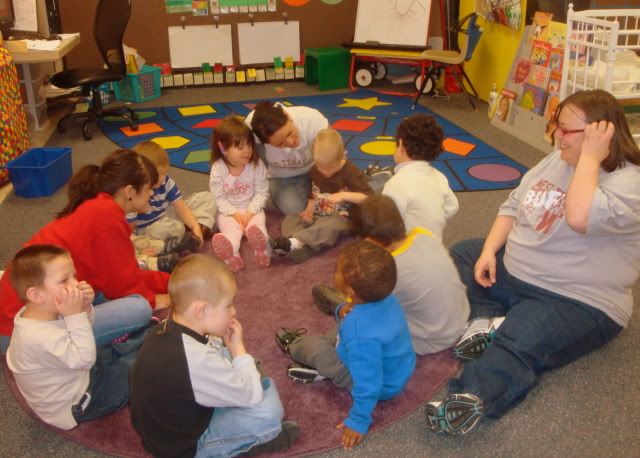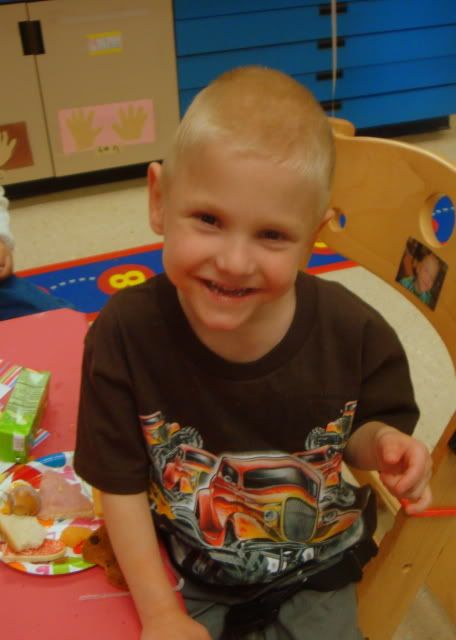 Ms Grooms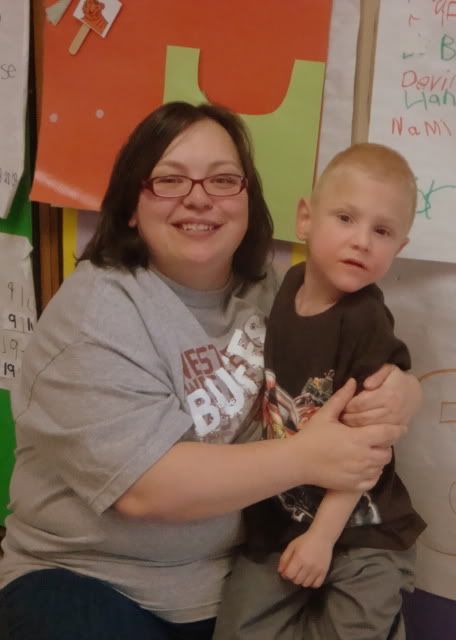 Ms Davis
Ms Hernandez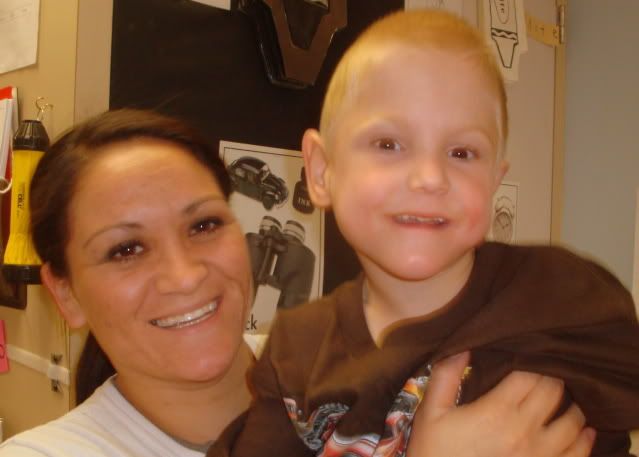 In March, I had a meeting with David's therapists. There's good news, and there's bad news.
The good news is, David's really blossoming in his speech! He's repeating more and more and is starting to use words in an appropriate manner. He's also eating really well and, just in the last 6 months, drinking really well. They were really pleased with how well he's doing in speech therapy.
More good news, David's doing really well during the physical therapy sessions they have in the pool. He's no longer in an inner-tube floating thing, he's just in a life jacket, and they don't have to hold on to him at all. They said that the pool helps him realize where his body is in space, which will help him have better balance when walking. Plus, they can work on things like jumping in there. He also gets speech in the pool once a week - which means a full hour in the pool - and they say that he talks soo much when he's in there.
The bad news is, in a twelve month period, David has only improved one month for occupational therapy. Occupational therapy involves fine motor skills, such as threading a shoelace through a bead, or putting together a puzzle. They said his attention span just isn't long enough to be able to do anything productive during the sessions.
They said that children will typically blossom in one area at a time - for instance, while a child is learning to crawl, walk, etc, they typically will not begin talking at the same time. Because of this, and the fact that he is doing sooo well in speech, they've decided to take him out of occupational therapy for right now. They also said that insurance will stop paying for the therapy if they cannot show that he is making improvement. So, instead of insurance saying "No more!" they've decided to stop it themselves, and reevaluate in 90 days or so. Once his attention span become better, they will pick him back up.
Also, because he's doing so well in physical therapy in the pool, they've cut out one session of physical therapy a week - so now, instead of doing one session on land and one in the pool, they're only going to do one in the pool.
Sooo... I have mixed feelings about this. On one hand, they're the experts. If they think that giving him a break from the occupational therapy for now will help him in the long run... then who am I to argue? On the other hand, I feel like I should be doing everything possible to help him, and cutting his therapy, when he is already so far behind in that particular subject, seems counter productive. To me, it's almost like saying "You're failing math. Therefore, you don't have to take it anymore."
Anyways. I'm going to try and enroll him in music therapy too because I think he would REALLY like that. But, I'm not sure how the insurance will work with that, and I don't know what they charge. I'm waiting on a phone call back from the lady that does it.
We also had a well visit in March. David is up to 34 pounds (yay!) and is 3ft, 4.5 inches tall. The doctor was VERY pleased with how he's gained weight, even with reducing the amount of formula we give him through his button. So, she suggested we cut out an additional formula feeding, and we go back in June to make sure he hasn't lost weight. So now, we're down to 18 ounces of formula a day - down from 42, which is where he was this time last year!! Hopefully soon, we'll be able to cut those out completely. Once that is done, and we can make him take his medicines by mouth, we can take out the button!!!! EEK!!
She is also going to look into ways to get kids off of Baclofen without making them withdraw (David is on Baclofen for his cerebral palsy - it's basically a muscle relaxer, and helps him not be so tight.) She said after she evaluated him, his muscles weren't tight at all and she thinks we may be able to go down to only taking it twice a day, instead of four times a day. That would be great! Currently, we're down to Baclofen four times a day, and Clonodine once a day. She said that we can slowly wean his Clonodine also. So... yay!
Here's just some random pictures:
At the park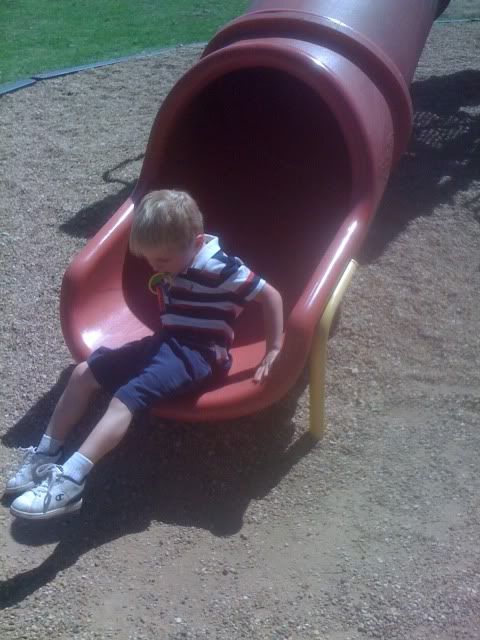 At the doctor's office for his hand - he got what I originally thought was a misquito bite, but after his hand got very swollen and Benadryl wouldn't help, I took him in - come to find out, he had a spider bite that turned into cellulitis. He's on antibiotics now and is fine.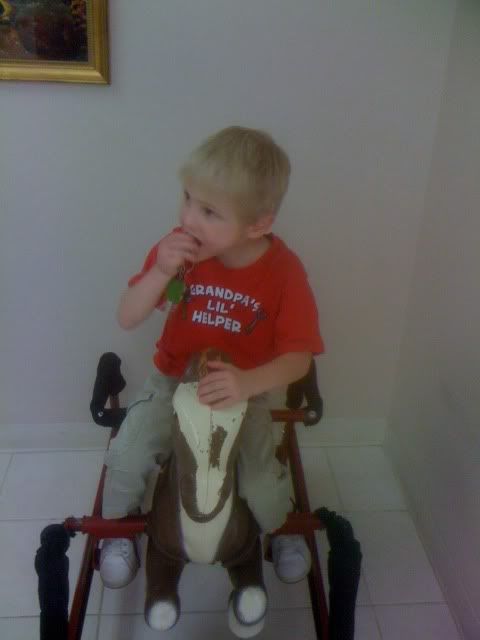 I wanted to get some good shots of him before pictures in case his school pictures turned out bad: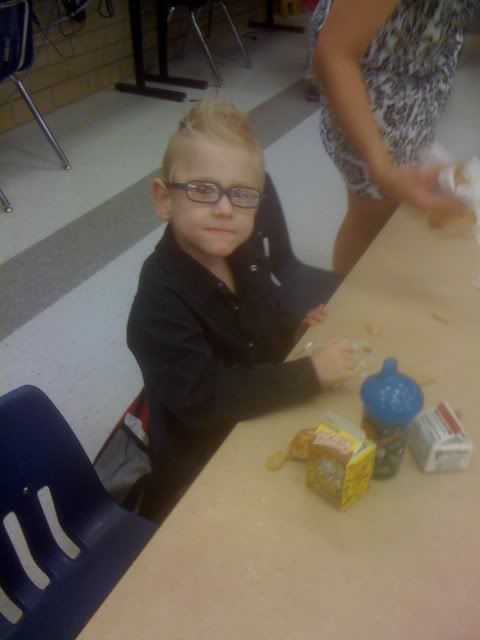 Which, they didn't. Here are his school pictures: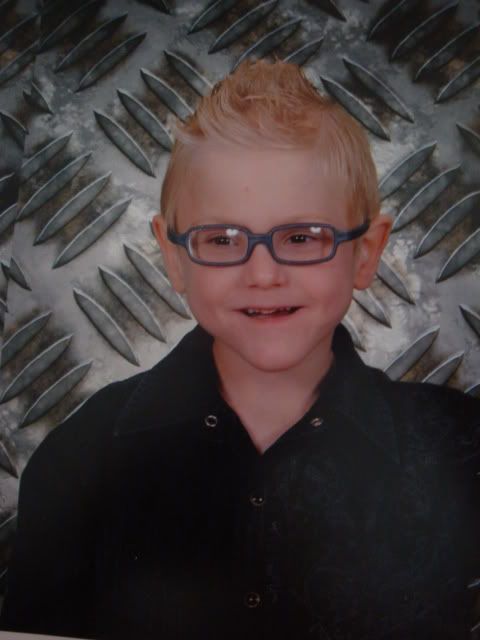 This cracks me up - not one single kid is doing what they are supposed to be doing.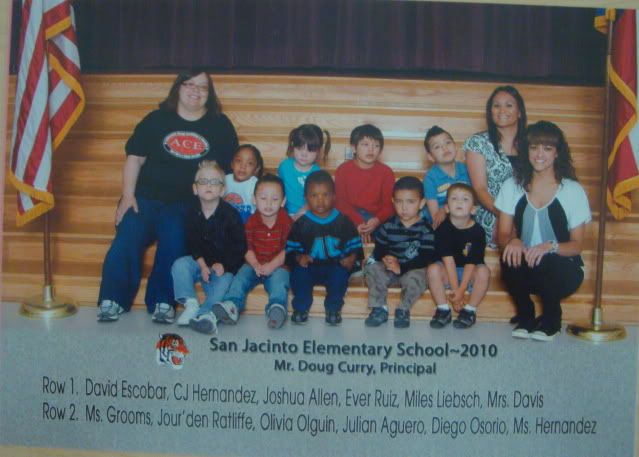 Busy.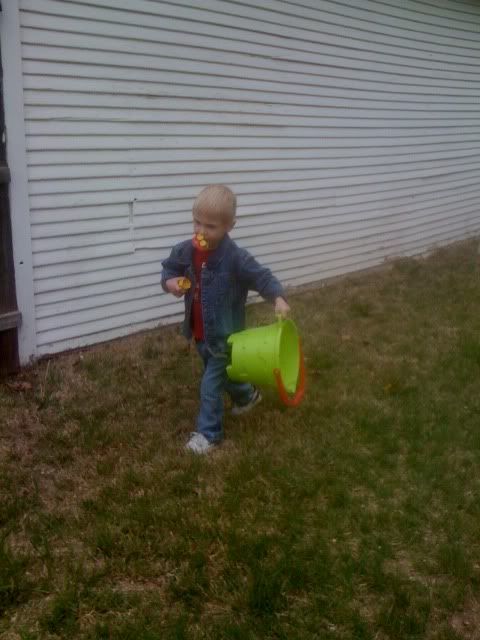 Swimming in the pool at therapy - he can swim so good! He's only wearing a life jacket, and if you throw a toy to the other side of the pool, he can wiggle and move his little body and get over there and get it!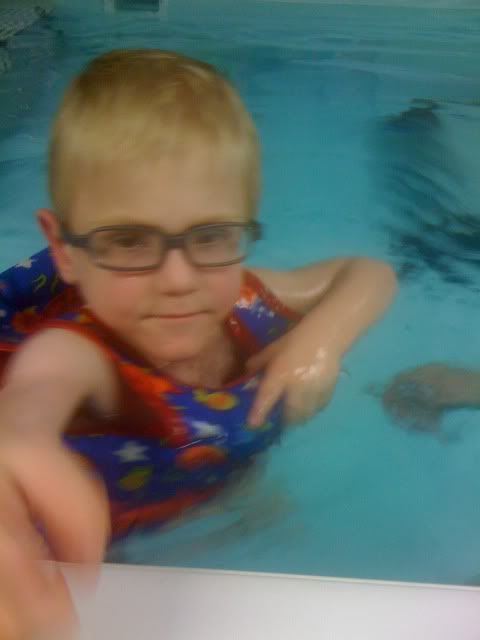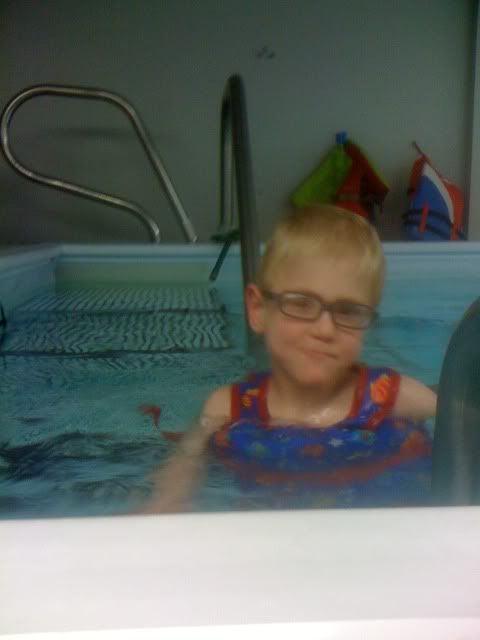 Another therapy shot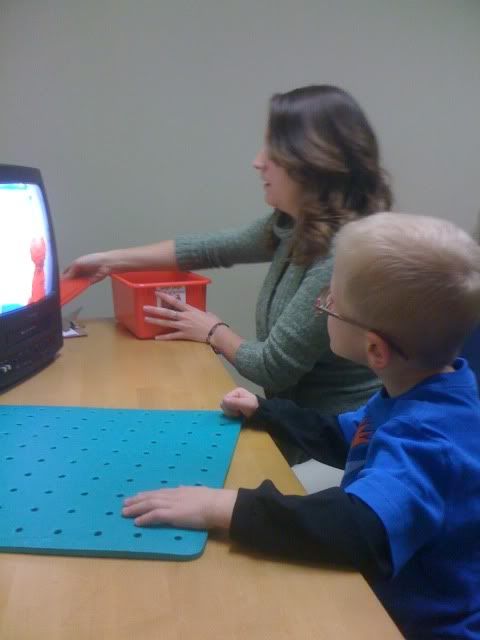 Asleep at lunch.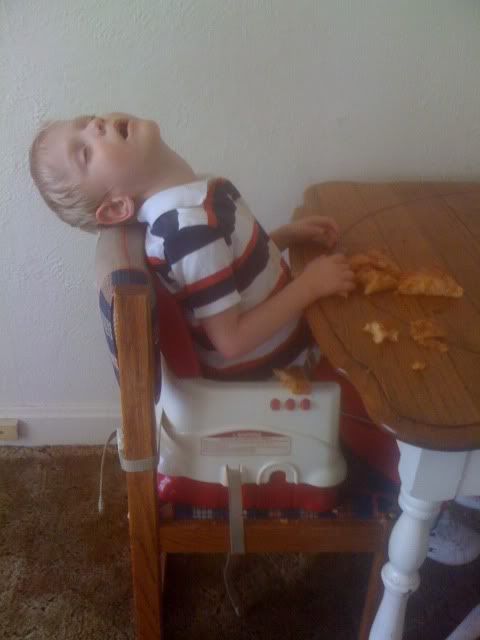 Just cute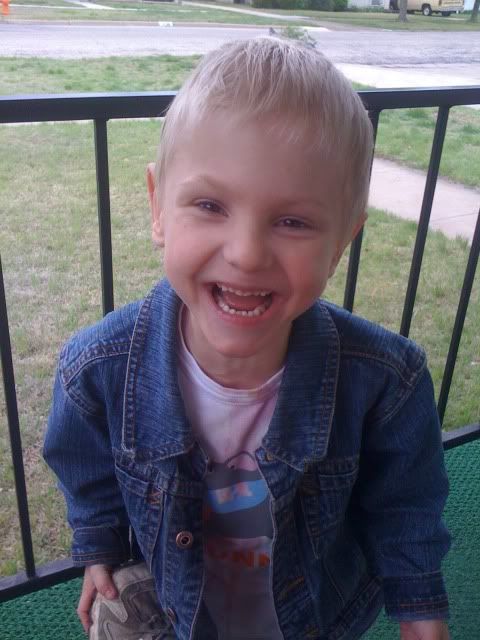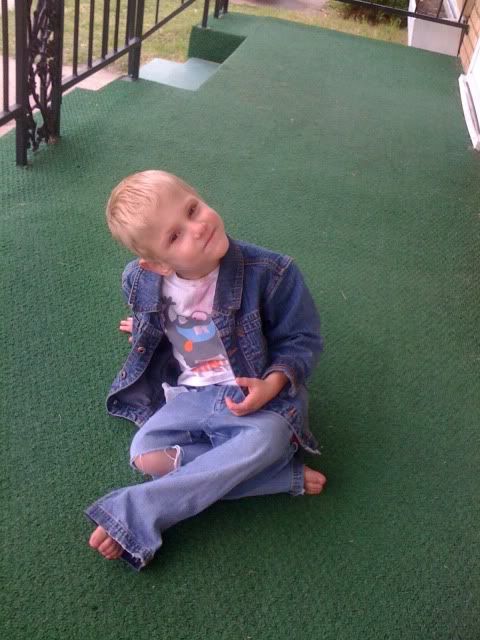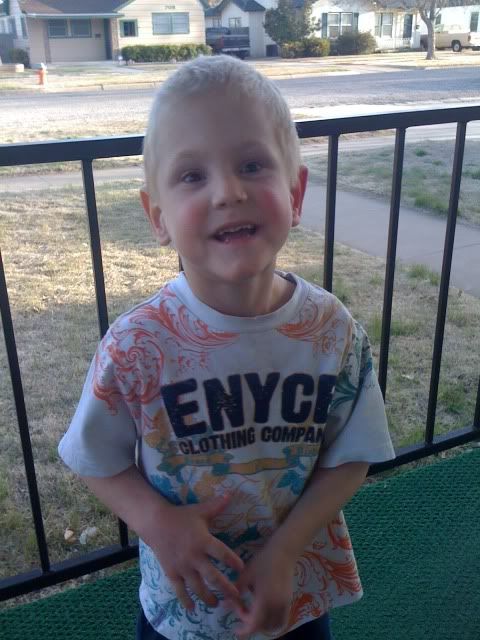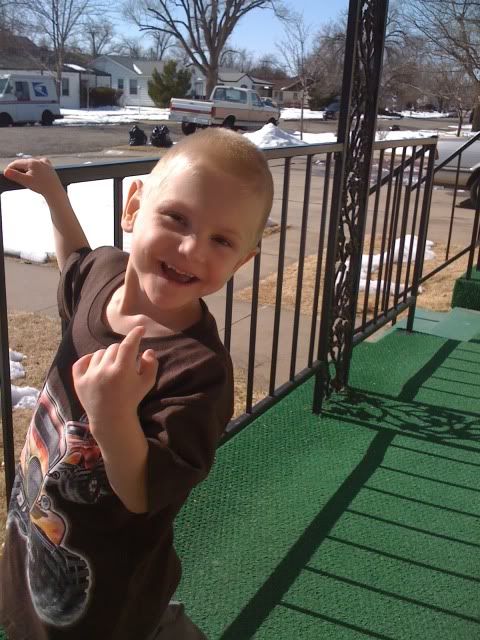 At the beginning of May, David went to the dentist's office. It did not go well.
David had a big giant huge fit. He was terrified when they put on gloves and started trying to mess with his face with a big bright light shining in his eyes.
It took me and JoAnn, plus two dental assistants to hold David down so they could look in his mouth.
Poor kid. I don't blame him, really. The only time anyone has ever put on gloves to touch him is when they planned on sticking him or doing something painful. He didn't understand.
But, they said that his teeth looked good. They said that their main concern was that when children have to take alot of inhaled medicines like David does for his lung issues, that sometimes it will make their teeth weak and brittle. But they said that his teeth were really strong and there weren't any visible cavities or discoloration.
So that's good news.
Here's some Easter Egg fun: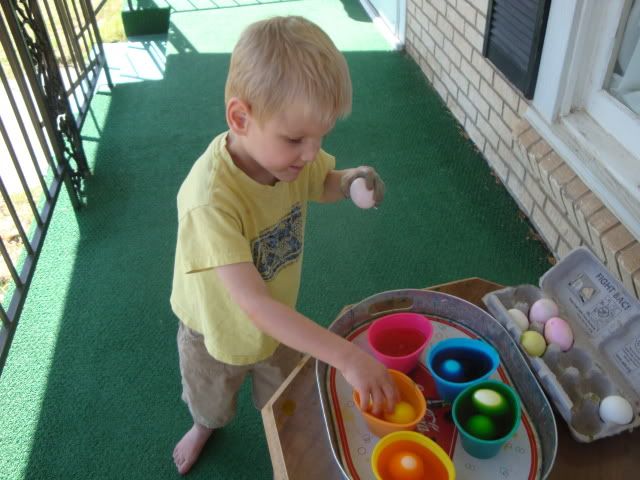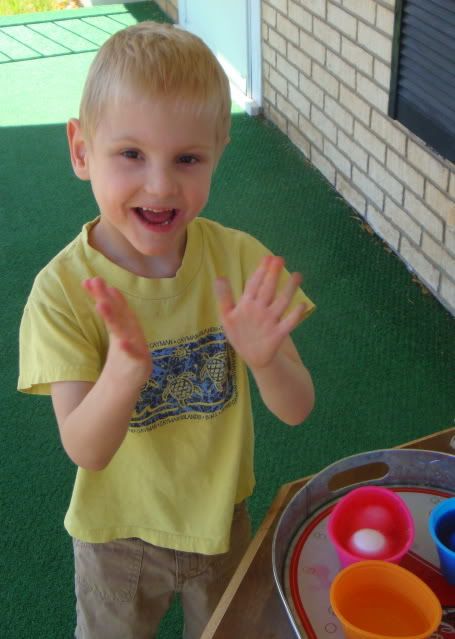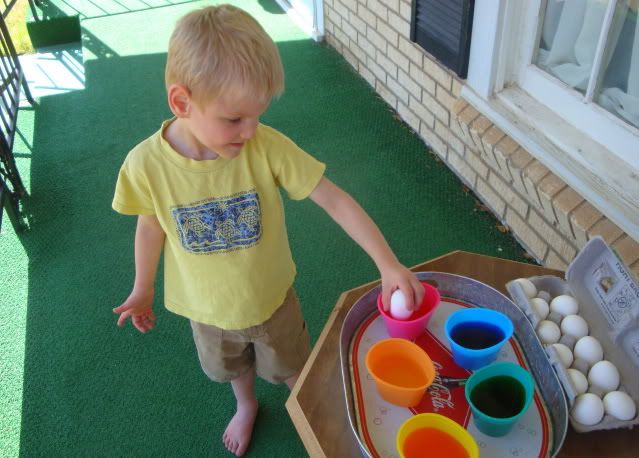 David and Daddy playing on his new swingset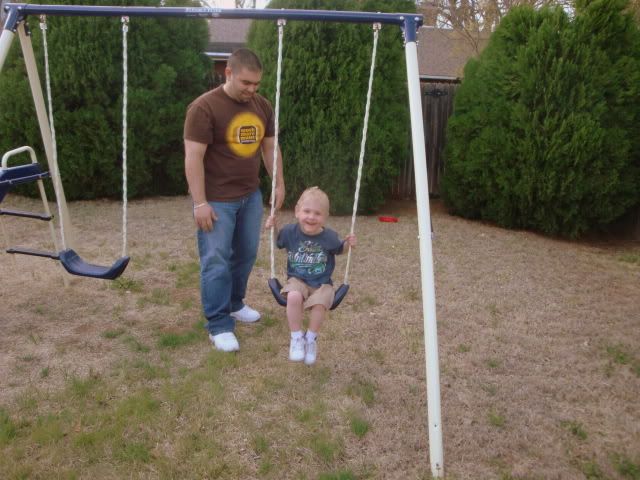 A short video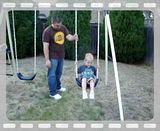 David's last day of school was Friday. On Thursday, we had his "graduation." David's teacher called me at like 845am that day and said "David's asleep in the nurses office, just so you know."
Apparently they let him sleep the whole time (about two hours) because when I got there, here's what I found: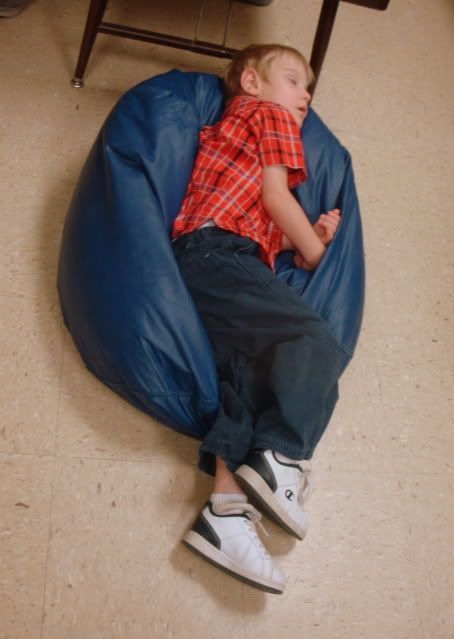 He was still pretty sleepy during the ceremony.In this picture, from left to right: Jordan, Isaac, Julian, Reese, David, CJ, Joshua, Ever, and Diego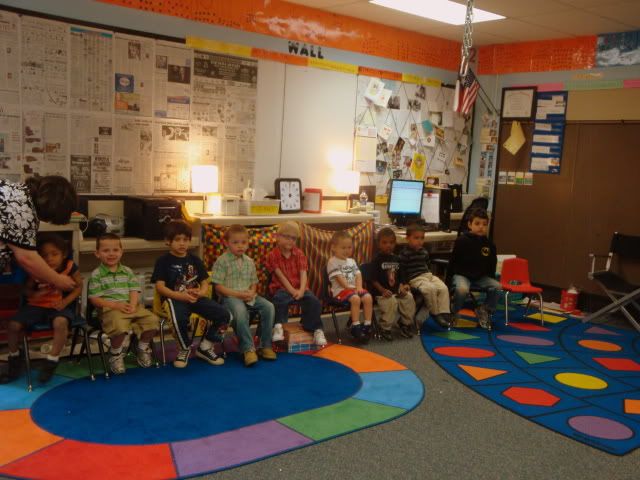 "Graduating" from his second year of pre-school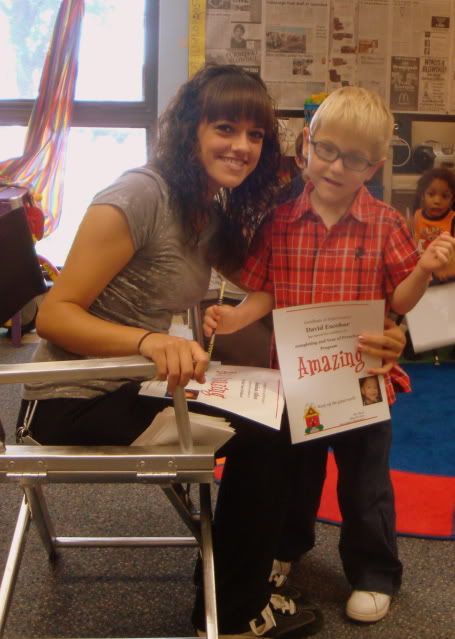 Ms Hernandez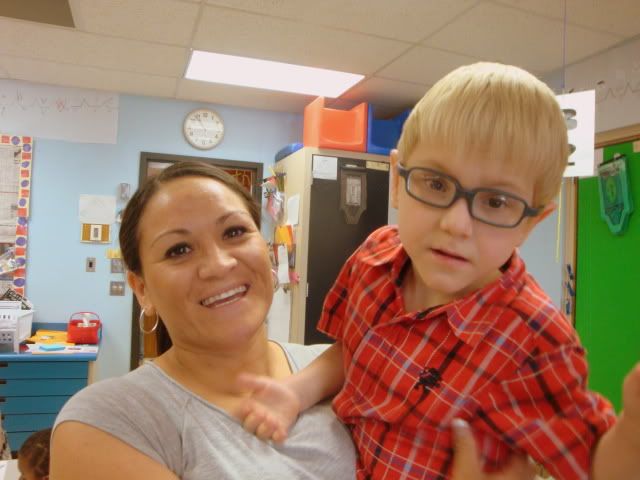 Ms Davis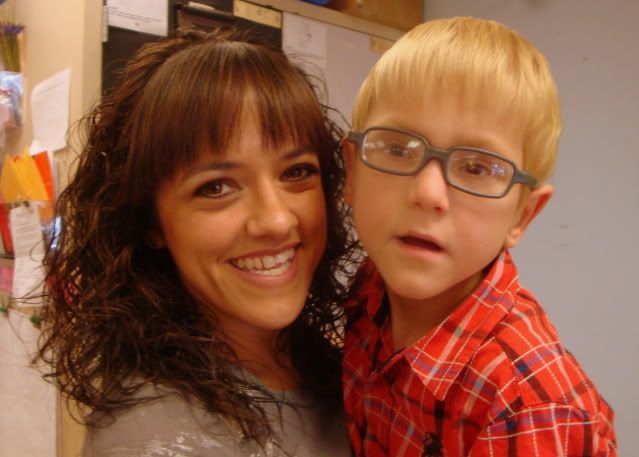 Ms Grooms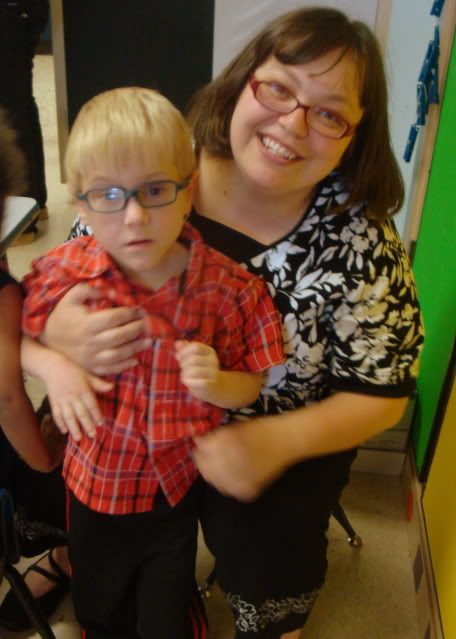 David and all three of his teachers