August 2006
***************************************
8/1/06
Another Tooth!!!
So I was looking at David's little tooth that he finally got last Saturday...and I noticed he has a buddy!! David has two teeth now!! Second tooth - broken on 07-31-06. YAY!!!
Here are the most recent pictures....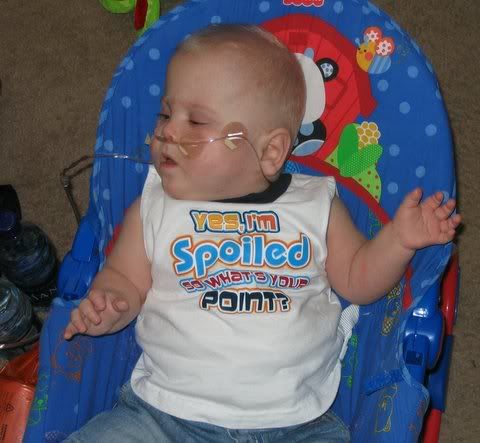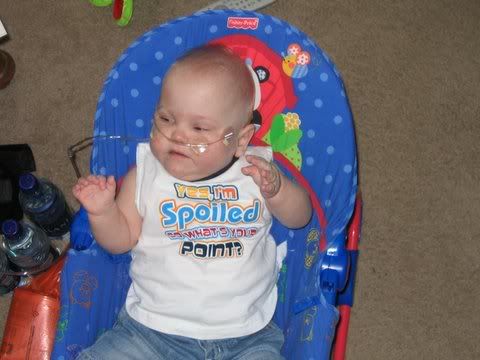 This is one of the home health care nurses that is filling in for Susan while she's on vacation - she decided to give David a bath in the sink instead. David actually liked it, but probably not as much as he likes the big bathtub - he LOVES to splash! Once he figures out he can splash here, too, I think he'll like it.
Getting ready for the bath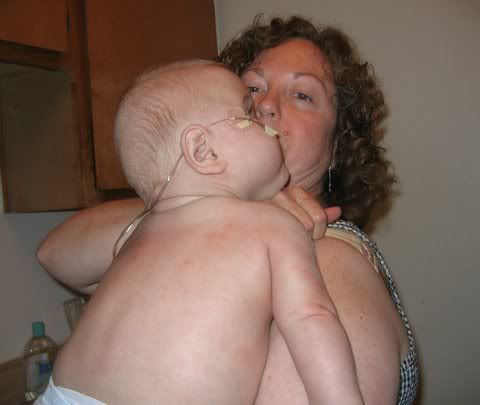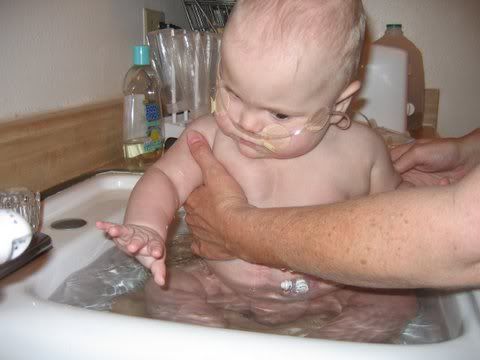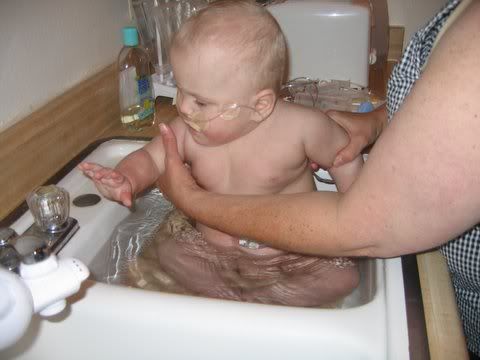 I LOVE this picture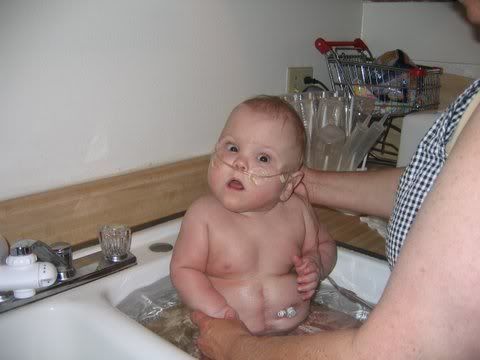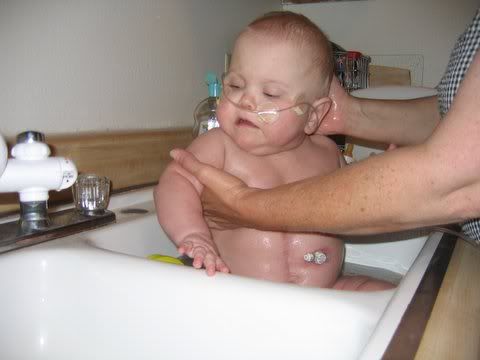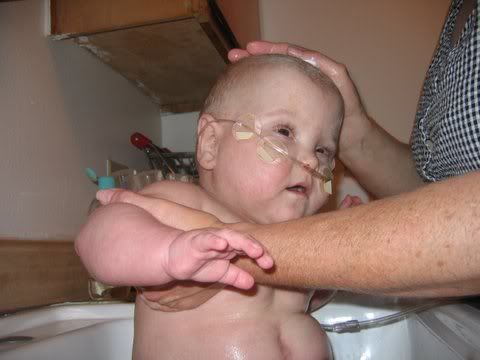 All clean!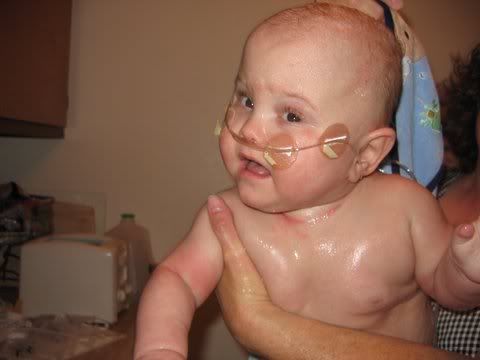 And look at those feet!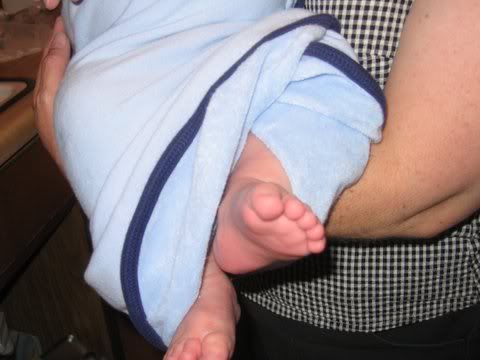 David turns ONE on Thursday!!!
***************************************
8/3/06
Happy Birthday, David Christopher!!!
Mommyand Daddy love you
so
much.
Here's some nostalgia for those that have followed my blog for a long time.
Here's the first post I made after he was born:
" Please Welcome David Christopher Escobar
On August 3rd, 2005 I had to deliver David Christopher Escobar due to preeclampsia and HELLP syndrome. He is very small but is doing as well as can be expected. You can view his webpage at www.nwtexashealthcare.com, Click on meet your family, enter the secret baby code: 08181981
Every four hours (at 4, 8, and 12) I get to go up to the hospital to see him. I am allowed to take his temperature, change his diaper, and talk to him. At 8pm I am allowed to hold him up while they set his bed to equal zero pounds, and then they weigh him. He cannot have much stimulation, so, even though I am welcome to stay there, I cannot touch him or talk to him except for at those times. So during the rest of the time I try to get rest.
Yesterday was a little scary because he had to have an echo-cardiagram done on his heart. Apparently, when a full term baby takes his first breath, it closes this space that is in their hearts. The nurse said it is normal for preemies to have this hole remain open. Also, due to the ventilator my baby is on, they were concerned because his little lungs looked too large. They were worried that if they did not shrink back up they would tear, and my baby would have to have a chest tube. Well, after having the tests done, my baby thankfully has no hole in his heart, and his lungs are back to their normal size.
Today was a big day for my little David! His jaundice cleared up enough for them to take him out from under the bililights. Also, he will get his first taste of my breastmilk tonight! Up until now he has only been fed nutrients through an IV-like tube in his umbilical cord. They had to wait until they were sure that he had enough blood flow to his digestive system to where he would be able to tolerate breastmilk. So tonight, at 8pm, and every four hours after he will receive 1 cc of my breastmilk through a stomach tube. As long as his bowel movements and his stomach measurments read that he is tolerating this it will continue. They have to be careful, though, because if he isn't tolerating the milk it could tear his bowel.
It's amazing to me how much my heart melts when I see him. Oh my God I love him. From the little bitty blonde hairs on his head to his teeny tiny toes. I treasure every moment that I have with him. I love to let him hold my
gigantic index finger with his litty bitty hand. I love to watch him work so hard to open his beautiful little eyes when I call out his name. I love to watch him stretch out his miniture feet when I change his diaper. Just looking at him makes me want to bawl my eyes out. But not of sadness, of love. I would give my very life right this moment to see him live a full life of happiness. I have never felt like this before. I guess that's why they say motherhood is so amazing.
I have pictures and will post them as soon as possible."
*************************************************************************************
And here is my birth story -
"I went into the hospital for the second time on July 28th due to an ultrasound showing oligohydramnios, which is low amniotic fluid. They were also concerned about the blood flow to my baby. I was diagnosed with preeclampsia,which I knew was coming, due to my history of the illness. I also expected to get HELLP syndrome, which stands for Hemolysis, Elevated Liver, Low Platelet. Immediately upon getting in the hospital I was given steriod shots. Two of them, 24 hours apart. They hurt real bad but I knew that was what was needed for my baby to have a good start. The hospital stay was uneventful and long until the beginning of August. One morning I woke up with a burning sensation in my stomach, like the sensation you get when you are STARVING. It was very early in the morning, about 4am, so I ate a banana that my family had brought me previously. Within minutes I had a terrible stomach ache, and experienced nausea. The nurse called the doctor to get some anti-nausea medicine, but I vomited not long after that and felt fine, so she cancelled the order. The same thing happened at breakfast time, and again at lunch time. The doctor was concerned that it was my gallbladder, and the nurse even said that when she was pregnant she experienced the same feelings and it was her gallbladder. I was scheduled to have an ultrasound on my gallbladder the next day. That wasn't going to happen. I was constantly getting blood drawn, they were watching my liver enzymes. They were also measuring my urine due to fear of my kidneys failing.
The last few days in the hospital are a blur, due to the magnesium I was put on, but I remember August 3rd, at least the morning....I had been on Magnesium for at least 24 hours by that time. The nurses woke me up, early. I asked them how my blood work came out, and they told me the devastating news, they were going to have to deliver me due to my blood pressure reaching stroke levels, and my kidneys & liver shutting down. I was scared to death. I was only 26 weeks, 6 days at that point. My first son was born at 27 weeks, 2 days, and he only survived for three days due to severe prematurity, so you can only imagine what I was feeling. I was never scared for my own life, even though my family told me later that I was very very sick. I was scared for my baby.
I told the nurses that I hated to be a b*tch about this, but I needed to see my baby as soon as possible. See, with my first baby I wasn't allowed to see him except for twice before he died. I couldn't allow that to happen again. They assured me that I would be able to see him as soon as I was able to.
I called my husband, but I wasn't able to get ahold of him (the phone never wakes him up!) so called my grandmother and told her I was about to have the baby, and to contact Javier. The nurse came in to put an arterial line in my right wrist. Another nurse said to me "I'm going to give you some medication, and you aren't even going to care what she is doing over there." And I didn't.
My sister came in the room, and told me she loved me. I started to cry, and didn't stop. I remember being rolled into the operating room, getting my belly scrubbed with iodine. They told me that because of the asprin I had been on due to fear of blood clots they were going to have to put me under general anesthisia, instead of giving me a spinal. I was crying. Hard. I was worried about my blood pressure, but I couldn't stop crying, I was so scared. I remember all the doctors and nurses running around me. One woman told me not to worry. I remember being worried that they were going to put the tube down my throat before I was out.
They introduced me to the NICU nurse who would be taking my baby to the NICU nursery. The last thing I remember before I was put out was crying and telling that woman to take care of my baby. I delivered a baby boy at 8:24am on August 3rd, 2005.
The next thing I remember was the nurse pushing on my stomach. They have to do that to make sure that your uterus shrinks back down to it's normal size. I immediately asked about my baby. She told me that his immediate apgar scores were a 2, but five minutes later he scored an 8. She reassured me that he was beautiful. My husband came in and held my hand. I fell back asleep. All I remember for the rest of the day was sleeping on and off, and my family coming to visit me. My Mom and little sister came into town. Everyone got to see my baby, except for me.
All I saw was a blurry picture of him. My throat hurt so bad. I kept demanding to see my baby but because of the magnesium I was not allowed.
My husband and I had not even discussed names. My poor baby lived the first entire day of his life without a name. It wasn't until the next day that we decided on the perfect name, David Christopher Escobar.
Finally, the next morning, the nurse let me go see my son. And he was beautiful, like I knew he would be. He was
hooked up to every machine imaginable, but he was kicking around, and he looked so alive! It was at that point that I realized again what my purpose in life is. I have loved him since the day I found out I was pregnant. But
when I looked at my 1 lb, 4oz baby, and saw in him a will to live that I have never seen before, I fell deeper in
love than ever.
I hurt, bad, but I got up as often as was allowed to go see my son. It was such a long walk down to the NICU from Labor and Delivery, but that long journey was well worth it. The next few months are going to be physically and emotionally exhausting, like the long walk I had to make to see my beautiful son. But when I get to take him home one day I will realize how well worth it every trip up there was."
*************************************************************************************
And, finally, a year in pictures.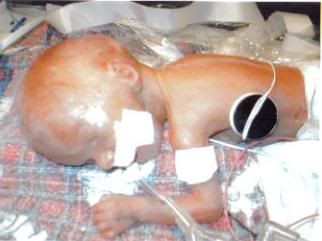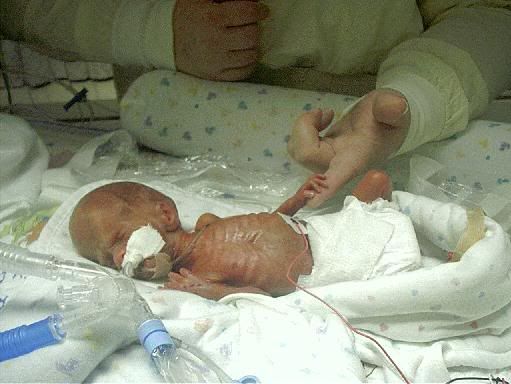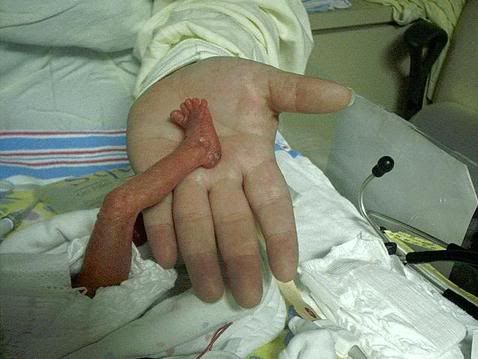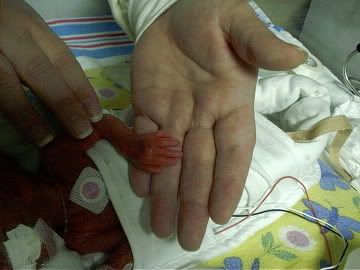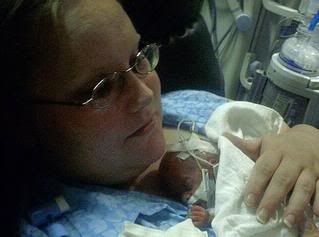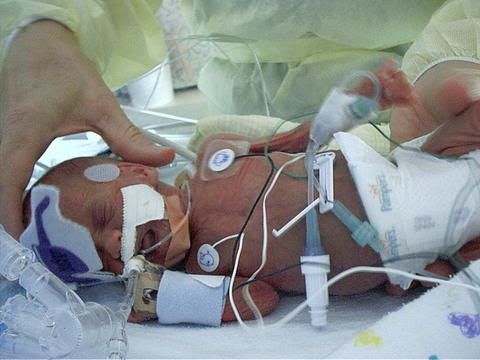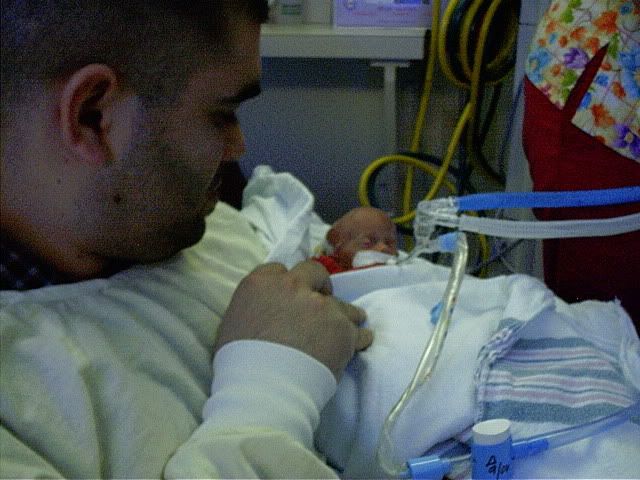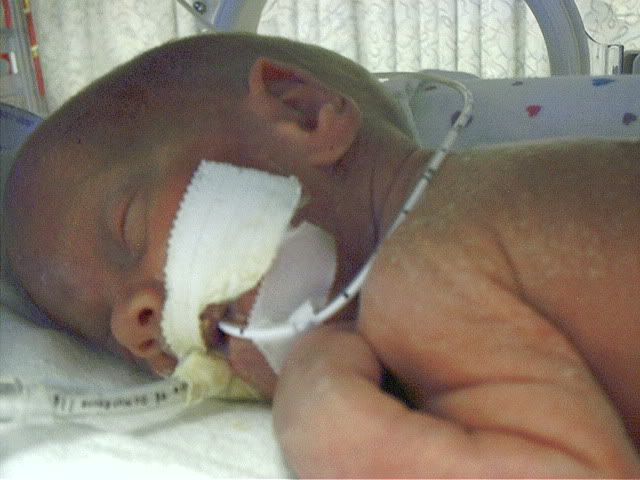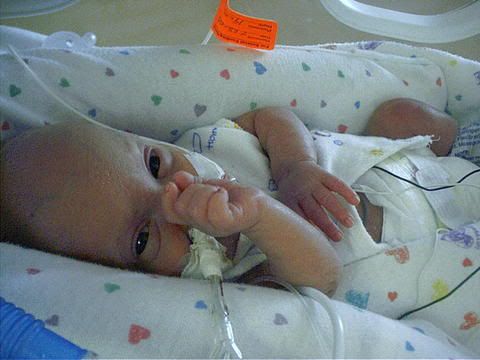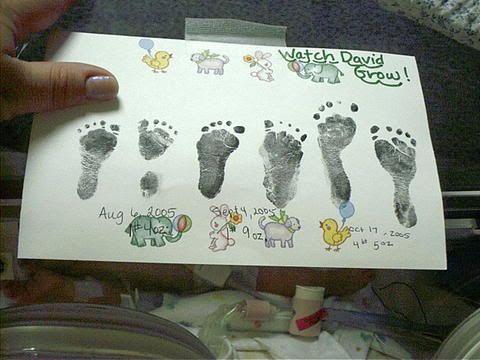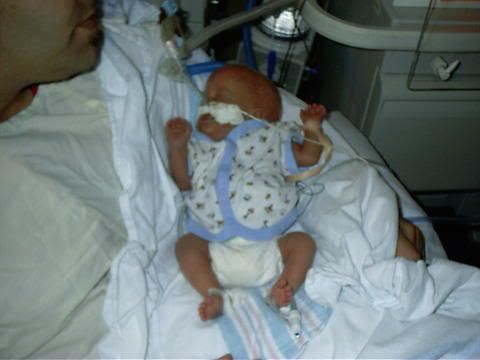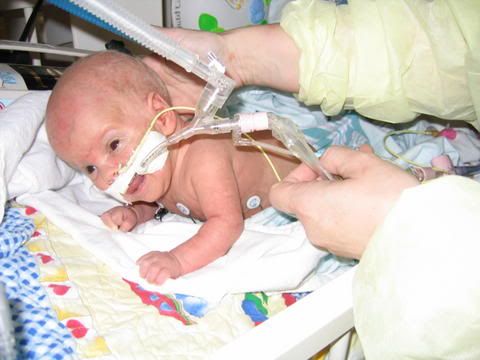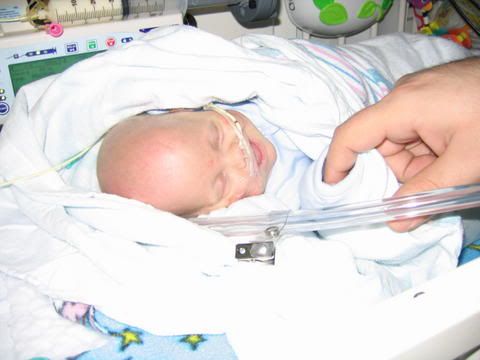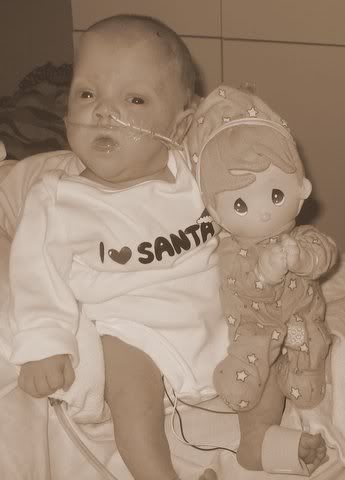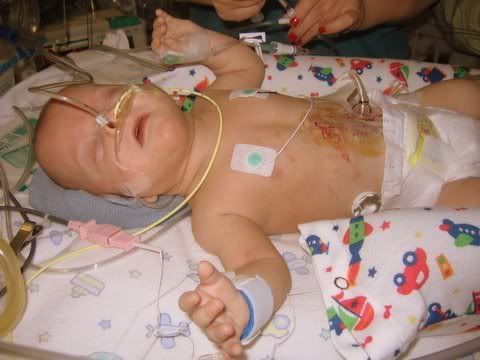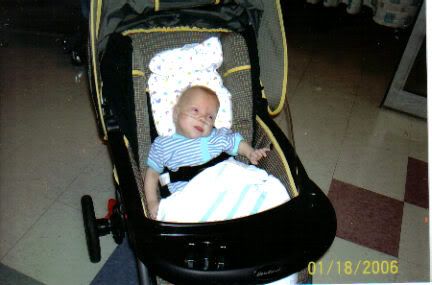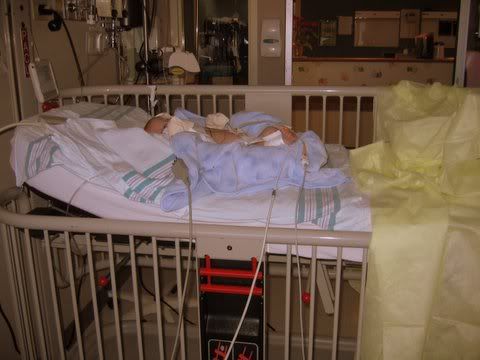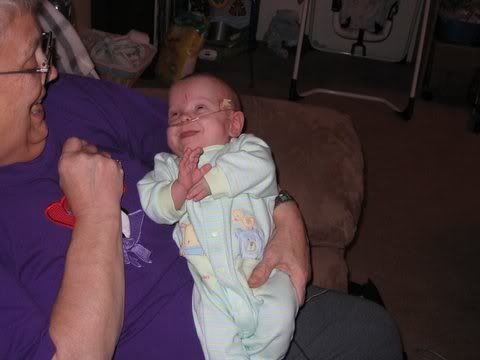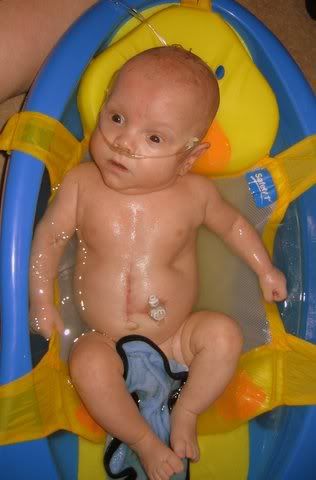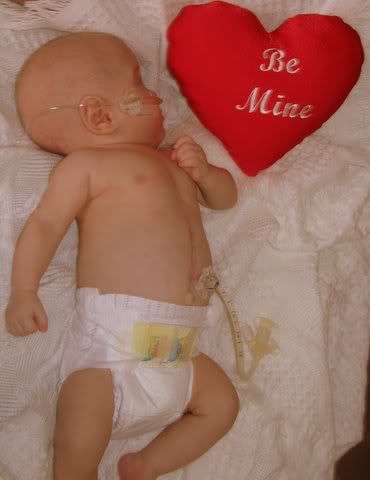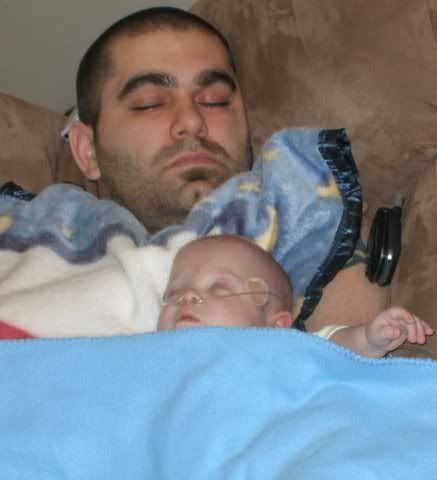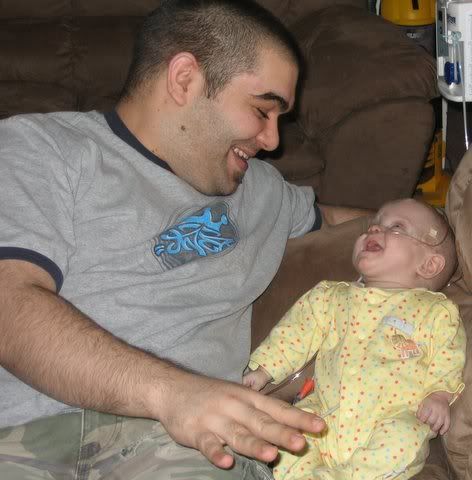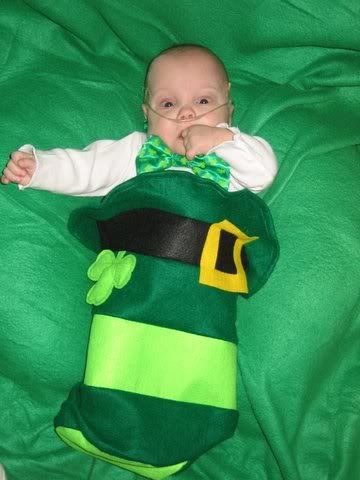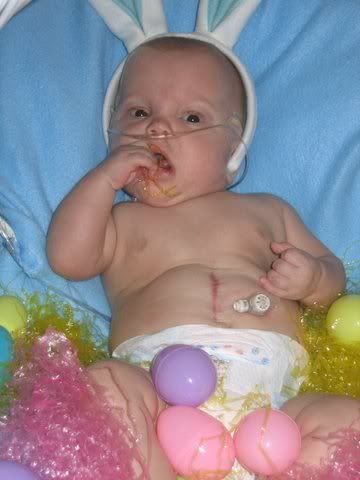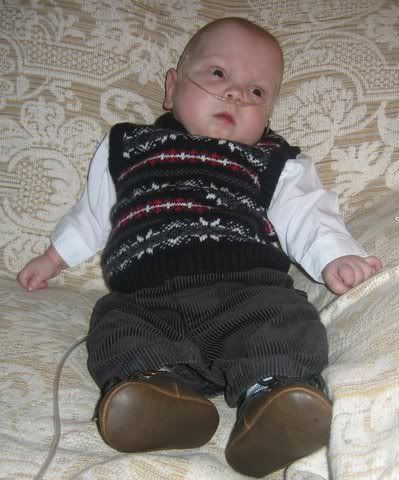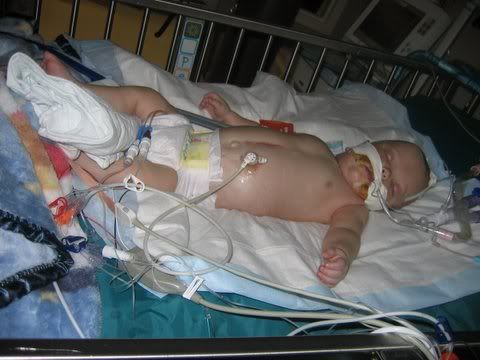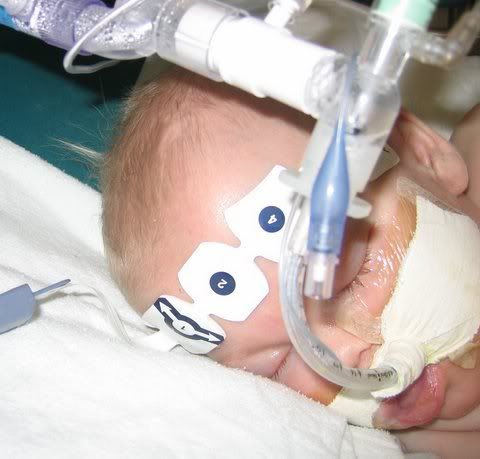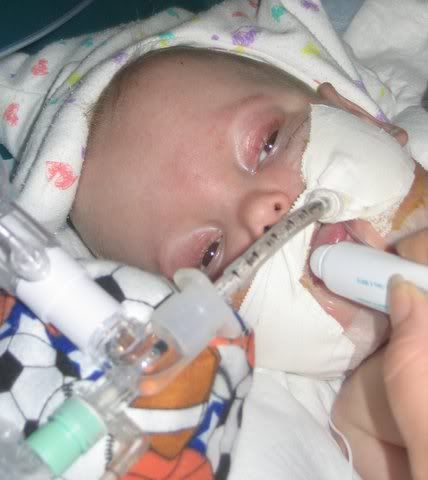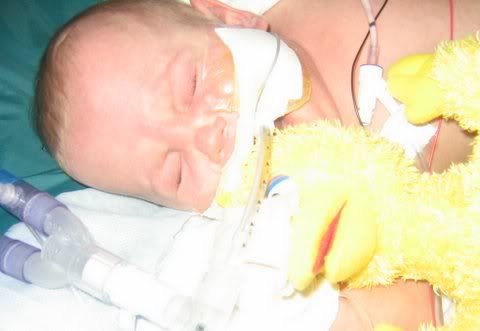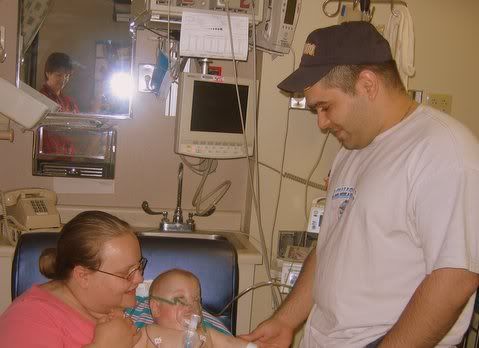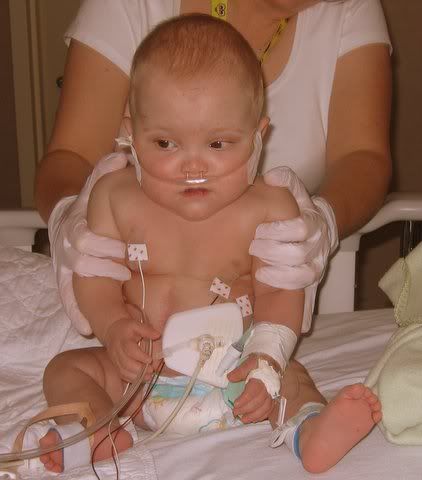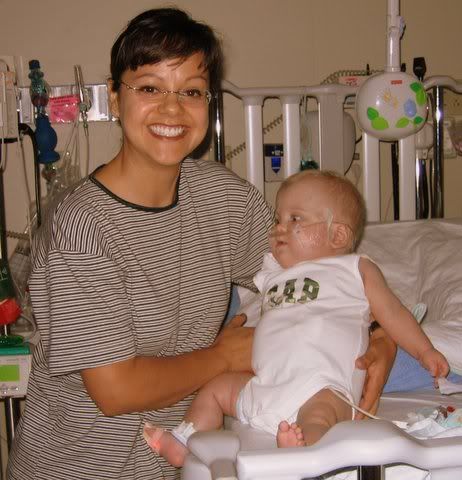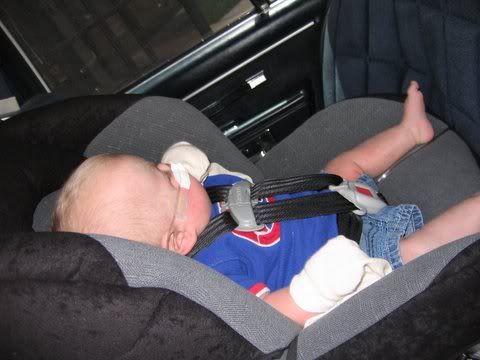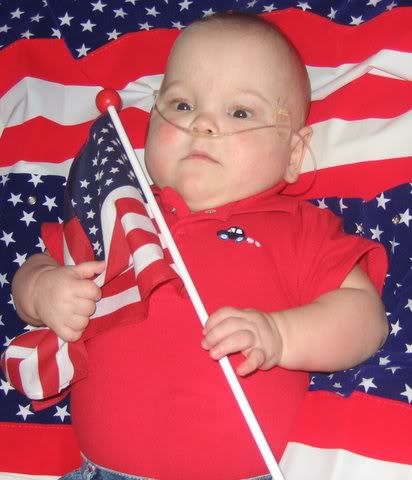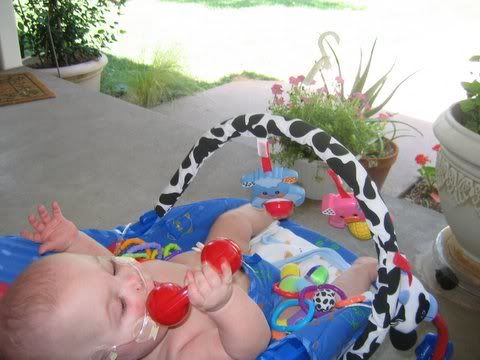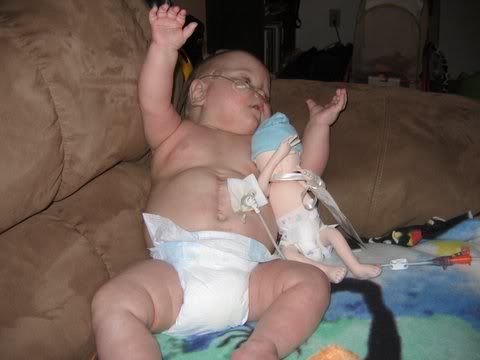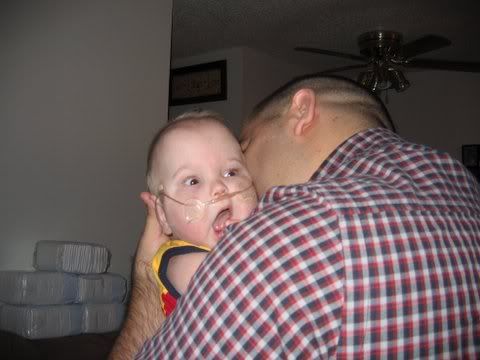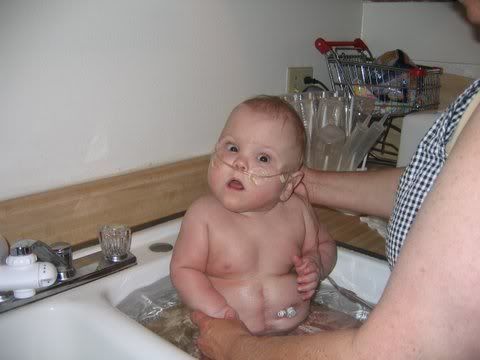 Happy Birthday, David!! It's been a long year, baby boy, but it was WELL worth it!!
****************
For those of you that seldom comment, I'd love to be able to make a book for David showing everyone who has supported him through his first year. If you want to be a part of it, drop me a line :D
***************************************
8/3/06
David's First Birthday Party!!
As much as I wanted to throw a giant bash for David's first birthday, it simply wasn't a good idea. His health is still to fragile to be around very many people, so we kept it to just family and a couple of friends. It was fun!
David in his party hat, sitting on Monica's lap in the morning -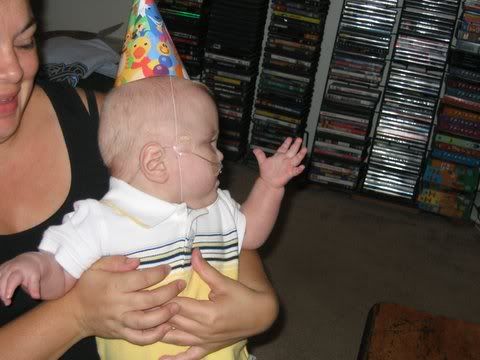 Sitting with Aunt JoAnn -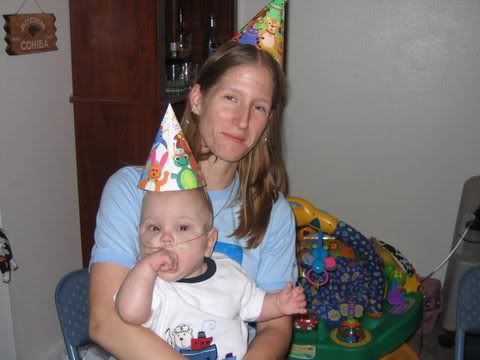 The birthday cakes - I got the brownie one for David (I thought he'd be less likely to choke on it - turns out it didn't matter, but we'll get to that in a minute), and the boston creme one for everyone else. They were both delicious.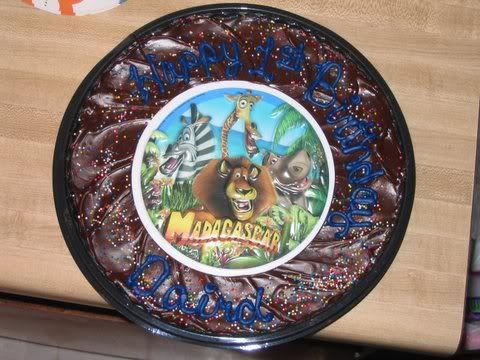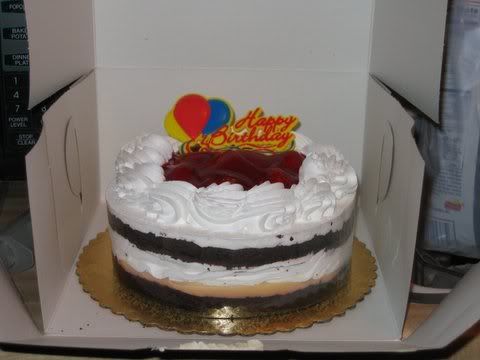 My nephew, Weston, creating a balloon hat for David -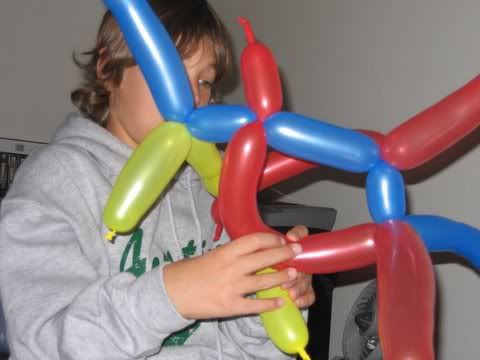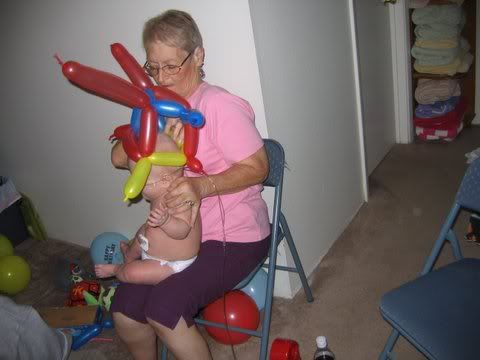 Meme was holding David when Monica (today's nurse) came up to tell him goodbye...he actually cried! Here's Meme consoling him -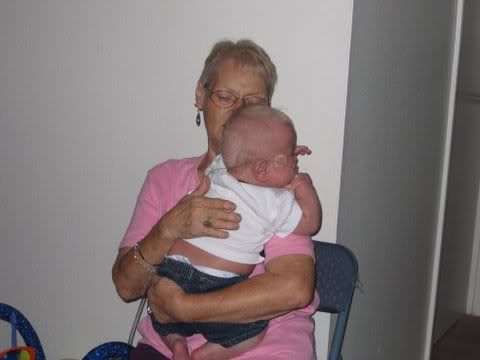 Here's David with the present that JoAnn got him - it's a turtle from Nemo. It was wrapped in Nemo wrapping paper - thanks, JoAnn!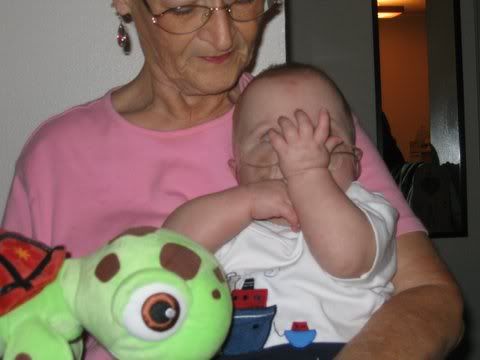 (BTW I haven't yet taken pictures of all the gifts, I will do that, I promise!)
Weston and David
Meme stripping David down, getting ready for cake!!! David was NOT amused.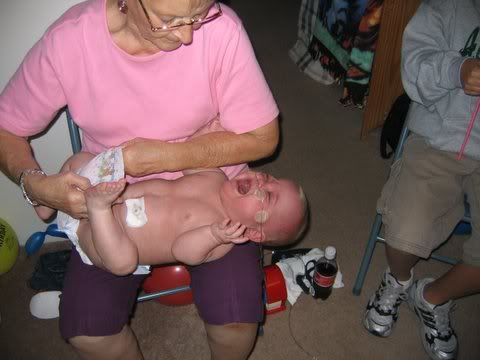 Singing Happy Birthday!!!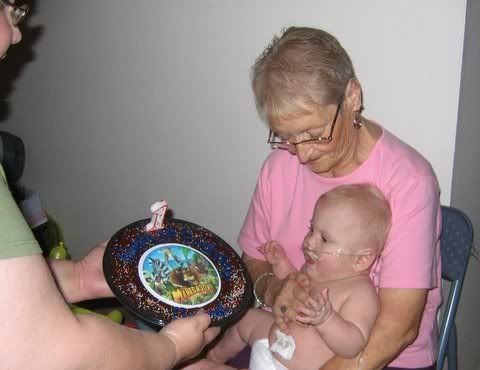 So here's where the drama started. I thought it would be cute to have David try some cake (even though I knew he wouldn't consume very much of it.) I thought I would put some in his hands, and he would put it in his mouth like he does his toys. David thought differently. HAH! He didn't want any part of it! Javier picked David up, and David stopped crying for a minute, but as soon as we tried to give him some more, he got mad again...So we tried feeding him with a spoon, thinking he'd understand what we were doing then - but he still wanted no part of it. Oh well, made for some cute pictures. He doesn't need the sugar, anyways haha.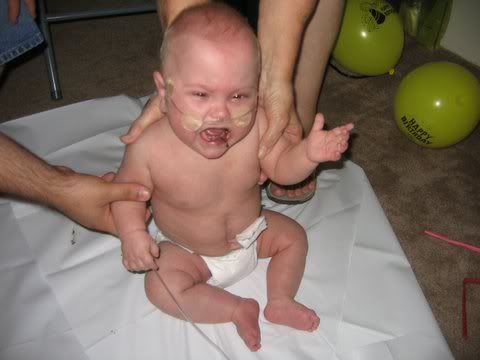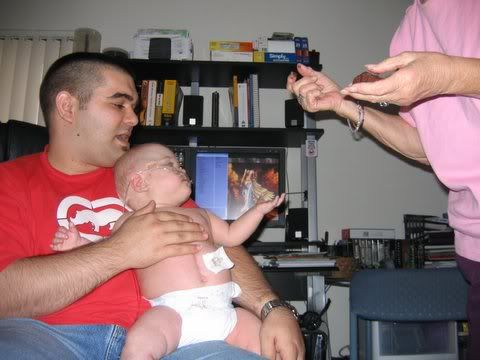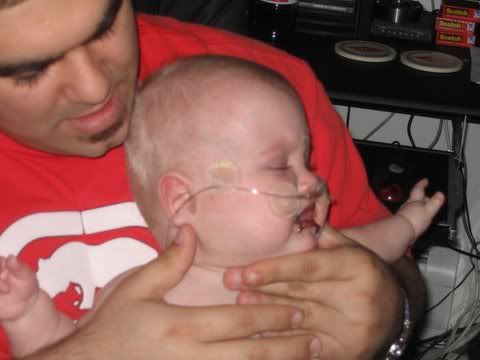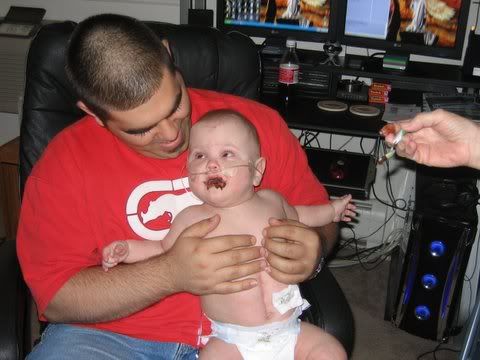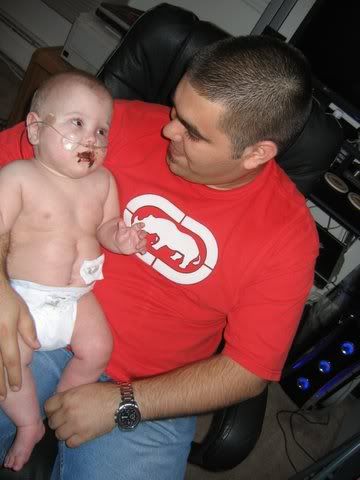 This one HAS to be my favorite picture of the evening -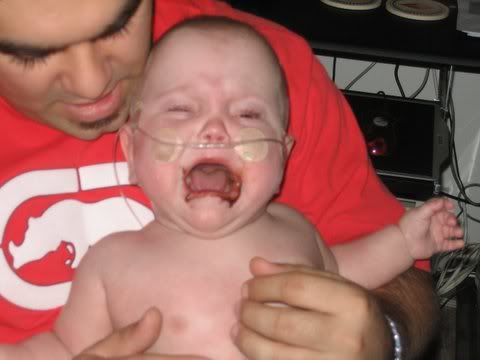 Mama to the rescue -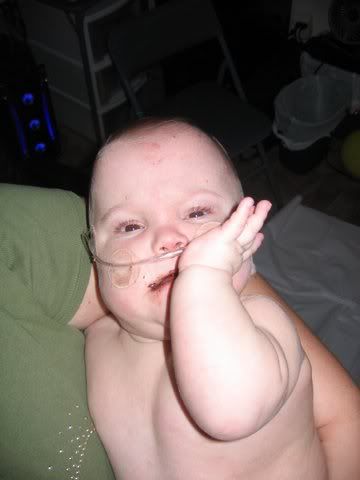 Amy and David -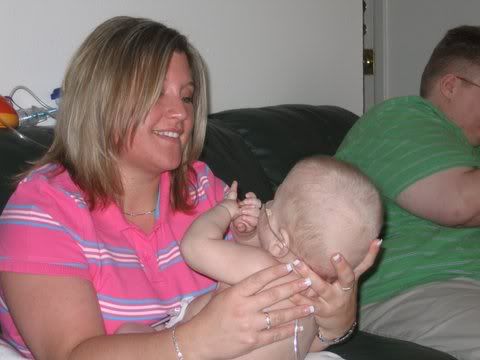 Amy and Weston -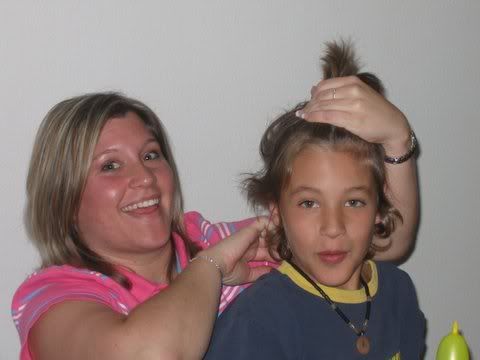 ***************************************
8/5/06
David Pics - including teeth pics!
Smile!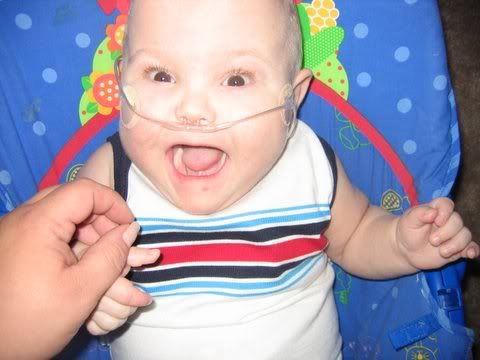 David's teeth!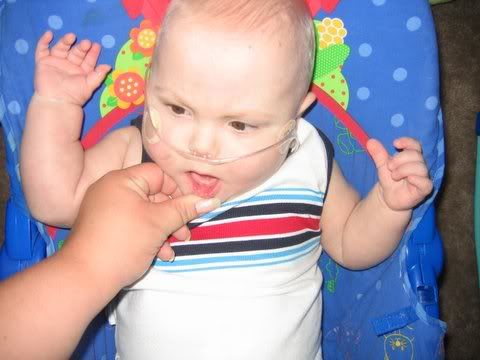 Close up!
***************************************
8/9/06
David is a punk rocker.
Check out David's mohawk and gang signs haha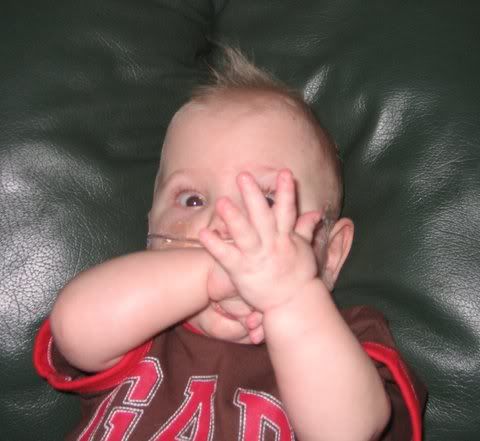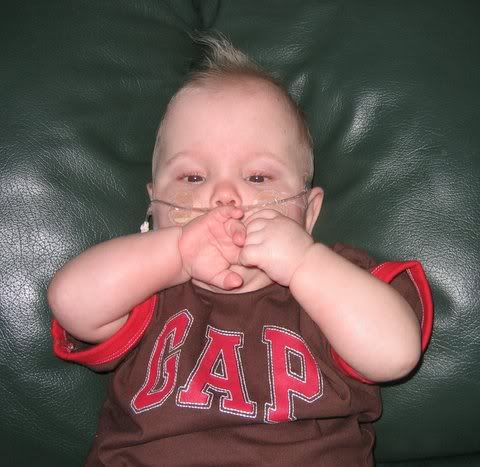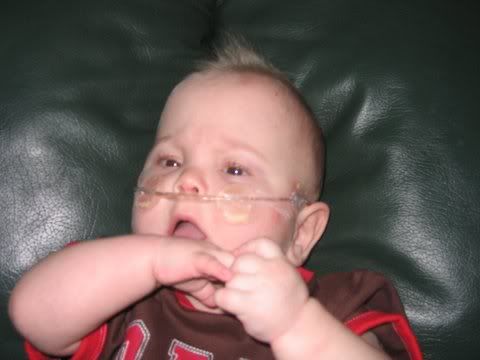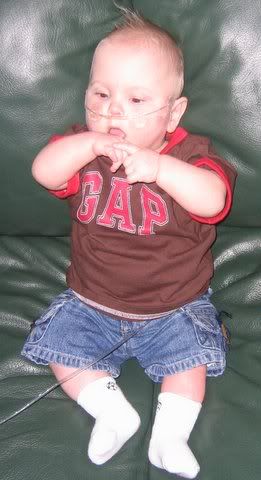 David while playing peek a boo last night - I was trying to catch his surprised look, but it didn't work. Please excuse the ghetto tape job haha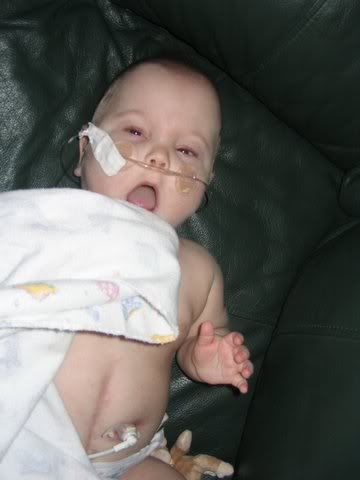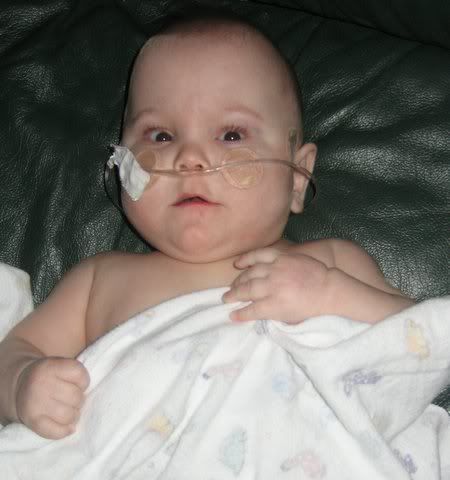 Here is what is likely the only picture that will ever be taken of David and my Dad. There's a long story behind it, but since I hope to let David read this one day I will have to chose my words very carefully.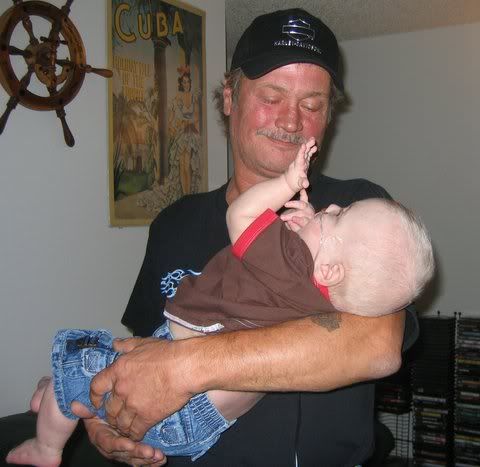 And here are the pictures of all the clothes David got for his birthday. I LOVE them!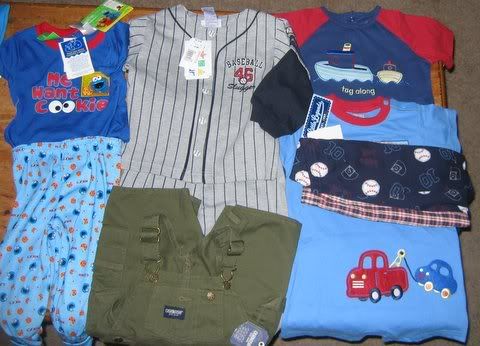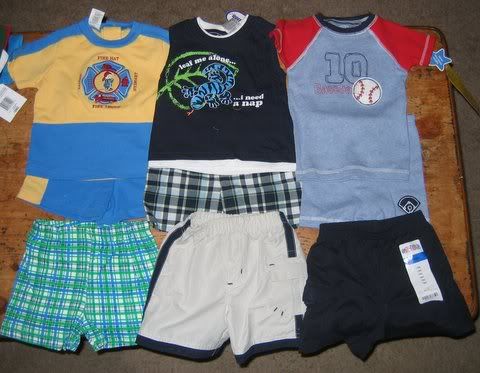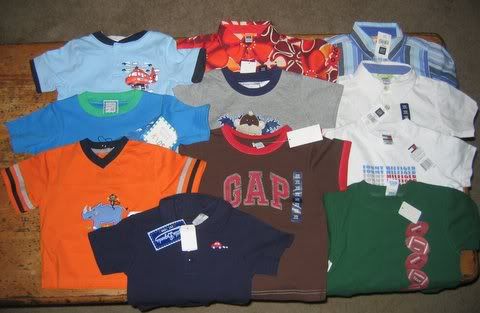 And all the toys and books.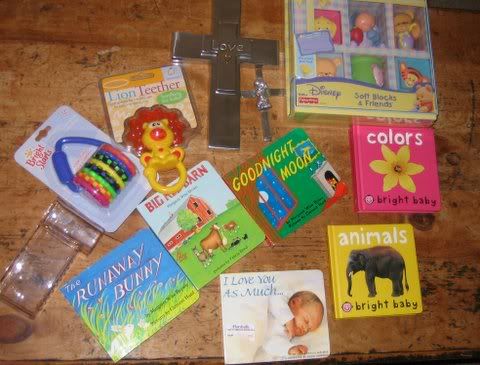 ***************************************
8/11/06
08-10-06 David Update
It's almost two am but Javier & I slept until FOUR pm this afternoon! It sure was nice, even though it's going to throw off our sleep schedule.
David's doing really good. I think he's starting to thin out a little. I'm not sure if he's lost weight, though, because he looks longer. We go back to the doctor on Monday and we'll find out then. I'm also going to ask if we can start to wean his breathing treatments some. I have to give him a breathing treatment at midnight, which I don't understand because when I go in there his oxygen saturation is 100%....so WHY does he need a treatment, know what I mean? Anyways, here are the recent pictures.
If you look real close you can see his teeth in this one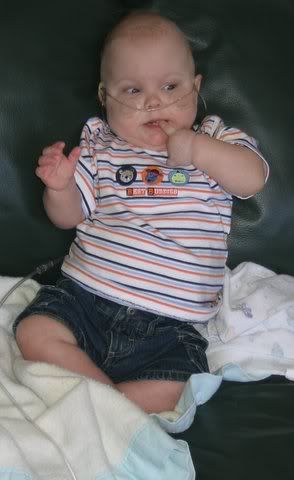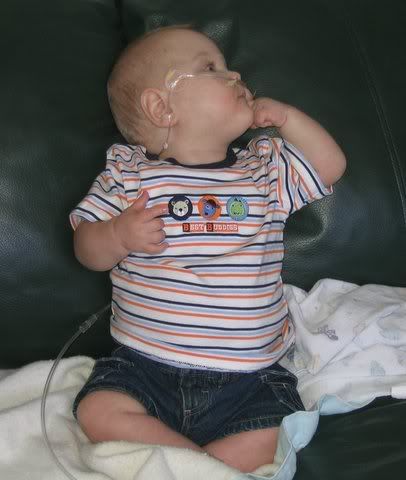 David is getting so close to sitting up by himself! He can do it for about two seconds before plopping over! But he can sit up with very little support, like up against my leg or something.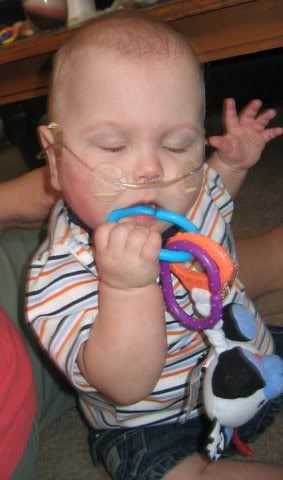 Here he is in his exersaucer! He LOVES it...even though the stupid physical therapist said it wasn't "appropriate" because of his lack of muscle...I think that's dumb because he's supported by blankets...and it's helping him BUILD the muscle that he doesn't have!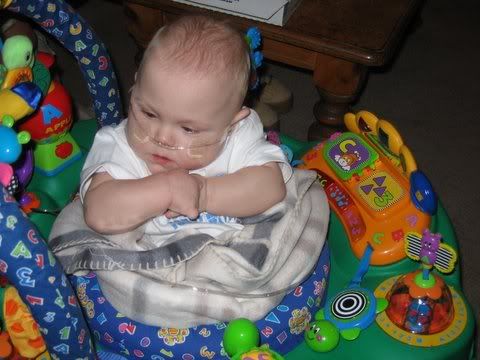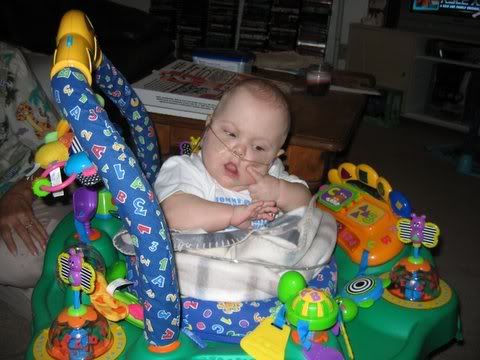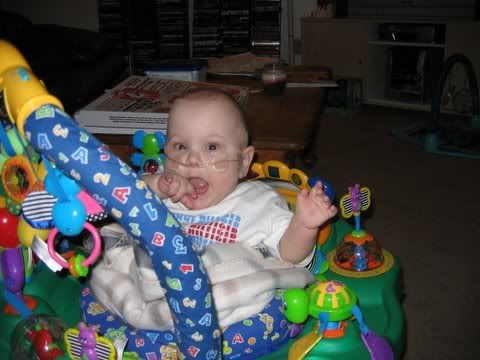 Here he is tonight, I thought it was cute how he always has the blanket in his mouth so I took a picture!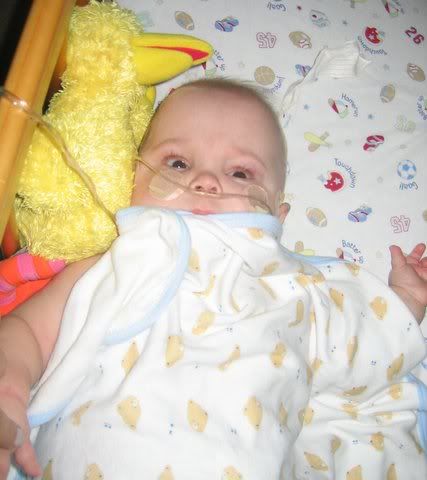 Oh, and Happy 25th Birthday, Javier!!!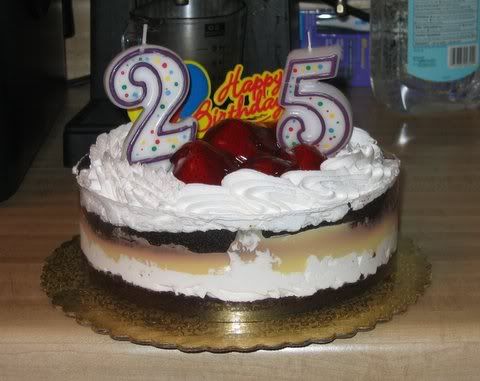 (yes, that's the same kind of cake as I got for David...but it's DELICIOUS! And, only $7 at Albertsons!)
******************************************************************************
And just for nostalgia, here are the pictures that I took one year ago today: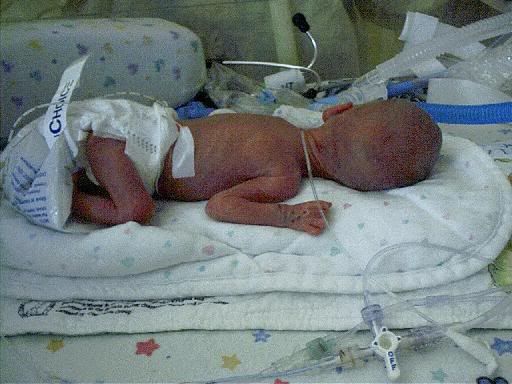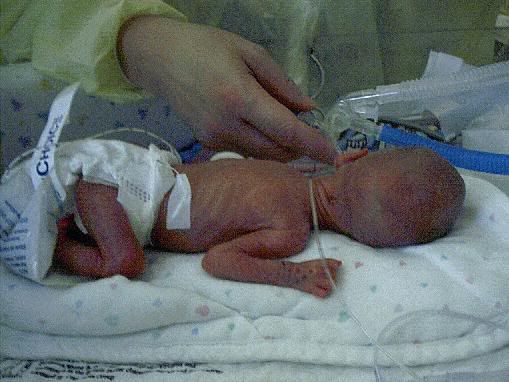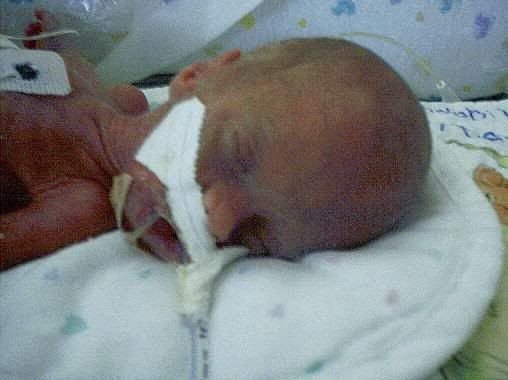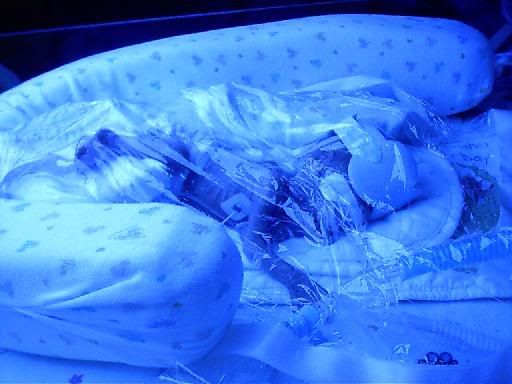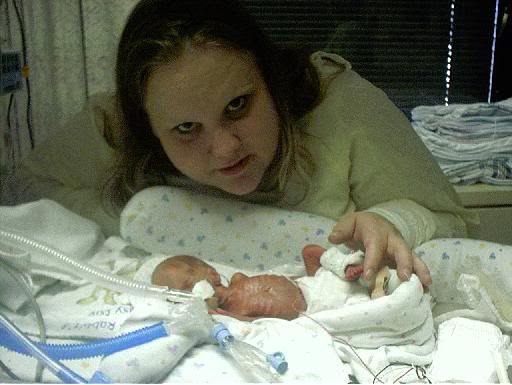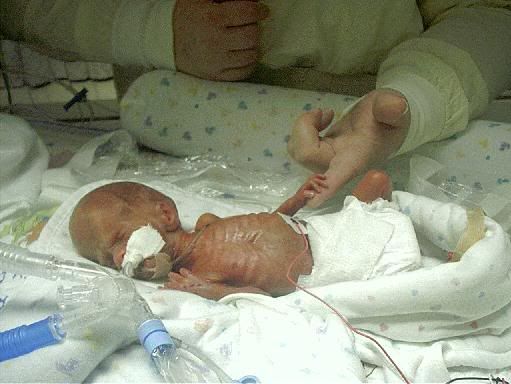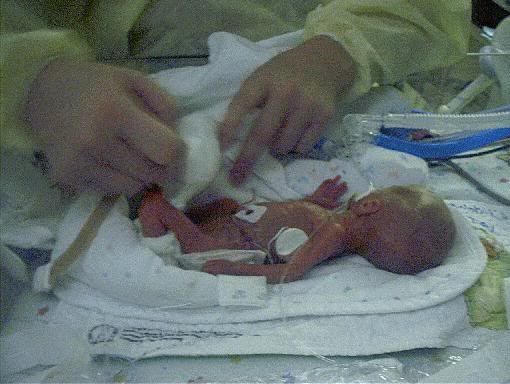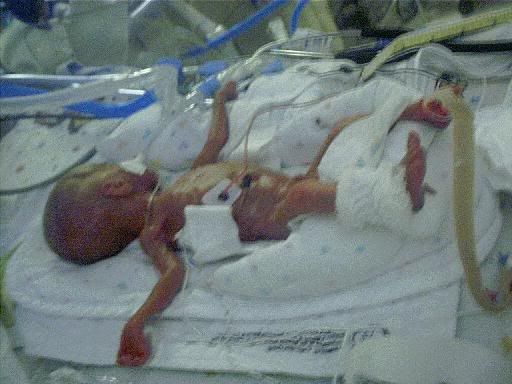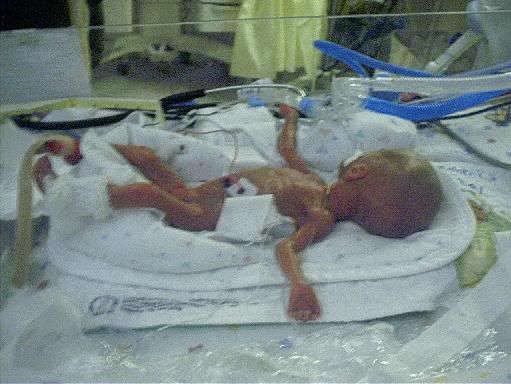 ***************************************
8/12/06
Bumbo and Bath Time!
David figured out how to sit in his bumbo without having to be propped! YAY! Finally!!! Here are the pictures!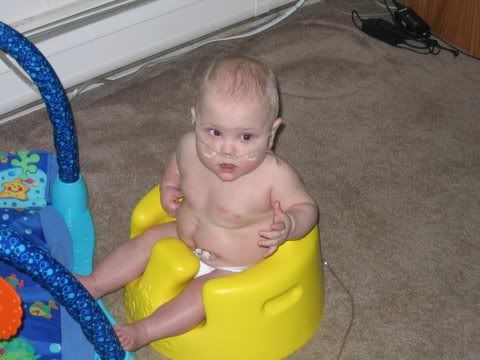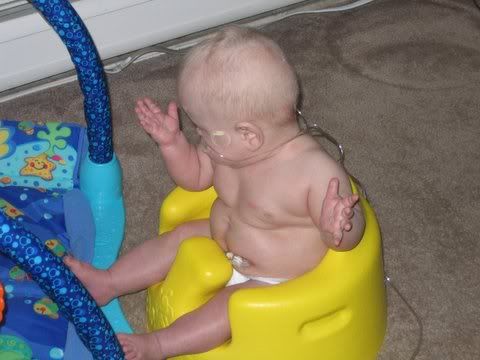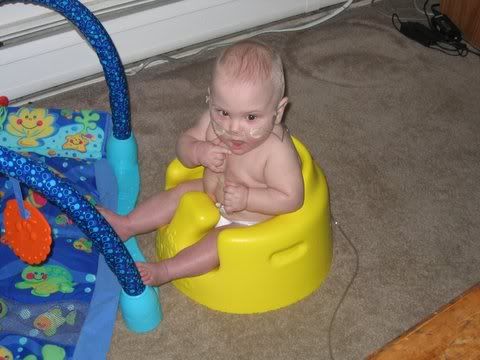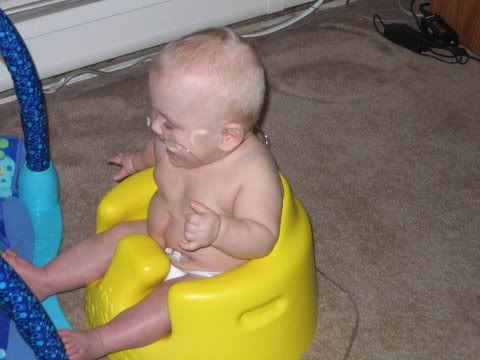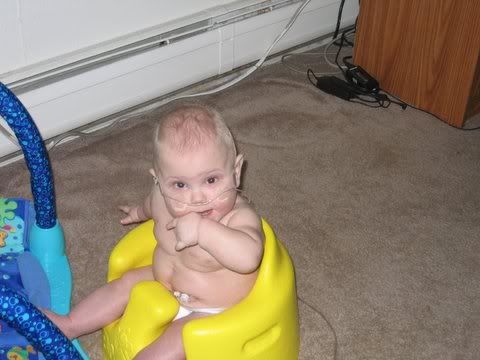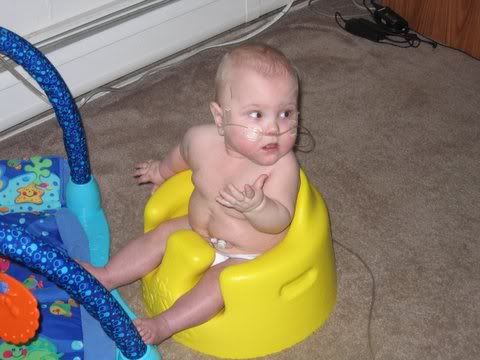 My favorite, even though it's not centered -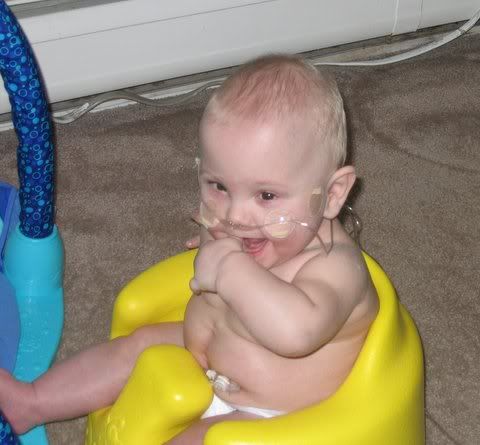 And check this out - David's getting HUGE. Remember these pictures from January??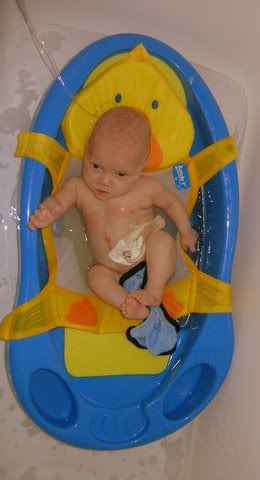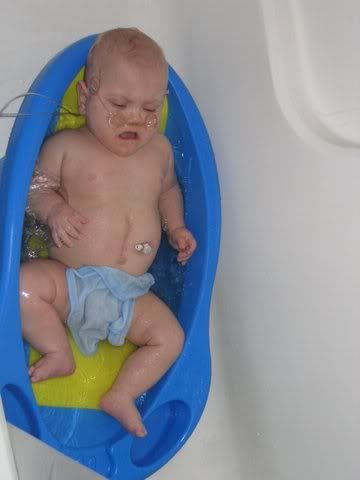 ***************************************
8/13/06
Daddy's boy!
(I know there's alot, but I couldn't pick! I love them all!!)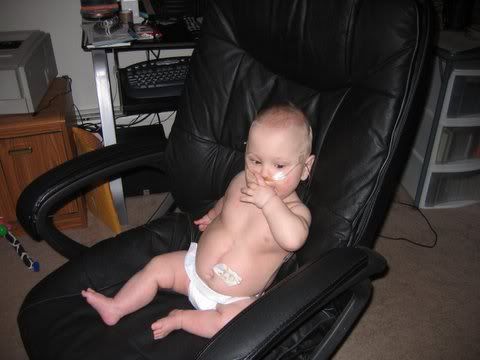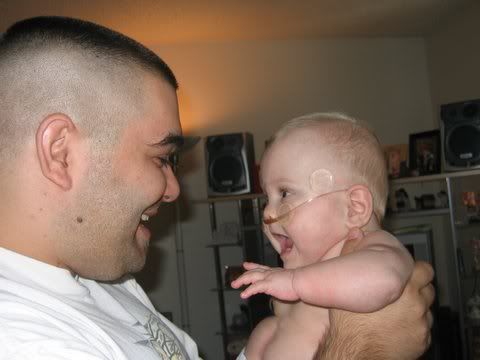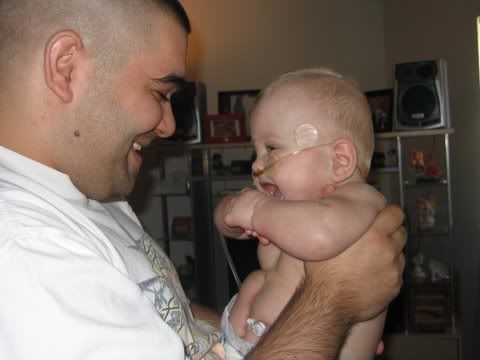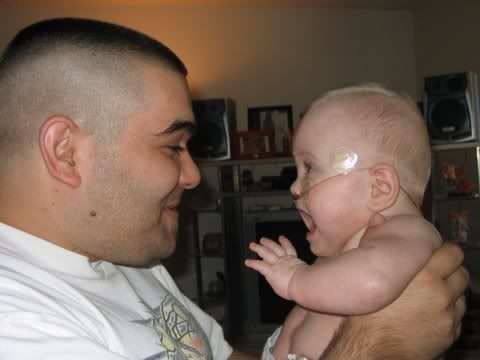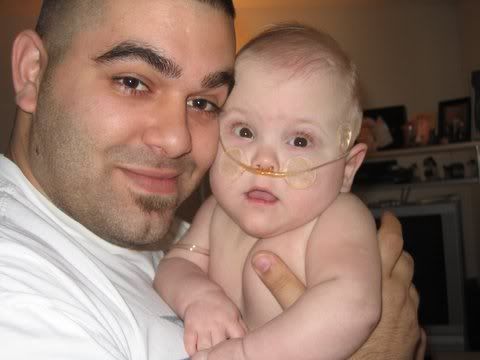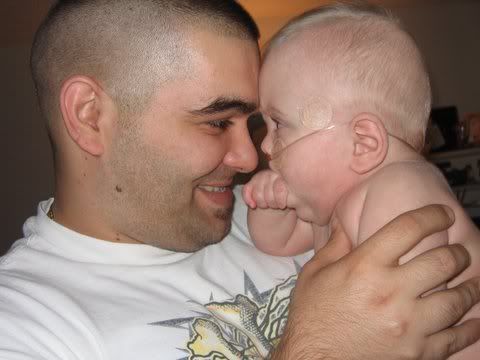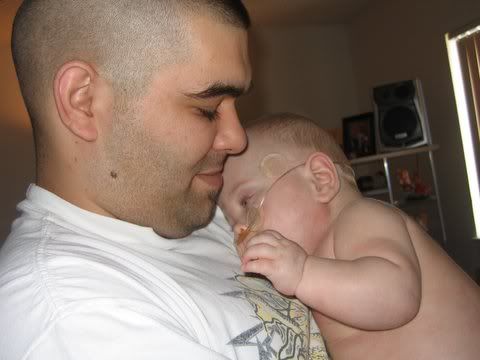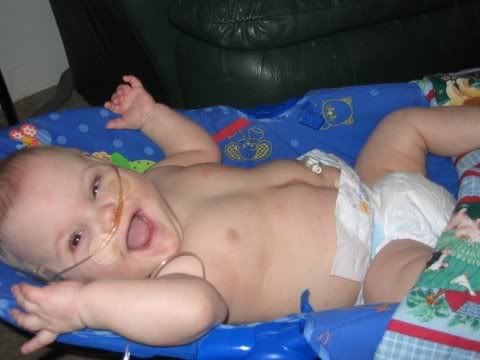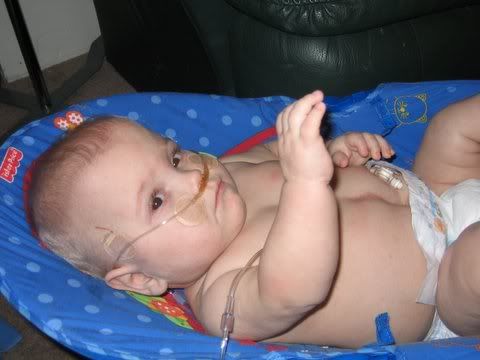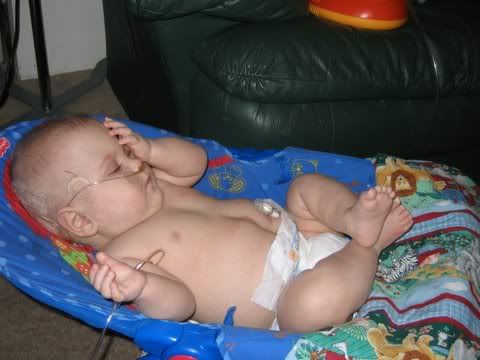 Here's a video of him trying to go to sleep in his bouncy
href="http://smg.photobucket.com/albums/v611/Sesc7/2006/August2006/?action=view&current=MVI_2003.flv"
target="_blank">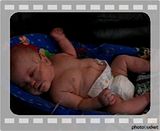 Hahaha...he put that phone on his forehead and left it there! I guess that's where he keeps it!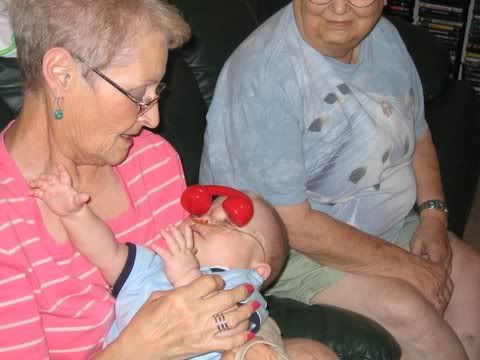 He was sooooooooo sleepy in his bumbo seat....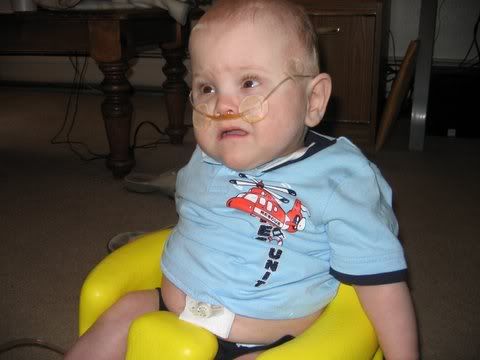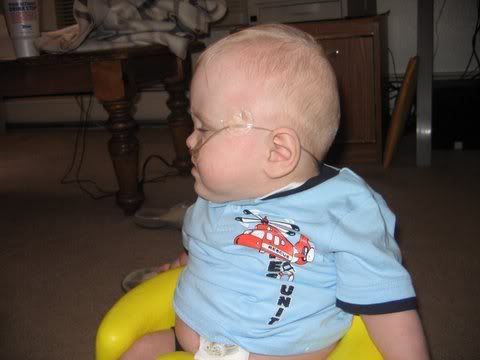 Finally, here's a video of him falling asleep in his bumbo...at the end Javier says "stop torturing him like that"
hahahaha
...but it was so cute!!
href="http://smg.photobucket.com/albums/v611/Sesc7/2006/August2006/?action=view&current=MVI_2010.flv"
target="_blank">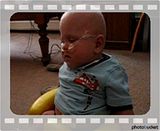 ***************************************
8/17/06
Sick sick sick....
David's twelve month well visit was Monday. It went really well! He HAS thinned out, he lost two ounces and gained an inch and a half! He's down to 22lbs, 5oz and up to 29 inches long! He got two shots, after having to interupt his nap just to get to the doctor...he was NOT a happy camper. Poor baby. She upped his feeds a little bit, and said we could do his midnight breathing treatment at 10 so he'll get more sleep. Oh! And on the doctor's note she wrote "Beautiful little boy. Great job!" hee hee...I already know ;) She said "I'm going to loosen the leash a little bit and let you go a month before coming back." I told her that the last time she did that, we ended up in the hospital! The other nurse said "but you call us if anything happens!" and our practitioner was like "oh, she will" hahaha...I've talked to her NUMEROUS times in the middle of the night. She said that if she didn't think I would call if something was wrong she would have us come back in sooner.
So the VERY NEXT DAY...David woke up with a productive cough. Then in the afternoon he started vomiting (remember
- he's not supposed to be able to vomit because of his nissan)...so they told us to let his stomach rest for a couple of hours, then give him 5ccs of pedialyte, wait 15 minutes and if he doesn't vomit give him 5 more...if he
still doesn't vomit then to give him half strength feeds for 24 hours.
That was Tuesday. Wednesday he did pretty good, didn't vomit at all, until that night. I had to call the on call
pediatrition. She just told us to let his stomach rest and call in the morning. Well, we called in the morning, and Kim (our nurse practioner) told us to bring him in and let her look at him. She just changed the volume and speed of his feeds and gave us some nasal spray to keep the drainage down.
THAT didn't work...so now he's on continuous feeds of pedialyte at 50 ccs/hour. UGH!
But here's some good news...David said "hi" Sunday. I kept saying "HI, baby, HI!" and he would say "hi"....but I
don't know if I count it as his first word since he was just imitating me? I don't think he knows what it means,
and I haven't heard him say it on his own.
And, an embarrassing moment for reward to all of you who are still reading my ramblings. The other day, after
being at work for over an hour, I looked down at my shirt to make sure there was no crumbs from lunch and caught
sight of something blue. Then I realized that one of David's link-a-dos was IN my bra.
Anyways, I have new pictures that I'll upload later, I'm at work right now :D
***************************************
8/18/06
Front Page, Baby!!!
David made the front page of the newspaper today for turning one year old!! Here is the article, found
HERE
.
Infant overcomes odds
Preemie marks birthday he wasn't supposed to reach
By Basil Hernandez
No one thought David Escobar would live.
The odds were against him.


The boy was born nearly three months early on Aug. 3, 2005.

He weighed one pound, four ounces. He measured 12 inches. You could have carried him in one hand."He's a fighter," said Stacy Gatlin, a registered nurse at The Children's Hospital at Northwest Texas Healthcare System. She cared for the newborn in his first months of life. "That little boy wants to be here really bad."

A look of adoration crosses Javier Escobar's face when he holds his infant son. That same joy crosses the face of Samantha Escobar, 24, as she dotes on her only child.The parents well know the long road they face. Javier, 25, originally from Miami, Fla., works at Anderson Merchandisers Inc. and attends college online. He met Samantha, originally from Marble Falls, on AOL and came to Texas on Valentine's Day 2000. They married in 2002.

Samantha takes insurance claims over the phone for Corporate Systems.

Though their love is strong, they watched helplessly as David returned three times to Northwest's Neonatal Intensive Care Unit in 2006, spending roughly eight months of his first year at the hospital.

"He got dehydrated and had to be put back on the ventilator," Samantha Escobar said about one return.

Then, tragically, David suffered a pulmonary hypertension crisis, something which his mother does not completely understand.

"And they didn't think he was going to make it, but he did," Samantha Escobar said. "The doctors and nurses at the hospital did an amazing job even with my husband and I frantic in the background.
"They didn't panic or anything. They did a great job and they saved him."

Dr. Angelica Chavez recalled the night of April 7, when David Escobar came to the ICU, gravely ill.

"He almost died," said Chavez, a Pediatric/Intensive Care Unit doctor.

However, Chavez wouldn't let the boy die. The doctor compressed his chest by hand to resuscitate the infant after his heart stopped.

"I just know it's been a long road, a long year," the father said at their apartment.

The mother recounts her son's brain damage and chronic lung disease.

Lifting his shirt to reveal a scar, she mentions a laser-eye surgery, hernia surgery and exploratory surgery.

"They were looking for a stomach blockage. He didn't have one," the mother said. There was another operation to
implant a "button," that allows David to feed.

David now weighs 22 pounds, seven ounces and stretches 27 inches."He's on a diet now," the mother says. "They don't want him to grow very much more right now."He's definitely caught up size-wise. He's doubled in size. He's definitely very happy."

True to her words, David gurgled and squealed.

Meanwhile, Monica Herd, a visiting nurse from Household Care Services Inc./Pediatric Home Care, 2801 Paramount Blvd., treats David for breathing and helps feed and care for him. Her major role, though, is to prevent sickness in a boy susceptible to illness.

The brown-eyed,blond-headed tot has won the hearts of those who he meets."I love David," Gatlin said, her voice
breaking. "He's like my own baby. I cried when he left. He was born on my birthday. I know that his life is going
to be hard.
"But, also, I know that his parents love him so much. We all cared for him a lot, all of the
nurses. He's meant a lot to us.
"We're very happy that we were able to send him home with his parents."

Samantha recalls her baby boy's struggles.

"They had to make him grow first of all, and then, they had to get him off the ventilator," she said. "They had to make sure his lungs were strong enough for him to breathe on his own."

David has not learned to feed on his own, but he's able to maintain his body temperature.

His parents maintain a vigil because David can go from healthy to critical instantly.

"It happens so fast," Samantha Escobar said.

"Hopefully, we'll learn to walk. If we can get through this winter without being back in the hospital, that'll be a miracle. "Maybe next year we'll have a great big birthday party for him without worrying about him getting sick."

Stacy Gatlin has become the Neonatal Intensive Care Unit Discharge Planner/Patient Educator. She performs the job for The Children's Hospital at Northwest Texas Healthcare System. A discharge planner became necessary because of the David Escobar case, said Gatlin, a registered nurse with 25 years of experience.

Highly-trained NICU nurses care for premature infants. They undergo extensive orientation and provide 24-hour monitoring of a patient. There is a patient ratio of 2 or 3 to 1 nurse.

The NICU strives to produce an environment simulating a mother's womb.

Infants are provided nutritional and respiratory support needed to grow and thrive. To leave the NICU, a
baby must be in an open crib, weigh at least 1,800 grams, maintain a body temperature, gain weight and eat his
feedings.

Escobar's complicated discharge highlighted the need for a planner focusing on the parents and child.

Vicki Brockman, Neonatal Services director at The Children's Hospital, is pleased.

Parents can turn to one person for consistent information while the hospital documents its services, she said.

This frees other nurses to provide care and Gatlin has time to give classroom instruction. "It's been a great thing for us," Brockman said.


*******************************************************************************
Here are some recent pictures!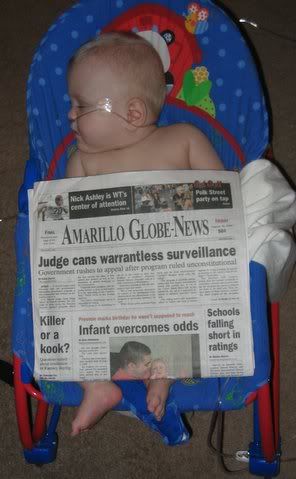 Javier's mom bought us a mesh feeder. As soon as David is feeling better I'm gonna let him try some cantelope or
something!! Here he is playing with it.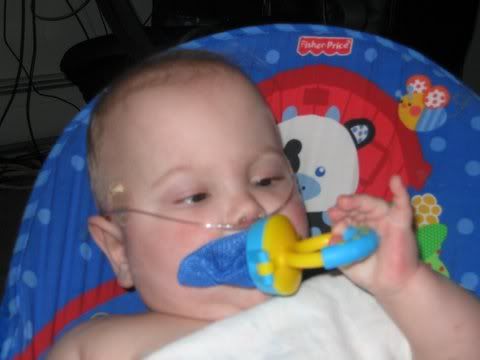 David and his infamous red phone - he STILL won't put that down!!!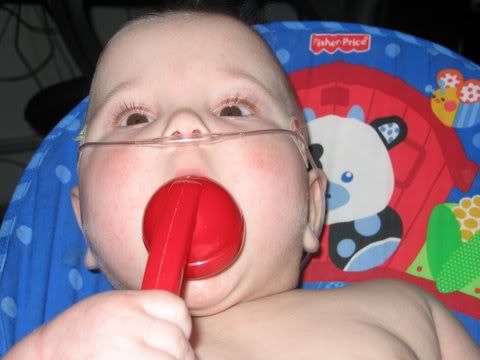 I love his chubby thighs here!!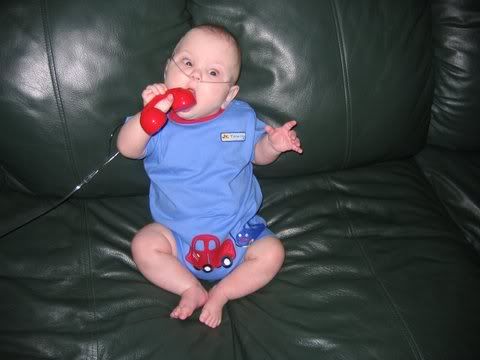 Javier and Daddy - in matching outfits!!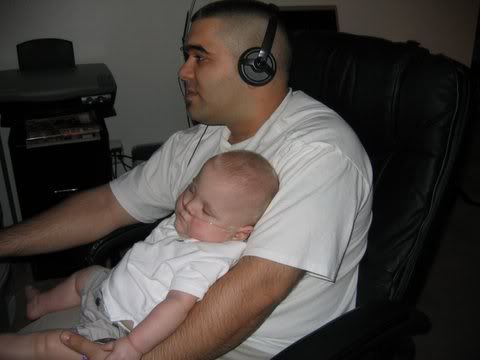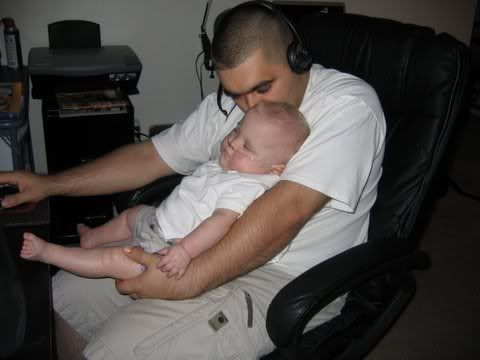 ***************************************

8/20/06

David got to play with another baby for the first time today!!!!

This is Javier's friend's baby. His name is Ashton.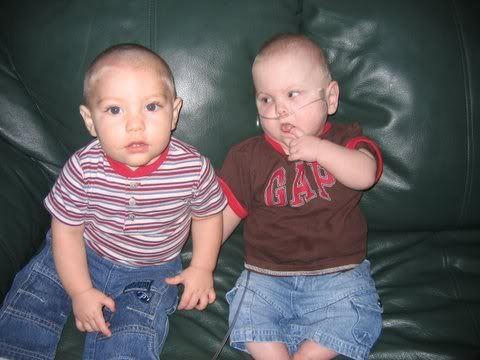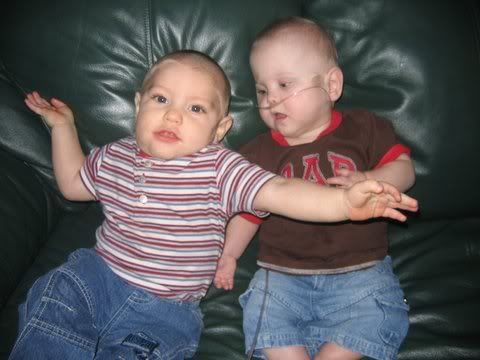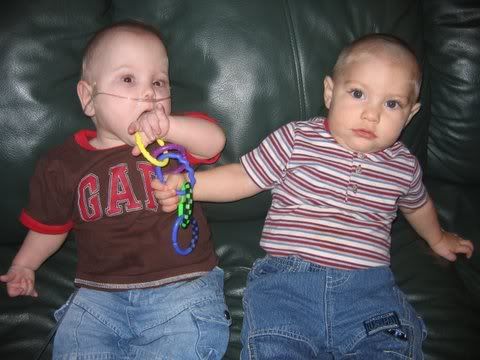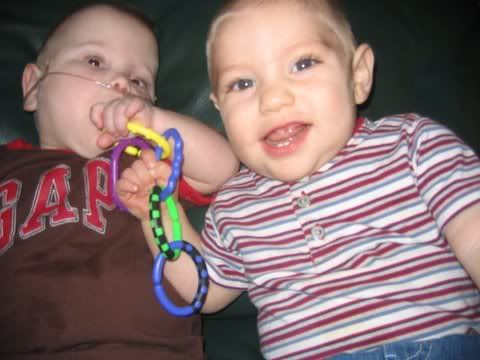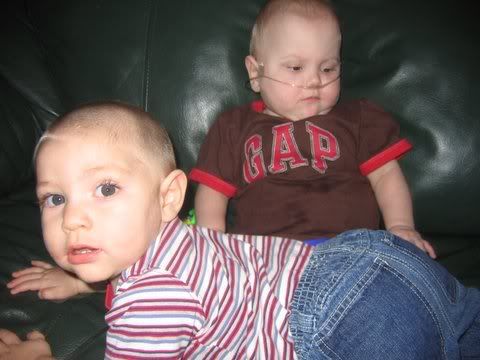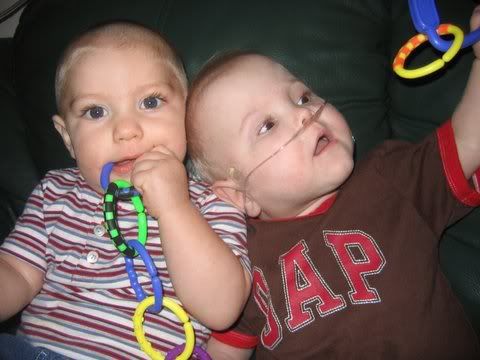 David took Ashton's toy!!!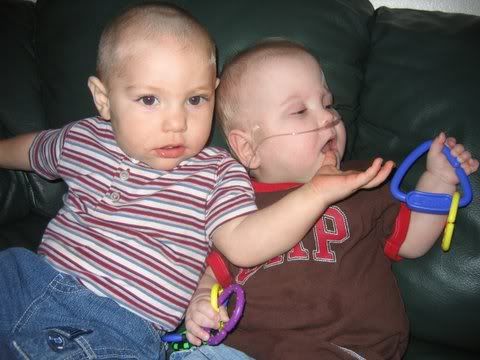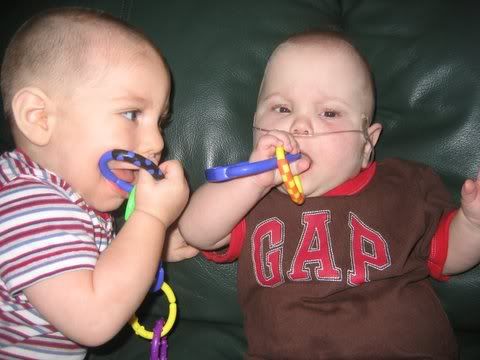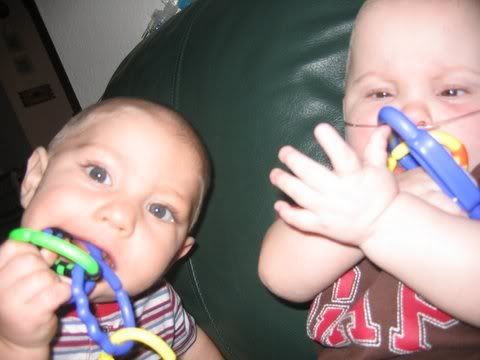 ***************************************

8/25/06

Lots of pictures!

What a day!! The plan was for me to sleep all day (I had today off) but it didn't work out like that! When the nurse got here this morning we tried to call around to get information about my medicaid - they were trying to tell me that since I make more than $16,000/year (yes, that's right SIXTEEN thousand) I didn't qualify for medicaid. So basically they're telling me that since I make more than that, I could afford sixty hours of home health hours a week (which apparently would cost me about $40/hr), all of his medical equipment (oxygen concentrator, nebulizer machine, feeding pump, pulse ox), all of his medical supplies (upwards of 15 medicines, neocate - formula that isn't sold in stores, syringes, feeding tubes, oxygen & neb tubing, etc), not to mention the doctor's appointments, hospital stays, AND on top of that the things that AREN'T covered by medicaid such as
diapers, wipes, clothes...AND our month to month bills?!? I don't know of ANYONE who makes enough money to be able
to afford that! Anyways, after three VERY stressful hours, I managed to find out that once his medicaid expires,
his SSI medicaid kicks in. Now WHY couldn't anyone tell me that TO BEGIN with? Arg - I was SO irritated. Anyways,
then Dr. H's office called and said we needed to go back to the hospital today for more labs - Dr H said David's pottassium levels were too low and he needed more bloodwork. Well, the stupid phlebotomist couldn't get a draw on
David - and poked him THREE times! Finally, they called an NICU nurse down, and she got it first time! So, we got
to see Sandra again (she was our very first nurse when David was first born!) She was surprised at how big and strong he got! Anyways - now he looks like a boxer getting ready for a match hee hee -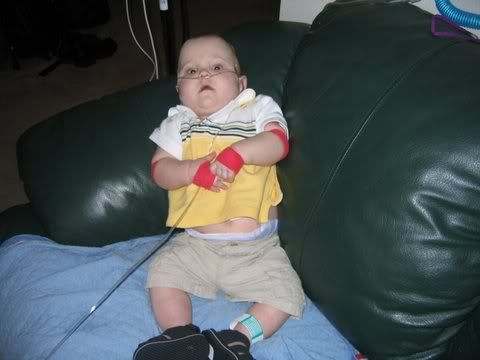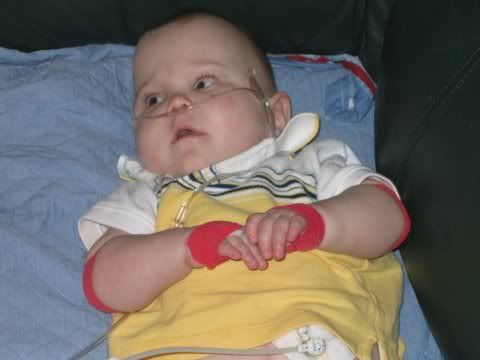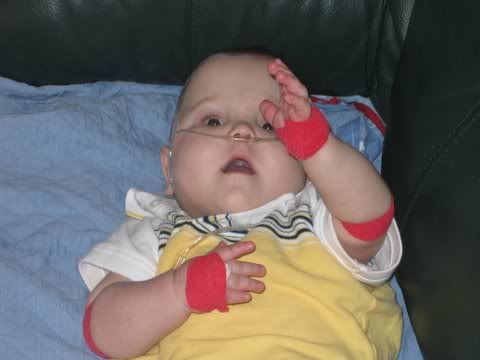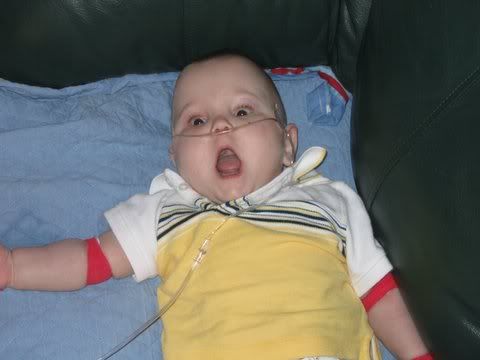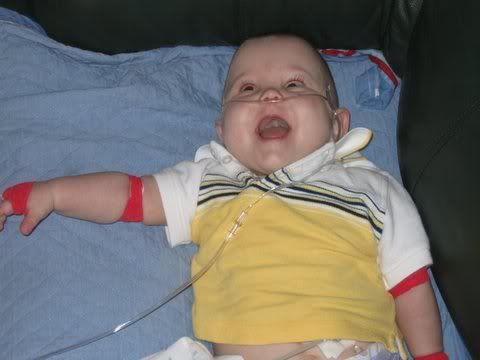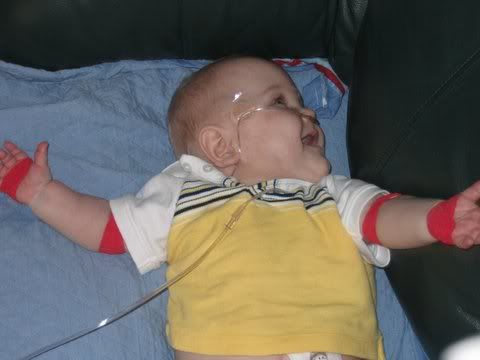 David has gotten to where he'll fall asleep on his side - and it's so cute! Here's a couple of pictures of that -
notice in the first one how he has his little leg proppd up on the aquarium thing! haha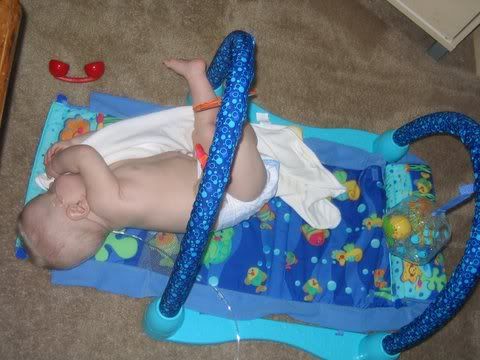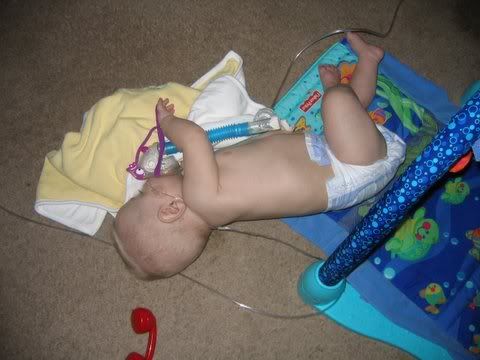 So since David outgrew his blue bathtub, I went tonight and got him a big boy bathtub!! He didn't know what to think at first, but then he liked it!!! Here are the pictures of that, sorry so many, I couldn't pick!!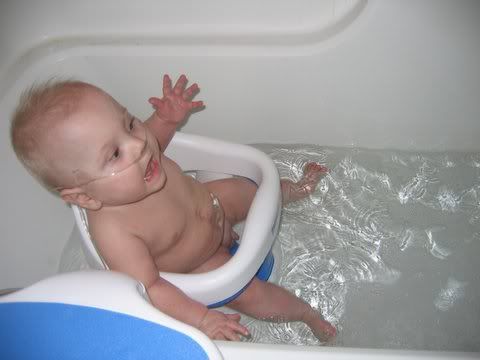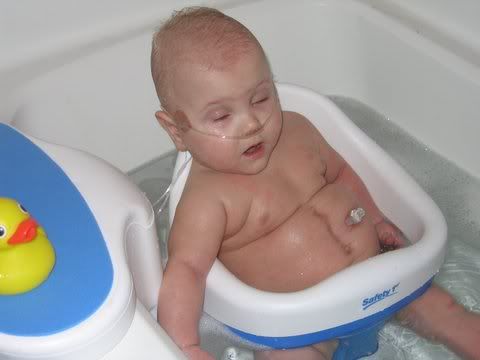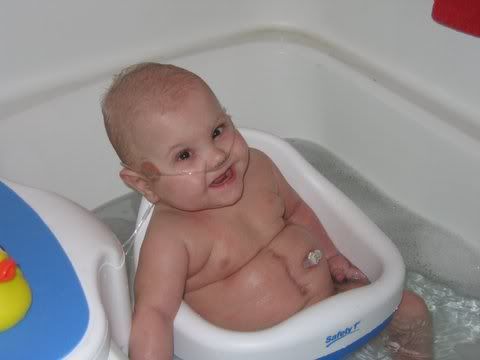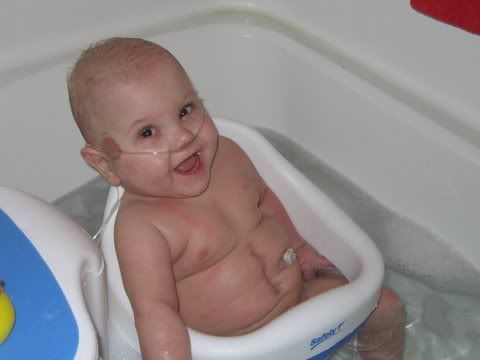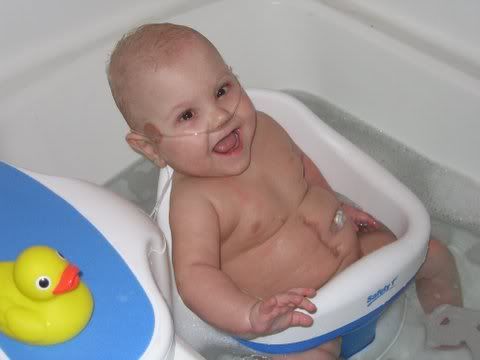 ***************************************

8/27/06

Grapes!

David ate grapes for the first time on Friday. I peeled & sliced them, then put them in his mesh feeder. Since then we've tried bananas but he didn't want anything to do with them. It's just as well, I hear they're awful messy ;) Here are the pictures of him eating grapes, he really liked them, but boy was he sticky when we were done!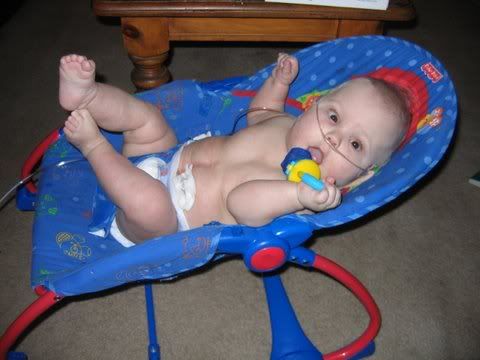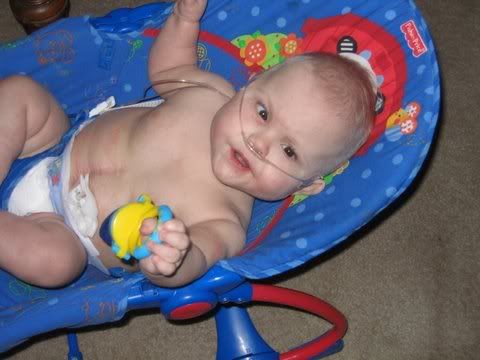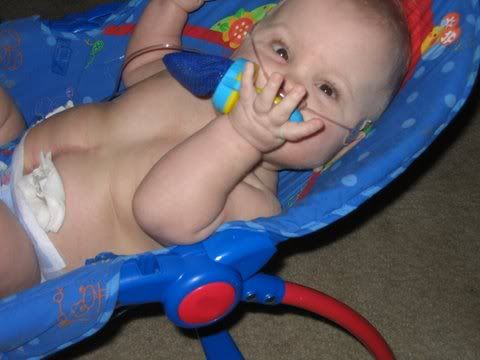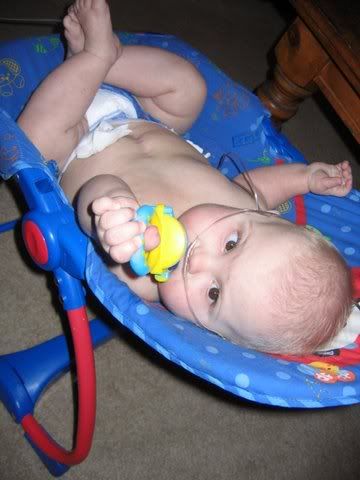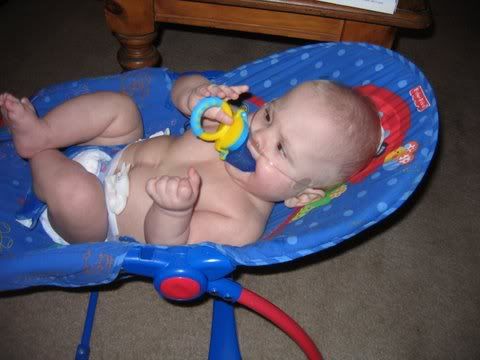 Susan, our nurse, bought David a hat when she went to Florida. It's so cute! It has an elephant on the front and

it says "Busch Gardens" on the back. He looked so cute with it on!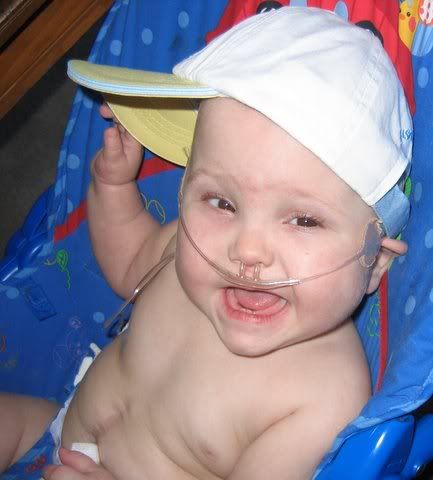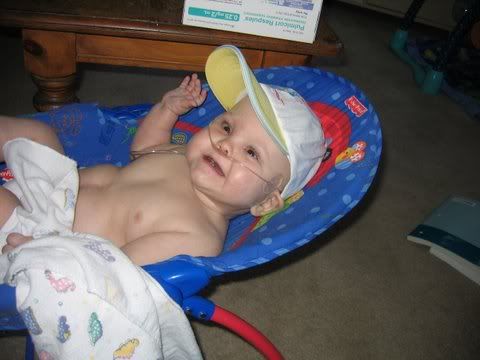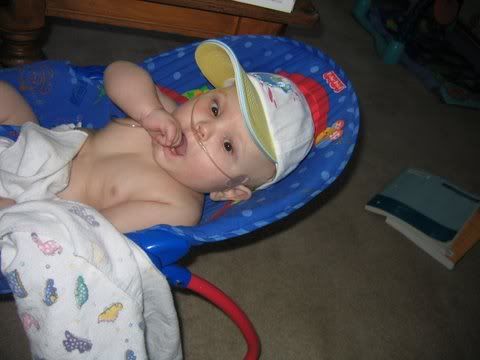 Javier took these pictures of David sleeping the other day. He says this is how he fell asleep - notice he's got
the linkados in his mouth, and the triangular linkadoo around his left arm...and of course his red phone by his
head. Haha.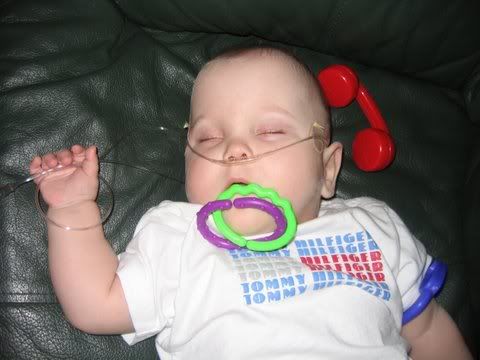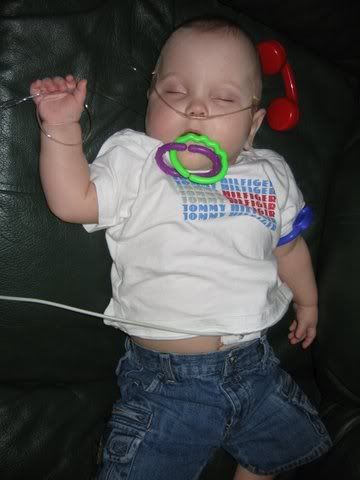 So the other day the fill in nurse kinda made me mad. She noticed some little red dots on David's legs, and she asked me what they were. I told her that I had no idea, that we had just noticed them. She asked me if it was from
grabbing him! I told her that he has NEVER - not one time in his entire life - been GRABBED. I was really irritated - Although I'm grateful for all the help I get with David (our nurses, our ECI therapists, etc), it always seems like my parenting is being scrutinized. I really hate that.

At any rate, I took a couple of pictures of the red dots that she was refering to. Here they are -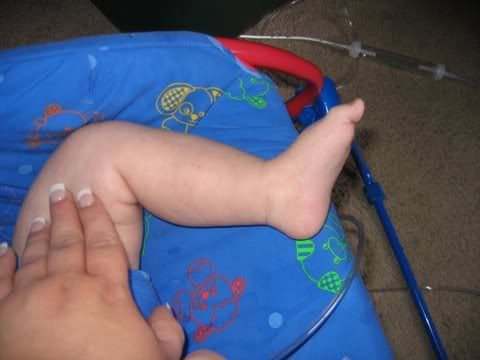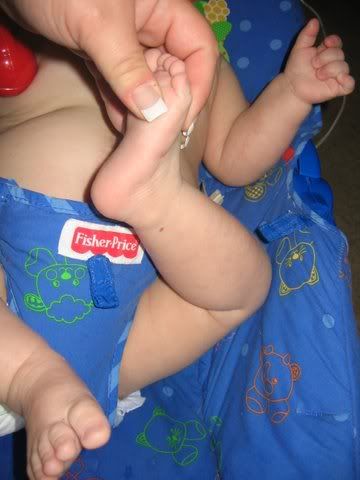 David has FOUR teeth coming in on the top!! Two of them have broken through already (as of yesterday), and the
other two are SO close. He absolutely hates having anyone touch his mouth, so it's hard to see those...I wouldn't
have even noticed them if Javier hadn't of pointed those out. Anyways, here is a picture of his bottom two teeth -
they're getting big!!



***************************************

8/29/06

First time at the park!!!

We had been scheduled for our heart doctor this morning to check on David's pulminary hypertension. So we got all dressed and headed out there, only to find out when we got there that they had rescheduled for tomorrow. ARGH! So since we were right by the park I decided to see how David liked the park! It was a total bust. First of all, there were no swings to put him on, and all the playground equipment that WAS there was wet from the rain. Not to mention David usually takes his nap right around that time so he didn't want any part of it. So we were there about ten minutes before heading back out. Oh well, there's always next time, right?

Here are the pictures from that: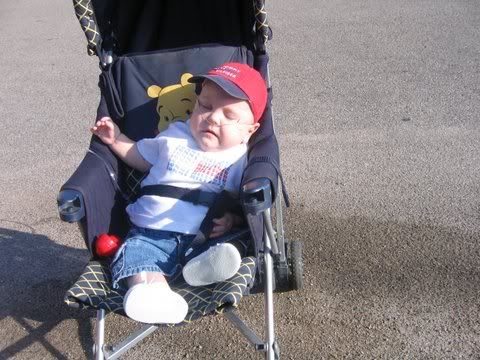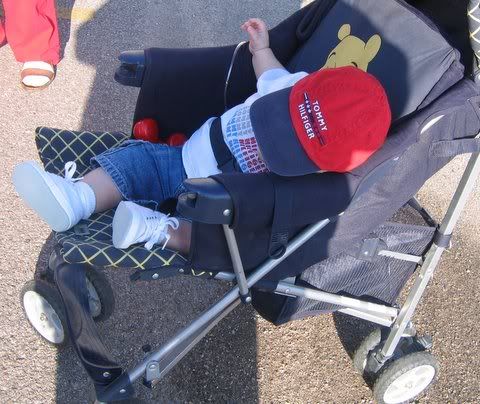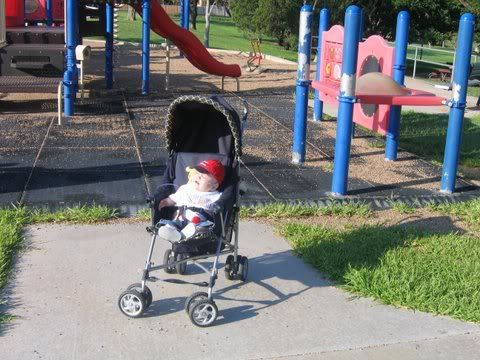 And one more, David using a changing station for the first time, at the doctor's office.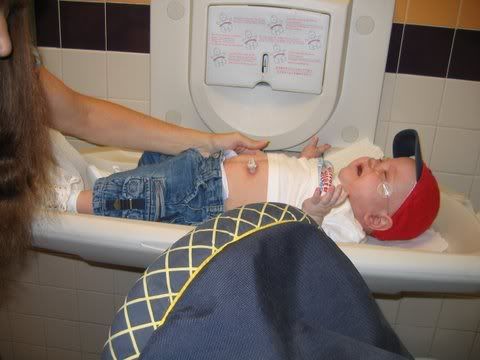 ***************************************

8/30/06

Great news at cardiologist appointment!!

We had a doctor's appointment with Dr. Luckstead, the cardialogist today. They did a chest xray, then an EKG, then an echo. The EKG is when they hook these things to his chest that look like jumper cables and it does something or other and prints out a paper. The echo is an ultrasound machine that looks at his heart. Dr. Luckstead said that if he didn't already know that David had pulminary hypertension he wouldn't have found out by these tests. He said David's heart efficiency was "Excellent." He said that although it's still possible for him to go back into pulminary hypertension crisis (which is what happened when he coded on April 7th), since he is so much bigger and healthier he wouldn't have such a difficult time recovering from it this time around.

Also, he answered a question that I had pondered all this time. When we went into the hospital on April 7th, it as originally for dehydration. When we got there he had to be put on a ventilator. It wasn't until that night that he coded. So I was never sure if the pulminary hypertention crisis was BECAUSE of him getting dehydrated, or if it was completely unrelated. Dr. Luckstead said that the reason he coded was because all of his "reserves" were gone. I think he meant that his body was compensating so much already for being so sick, that when this hit him, he wasn't able to handle it well. I guess that means that it was NOT related to the dehydration, but it was as bad as it was because he was already running on fumes, so to speak.

Dr. Luckstead said that once he turns two years old they "turn a corner" healthwise - and the chances of this happening again are slim. And he said that if it were up to him they would begin weaning some of his medicines, namely his lasix and viagra. He also said David's chest xrays show that David has some thymus tissue (or something like that) on his lungs, which is a good thing. Still don't know much about that. Hopefully I'll find out more soon.

And finally, David is 29 inches and 22lbs, 8oz.

So WOOHOO!!!