It's coming soon!
I bet I even have TRICK OR TREATERS!!! I've NEVER had my very own trick or treaters!! PLUS I actually have a YARD I can decorate!!
So I'm open to suggestions for costumes for David. Some ideas I currently have:
bumblebee
OK so that's pretty much it. But when I find the PERFECT costume, I'll just know it.
----
So the NICU reunion was on the 8th. We had a good time - saw some of the nurses that we used to know. Here's David and Stacy, one of our favorite NICU nurses.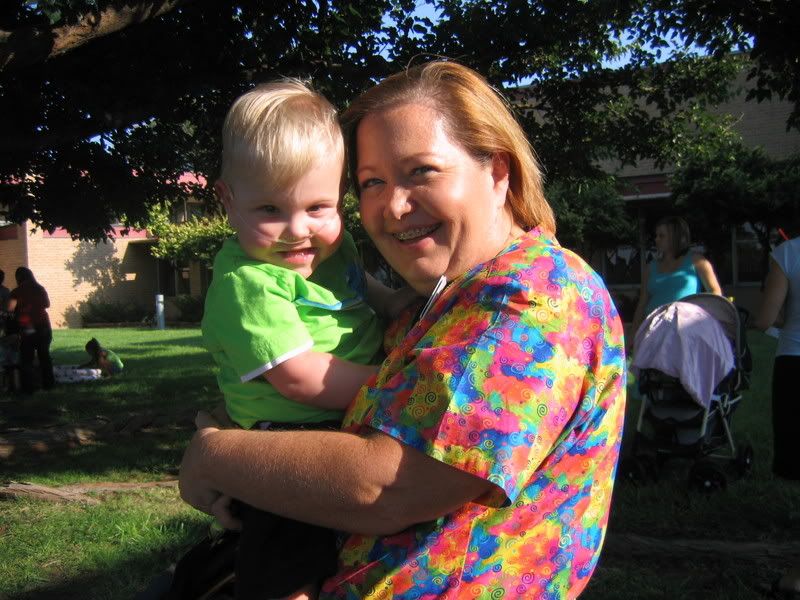 Trying to get his face painted - he wouldn't stay still long enough so he ended up with a couple of streaks and that was it.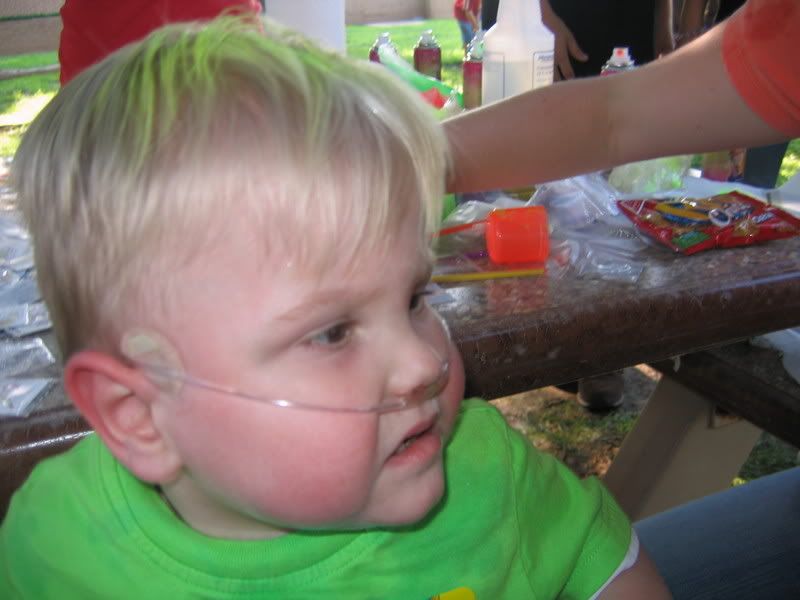 This is David and Katie. Katie was the receptionist in the NICU and PICU. She kept me company on many long nights.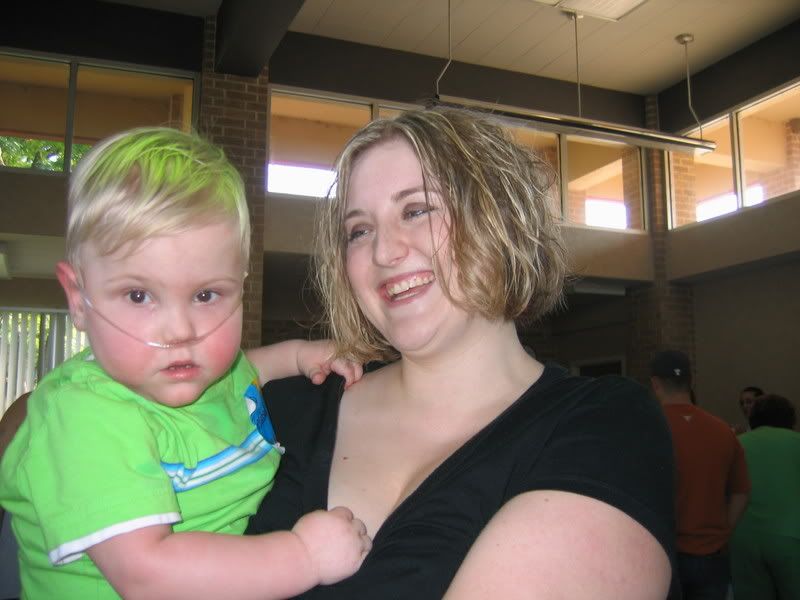 Getting tired.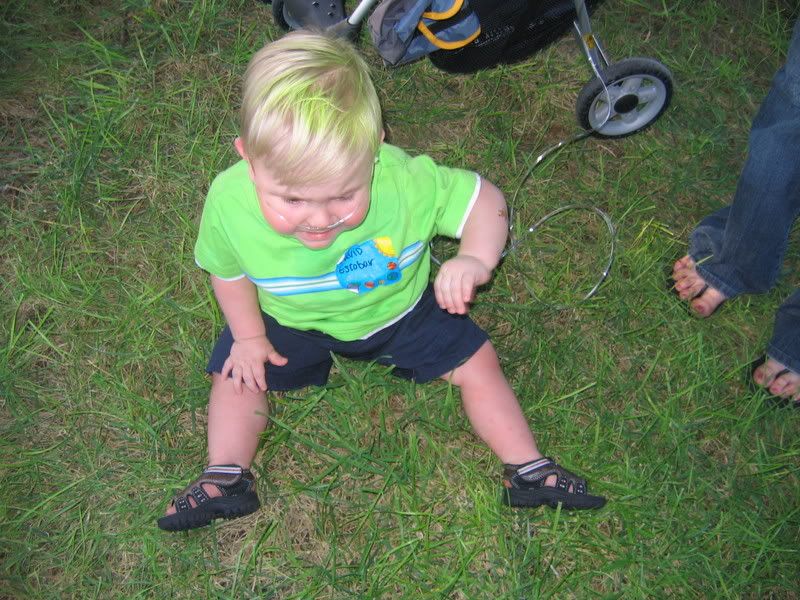 -----
Can you imagine if I had TWO Davids?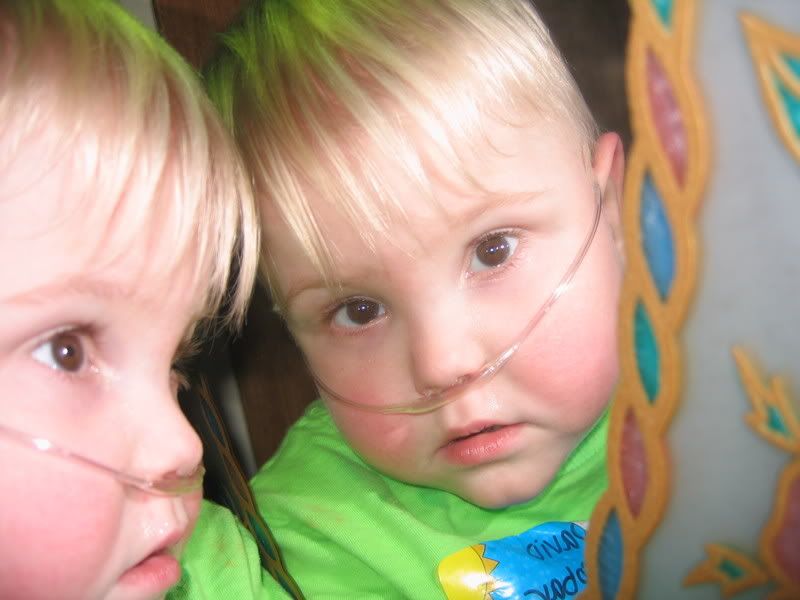 -----
Here's a picture of David eating his new favorite snack - Toast dipped in Ranch dressing.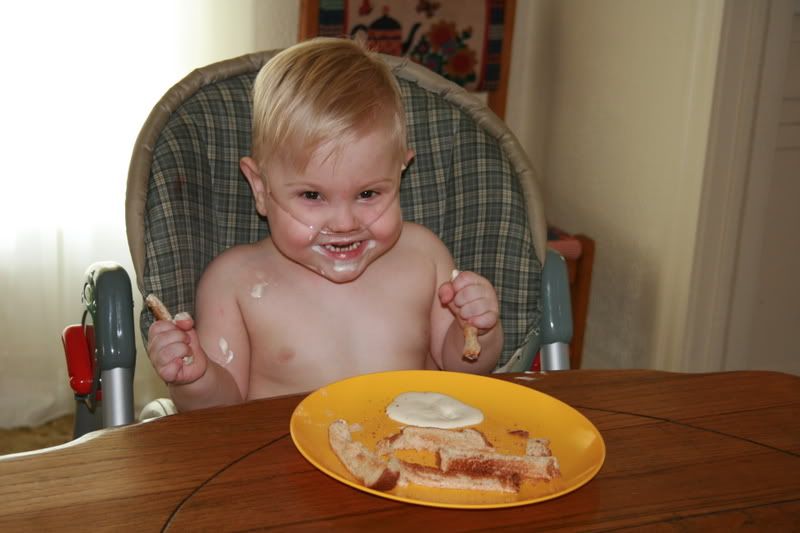 (hey - if he'll eat it, I don't even care.
)
-----
Speaking of eating, I find it strange that David pukes when I try to feed him brisket. But then five minutes later he has a piece of paper torn off of a flyer and swallows it before I can dig it out of his mouth.
-----
So I just want to brag on David for a minute - I am so proud of him! He's learning more every day and it's so much fun to watch him and what he picks up on.
Lately he's really learning to follow directions. It's so cute! He'll wave bye bye, blow kisses, smile, point to his hair, nose, and ear, give himself CPT (which is when we pound on his chest to break up mucous in his lungs haha ), play itsy bitsy spider, clap, play patty cake... and I'm sure there's more. It's so much fun.
Anyways, I just wanted to brag on him for a minute. Watch this video to see him do a few of the things I mentioned (some of them he doesn't do... but he IS a two year old... what do you expect? LOL) OH... and ignore my singing please. haha...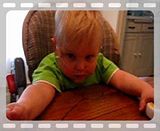 OH and btw... I'm trying to teach him to "sing" by going "ahhhhhhhhhh"... he copies me by going "ah" real short.
-----
David's been having night terrors lately. They're getting really really bad. Any suggestions on this?
At first it wasn't that big of a deal - I would talk to him outloud, as if he was awake, in attempts to wake him up. Then, when that didn't work, I'd sing to him. That always worked.
Well last week was our worst yet - lasted at least thirty minutes... I couldn't get him to stop screaming. I was starting to wonder if he had hurt himself or had gotten bit by something.
I don't know what to do.... ugh. Hopefully they won't continue. I've noticed that the more rest he gets the fewer of the episodes we have.
-----
ECI (the company who provides our therapists) had a float in the Tri State Fair Parade on Saturday, and our family was asked to be on it!! I was so proud of David!!
We had SO much fun! I'm so glad they invited us to go! David did great for the most part... we were waiting in line to go for almost forty five minutes, and he started to get a little bit impatient... but he IS two, afterall.
Anyways, here's the pictures!
This is Julie, she's our ECI coordinator.
I love this pictures - this is Annette, our occupational therapist.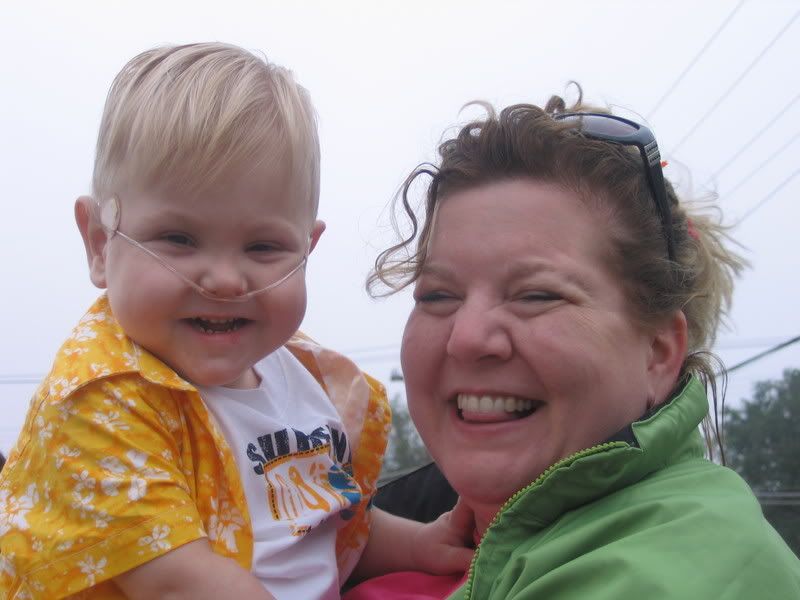 Here's David and Joni, our nurse.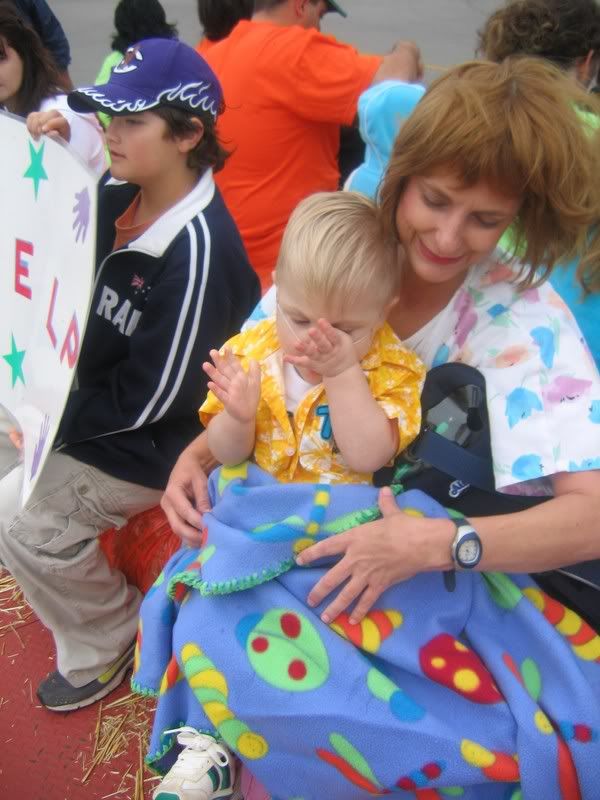 It was really pretty chilly outside this morning. I figured it'd warm up!
But, we brought a blanket just in case - good thing!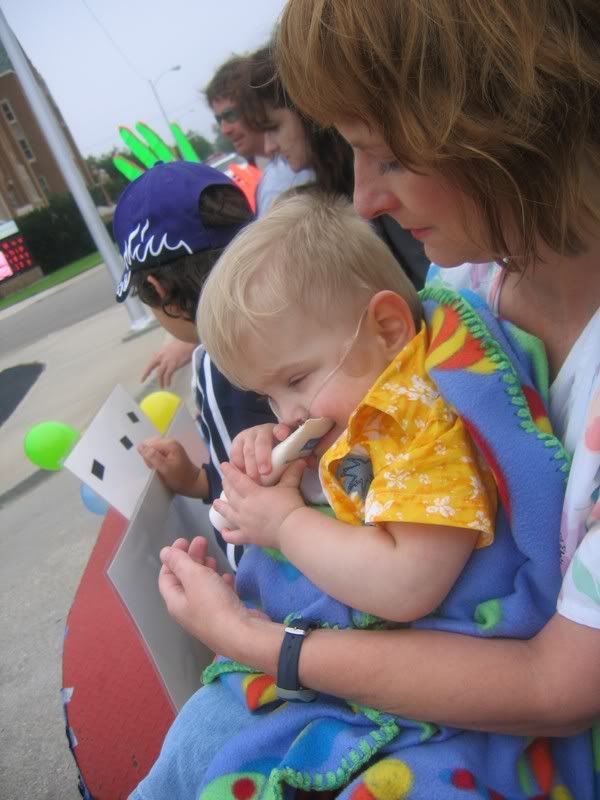 And here's David, tired of it all, after the parade was over: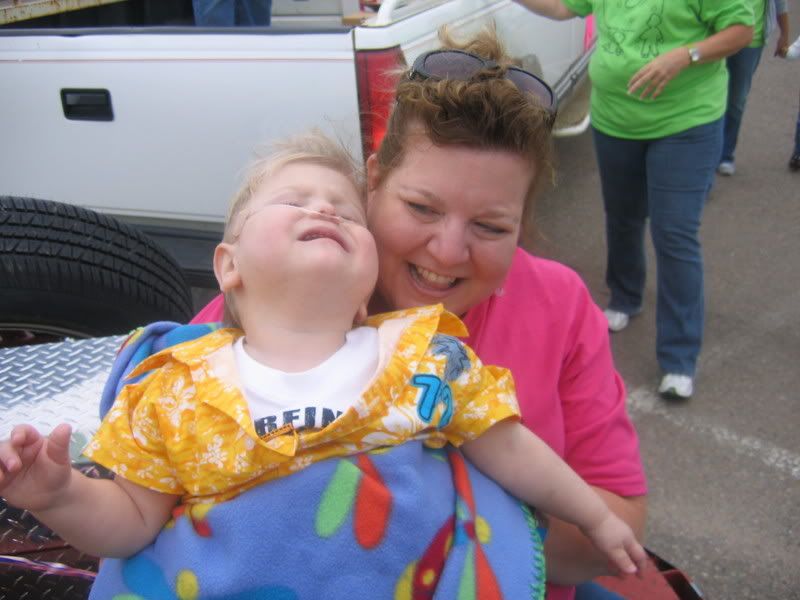 Here's the few parade exhibits I actually got to see: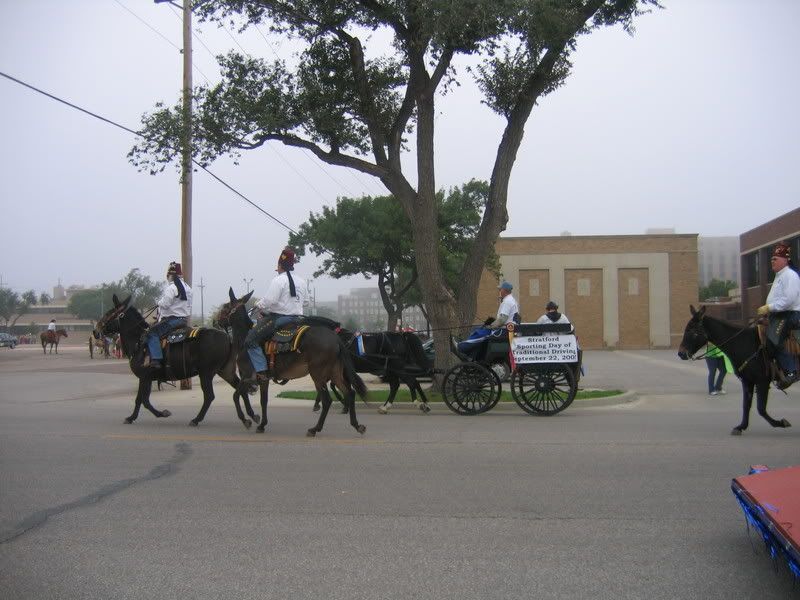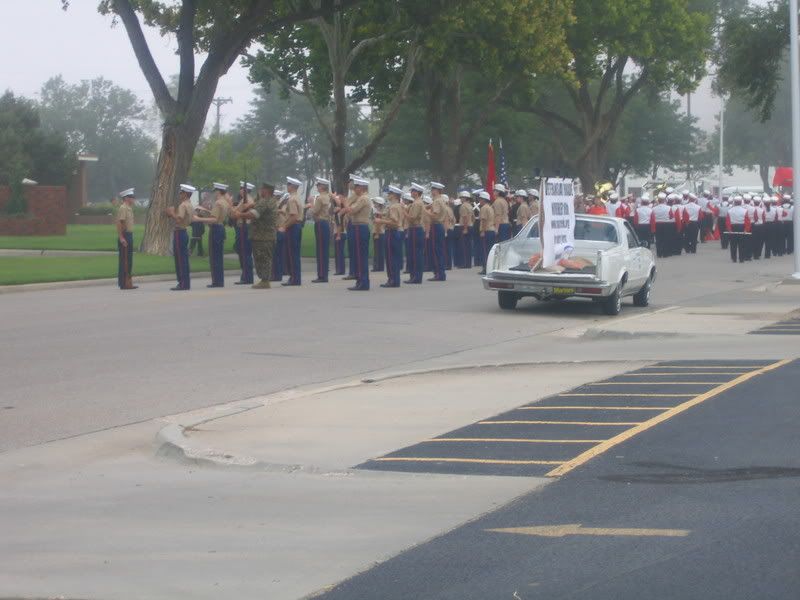 I love this little donkey/horse/whatever it was!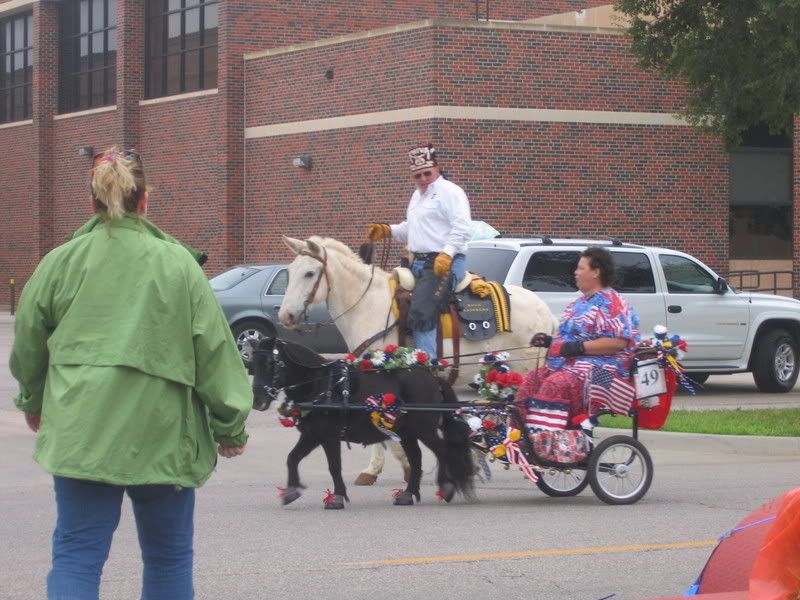 This girl was making me SOOOO nervous!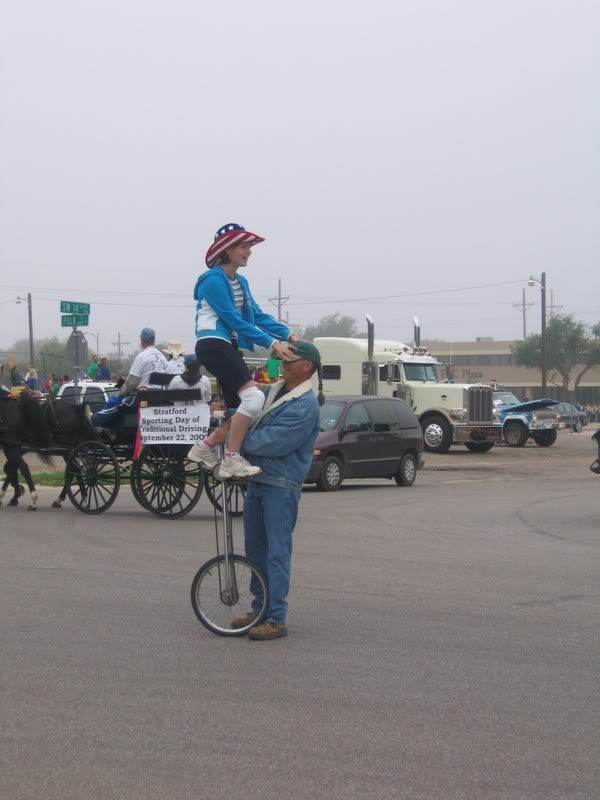 -----
Just some random, cute pictures of David
JoAnn was playing with David yesterday when he just fell asleep in her lap. It was SO sweet.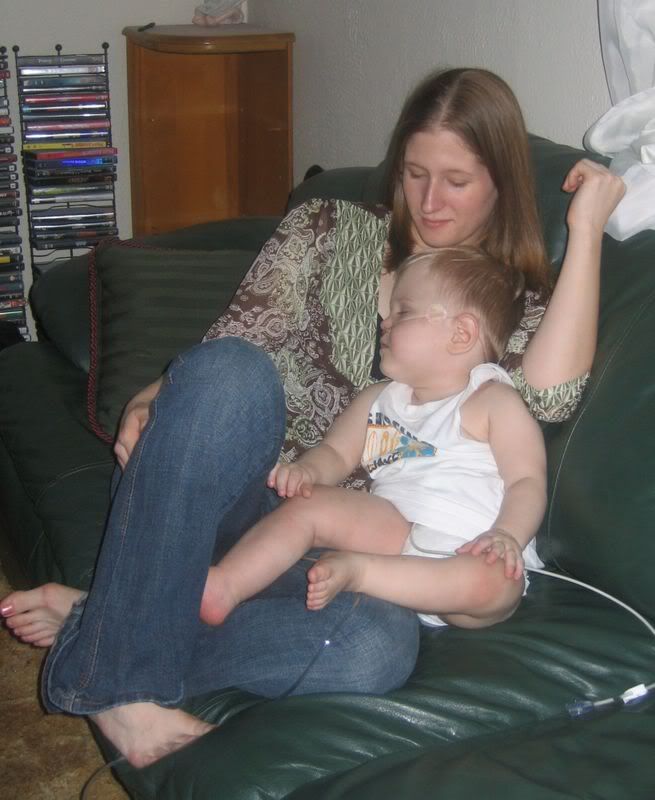 Check out David's wild hair.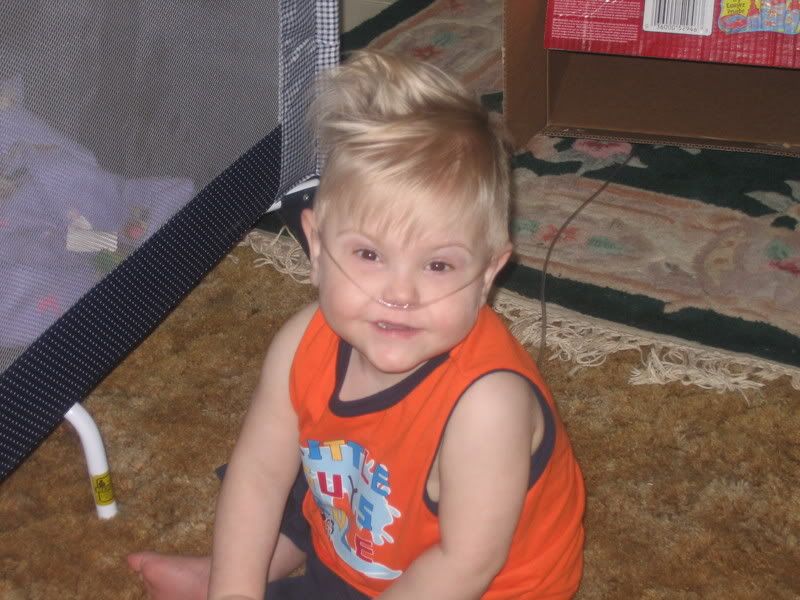 I left him to his own devices for a few minutes today while I was cleaning. Soon he got real quiet, so I went to check on him. This is what he was doing.
What a smart boy!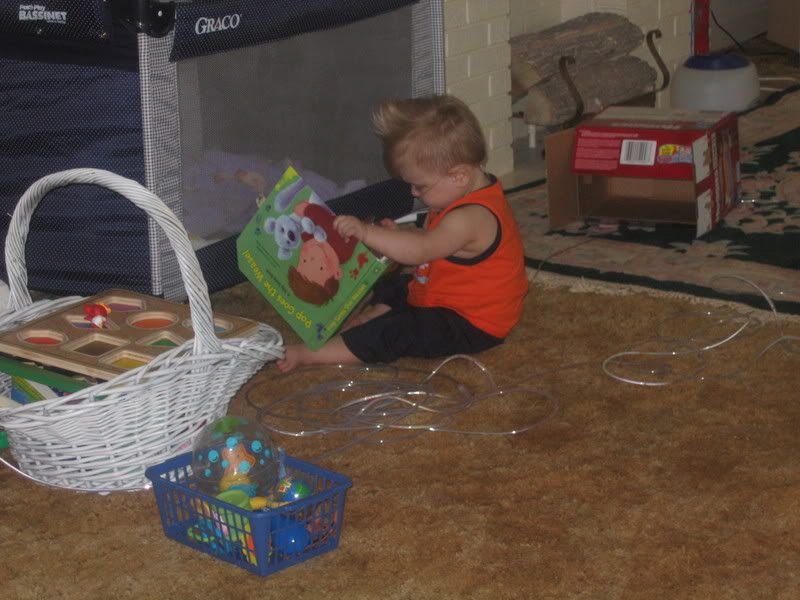 Think he has too many toys?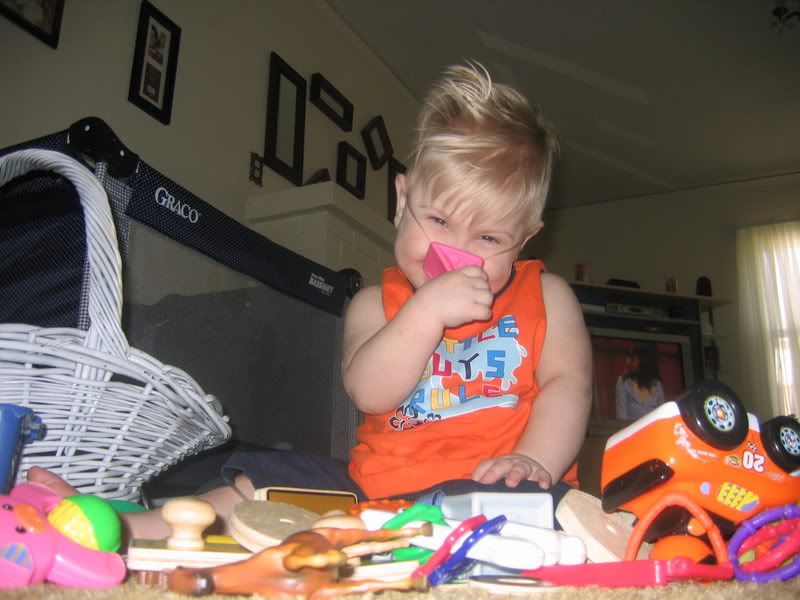 This is when he got mad at me for not letting him grab the bubble thing out of my hand while we were playing with bubbles. He already had one in his hand, and I had the other one. Well, he wanted both.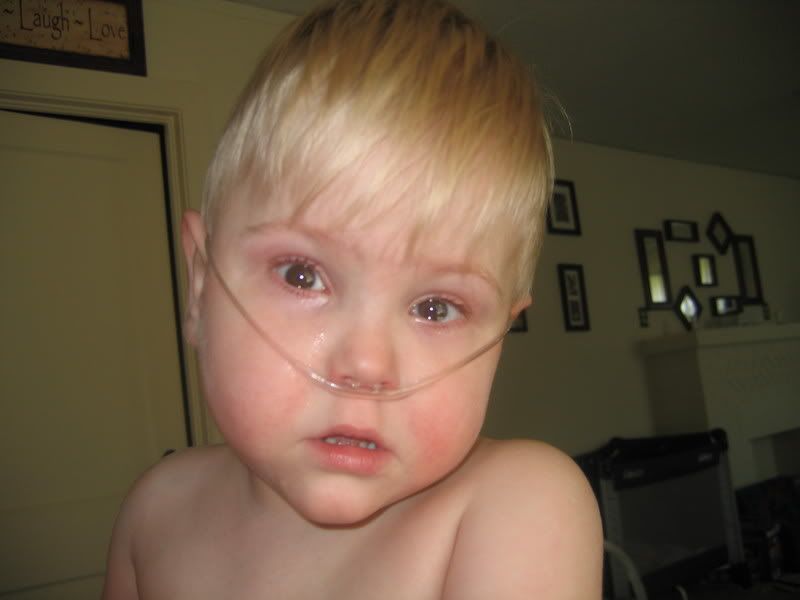 And, I think maybe David wants a pillow.