We had a blast on Halloween. First, we took David up to the hospital where we got to visit all of the nurses who took care of David when we were in there. We even saw Dr. Chavez, who saved his life last year. They were all DELIGHTED to see David off of oxygen. He was such a ham - he gave kisses and smiled the whole time.
The plan was to let him walk into the unit while holding our hands, but the little slip on boots that went with the costume were too slippery - he was sliding all over the place. It was hard to keep him steady through fits of laughter. haha...
Then, we took David up to my job where all my new work friends got to meet him. He loved it there, too. In fact, he even ate a sucker! It was one of those suckers that have a skeleton hand as the stick. Actually, he was more interested in chewing on that then he was the sucker.
Finally, we took David over to Meme's to show them his costume. Once we got home, I ran to the store to get pumpkins to carve - then we took pictures:
Getting ready for the big day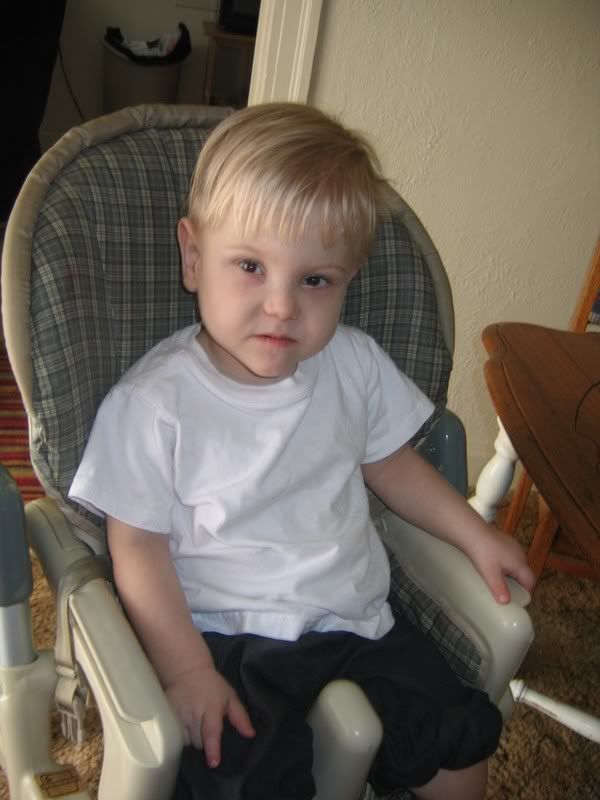 For weeks we tried and tried and tried to get him to wear this wig. I even had the nurses try to put it on him throughout the day to get him used to it - but, he was TERRIFIED of it, and that never got any better. But, I paid good money for this wig, and by god, I'm getting at least ONE picture of him in it.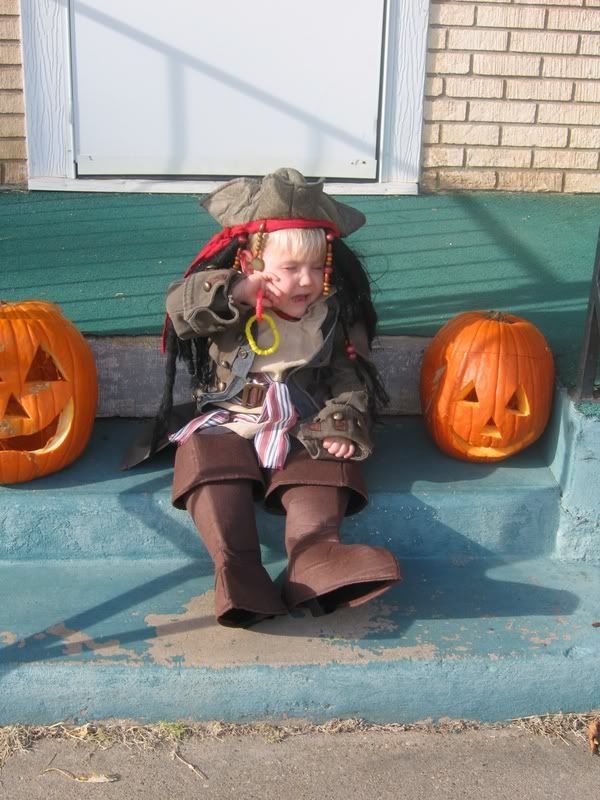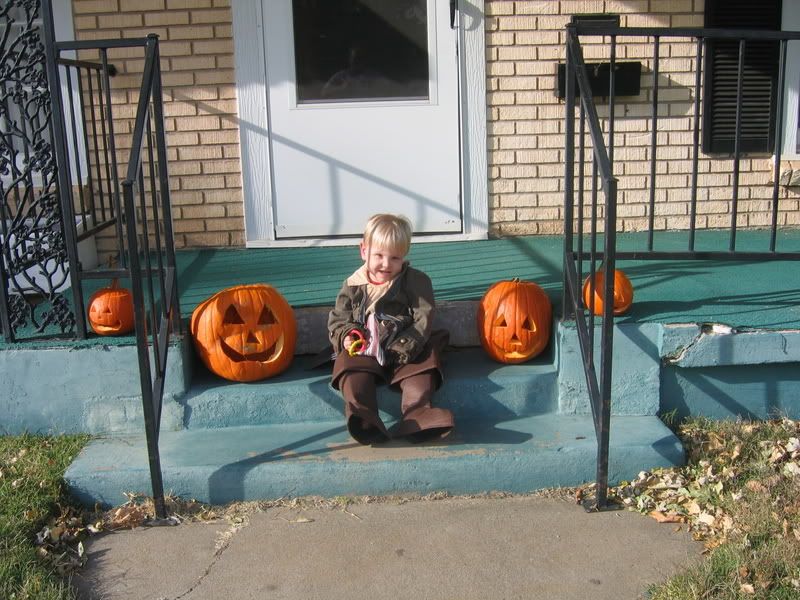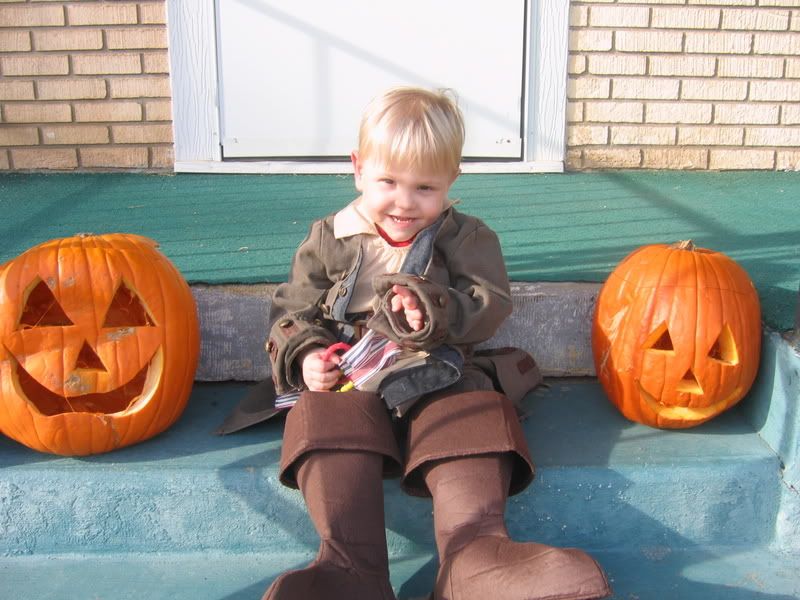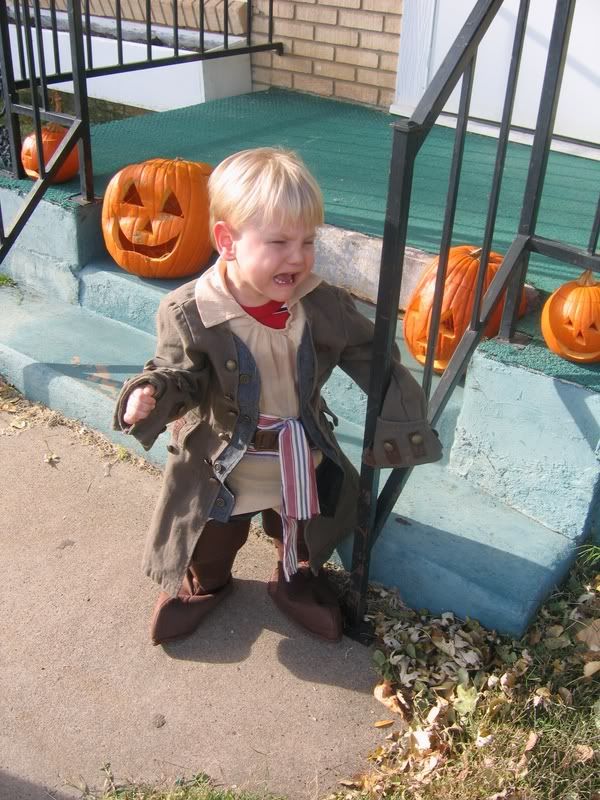 And here's James, our nurse, and David.
After David was in bed and sound asleep, JoAnn came over and we handed out candy to all the trick or treaters. I was a little disappointed in the number of trick or treaters we had - we didn't get ANY till almost seven, then it was all over by eight.
I didn't even run out of candy!
Of course, it's all gone NOW.
---
So the Friday after Halloween we ended up taking David to the doctor because he had ear infections - in both ears. Poor kid. He would just hold his ears and cry.
It broke my heart! But, we finished his antibiotics yesterday and he seems to be all better now. While we were at the doctor's though, he got weighed again. David's down to 29 pounds. He was up to 36 at one point - but he's lost SEVEN pounds!
And to add to that, he's gained a few inches (I don't know how many - but he's MUCH taller than he was) - so he's gotten SO skinny!!
I'm sad though - because one of my favorite parts on him was his wrists - because he looked like he had rubberbands around them (the little fat roll) and it's gone!
---
David's button keeps coming out - I don't know what to do! The funny thing is, he doesn't cry or anything... earlier we were putting away the toys so I was just grabbing stuff off the floor and there it was! EEK! I don't even know how long it was out!
---
Javier took David to WalMart the other night. This is kind of a big deal because, believe it or not, this is the first time David has EVER been to a store. I've just never had to take him - there's always been someone else to watch him, and I've always been too worried about germs and stuff to tote him along.
Anyways - Javier said it was SO much fun. Javier said that David just laughed and giggled the whole time - and I beamed with pride thinking of my husband taking our kid to the store all by himself - and not having any problems.
I'm also a little jealous that Javier got to do it and not me.
Of course, I realize this is no big deal to the average person - but I'm a big sap, remember?
So here are the pictures (Javier takes just as many as me LOL)