I know I've been a slacker when it comes to updating this - but believe me, it's not for lack of trying. Things around here are SO busy. I'll try harder, I promise.
Y para mi suegra, lo siento por no photos de David.
Y lo sienta para la espanola muy mal.
OK so here are the pictures that I haven't posted yet. First, a comparison -
Back in July: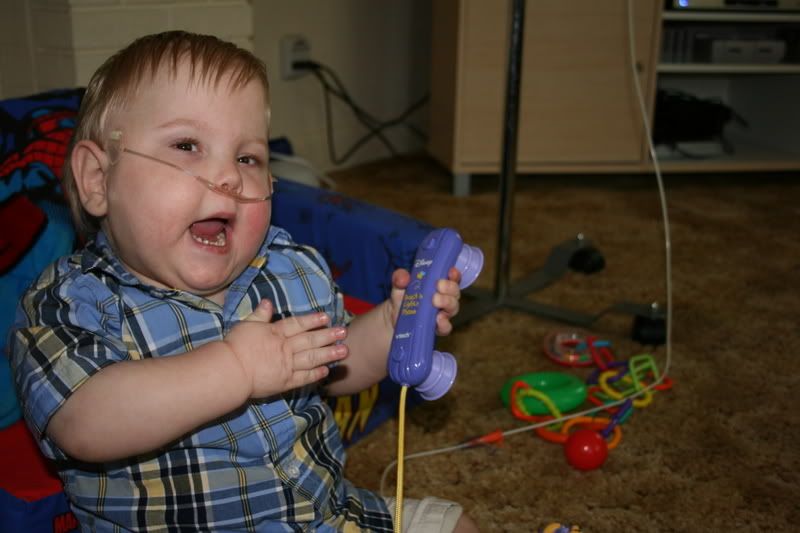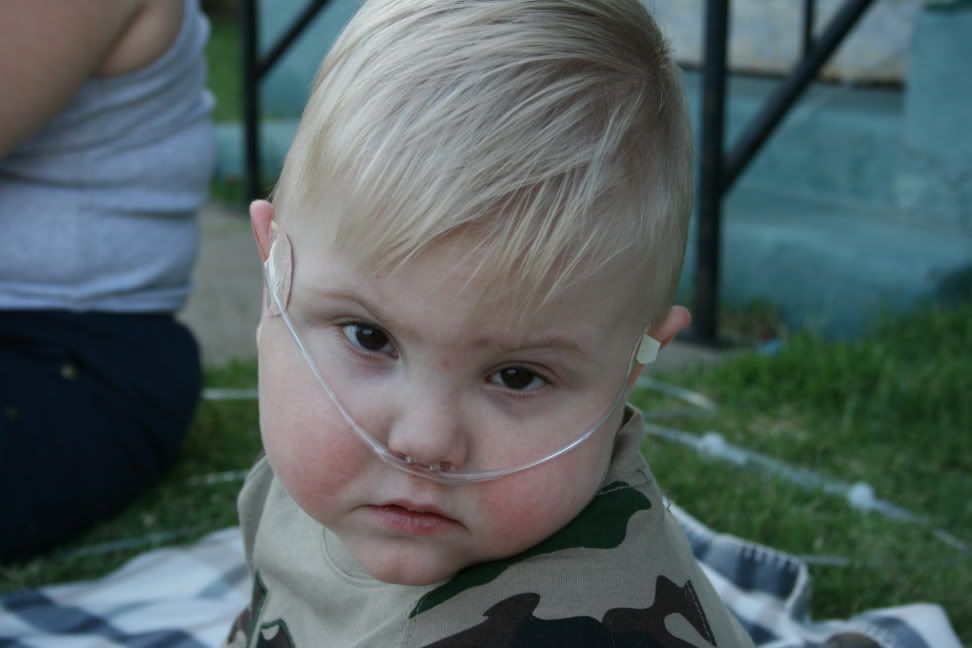 Now: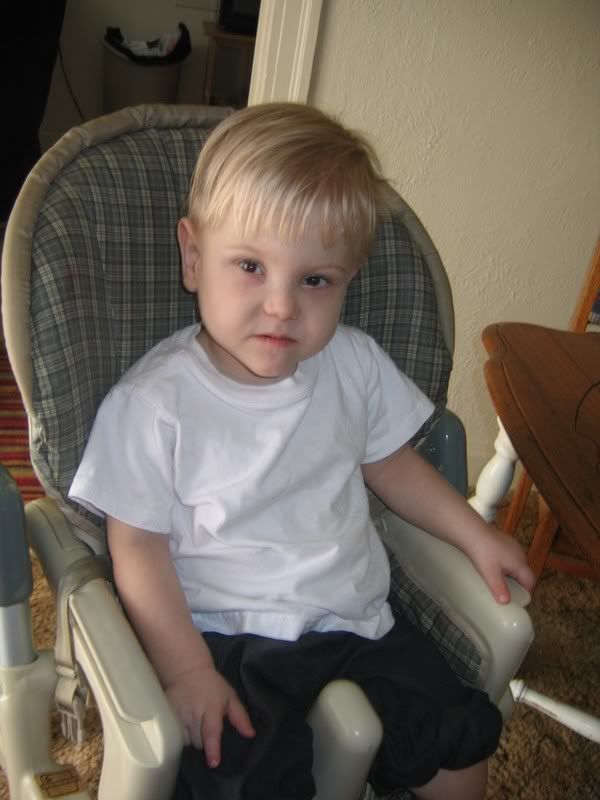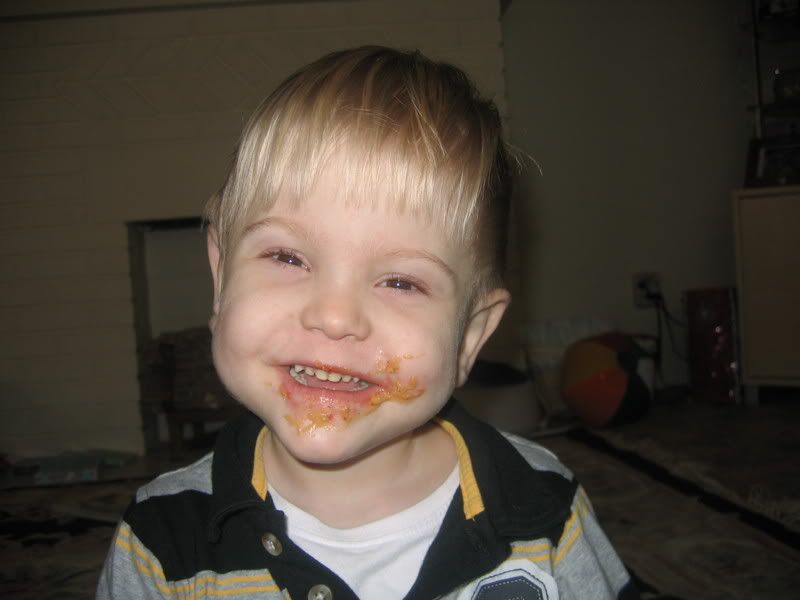 I never realized how chunky he was!
Pictures from playtime
I guess he wanted to go outside.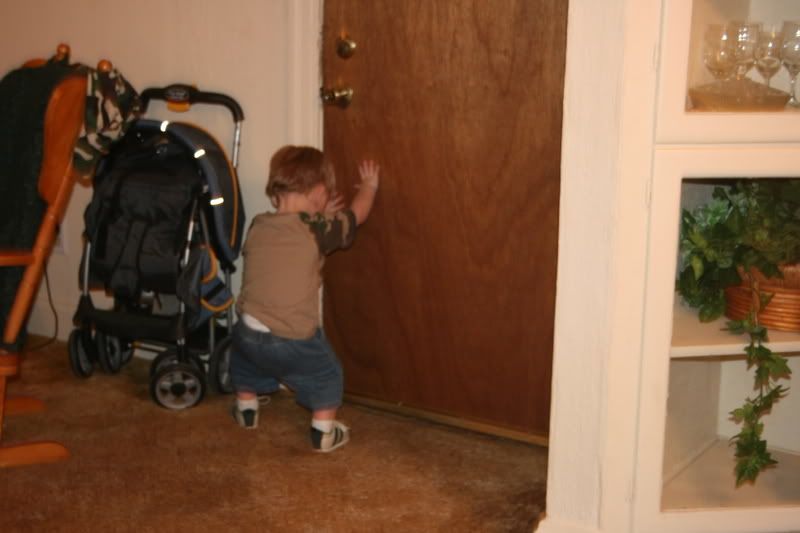 Playing with his puzzles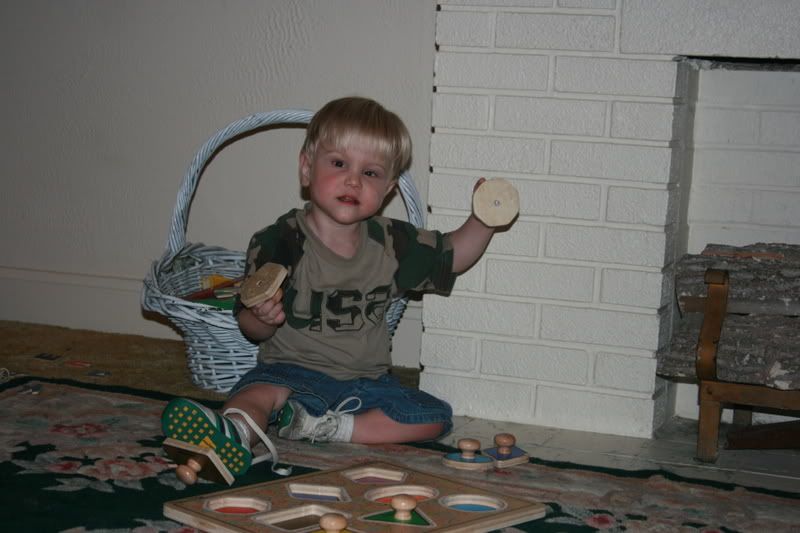 What's this? A STRAW?!? Wow!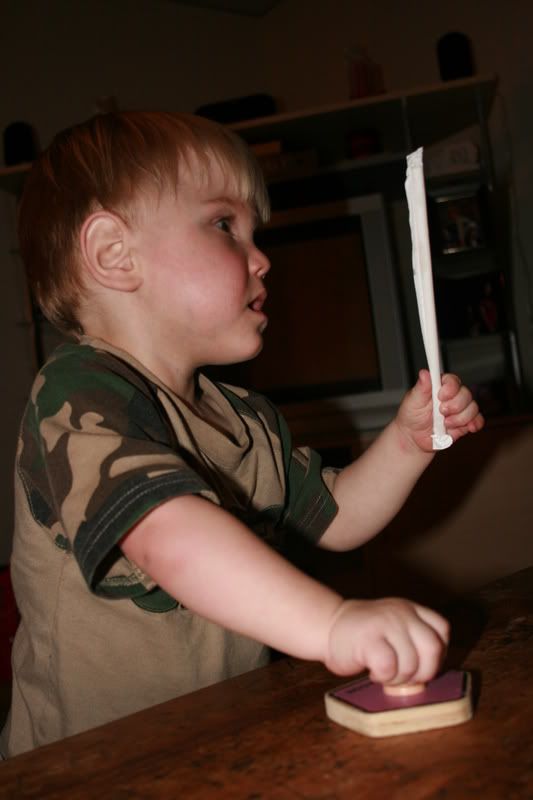 Think of the things I can do with this new toy!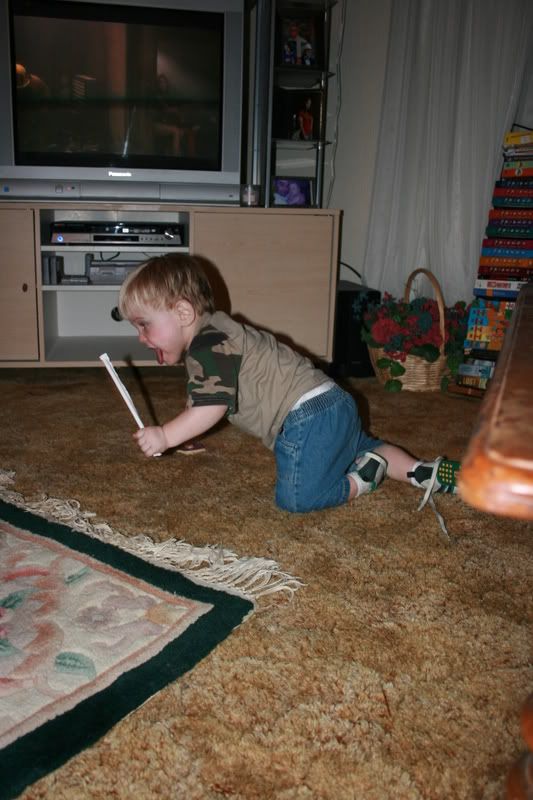 Mom, I'm bored.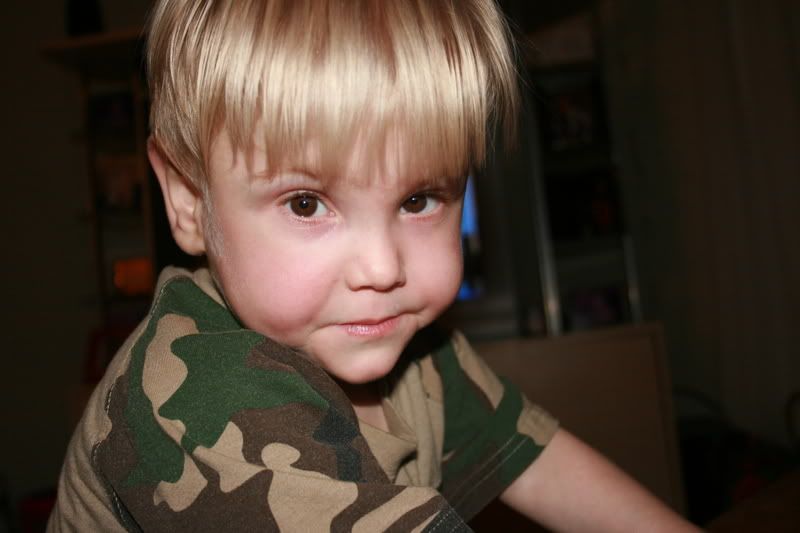 He's playing itsy bitsy spider.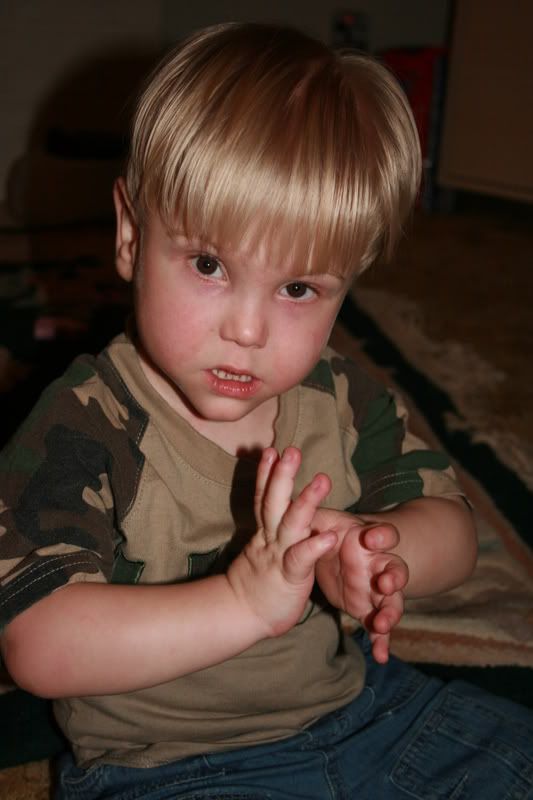 So when David turned two, he weighed in at 36 pounds. At his last doctor's appointment, he was down to 27.
Anyways, they altered his diet a little bit, so hopefully he won't lose anymore. Also - we eliminated another six doses of medicine a day!! Only nineteen a day now!
All that beautiful blonde hair you saw in the pictures from earlier? Yeah - it's all gone. David needed a haircut so bad but it made me sad because his hair was SO beautiful! Anyways, here's some pictures so you can see his haircut now:
"haha I crack myself up"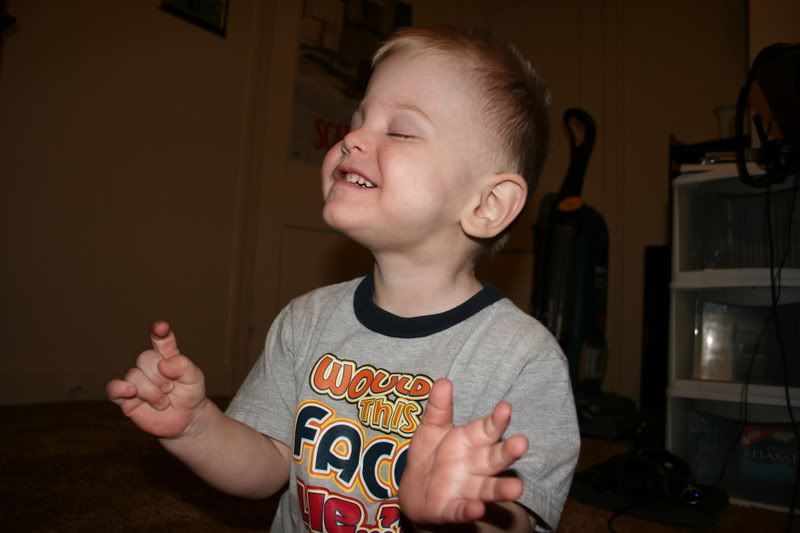 "I'm reeeeeeeeeeaaaaaaaaallllllly bored"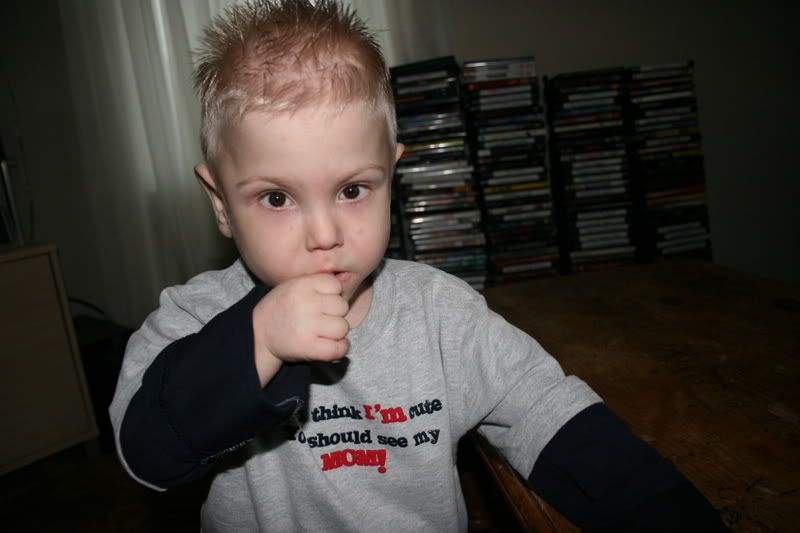 "omg! like for sure!"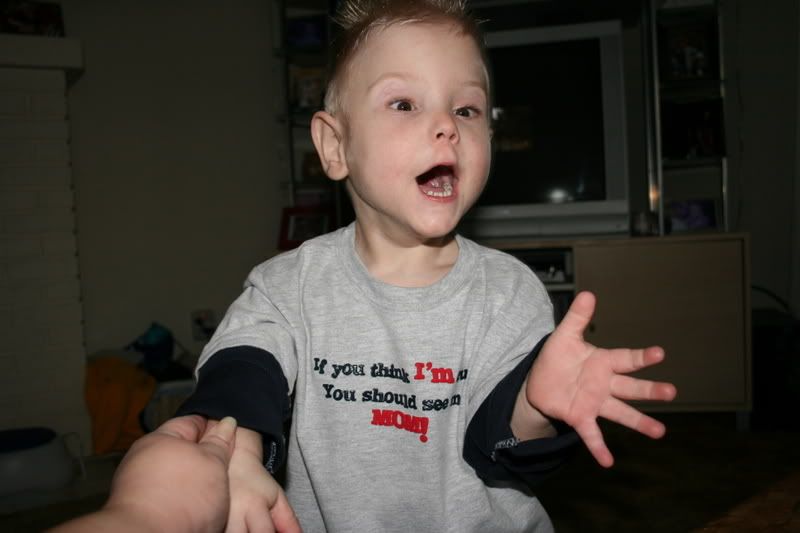 "yeah - we're both pretty cute"
"hey - where's the top of my head?"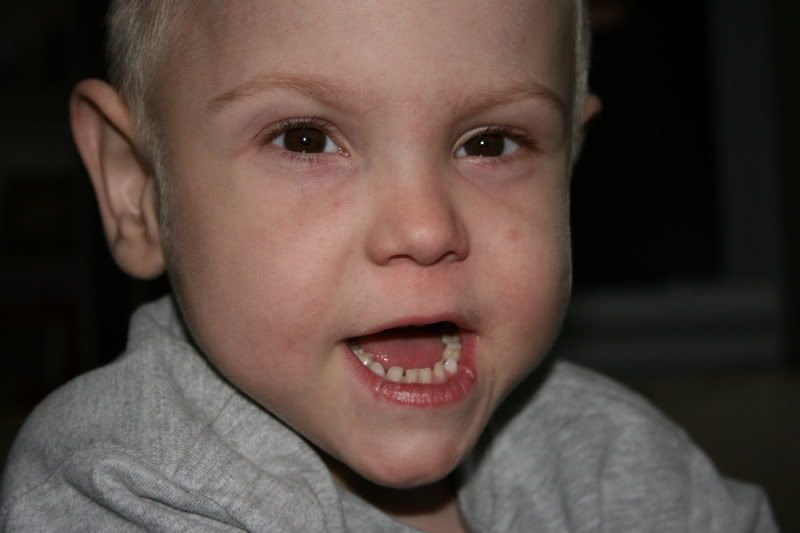 "mom - wanna see my tonsils?"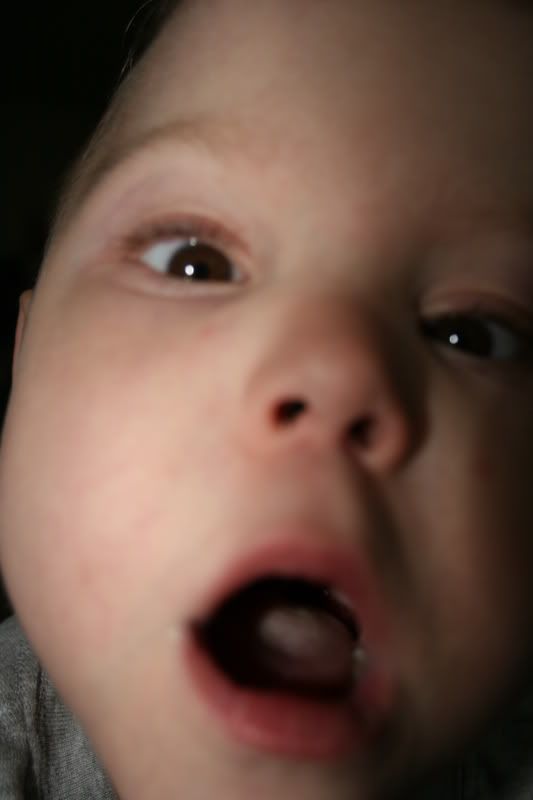 "I think I'll pick up my foot"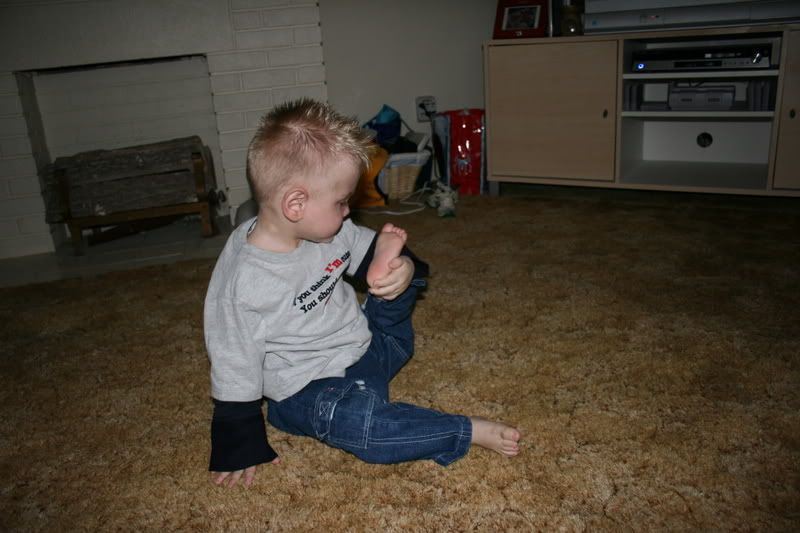 "I wonder what happens if I grab both of my feet?"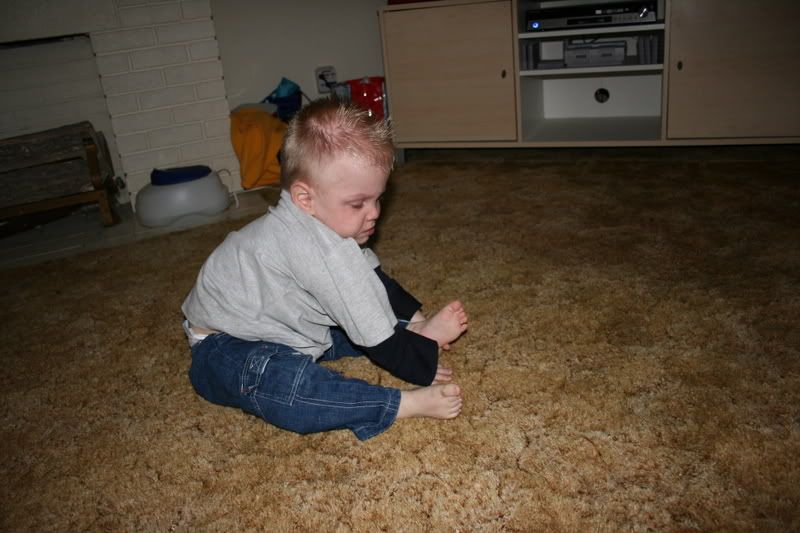 "oh crap"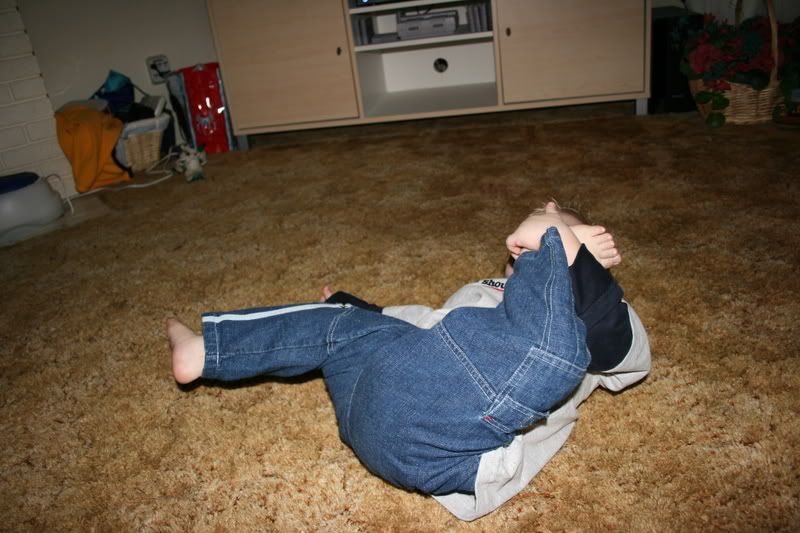 "where's my feet? I don't know!"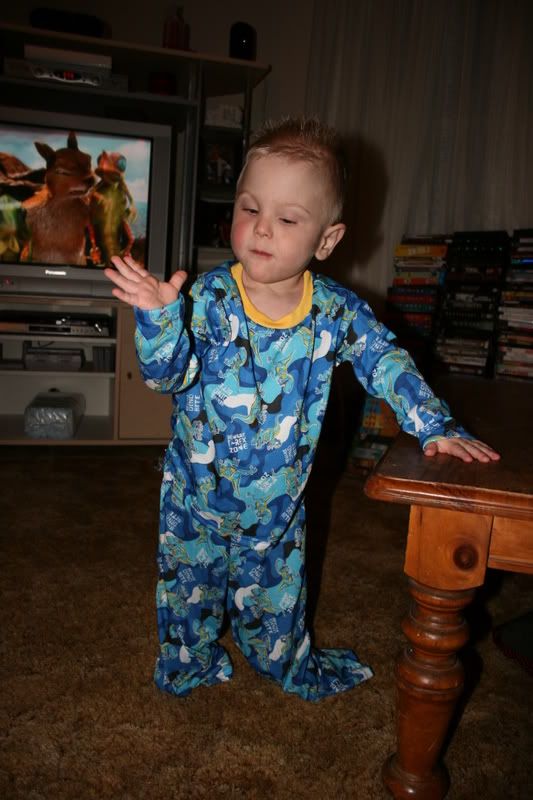 "you give me back my feet RIGHT NOW"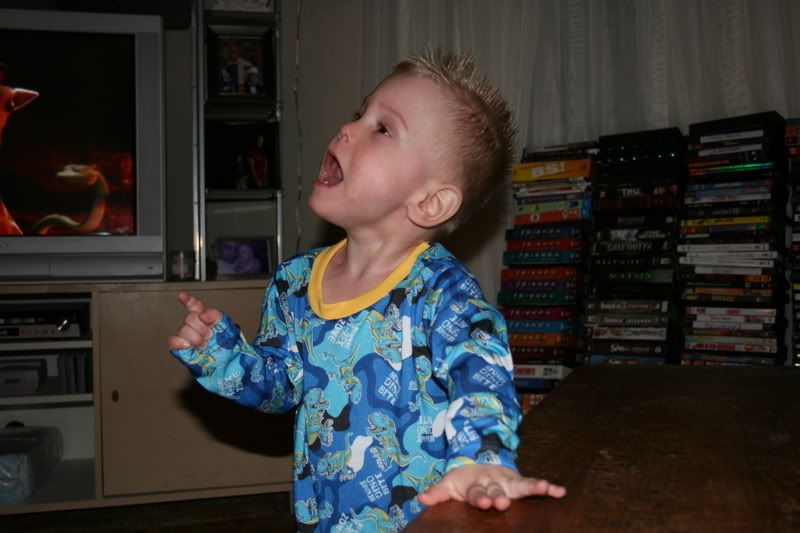 Whenever you sing the ABCs to David and he tries to sing along, he sings "EIEIO"... from Old McDonald. He must think they're the same song.
Everybody now.... "A B C D E F G.... E I E I O"
He loves this book.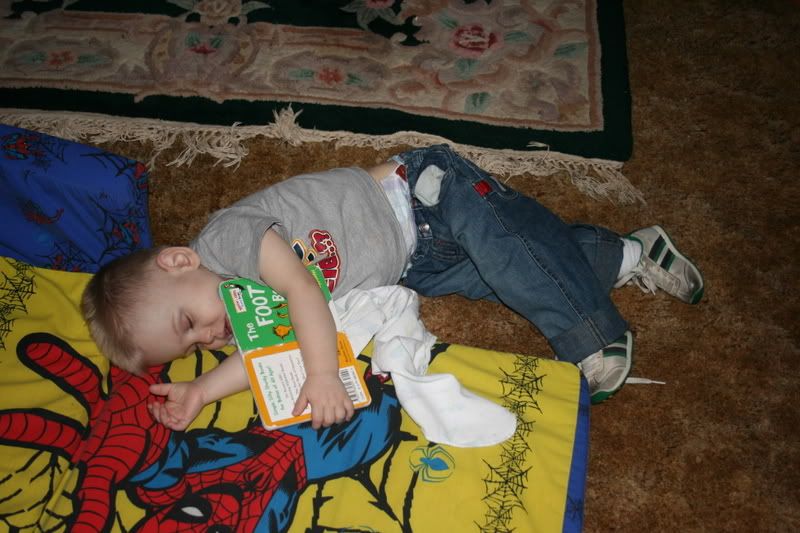 Some more random pictures from this month: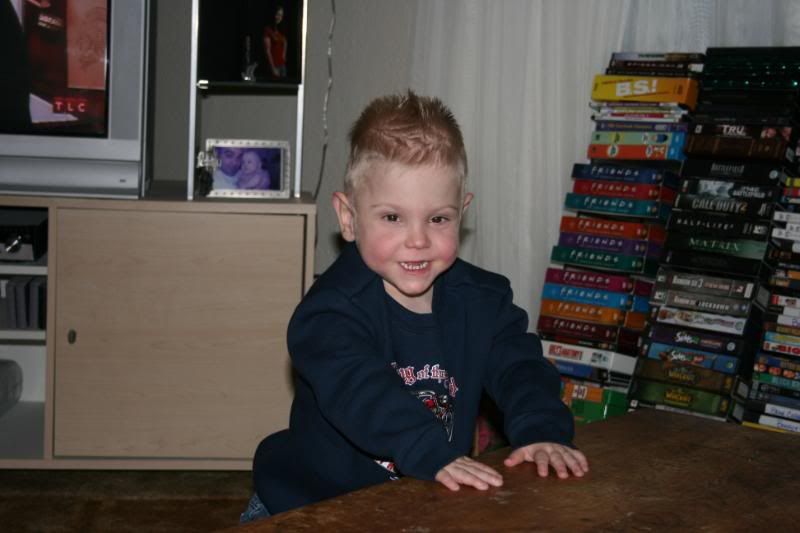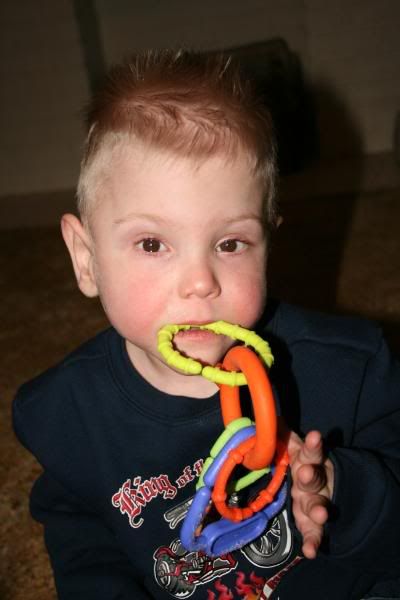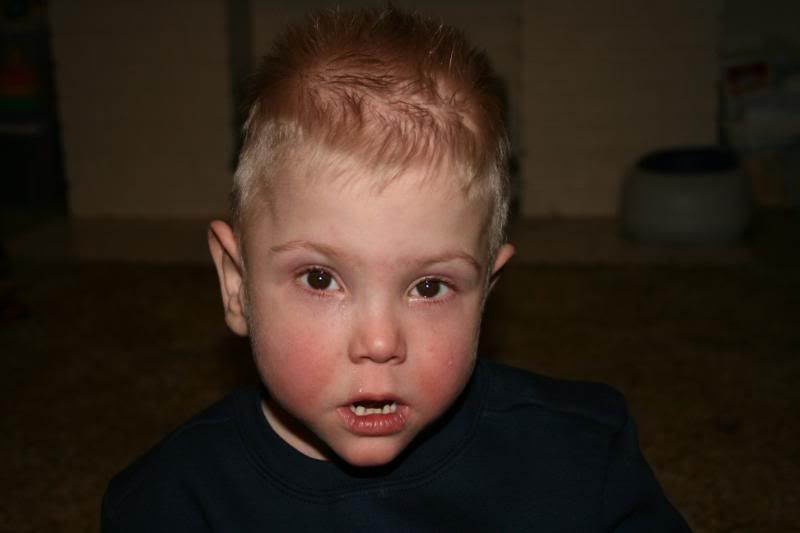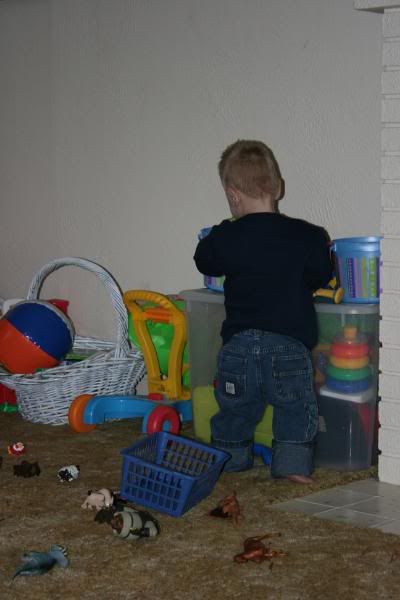 He was kinda grumpy when he woke up from his nap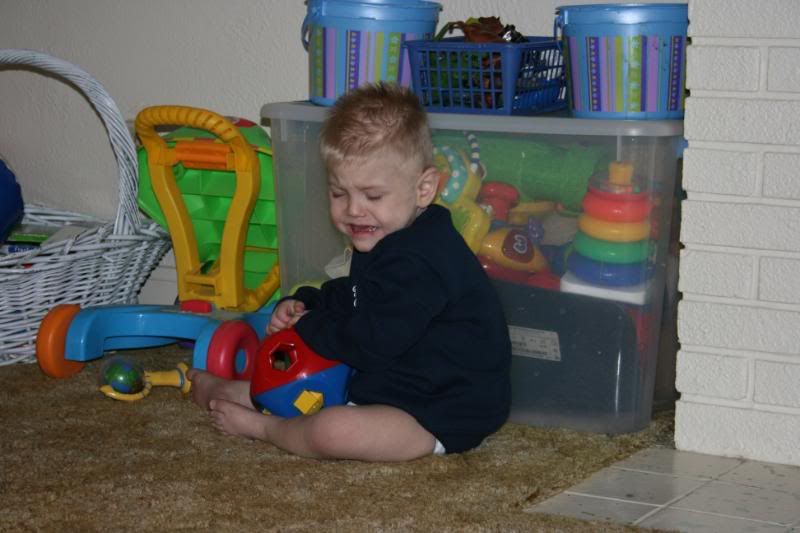 And, getting ready for bedtime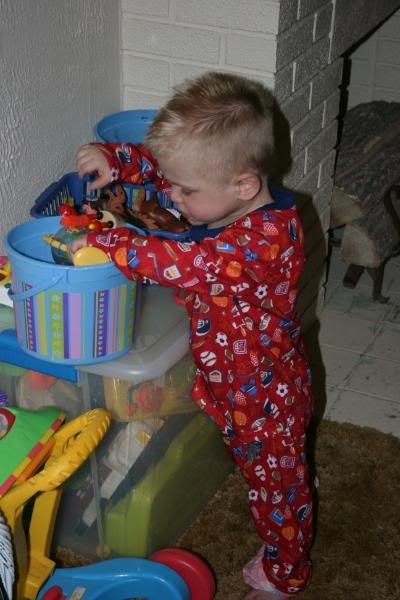 Tonight was the Christmas party that the nursing agency threw for all the patients. It was pretty fun, for the most part.
They had a chocolate fountain - which was DELICIOUS.
Here's a picture of David, all bundled up, on the way there. (notice he's wearing a hat?
)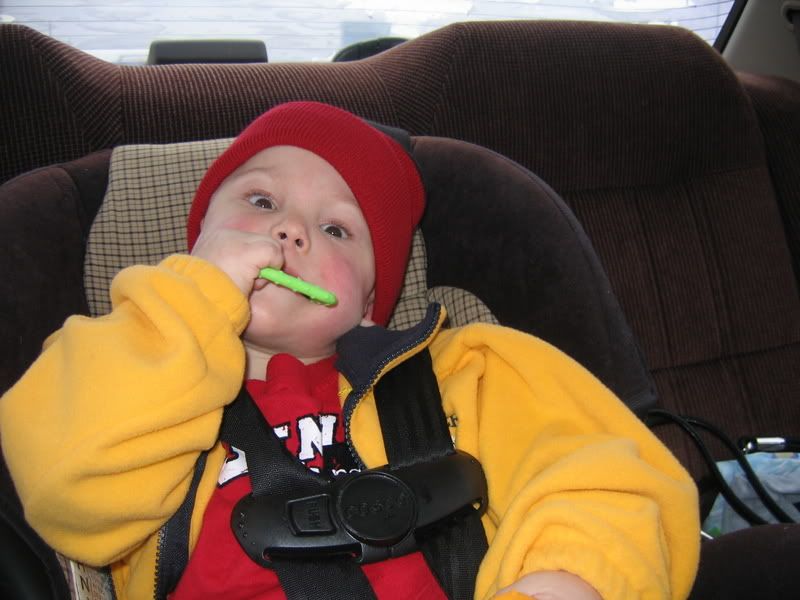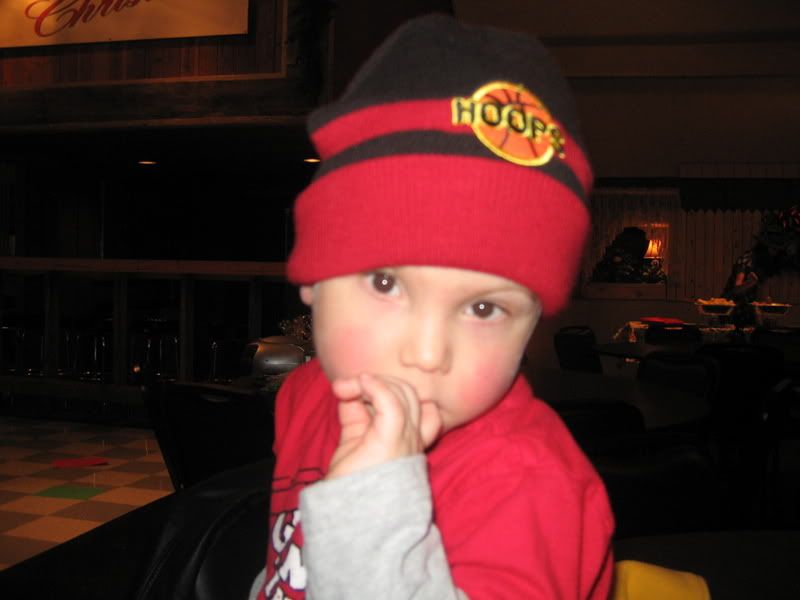 Playing at the table while waiting for santa claus. (the hat ruined his hair LOL)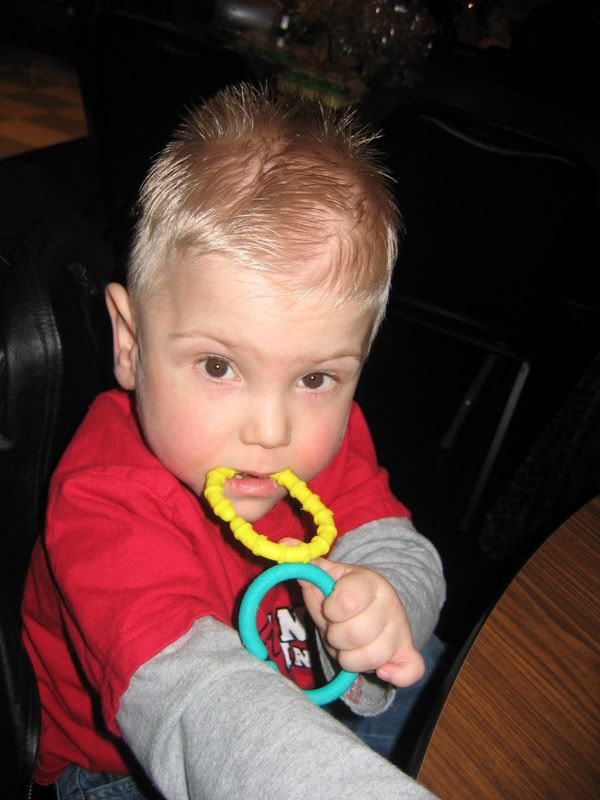 So when Santa came in, he went around to all the kids and said hi to them. When he got to us, he said "wow, David, you've gotten so big!"
I couldn't figure out who he was or how he knew David - so finally I asked Susan, and she told me that it was Jeff, the manager of the apartments we used to live in. haha....
So we went up and sat in Santa's lap. That didn't go as well as I had hoped.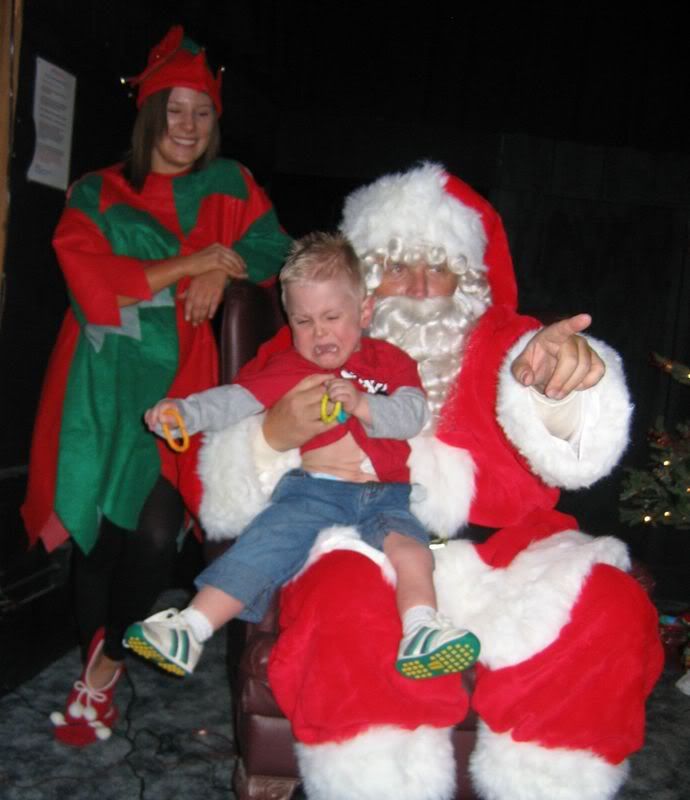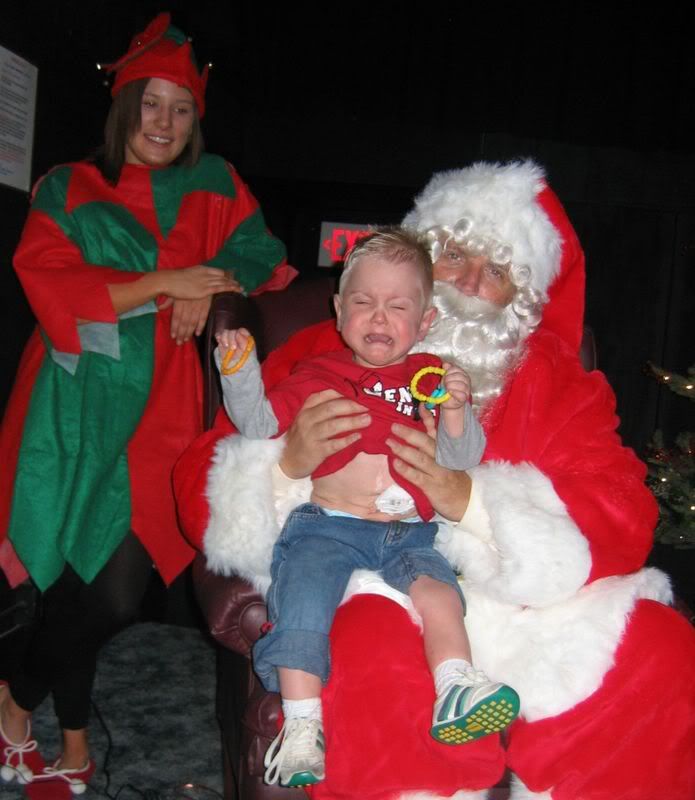 And finally, here's Susan (the nurse we used to have a long time ago) and David - she was making funny faces at him, and he was laughing LOL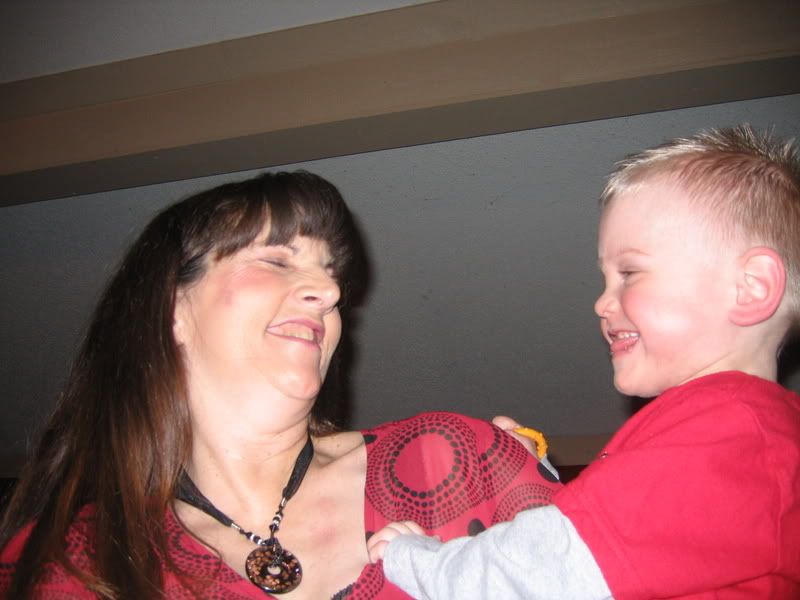 Tomorrow's the next christmas party. David's been invited to THREE of them. (I was only invited to ONE. LOL)
OK on a serious note - there's a little girl tonight who fights for her life. Her name is Kayla Weber and she's only a baby. And she has cancer. Her entire life has been a miracle, but the last 24 hours have been very very rough on her. Here's an update that her mother posted on myspace earlier:
"With evidence overnight of Kayla's continued rapid tumor progression, our time and options are running out. Her tumor is eating her blood supply and leaving little for Kayla and her heart. ALTHOUGH, her stats have leveled and an echo we had earlier showed her heart is holding strong! She is the strongest baby in the universe and God knows that. We talked to the surgeons today and they confirmed in detail that it is simply not a viable option. If the surgery didn't kill her, she would be left with such pain and probable complications that it would not be worth it. The tumor is wrapped around every organ and it would be impossible to get it all anyway. One other option would be to give her very high dose chemo, but there's no guarantee that would work and it would likely kill her today with her body in turmoil. Our choice is to continue her current chemo regimen and pray that it just needed one more day to catch up with this tumor beast. She is getting chemo right now and we are about to go down for the CT. If the CT shows that fluid is pooling to where we can relieve that - we will. We will most likely be moved to the ICU at that point, but at least it will be something we can do to help her.
She is ALIVE for today and so today we focus on LIFE! She is resting her little body right now, gearing up for whatever moves this tumor may make. We are in a grave situation and Dr. Kerry spoke every word to me today with tears in her eyes. She said some would argue just to take her home at this point, but we're not giving up and niether is she! I'm really dizzy and have about passed out several times today so I hope I made sense. I will continue to rely on Stacy, but just wanted to check in and say thank you for your prayers! Her echo was good, her coagulant study came back showing she is not bleeding internally (her tumor is just pulling the blood from the vessels), and she is resting. Thank you for that!
Love,
Julie and Jason"

Anyways, if you guys could spare some thoughts for baby Kayla tonight - she could really use them.