January 2007
***************************************
1/1/07
HAPPY NEW YEAR!!!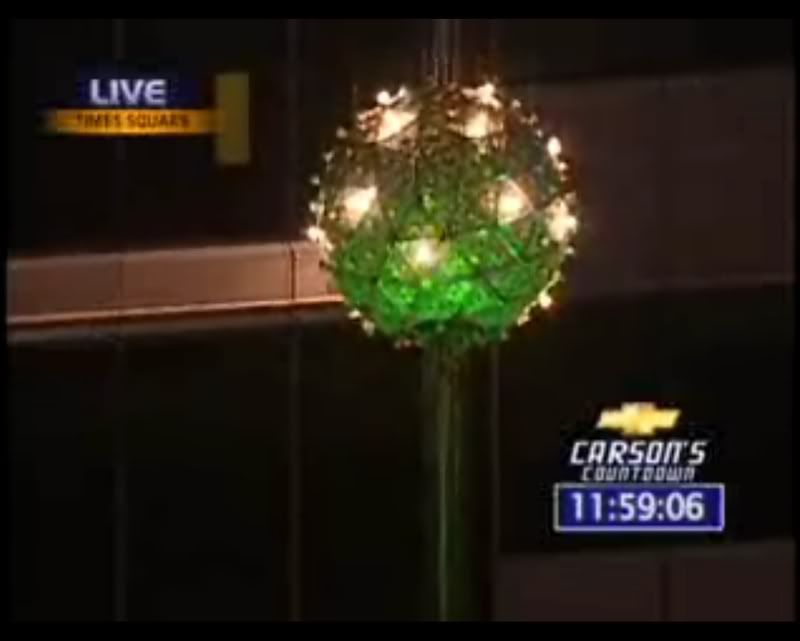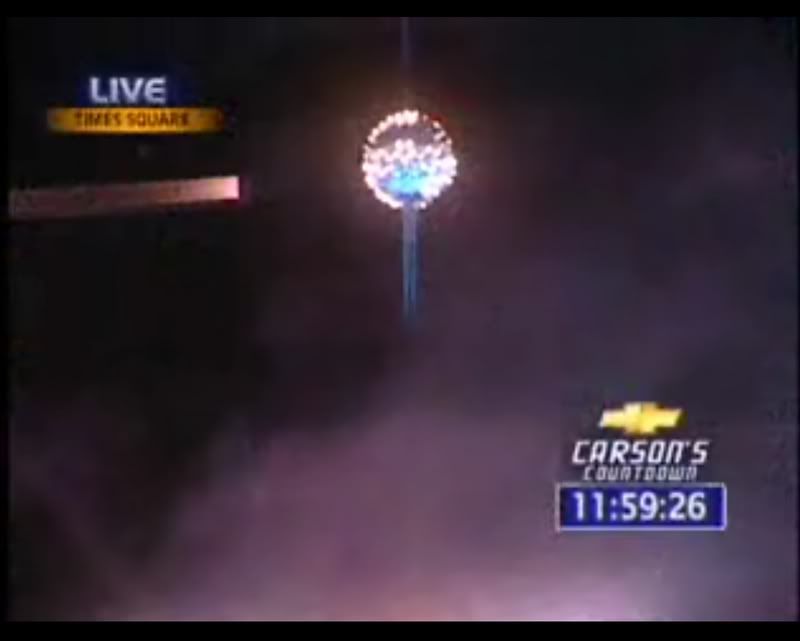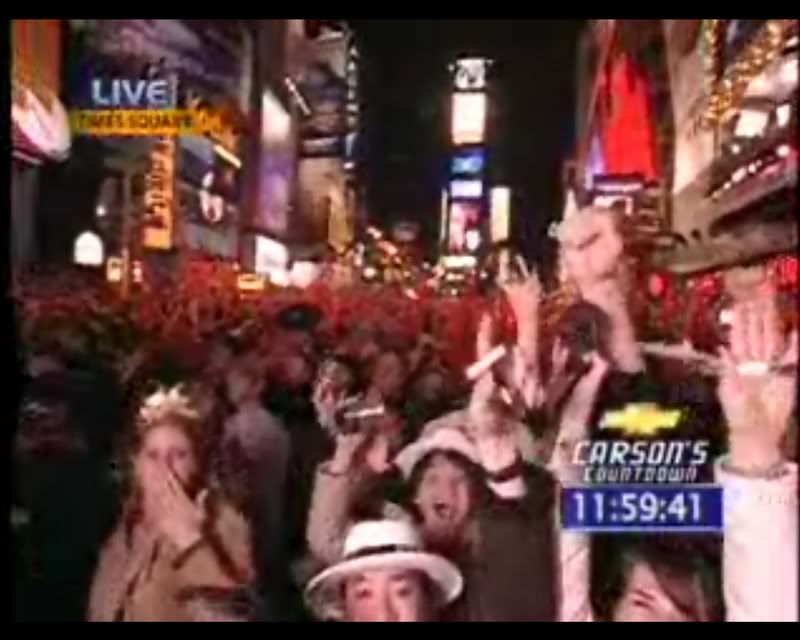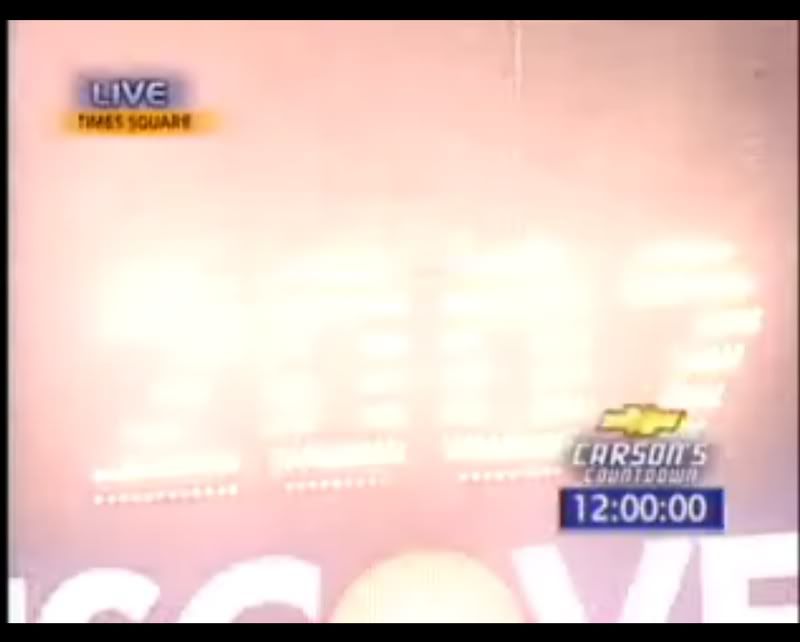 It's not new years here yet - still an hour to go - but it IS new years on the east coast. I stayed in tonight - where it's safe. Partying it up with David...even though he's been asleep since 7:30pm haha...
I'm not big on new year's resolutions, because you always let yourself down. But I DO have some new year's hopes. They include:
I hope we spend more time OUT of the hospital than IN. (I'm actually HOPING that we aren't admitted at ALL but I don't know how likely that is. )
I hope David learns to walk.
I hope Javier & I are happier this coming year than ever before.
I hope I get a new job - one that pays as good but has benefits. (Oh, and if I don't have to actually work there either, that would be nice!)
I hope to move into a bigger place.
I hope to spend more quality time with David - and do whatever I can to make sure that he is not only healthy - but happy too.
Happy New Years, everyone!!!
Here are the last pictures I took of David in 2006!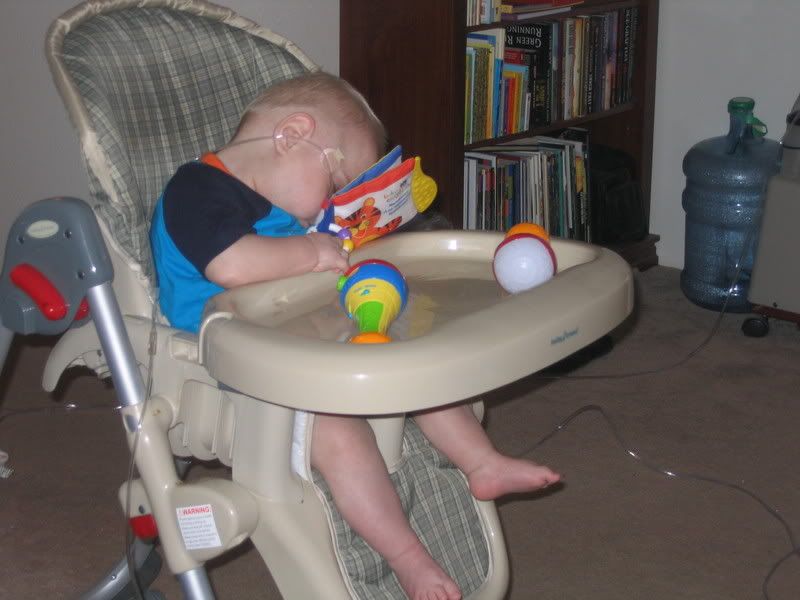 BTW I'm redoing my photobucket - I have too many pictures and it needs to be organized a little bit differently. So if you're looking through my archives and can't see the pictures, that's why. I have no idea how long it will take.
***************************************
1/4/07
David at a cookie for the first time today!
Busy day! Today we had a occupational therapy evaluation. They'll be coming out four times a month. So every week we have physical therapy, occupational therapy, and speech therapy. With all these therapists we should make some serious headway for 2007!
We had a doctor's appointment this afternoon. He's lost a pound, he's down to 26 lbs, 3.6 oz. He's a yoyo dieter
His ear infection is cleared up
The only other thing we're worried about is his heartrate which seems kinda high (185+ - in fact, at the doctor's office it was 205!
) Kim (the nurse practitioner) didn't seem all that concerned about it but Susan and Meme are really worried about it so they talked me into getting David back into the cardiologist. So we have an appointment there on the 23rd. I'll let you all know how that goes.
We came home and after David's nap Meme, Lizzie, and Mary Ellen (my grandma and her two friends) came over to love on David. He was such a ham.
After they left I decided to give David a cookie. I was AMAZED at how well he did!! Normally when I give him food to eat he fusses and refuses to touch it - much less eat it! This is a HUGE deal to me - it gives me hope that maybe - just maybe - he'll eat soon. He even drank some of the milk!!!! Our ped would have a FIT if he knew (he doesn't believe in giving cow's milk to people
) but *I* am going to give MY baby milk if he wants it!! (okay okay I suppose it's possible that he'll only eat cookies and milk after this
) Look at the pictures!!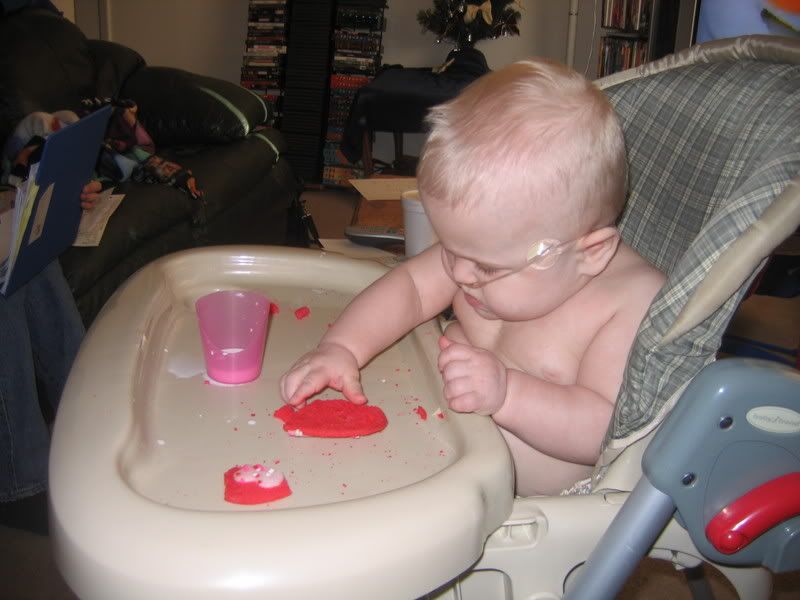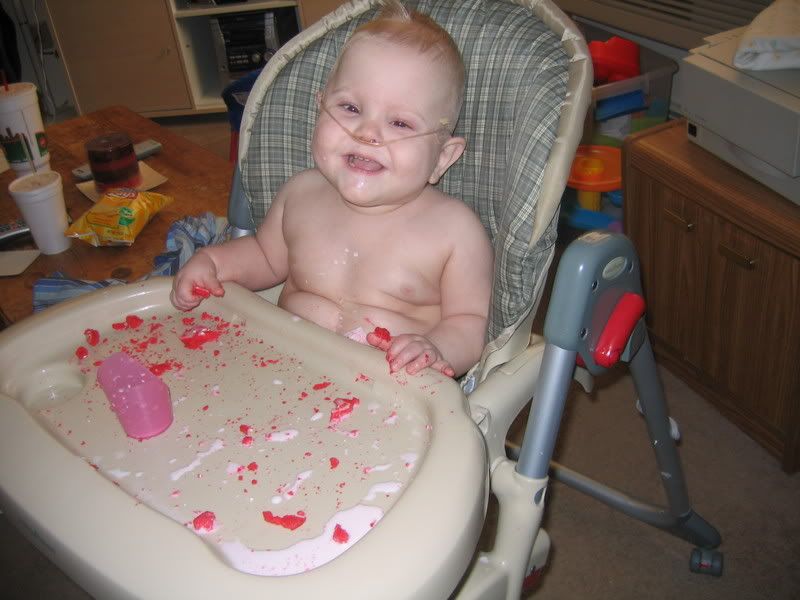 Here are some others - before heading out this morning -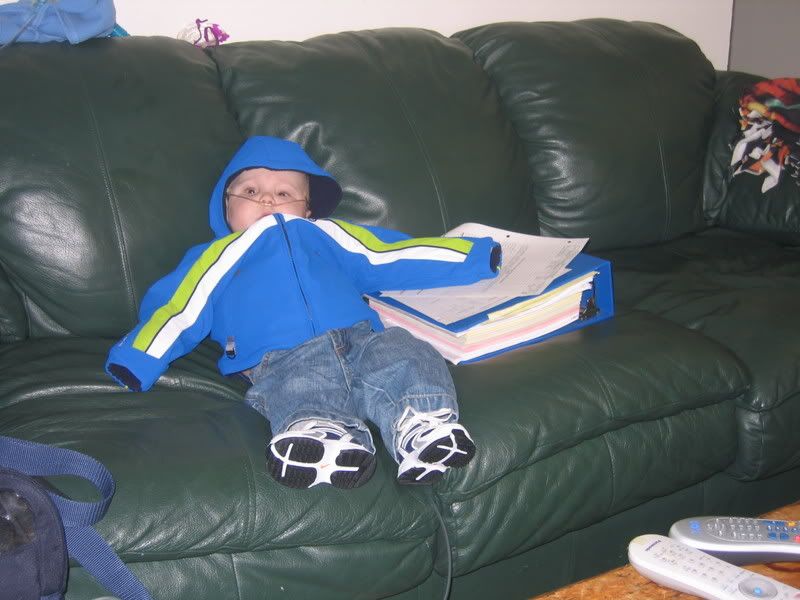 And David's new favorite toy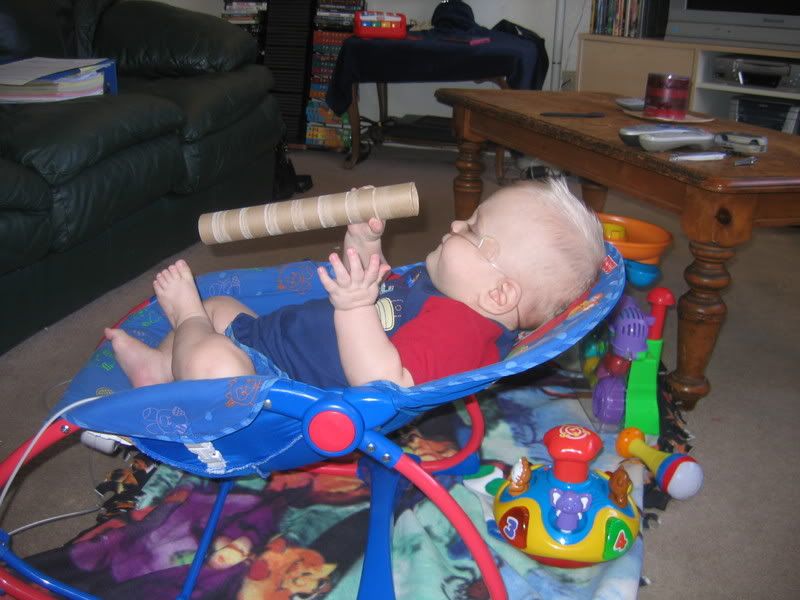 ***************************************
1/14/07
No glasses for us!
At least not right now! She said the patching is working wonderfully, we now go from patching the left eye everyday for three hours to patching alternating eyes every day for one hour.
and the best part is she said he does not need glasses!
Before we went to the eye doctor the other day - I just thought he looked cute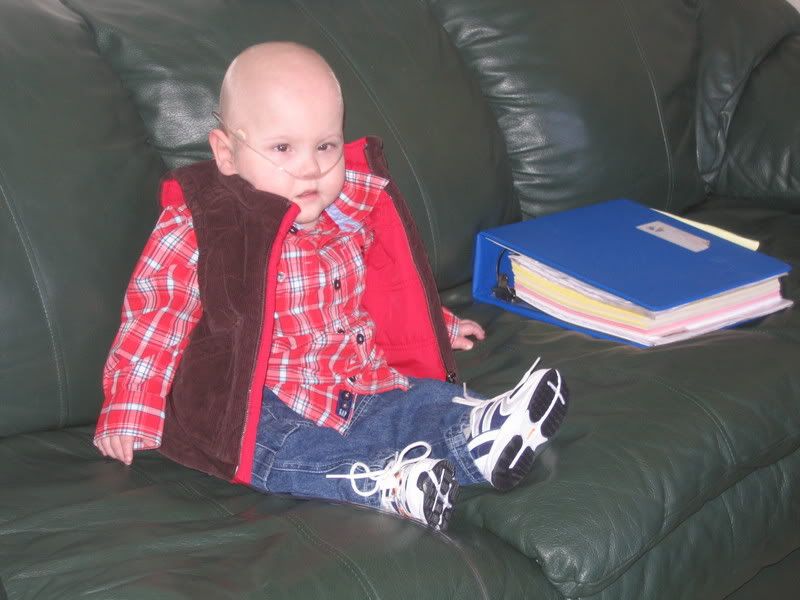 And here he is with his cool shades on - they gave them to him because they dialated his eyes.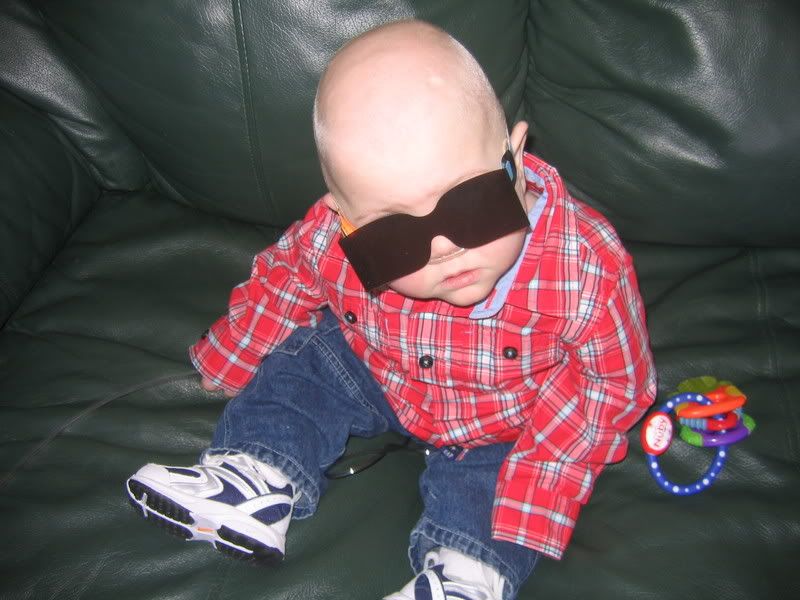 I had David propped in a boppy the other day sitting up, and he managed to get down on his own... without falling.
I don't want to get too excited YET... since I know the boppy helped him alot... but
His new trick is to take things OUT of containers.... right now I have him in the highchair next to me with a basket full of toys.... he's been entertained forever now.
Until of course he gets the bright idea to do this
he keeps throwing the whole basket of toys off!!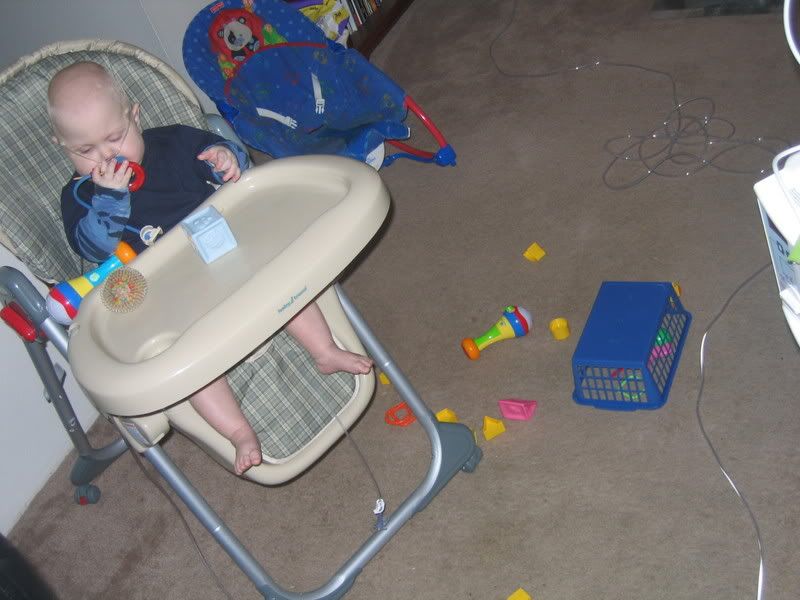 ***************************************
1/19/07
A couple of nighttime pictures of David
A couple of night time pictures that I've taken recently:
I love how he props his little legs up on the crib railing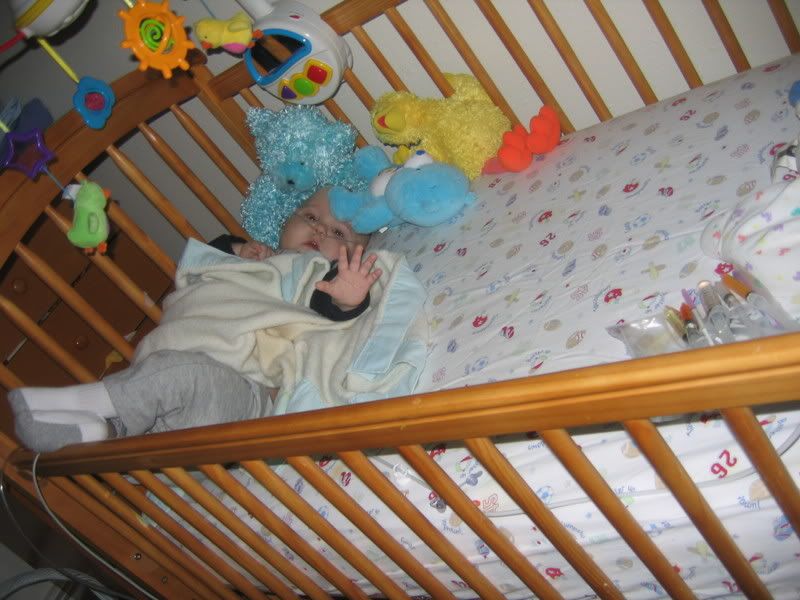 It's funny because no matter where I put him in his bed, he INSISTS on sleeping up there in the corner.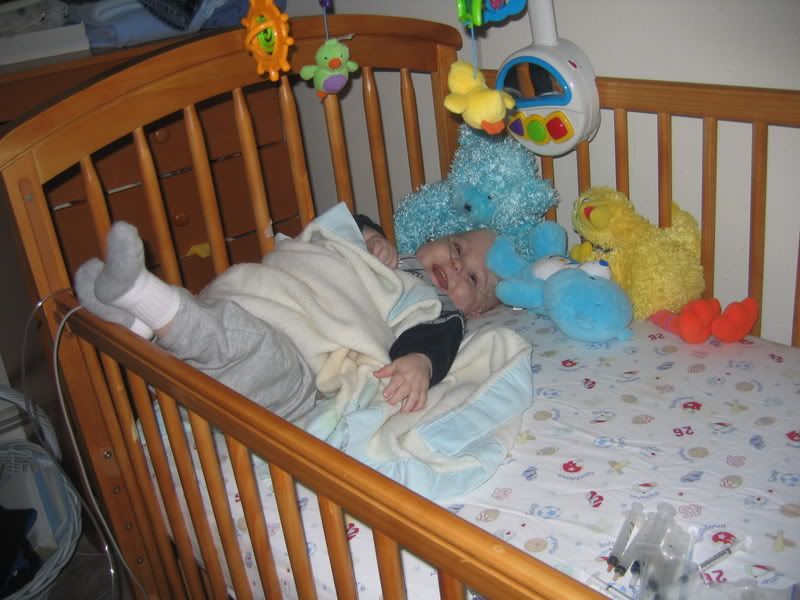 And breathing treatment fun from the other night. David hasn't slept through his midnight breathing treatments in a while now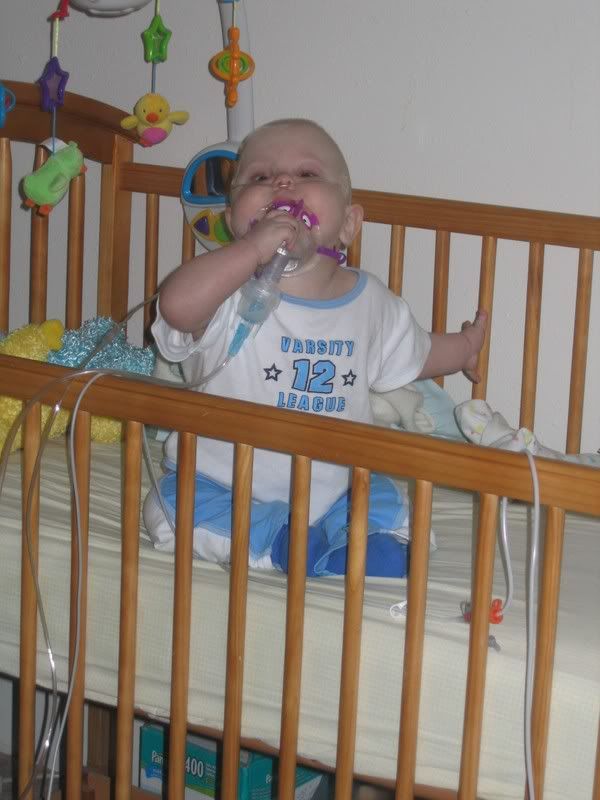 Nothing is really new to report right now. It's nice to have a boring life every once in a while.
Here are some pictures I got off of Meme & Amy's camera. They are from a while ago.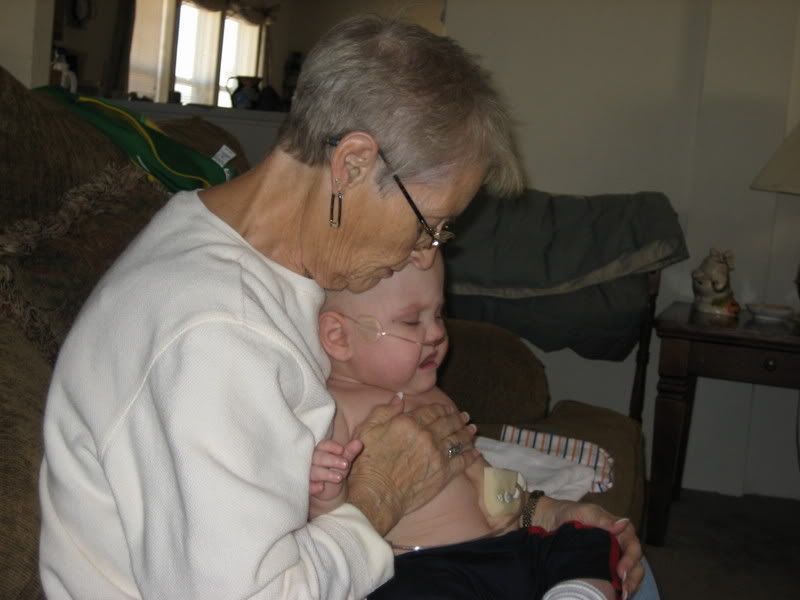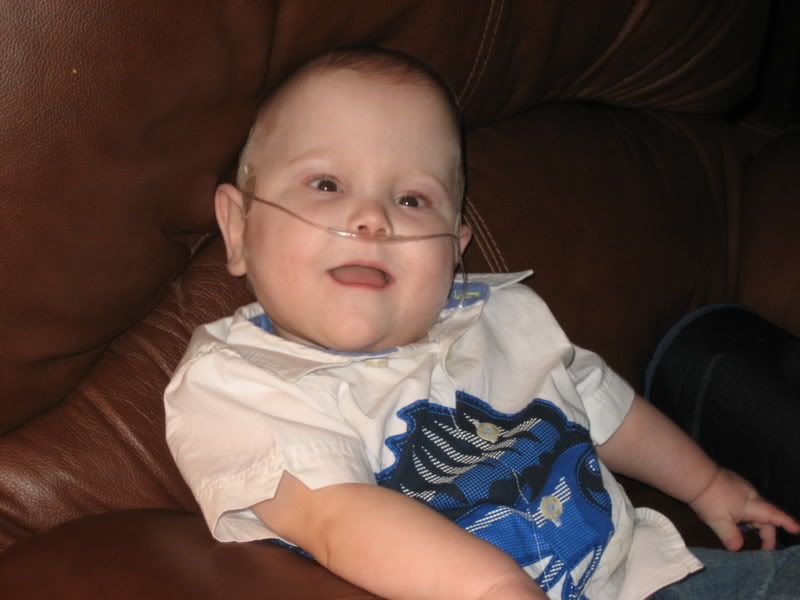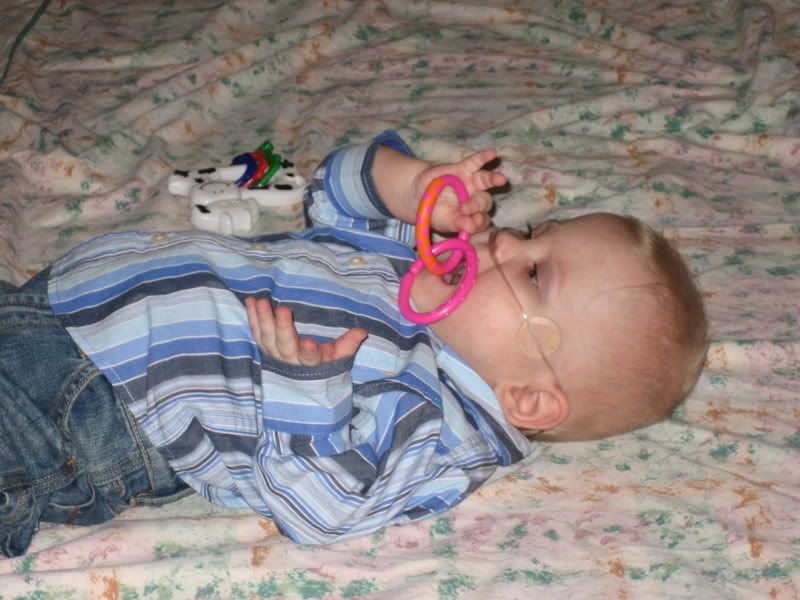 David and Calvin. Calvin passed away last week, unfortunately.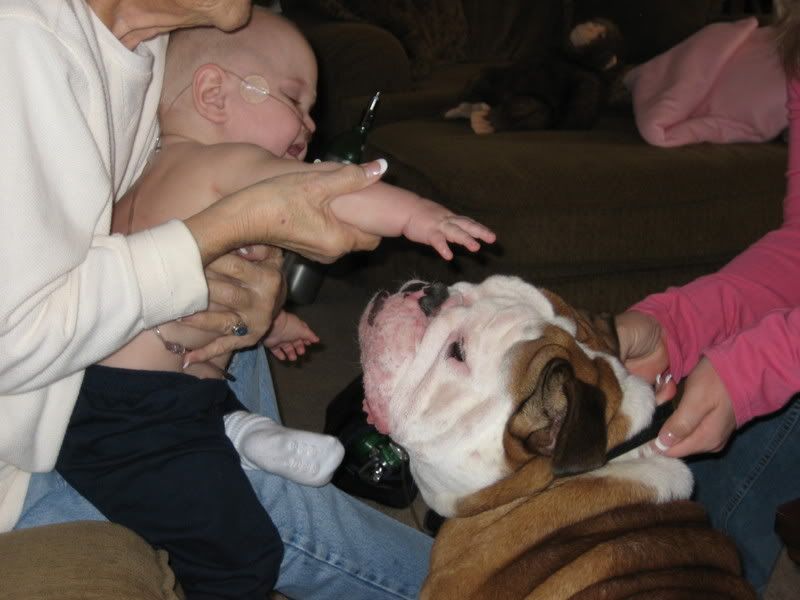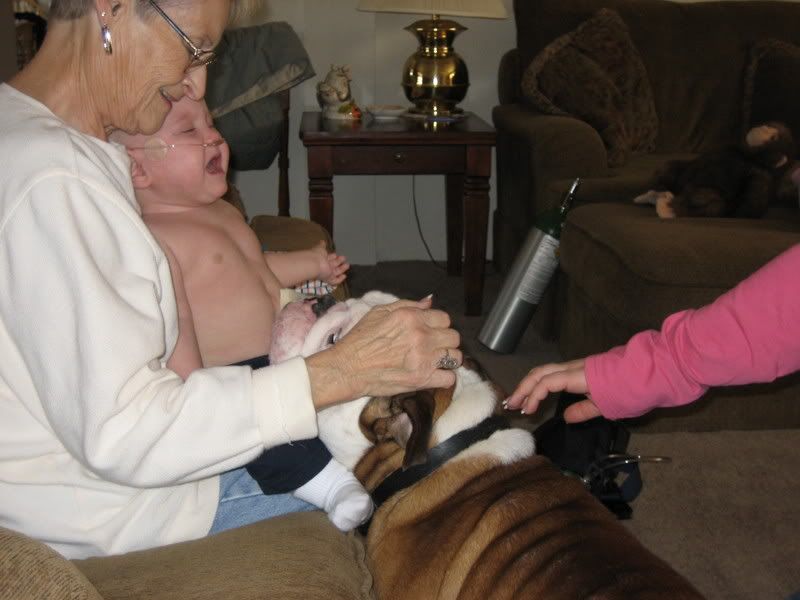 And just because I miss my kitty, Lucky - here he is (I'm pretty sure he's the one in front
)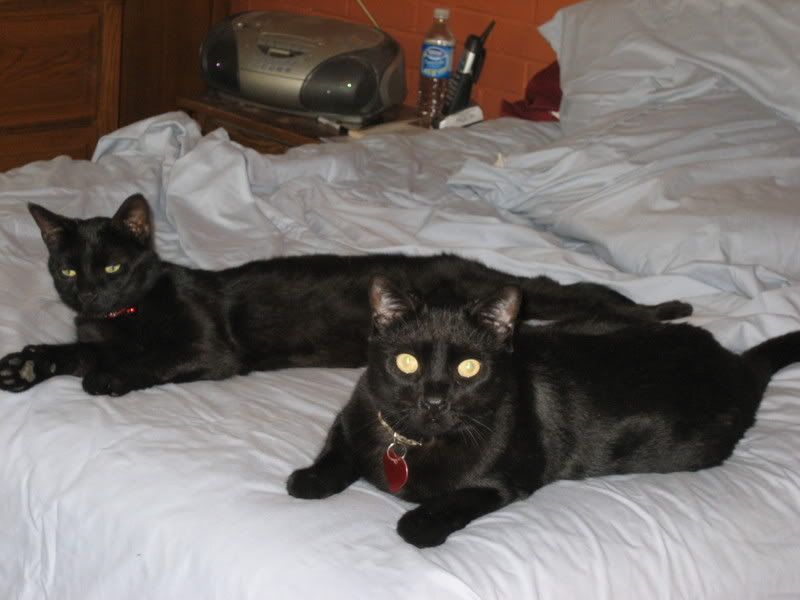 ***************************************
1/21/07
Got Milk?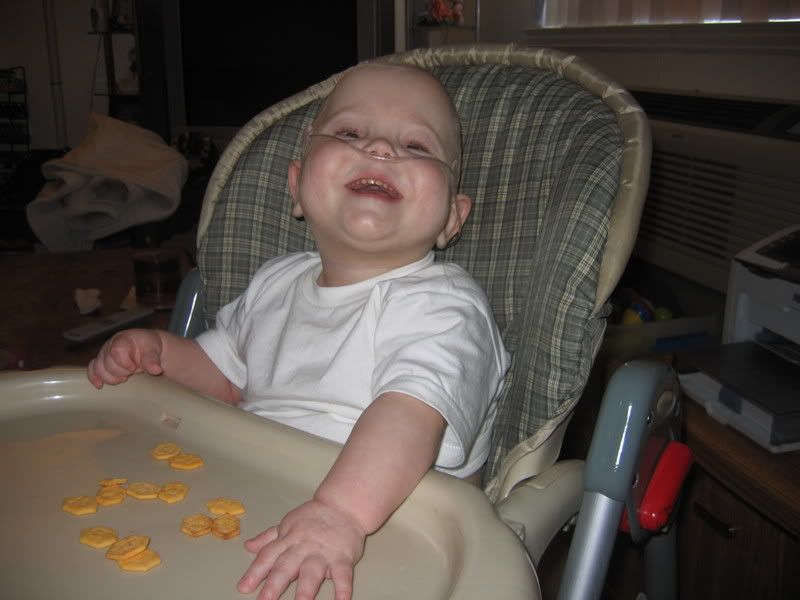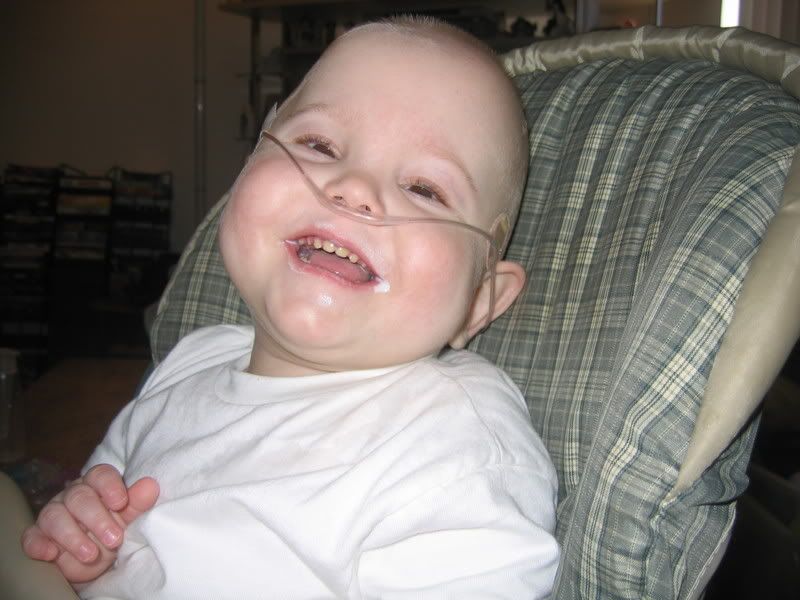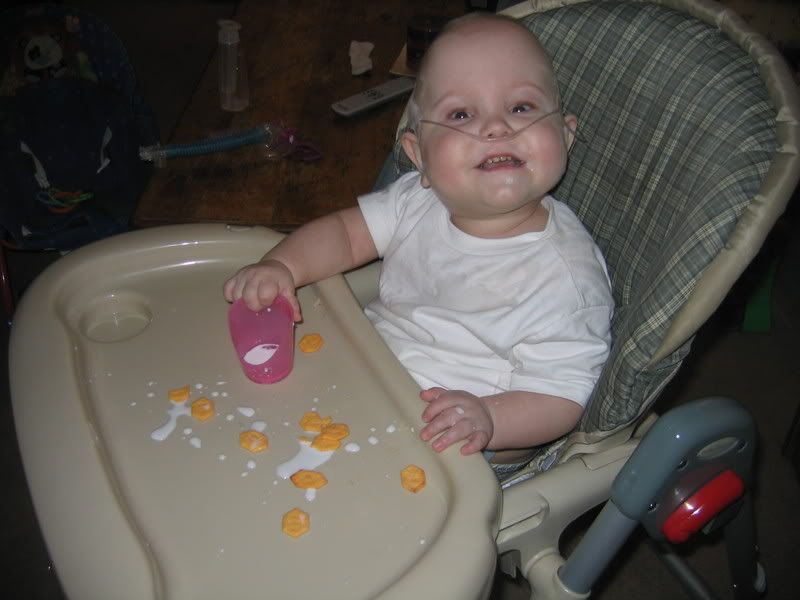 We had crazy snow this week. I almost got stuck! And here's why - the snow came clear up to my door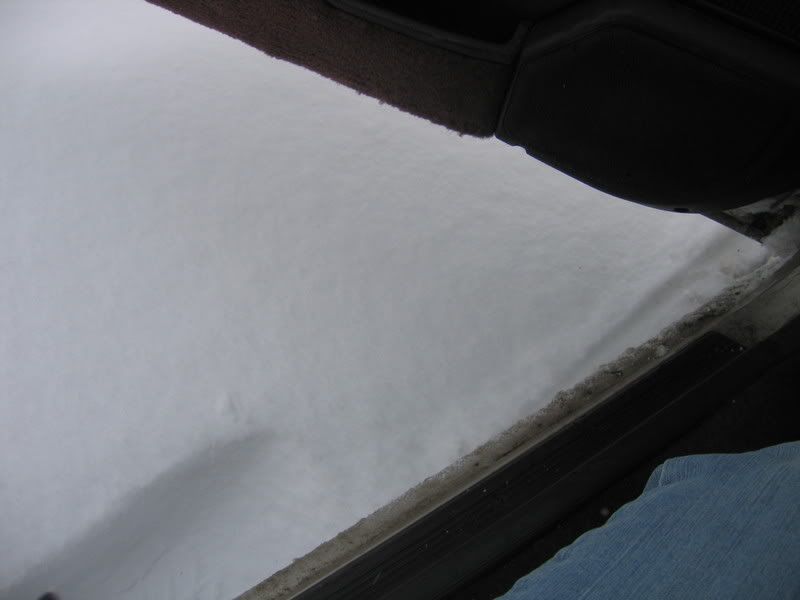 And here's what I do when I'm bored at work.
And finally, on my way home from work, a HUGE pile of snow.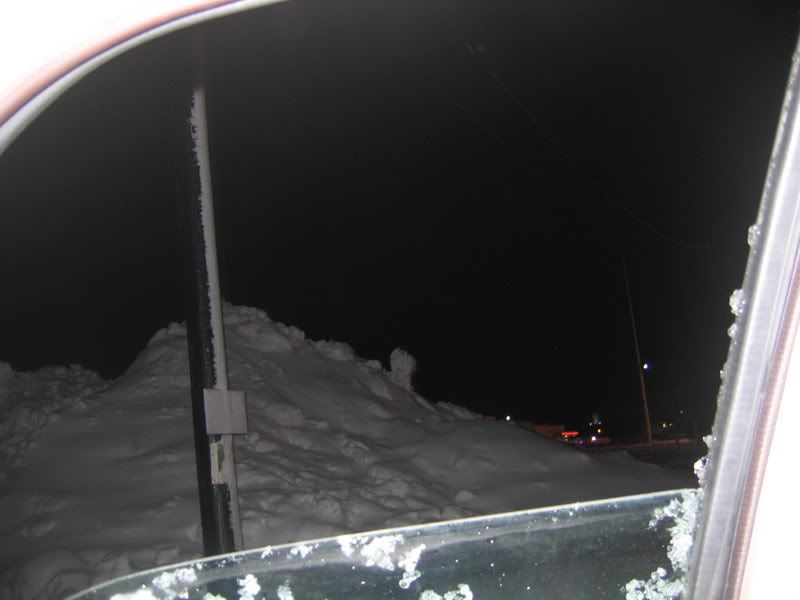 ***************************************
1/22/07
LOOOOONG night and morning!
I stopped counting after the fifth time we had to get up with David last night because he was puking. He also had massive diarrhea all over his bed.
So finally at a little before six I brought him out in the living room and gave him chamomile tea, which is what they told me to give him last time he was nauseas. I also gave him Motrin and his morning meds, and gave him his breathing treatment.
Well, he started coughing and immediately began projectile vomiting. He was puking so hard it was coming out of his nose. All of a sudden I felt something hit my arm. I guess the pressure from him puking caused his button to pop out of his stomach and went flying.
I've told you this before, but I can't handle the whole button thing very well. I mean, I can use it and everything but the thought of it coming out makes me feel a little faint.
Anyways, I yelled for Javier, and grabbed the extra button. I'm actually kind of proud of myself because even though it seriously grosses me out I managed to get the button back into his stomach.
My hands are still shaking.
I called the doctor's office and the stupid receptionist made me cry because she was so rude and was acting like I'm a dumbass for calling during non-business hours. She was apparently annoyed that I had called.
Anyways, now that David scared the crap out of me, he seems to be feeling better. Of course, I'm due to start his feed in five minutes, and I'm worried that he will puke it all up again.
At least our nurse should be here soon.
Ugh.
In case anyone is curious, this is what the button looks like. I had never seen the inside of it before.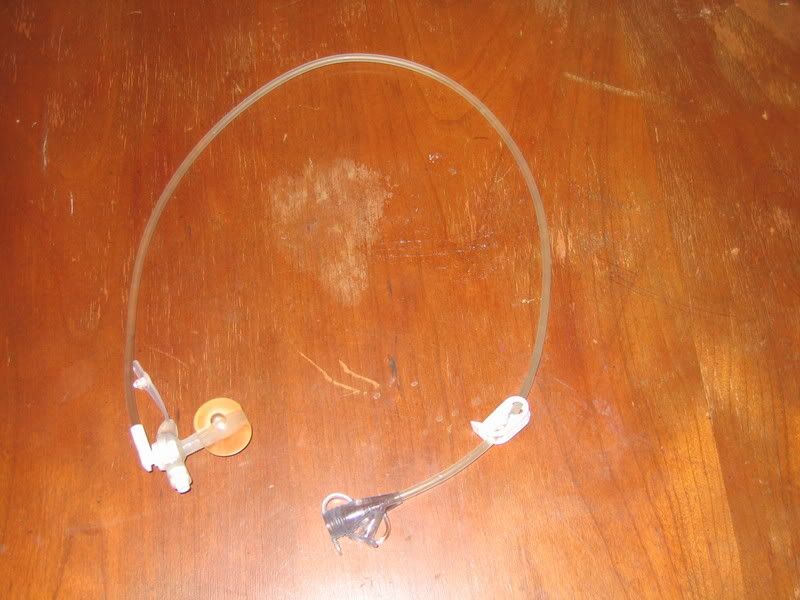 ***************************************
1/23/07
Update
We ended up taking him to the hospital for labs. He was puking all day and we couldn't keep anything down so they were worried about dehydration. Luckily, his labwork came back fine. He hasn't vomited since about 1:30pm. And he's managed to keep down about three and a half ounces of fluid.
He hasn't taken a single nap today, and he didn't sleep last night, so I'm hoping he sleeps well tonight.
***************************************
1/23/07
What a year!!!
oday marks the one year anniversary of David's homecoming!!! So I figured we could do some comparison pictures
Last year: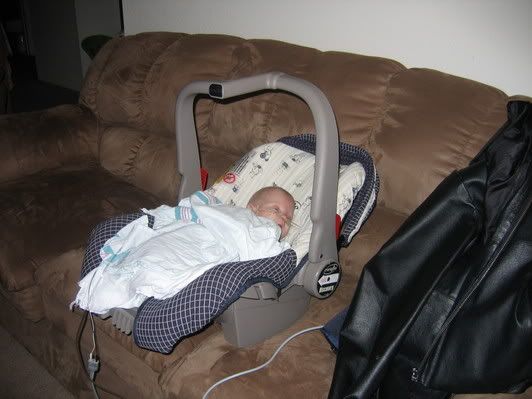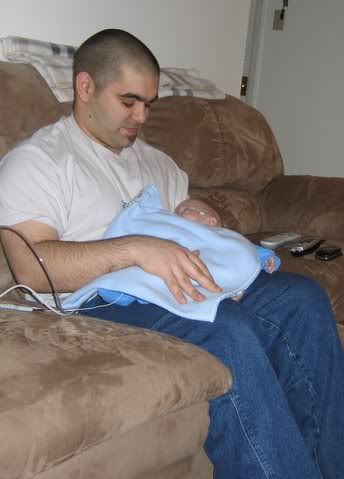 This year: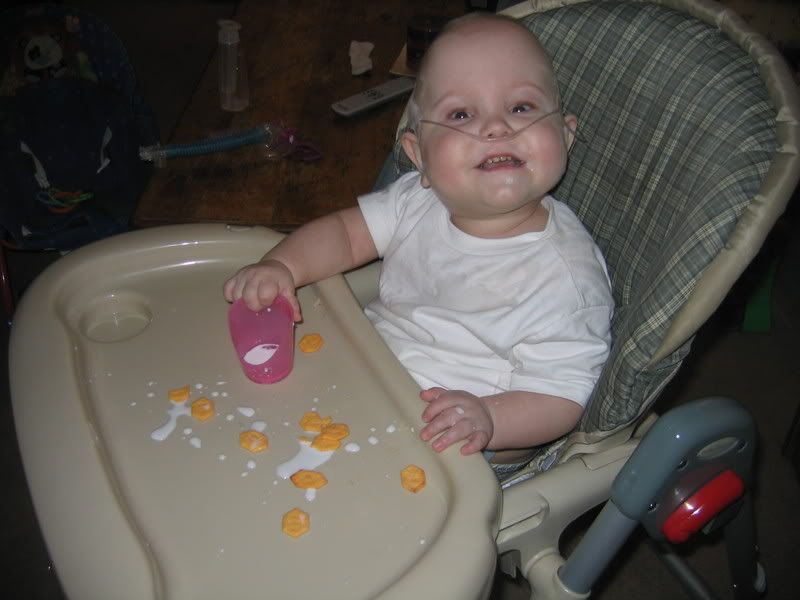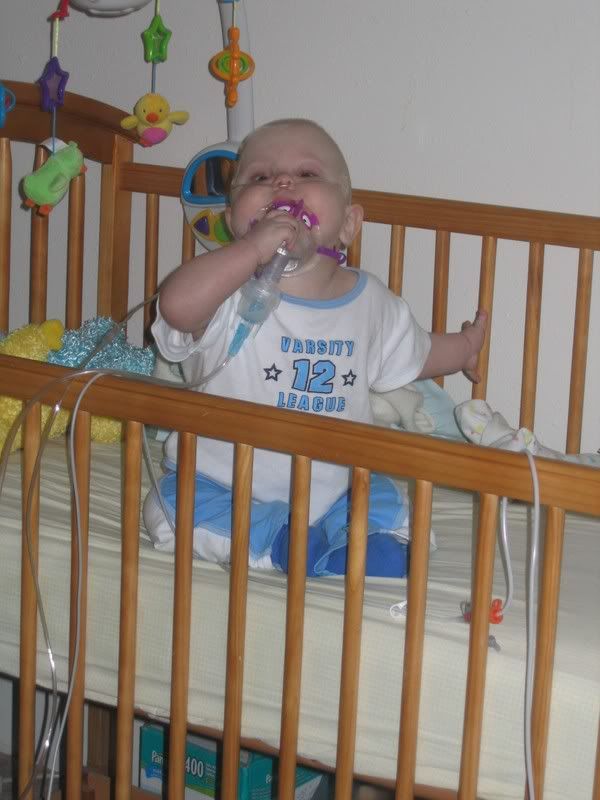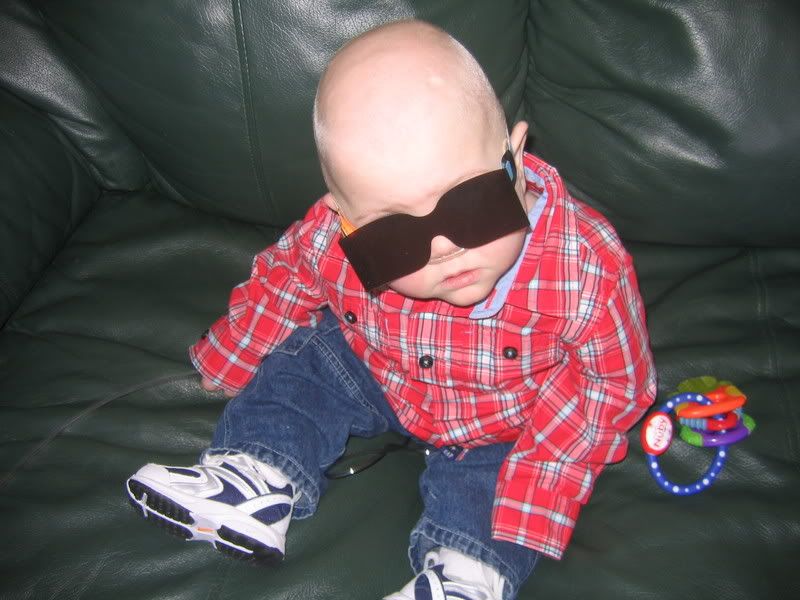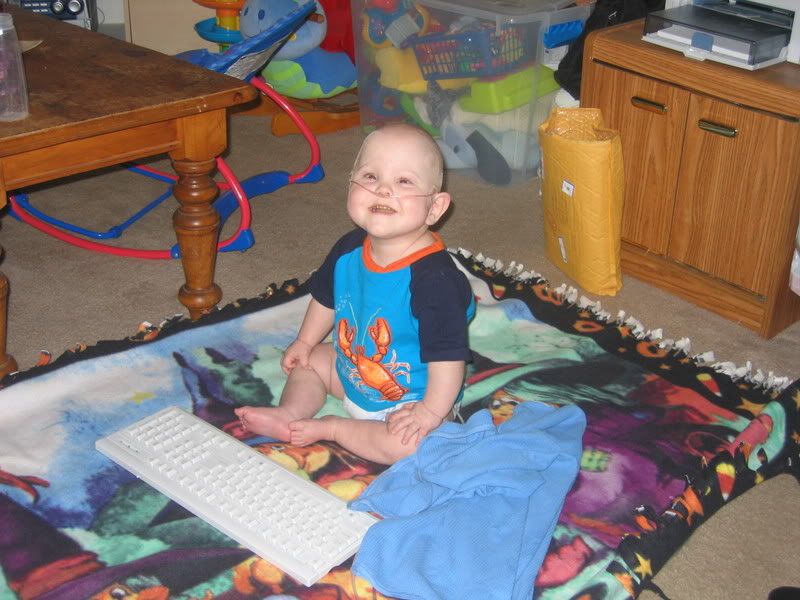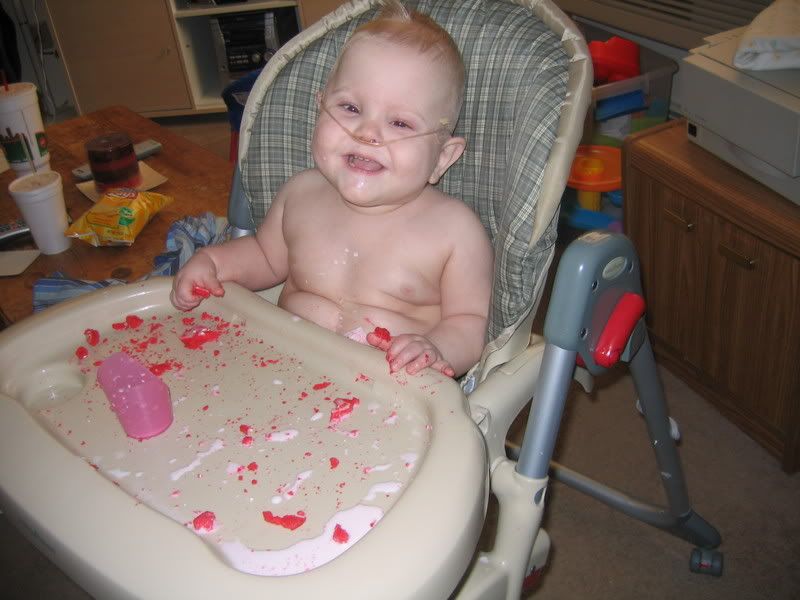 Our cardiologist appointment today went really well! He said that his EKG looked good and the discoloration in his legs and arms from weight bearing was nothing to worry about. He wants to see us again when David turns two.
And David is all better after his stomach bug yesterday. He slept from about 8pm last night until 7am which was nice. He's also tolerating his feeds fine today. WHEW! Yesterday was about the most stressful day that we've had in a loooooooooong time!
***************************************
1/24/07
New Button
David started puking at around 1130 last night. I FINALLY got him to sleep at about 1am, and I cut his feeds back and mixed it with pedialyte so he wouldn't get dehydrated, hoping he would tolerate it. And he did, until about 430am. When he woke up puking again.
I knew I wouldn't get a call back from the ped, so I did what they had us do last time, which was hold his feeds for three hours. Just now I attempted to give him 15 ccs (1/2 an ounce) of pedialyte to see if he would puke - and he did. More than what I gave him, if that's possible, and I only got 5ccs in.
We called the doctor when Susan got here this morning and they told us to come into the hospital for a for a Jejunostomy (sp?) tube
Well I panicked because when I googled it, this is what I found:
Jejunostomy: A surgical operation to create an opening of the jejunum (a part of the (a part of the small intestine) to a hole (stoma) in the abdomen.
So I went in there having NO idea what they were going to do to my baby. Everything I had read was telling me that they were going to put ANOTHER hole in my son, but the nurses acted like it was no big deal, so I was really confused.
After about two hours, with David BURNING up and still having no fluids, they got us back there. It's actually a simple procedure - they just removed the mic-key button and put in a different type of button. This button has a tube on the inside that goes all the way into his intestine to help him digest the food so he can't vomit it up.
It took about thirty minutes to complete, and then we were on our way. Now we're home, and David is not vomiting anymore, and is FINALLY asleep. Here's a picture of what the new button looks like - it's almost exactly like the other one, except with more ports.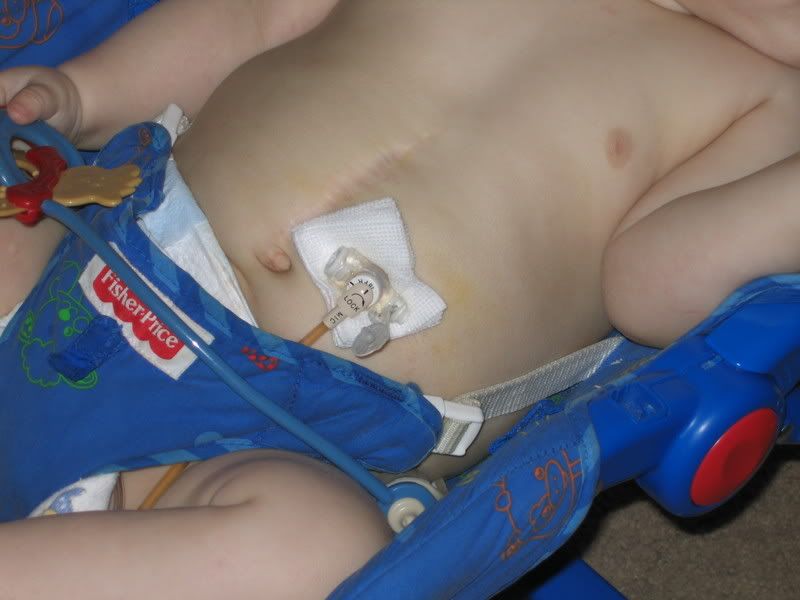 And here he is, all tuckered out.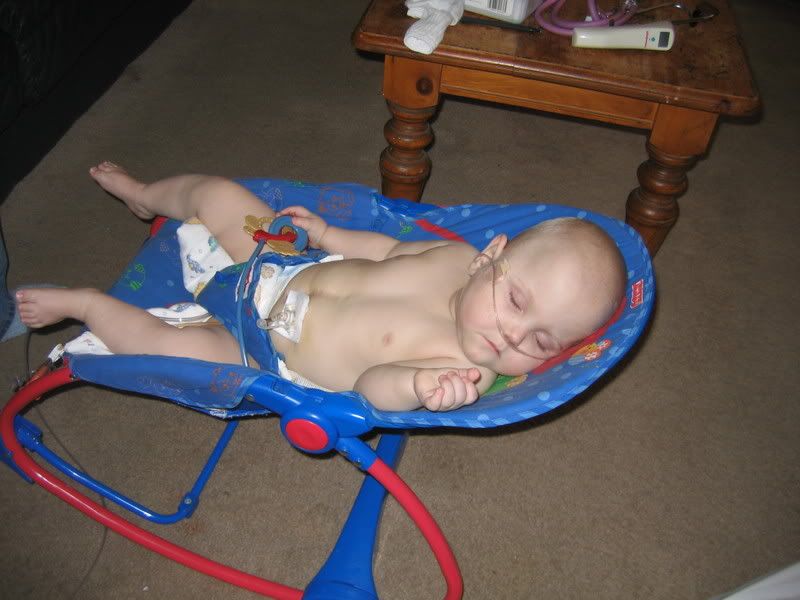 ***************************************
1/25/07
Finally got some answers
I was really not happy with the way things went down yesterday. I felt completely out of the loop. Half the day I was under the impression that he was going to have to have surgery again - like another HOLE put into him. And nobody was acting like that was a big deal. Noone bothered to talk to me about why he was getting it done or how far back this was going to put us on getting him off the tube or how long he was going to have it or how the feeding were going to work or anything.
So I called the peds office to get some answers.
Apparently, he'll have this tube for 3-6 months. And it isn't just because of the recent vomiting, from the last few days that he has to have it. They're under the impression that because he's been able to vomit for a while now that his nissan is either completely loosened or non-existant. So this tube will allow for his stomach to heal because the J-Tube goes all the way down into his small bowel and bypasses his stomach all together.
She said that this will in no way put us behind on getting him off the button. She said that as soon as he is able to consume enough calories by mouth he'll get off the button, regardless of which button he has to be using at the time.
One bad side to this is that he can't get bolus feeds, so he'll have to be pretty much on continuous feeds for as long as he has it. It's just terribly inconvenient for him to be on continuous feeds because it's hard to take him anywhere or give him a bath or anything. He's pretty much confined to a three foot stretch from his feeding pump.
But, if he needs it, he needs it I guess.
***************************************
1/28/07
Chillin on the couch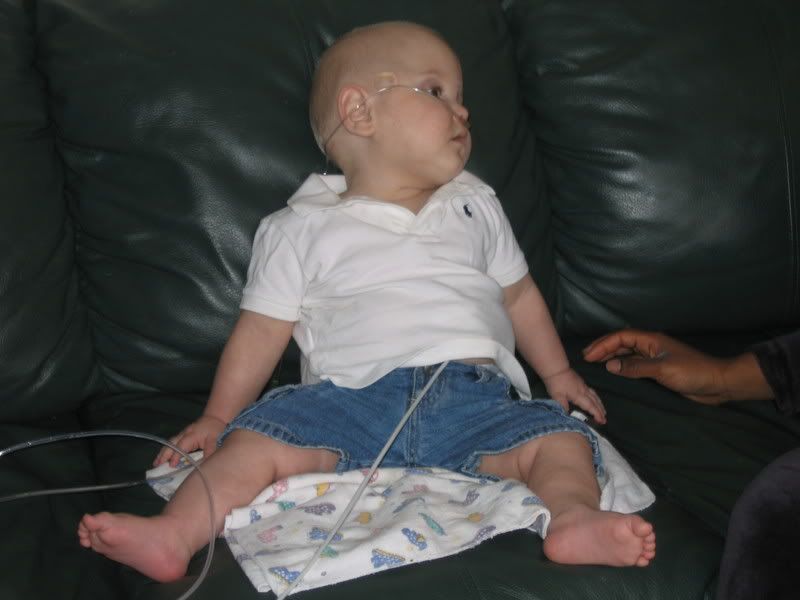 Here's what I found when I came home last night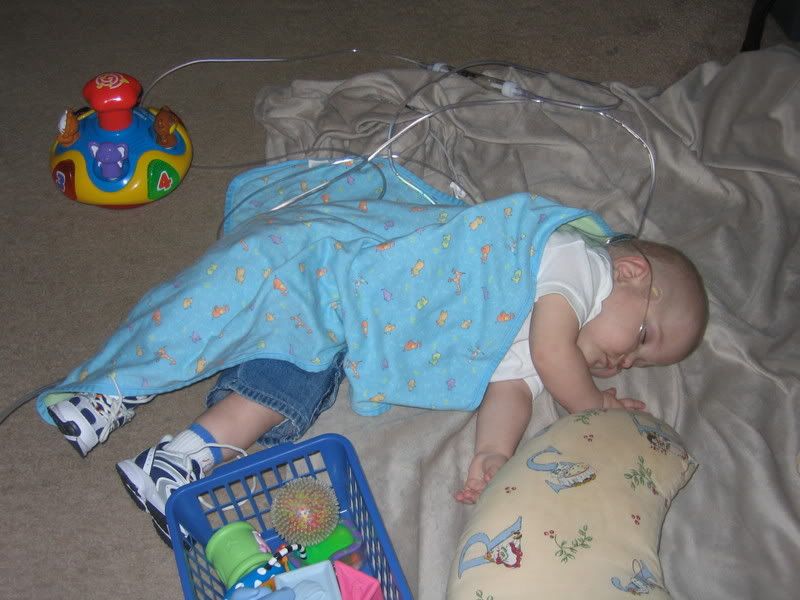 Smiling after lunch today: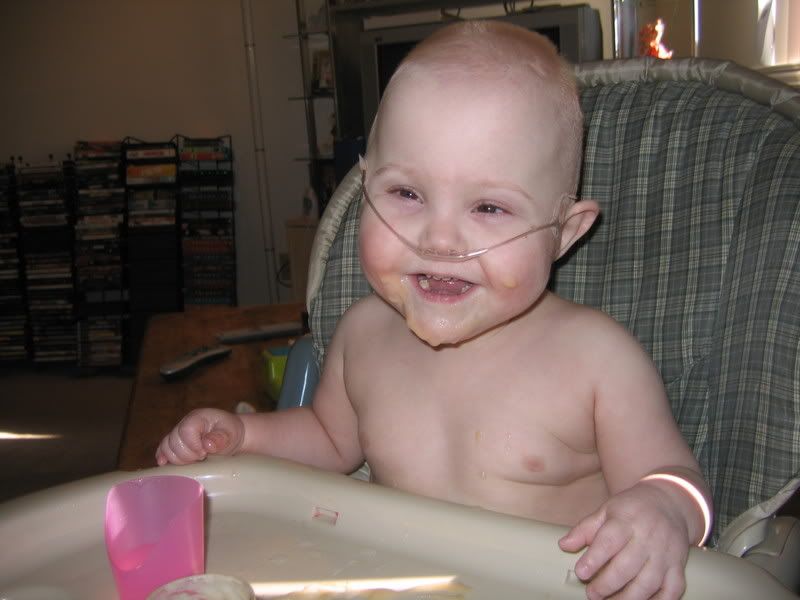 Videos of him eating and laughing -