February 2007
***************************************
2/2/07
Pictures from this week
Eating a goldfish cracker with our nurse, Susan: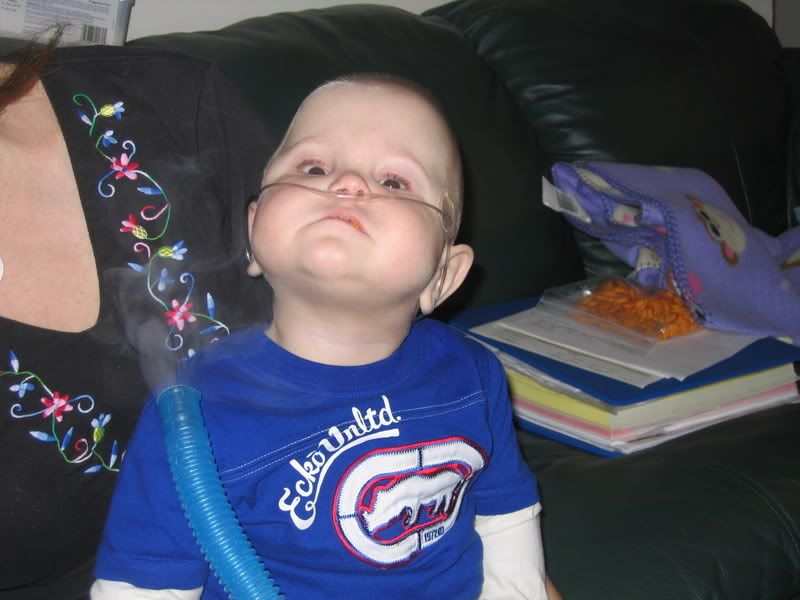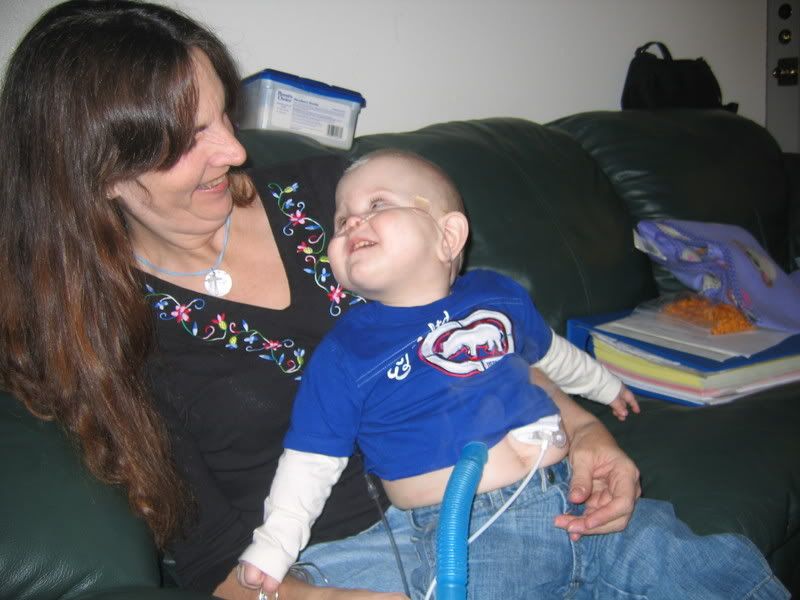 Learning to put weight on his arms with a fill in nurse, Maria.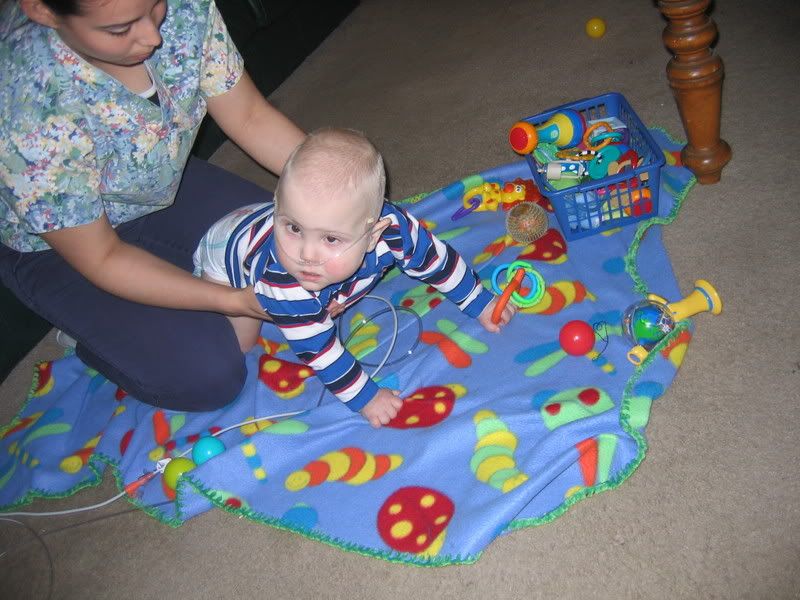 Today, during his occupational therapy session with Annette.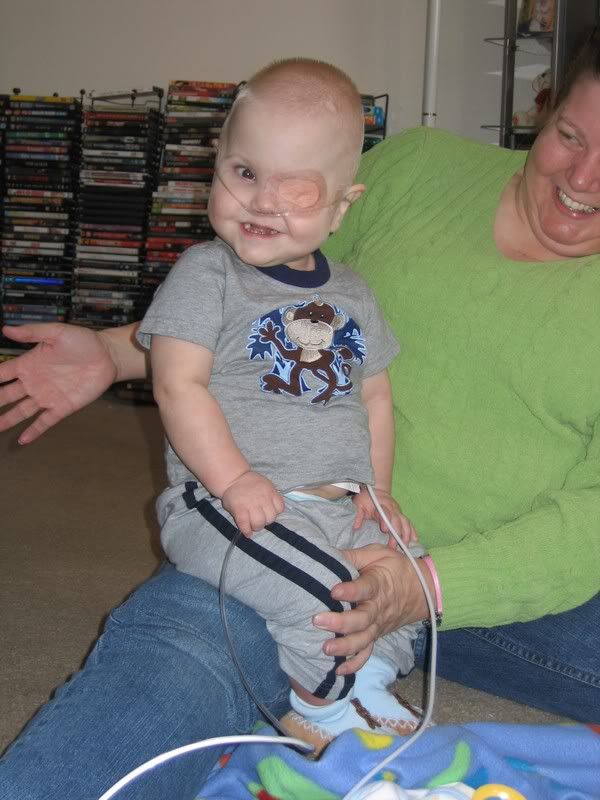 Kissing the blanket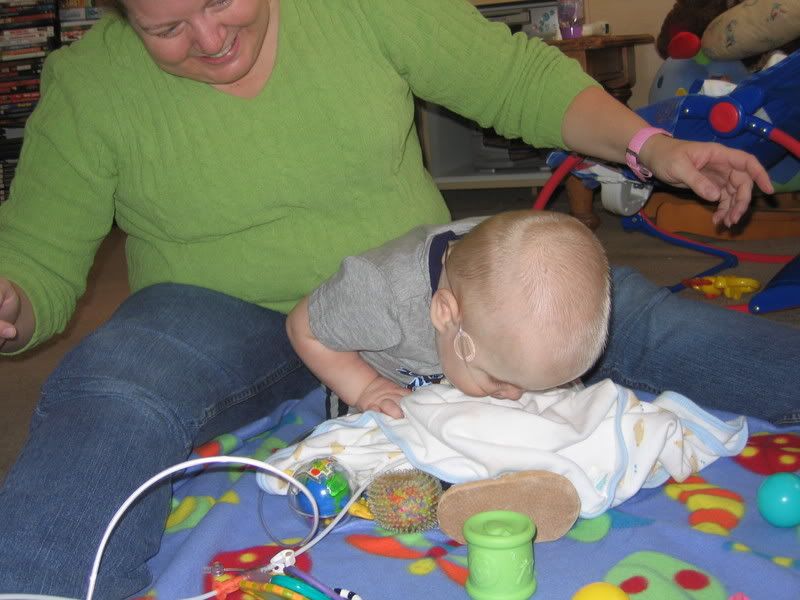 Kissing Annette awwwwwwwwww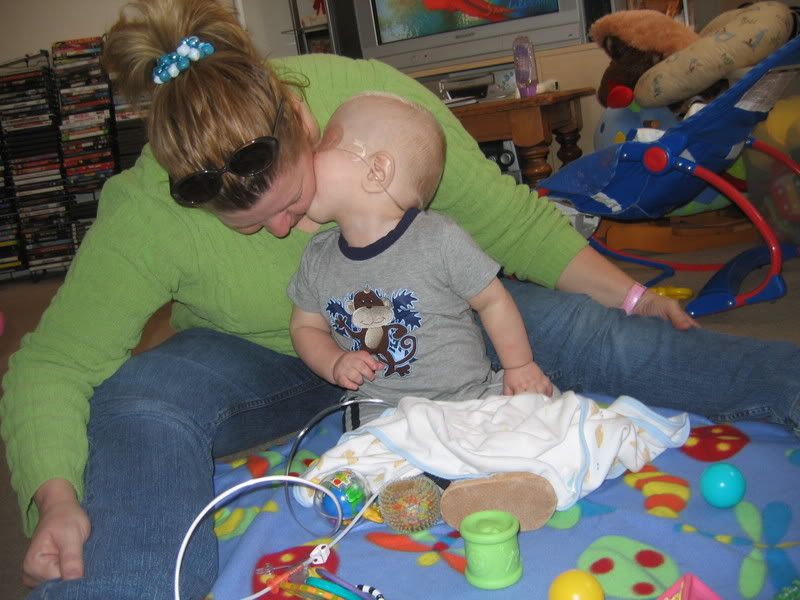 how can I take over the world?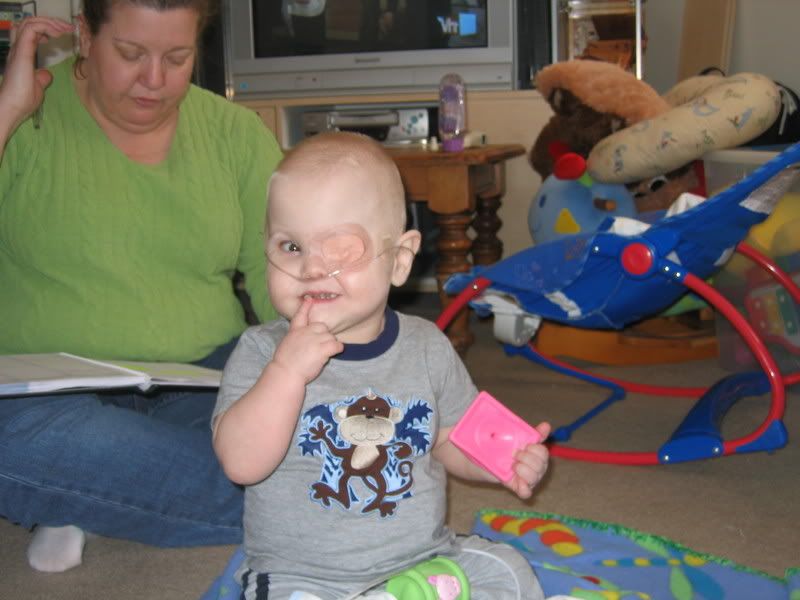 A Video of David saying "bye bye!"
2/5/07
David is such a stinker
David decided he didn't want to wear his eye patch today. Here's what I found before bath time today - he looks guilty!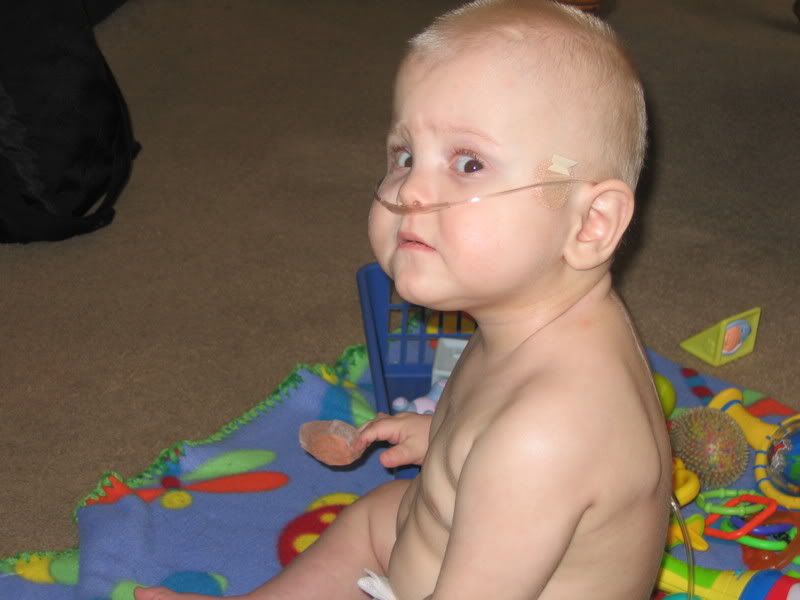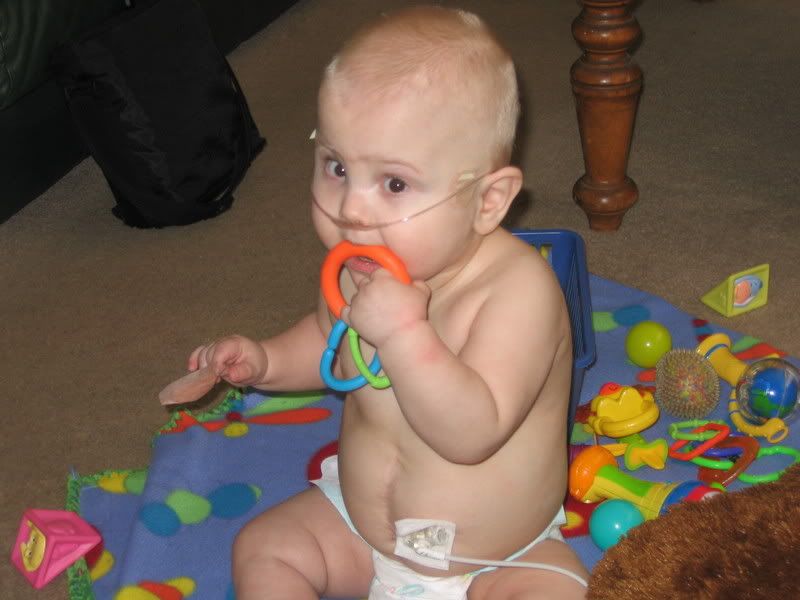 He says "I did no such thing, MOM."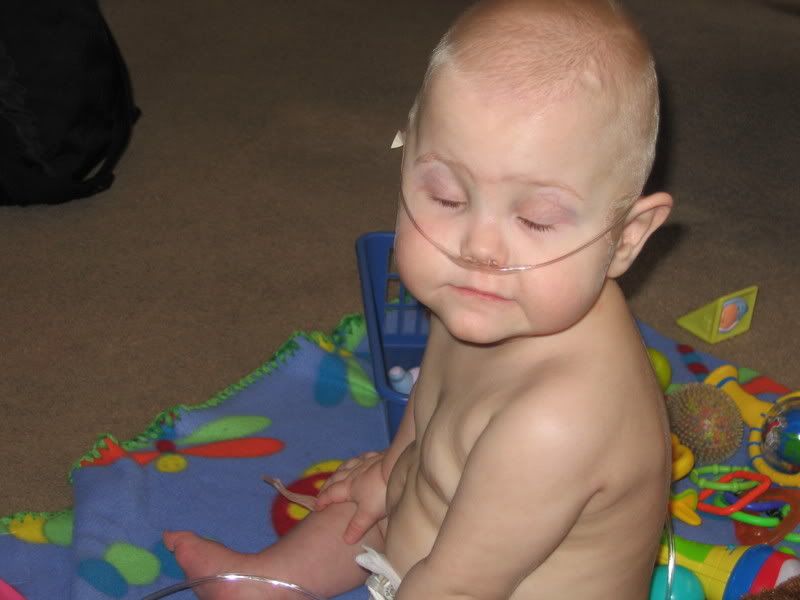 HAHAHAH!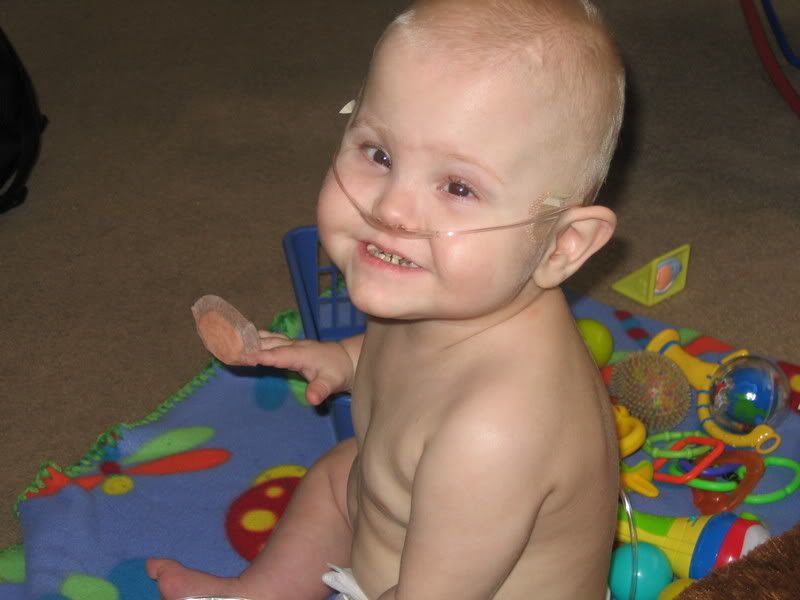 How is this possibly comfortable?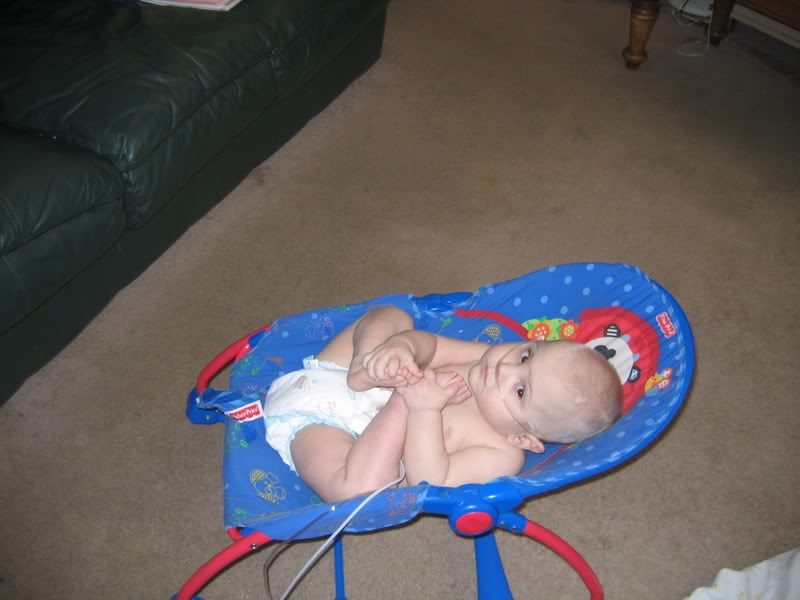 This picture makes me laugh - he's so nosey!!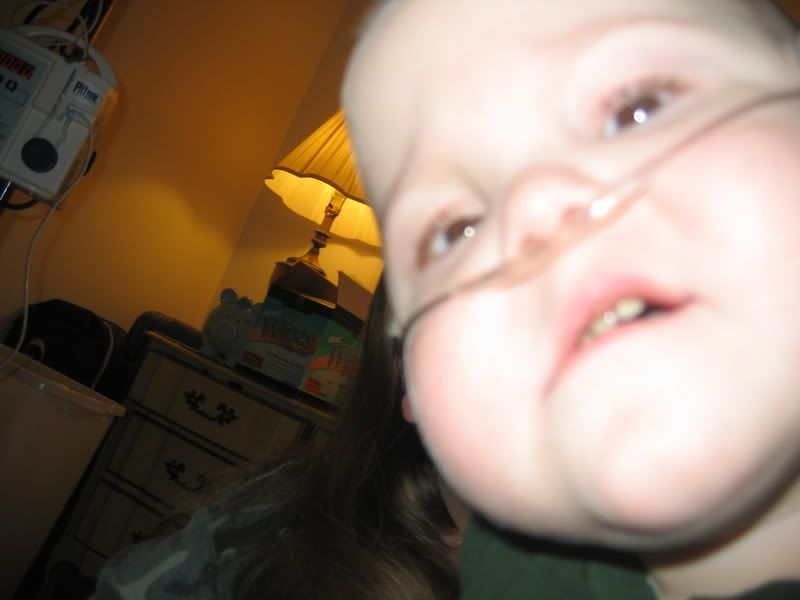 ***************************************
2/8/07
18 months old already?
We had our 18 month appointment today. David weighs 25 lbs, 13 oz, which is a loss of about another six ounces. She's not worried about it, though, because that put him in the 50th percentile for weight, for his ACTUAL age, not adjusted! Also, he's 32 inches long which is also in the 50th percentile for his actual age!
He got a couple of shots, and he's all caught up with his immunizations finally.
I'm a little frustrated, though, because with one breath the nurse practitioner was talking about how I could give him ANYTHING I wanted to eat, and the next breath she was talking about EXCEPT cow's milk.
And I'm also a little frustrated because it turns out that my doctor's office doesn't give the MMR immunization until they are 30 months, and they won't EVER give the chicken pox vaccine, unless the schools won't let them in without it. She said that they would rather him get the immunity naturally.
I'm starting to wonder if these aren't the kind of people that have pox parties.
I don't want to change doctors... because what he's doing is WORKING, you know? But I look forward to the day that David's healthy enough that he doesn't NEED a specialized ped like that.
ANYWAYS... David is doing really well.
David, Susan, and I went to Logan's restaurant to eat lunch with Vanessa and her two girls yesterday. We had so much fun! David was pretty fussy before we left so I was a little worried about taking him out, but he did really good! He refused to sit in his highchair, so I held him for a little while, then Vanessa held him. He LOVED Vanessa!! He sat with her all the way through lunch!
Here is Vanessa, Tiffany, and David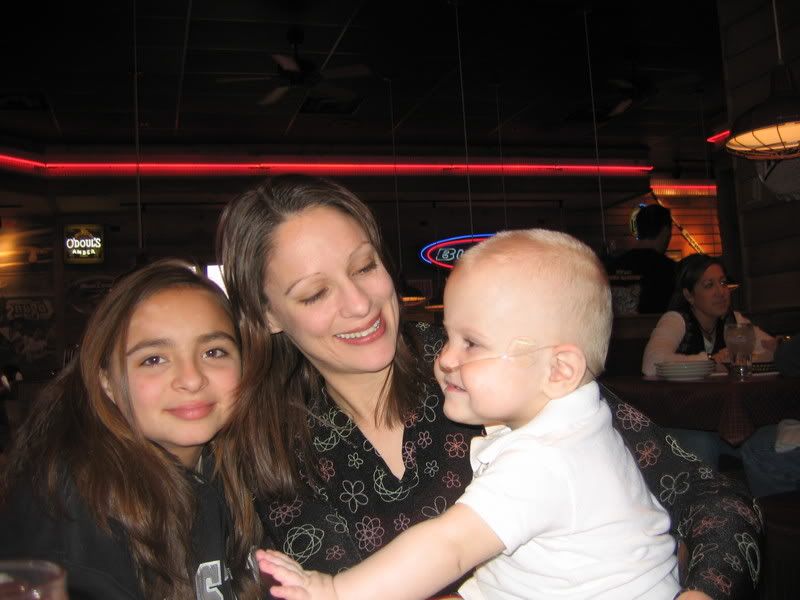 I finally talked Hanna into coming over and getting her picture taken... of course then we couldn't get the book out of David's mouth!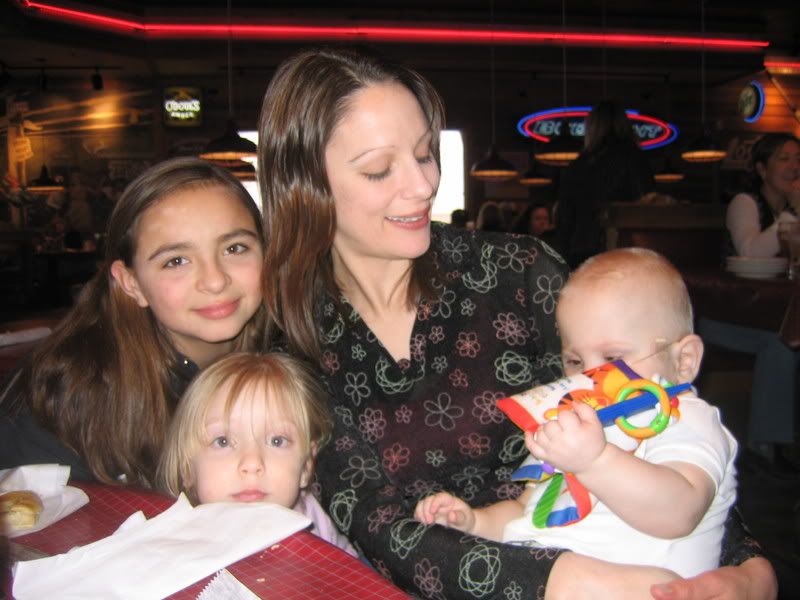 Here we all are.. awww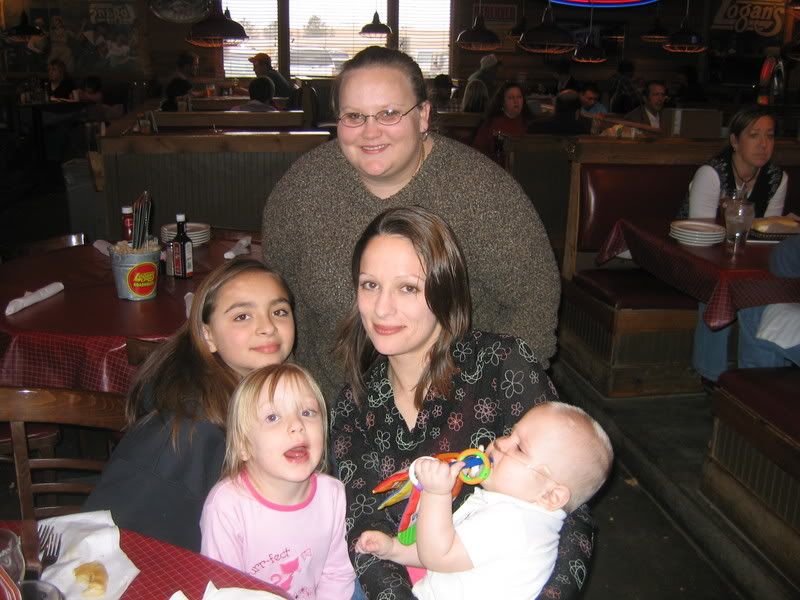 Hanna was eating the butter - SO cute.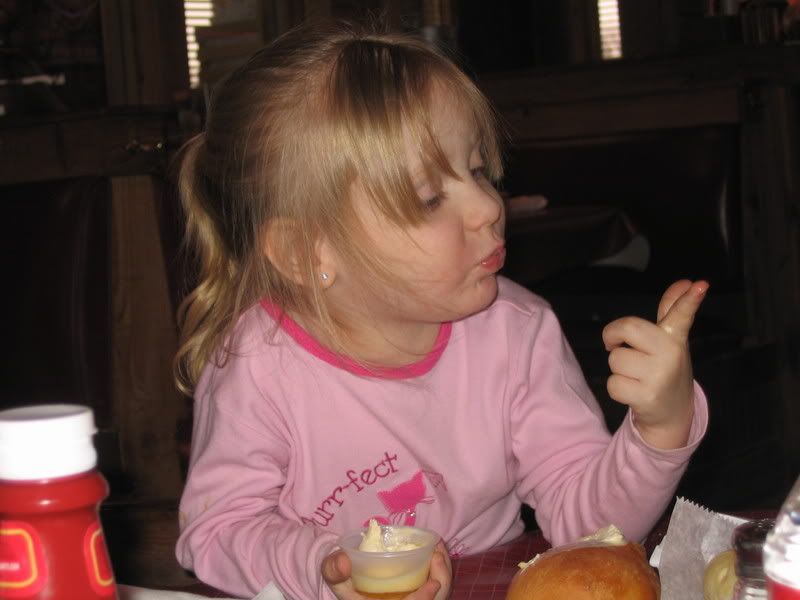 David finally fell asleep - he was all tuckered out. He slept through the rest of lunch.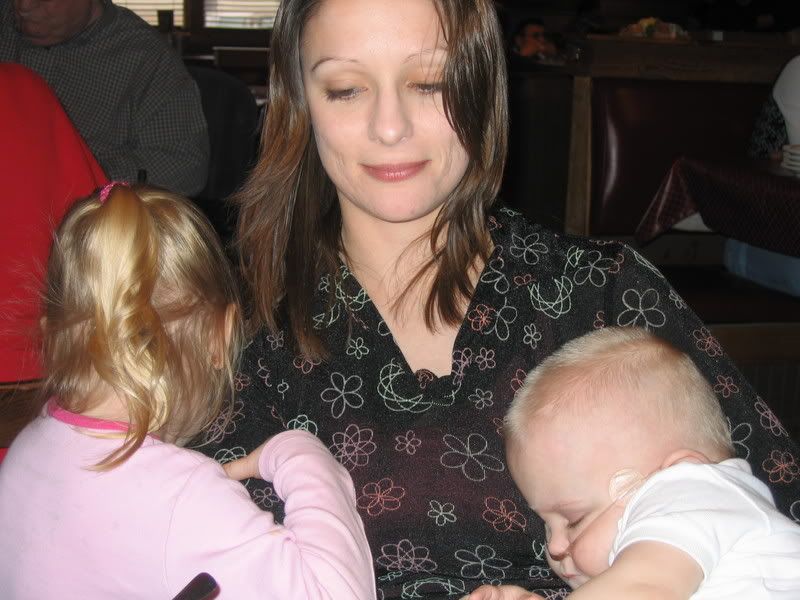 It is SO nice to get out of the house for a little bit of social interaction!
David is SUCH a drama king!
He's perfected the art of crying on cue. It is the saddest/funniest thing in the world. He makes tears and everything! But when I give him what he wants, he IMMEDIATELY laughs.
Little toot!
What am I gonna do with him?
***************************************
2/9/07
Physical Therapy
Angie, the asst physical therapist came to see David today. She was impressed with the way he's letting us touch his hands for longer periods of time without jerking them away. He has a bit of a control issue with his hands, and unless he completely trusts you AND the situation, he won't let you hold him. I imagine it's from being stuck by needles so many times in the hospital. But, it's getting better. Also, he was having a fit and arching his back, so Angie grabbed him right at the right time, and made him stand up. I'm really encouraged by this because he is SO reluctant to put any weight on his legs. Here are the pictures:
Before she really got started (and made him mad
) he kept giving her kisses... like he thought if he gave her enough kisses he wouldn't have to work!
This is a little mirror - he was giving himself kisses! He's such a sweetheart.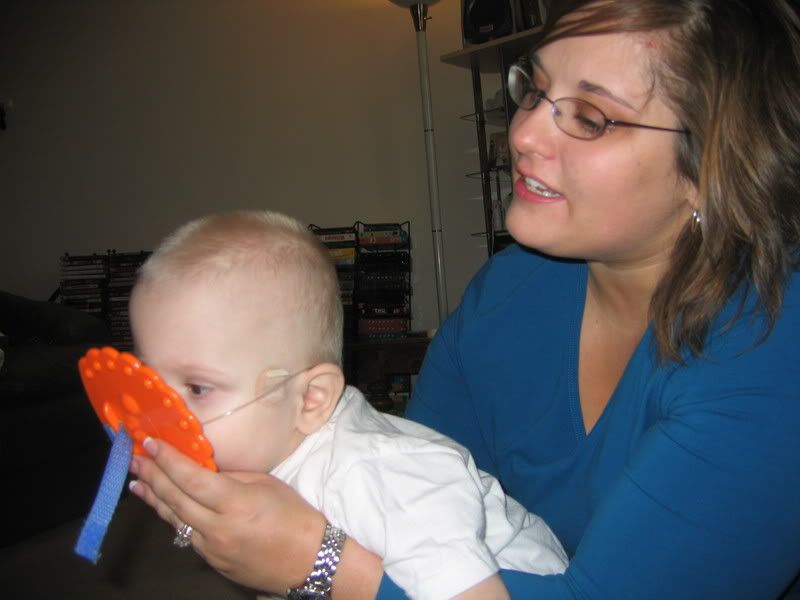 Not enough hands! He has a toy in each hand AND his mouth.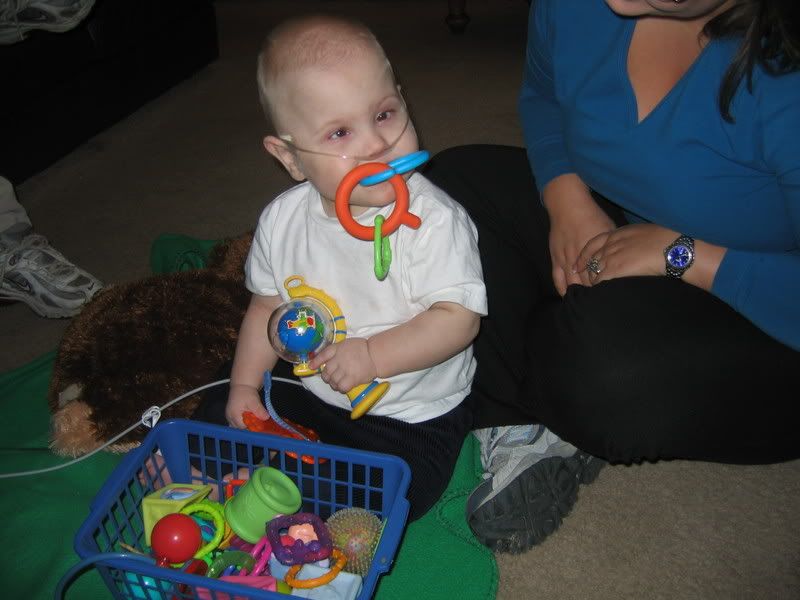 Here he is throwing his fit
And standing up!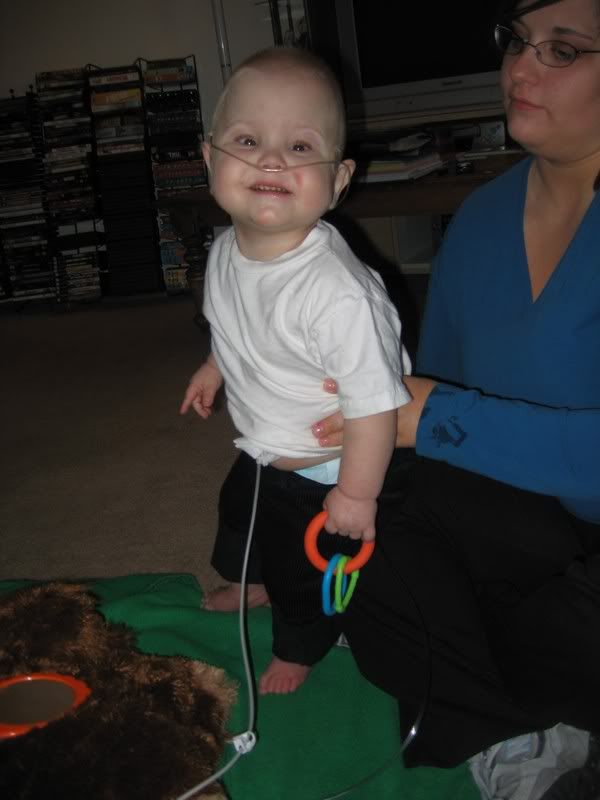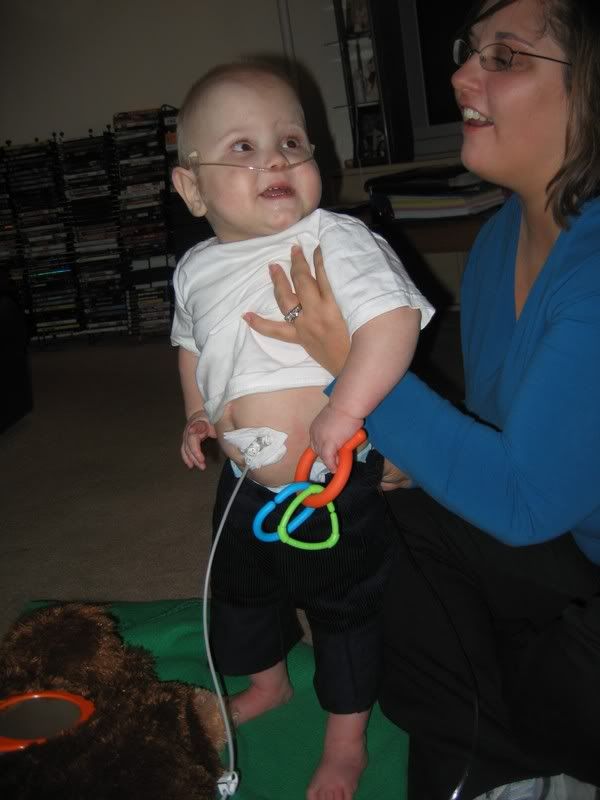 ***************************************
2/13/07
Happy Valentines Day!!
We participated in a secret valentine gift exchange. Our secret valentine was good to us!!!
David was so excited to see what was in the box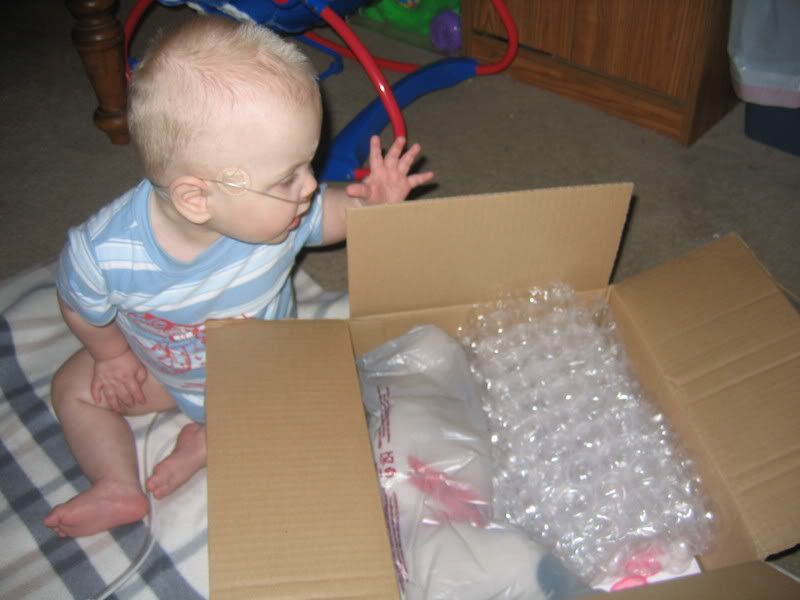 Reading the card first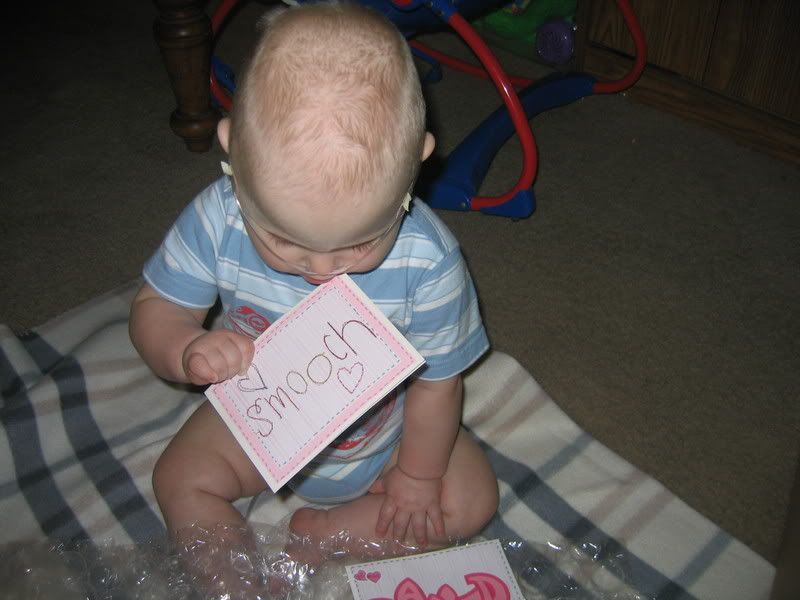 who's that? That's our secret valentine! He says
she's PRETTY, Mom!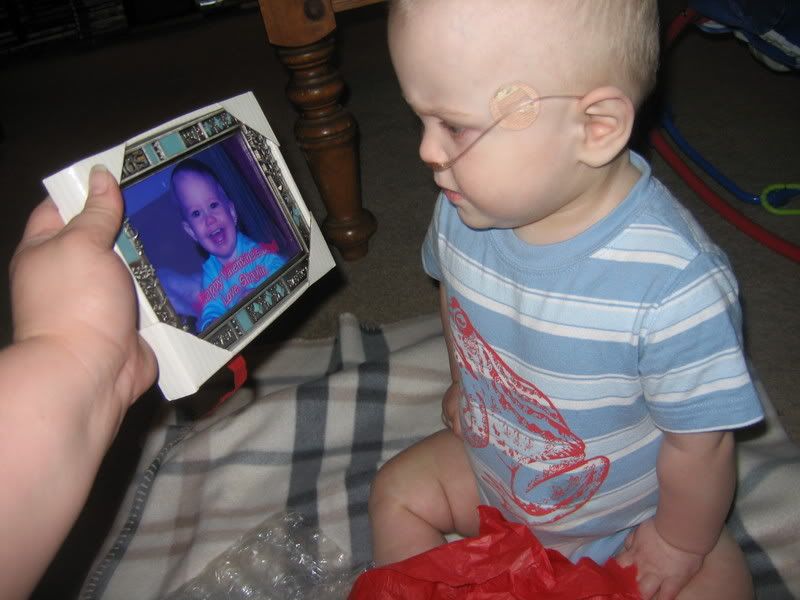 Hey! I know them!!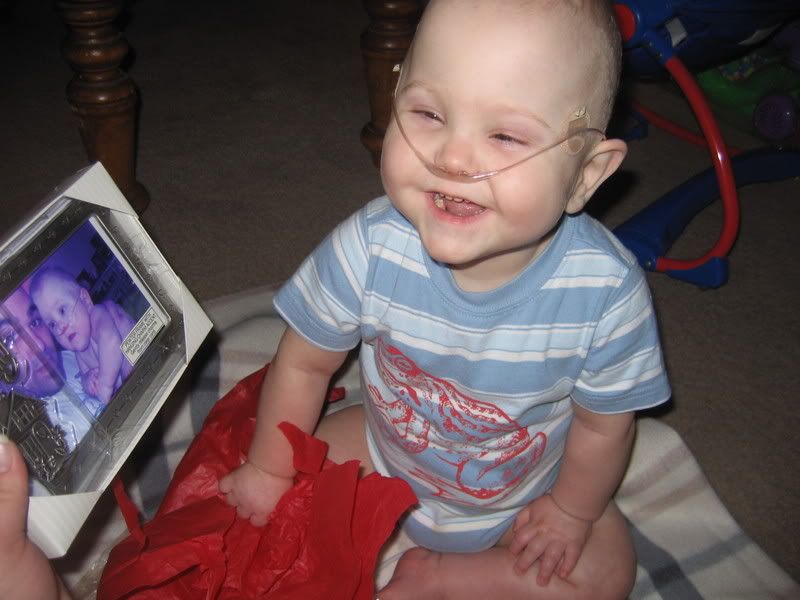 His favorite gift - it must've been a mystery - he looks intrigued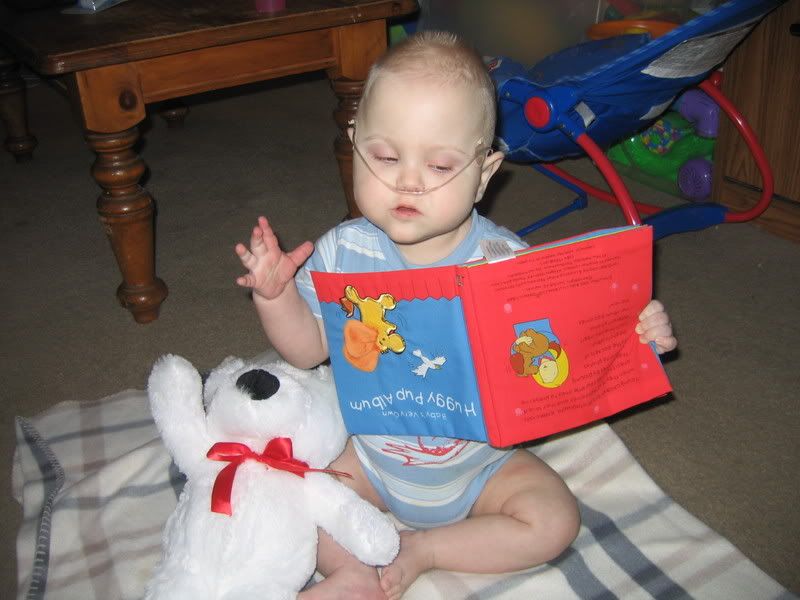 But it must have had a happy ending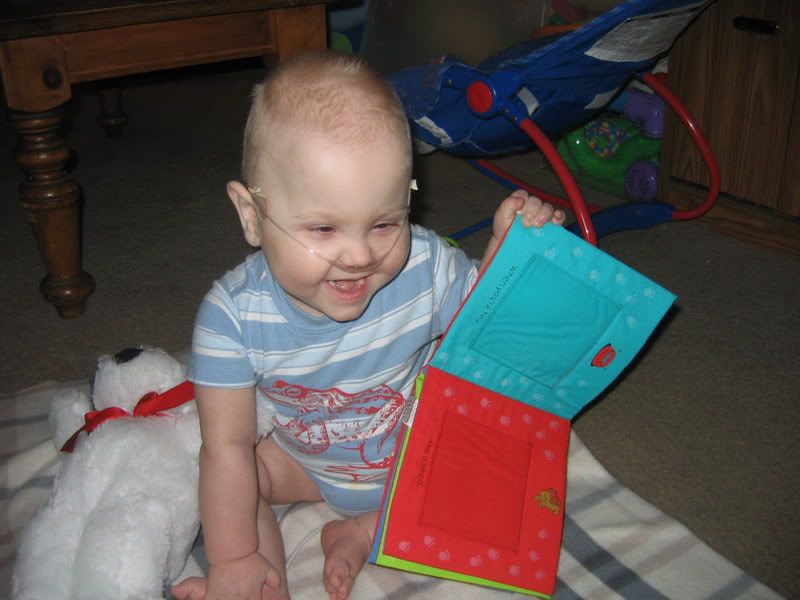 Thank you, Shaylin (and Vanessa!)!!!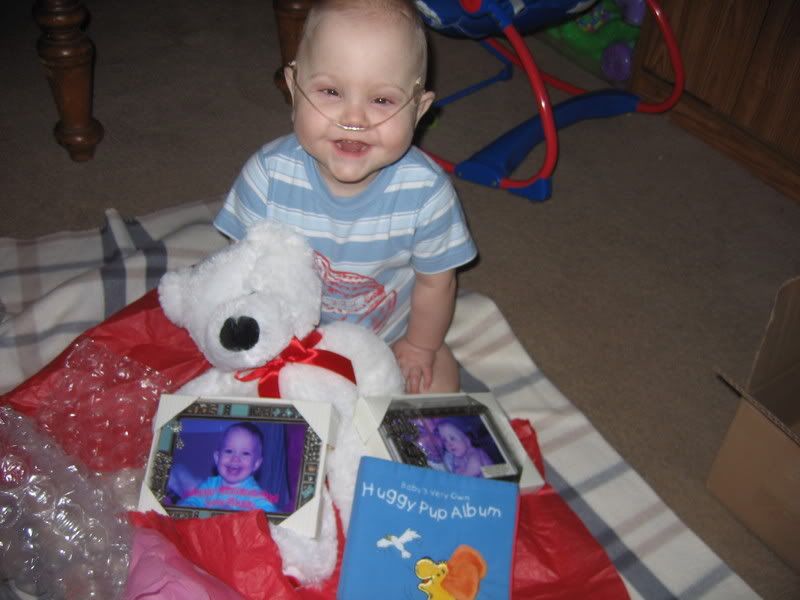 awww I love this smile!
Cheese!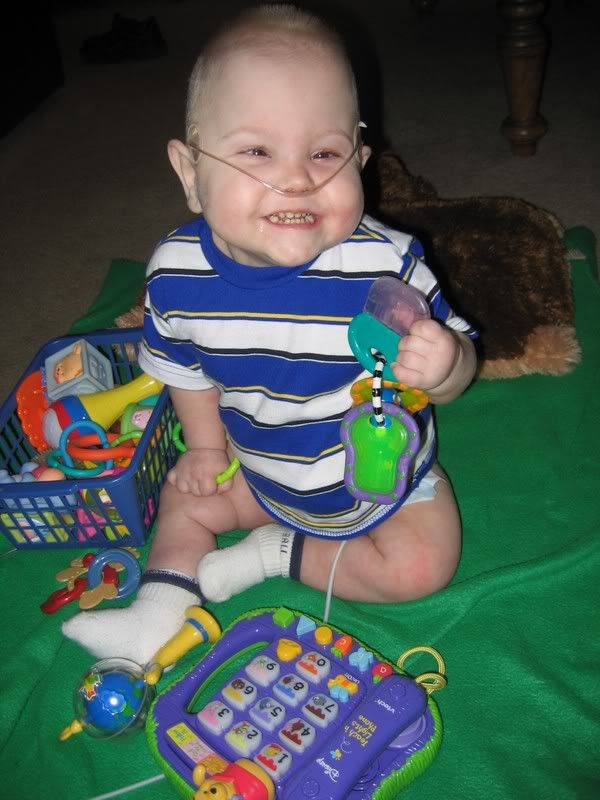 And here's a picture of David eating on his new plate. He seems to like it, even though all he wants to do is take the food out of the plate and put it on his highchair tray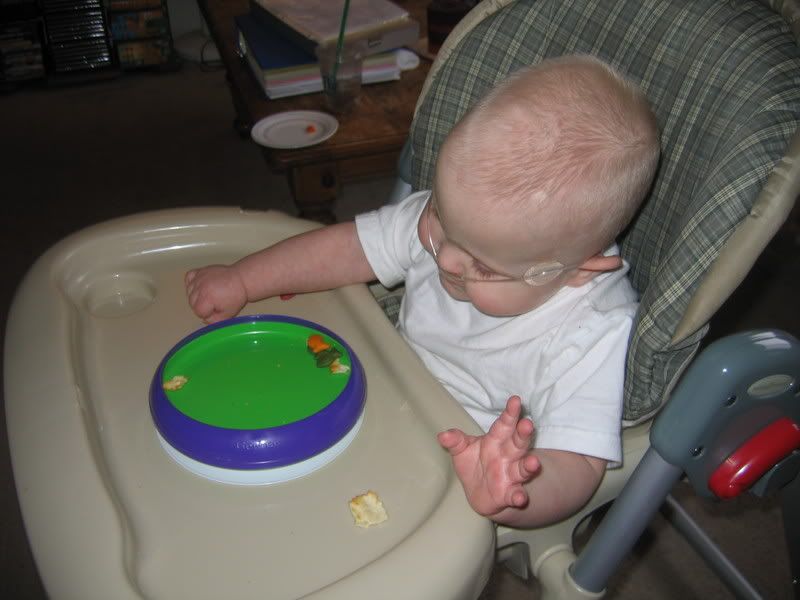 oh, and dump the food onto the floor. Sheesh.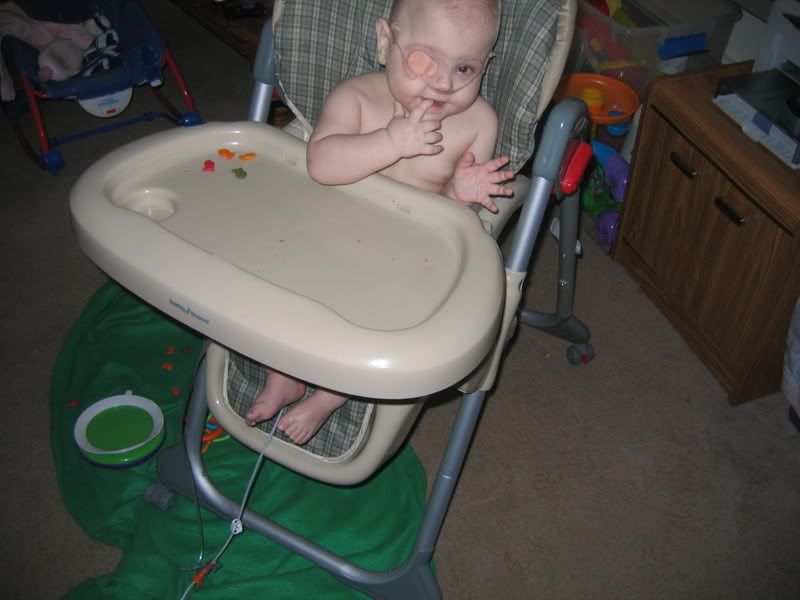 The last few weeks David hadn't been taking a good nap in the morning - he would sleep for MAYBE twenty minutes, and then be fussy alllllllllll day. Ugh.
So we decided to do something new - seems obvious to me now, but I'm a first time mom, so don't make fun of me LOL!
We're making a HUGE difference between naptime and awake time. Awake time involves LOTS of interaction, LOTS of playing, LOTS of activities. Then, when it's naptime I put him in his little blue chair and put him in the dining room, where it's darker (I would put him in the bedroom but he's on continuous feeds and it's a PITA to carry that pole back and forth) and leave him alone. I've also been trying to put him to sleep at the same time everyday.
Well I'll be damned if he doesn't go right to sleep - and SLEEPS for about 2 hours... then he wakes up in a good mood!
Go, ME!
***************************************
2/14/07
David has something to say!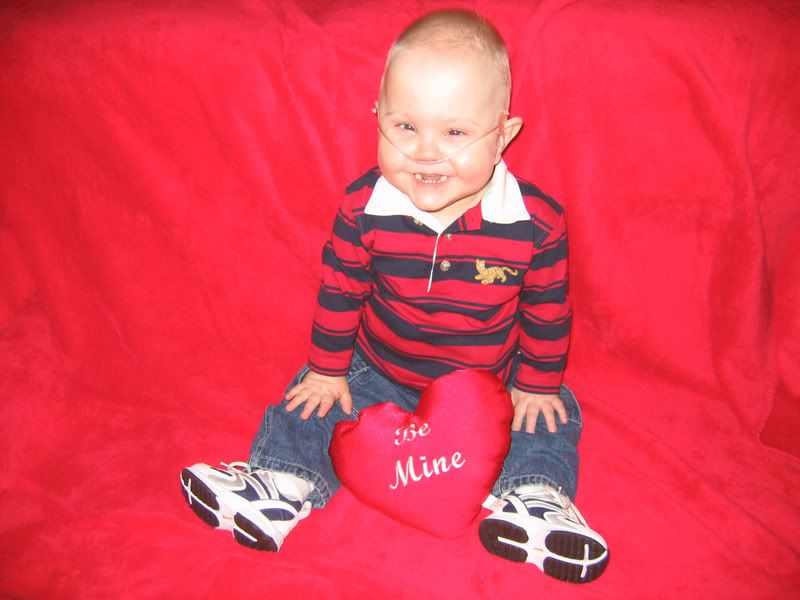 big change from this, huh?
that's the same pillow!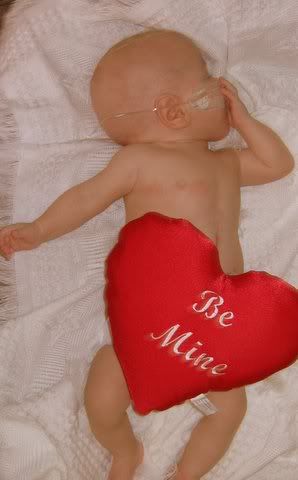 ***************************************
2/17/07
I had to buy a whole new wardrobe for David!
He's growing SO fast... I can't hardly keep up! Since it was getting harder and harder to find an outfit that fit him, I ran to Walmart the other day and picked him up some new outfits. He's wearing size 3T in shirts, and 24 months in pants and PJs. Here's a couple of pictures I took tonight, while I was changing him into his pajamas for bed.
I think this is my favorite new outfit -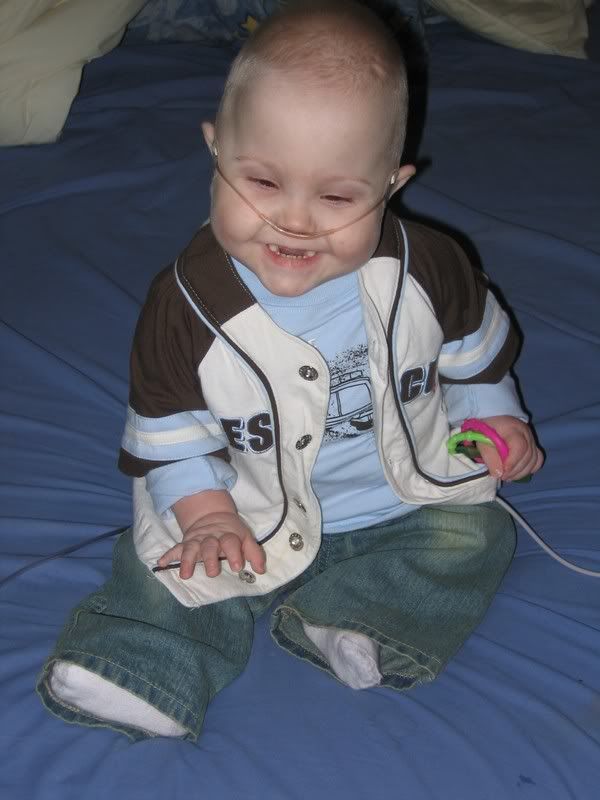 Here's one of his new sets of PJs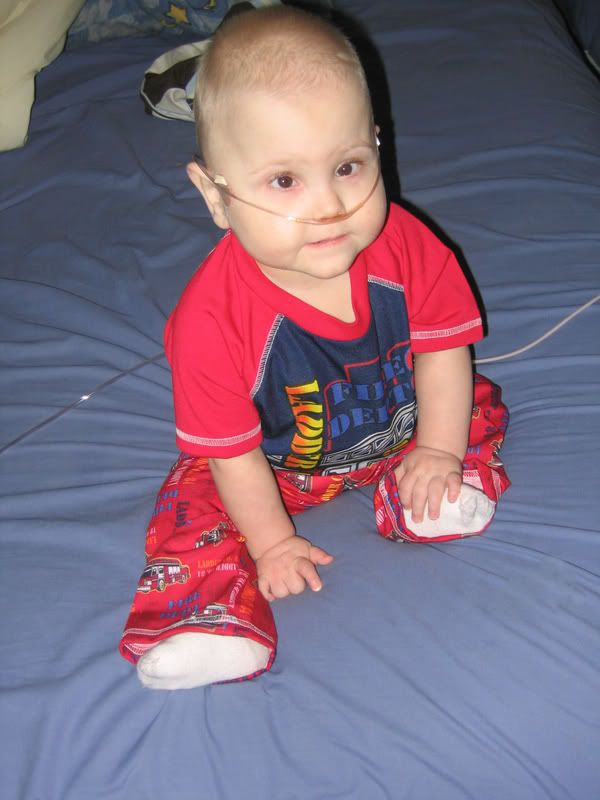 And how sad is this? He does this every night when I put him in bed... it's the saddest thing in the world.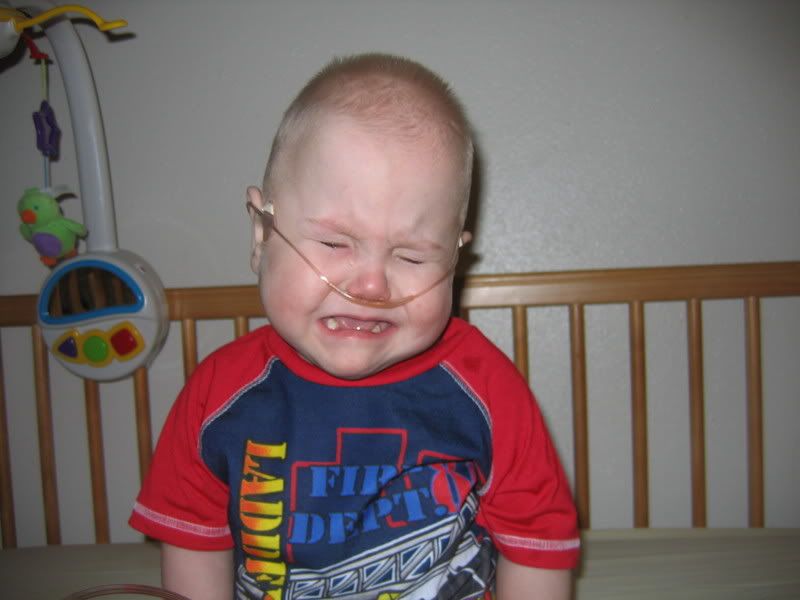 ***************************************
2/20/07
David's Physical Therapy Session
We had David up on his knees, balancing against me or the couch - with no assistance. We also had him standing up against me or the couch with a little bit of assistance - keeping his legs straight and what not.
This is great because I can vividly remember how he used to not be able to sit up, but after a few tries with different techniques that the physical therapists taught us - before we knew it, he was sitting up all by himself! And now, we're trying different tricks to get him to stand up, and they appear to be working!
I'm really excited about this. I can't even begin to express how relieved I will be when/if he learns to walk. Because then I'll know that everything will be okay. But as it stands right now (and this is something I don't like to talk about too much) I'm terrified that his cerebral palsy will cause him to have to be in a wheelchair. And I
really
don't want him to have to be in a wheelchair.
Anyways, here are the pictures, with a couple more I couldn't leave out!
We cleaned out our toy box this morning, so David got to play with EVERY toy he owns - all at once.
He was pretty excited.
Wearing the pretty necklace Mommy made for him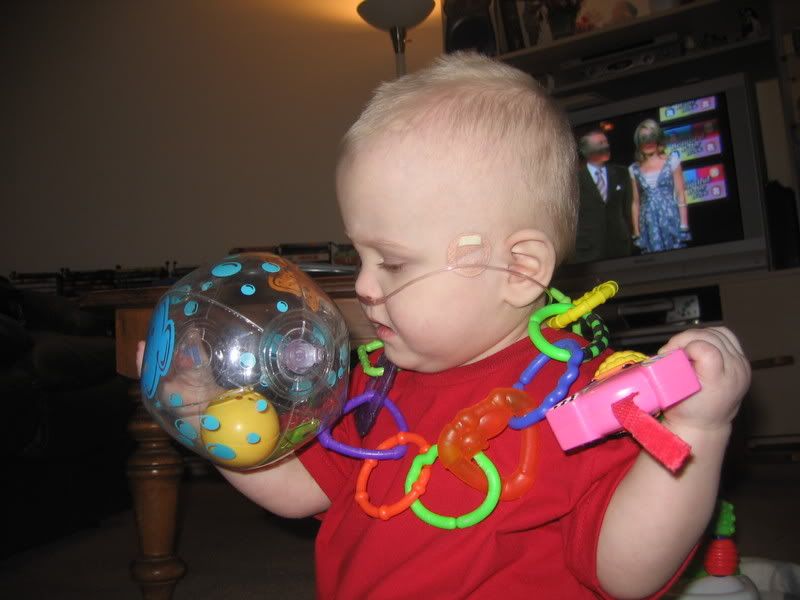 Waiting for the physical therapist to arrive...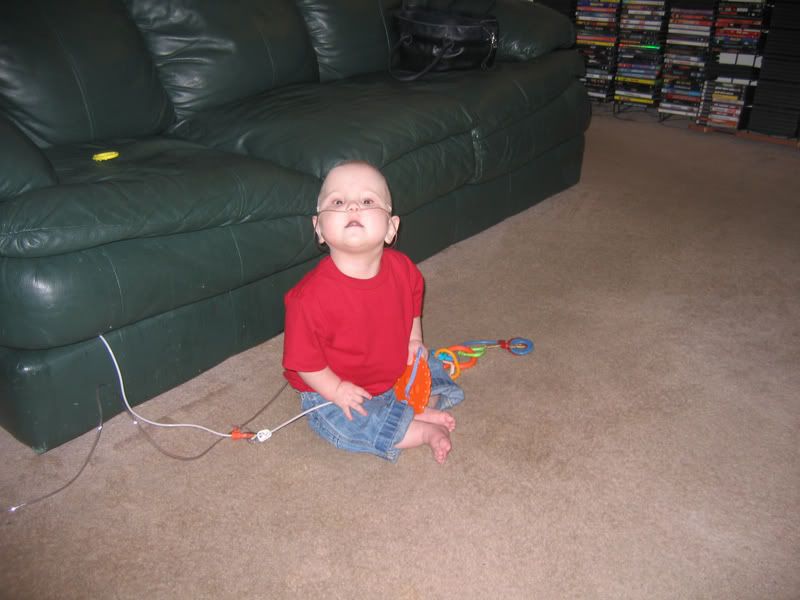 OK... First, she had him get onto his knees and lean up against me - it took some work, but he was able to do it all by himself!!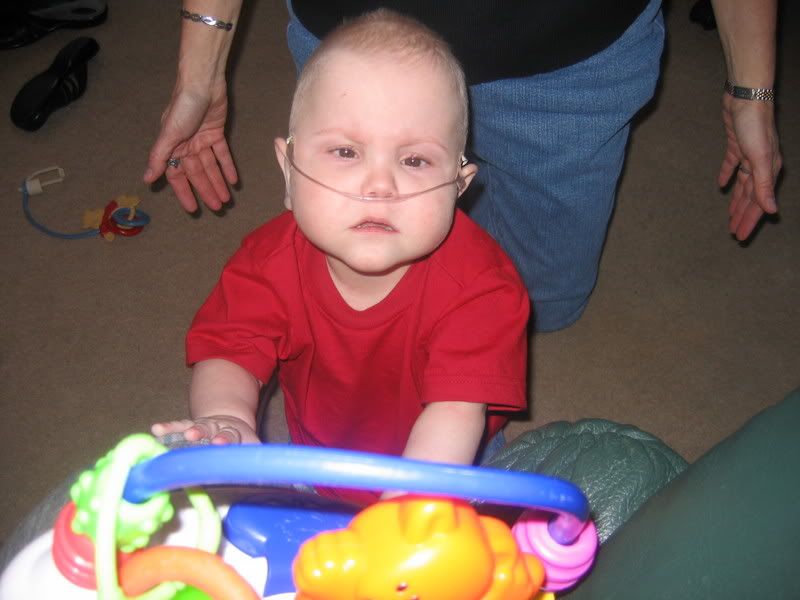 Next, she had him stand up!!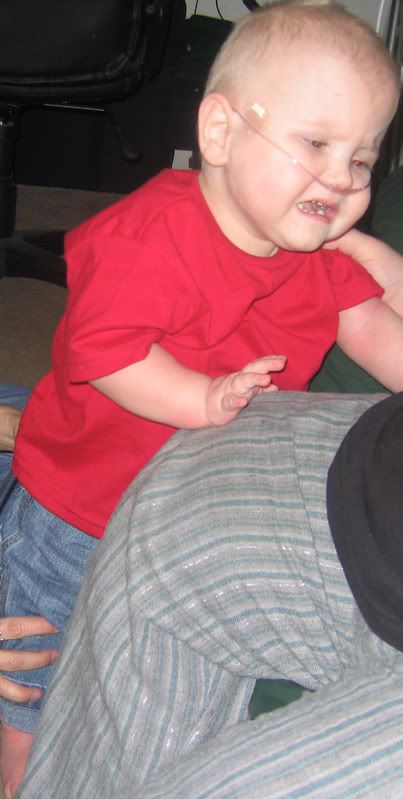 Then, we worked a little bit more on weight bearing on his arms - his arms are still pretty weak.
He says nooooooooooooooooooooooo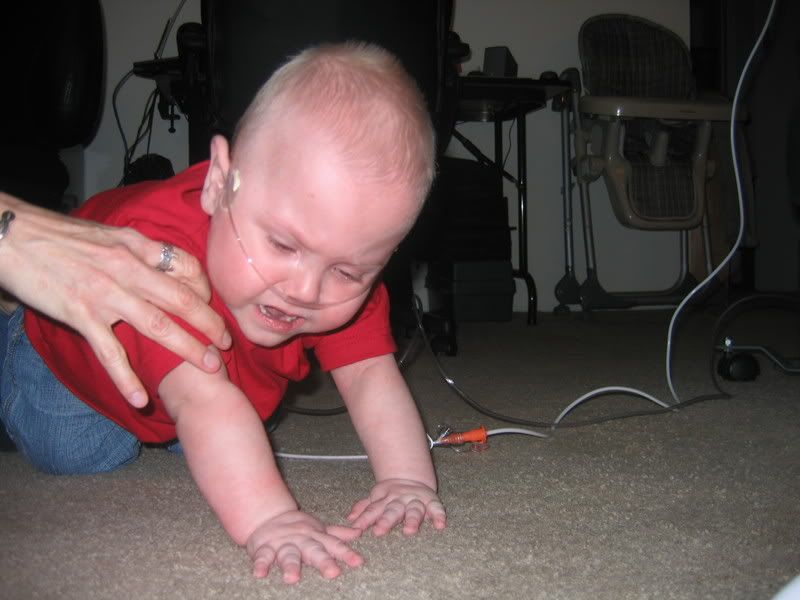 Hey - maybe it's not so bad!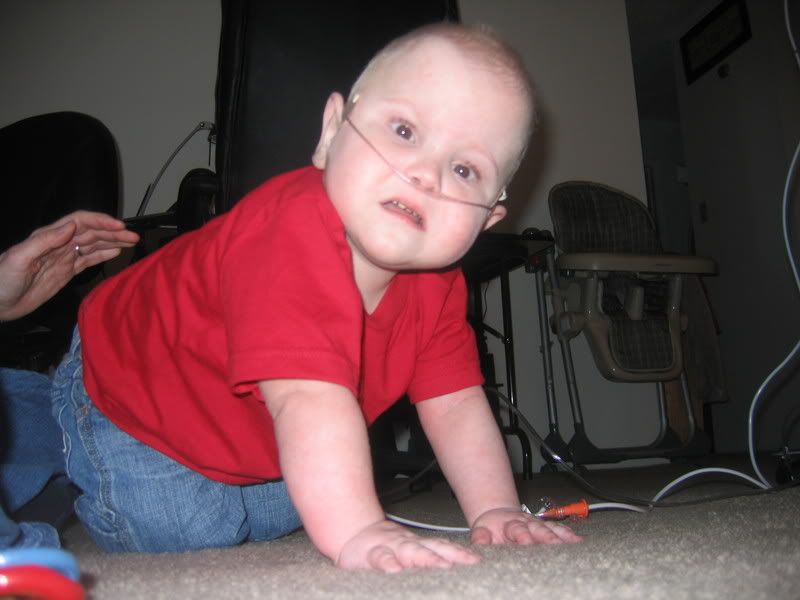 Oh wait, yes it is.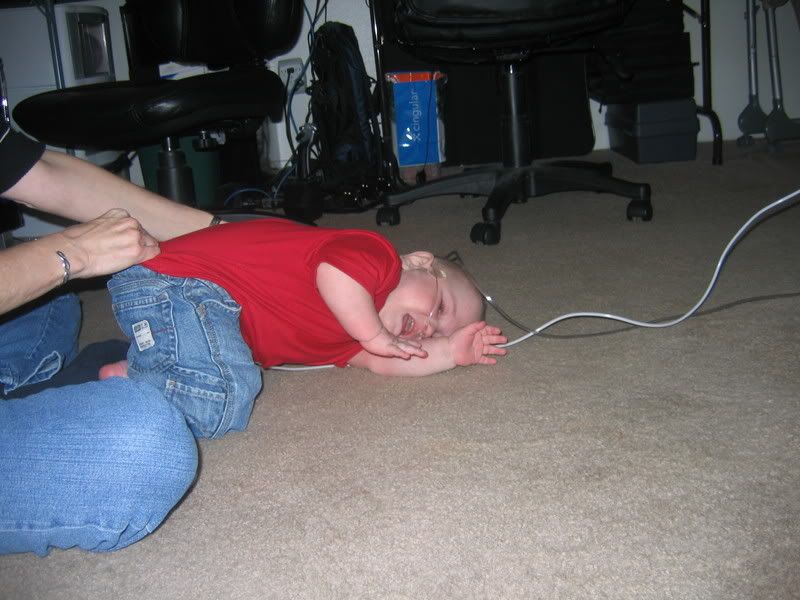 And then she had him kneel up against the couch cushion, that she put on the floor. He fell asleep like this. Poor guy.
***************************************
2/25/07
Who wants to be his Valentine?
Hi Ladies, my name is David, and I enjoy long walks on the beach, big slobbery kisses, splashing in the bathtub, reading stories, playing on the computer, and flashing my infamous smile that makes my Mommy's heart melt.
Seeking single female, 12-24 months, cute, non-smoker.
Here's my picture: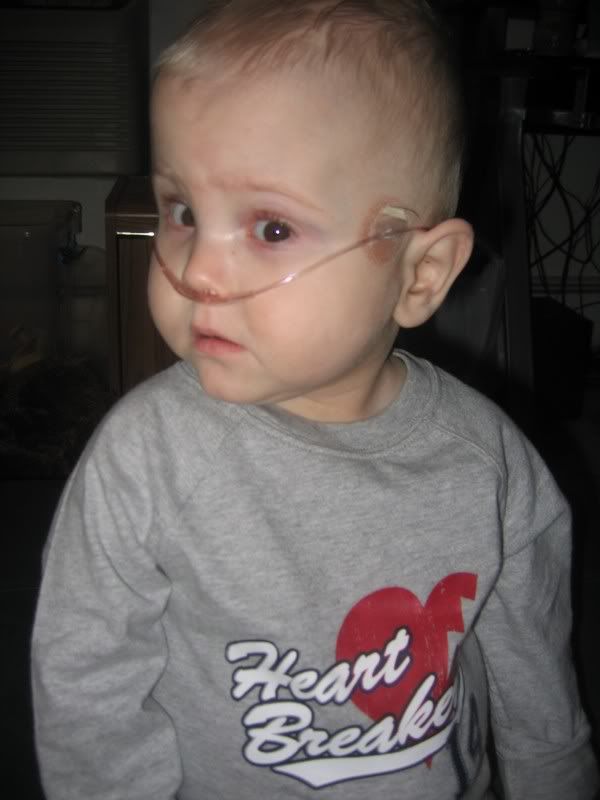 Oh, I forgot to tell you, I'm a heartbreaker.
David's getting really good at what they call "short sitting" - where he sits on the edge of something, and has to bear weight on his feet in order to balance. This is the couch cushion. He's also bearing weight on his legs for longer every day. I'm pretty excited about it.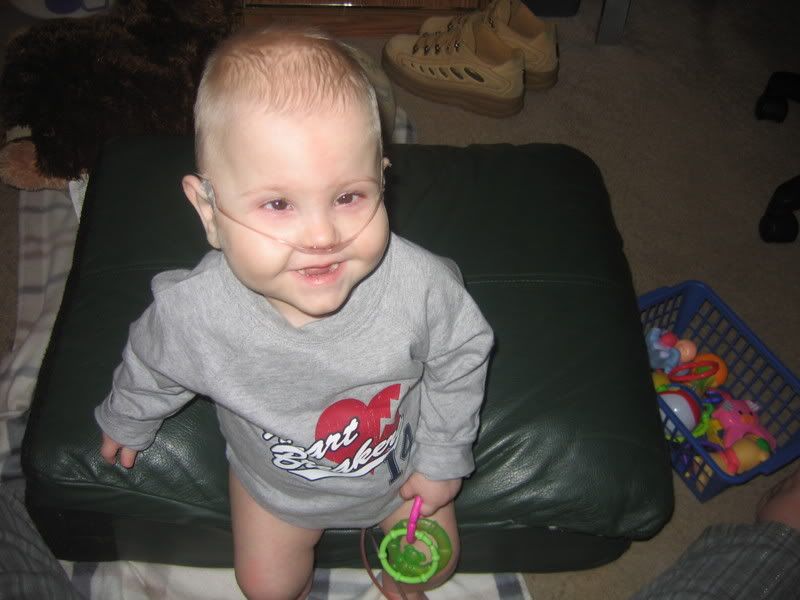 And here he is, eating breakfast (crackers
)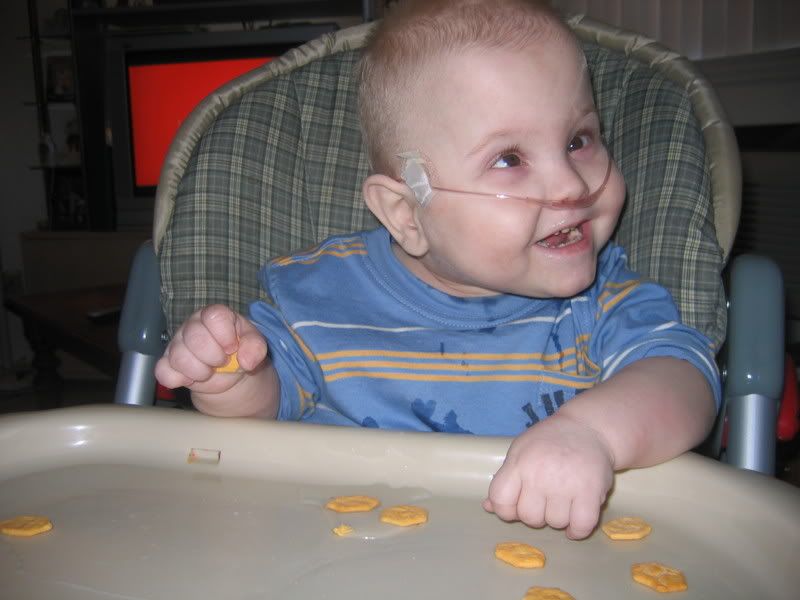 ***************************************
2/28/07
David's doctor appointment (and pics)
We went to the doctor today to get David's RSV shot. He weighs 25 pounds even now... this is a loss of another 13 oz due to the continuous feeds. I'm starting to get a little bit concerned that he's not getting enough calories (they aren't supposed to be LOSING weight right now, are they?) but we can't go up on the feeds because he's gagging and vomiting so much. Frustrating. Anyways, Kim (the nurse practitioner) looked at him, said he looks good, his lungs sound good, ears look good, and she even tested him for strep because she said she had a patient yesterday who had no symptoms but tested positive.
Anyways, that came back negative. So, he's good - just losing weight (luckily he has a little to spare
)
BUT... he's cute as ever... here he is, before we left. Good thing his shoes are clean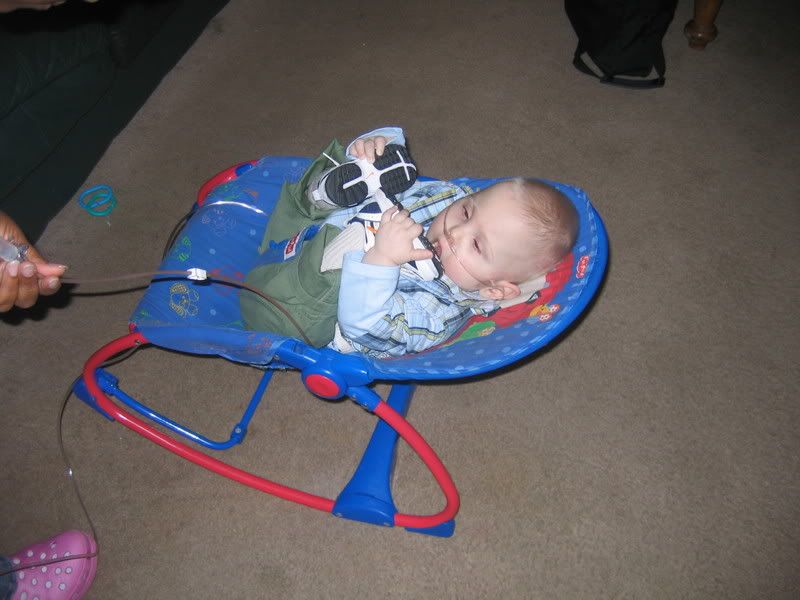 And, at the doctor's office - I couldn't pick between these pictures, I thought they were all so cute - he's playing with the paper after his shots... he was having so much fun!