March 2007
***************************************
3/4/07
I think David knows how Brittany Spears feels.
So I sit down with David to try to get some cute pictures of David next to this doll. And this is what he does.
First, he looks in every direction, EXCEPT for at the camera.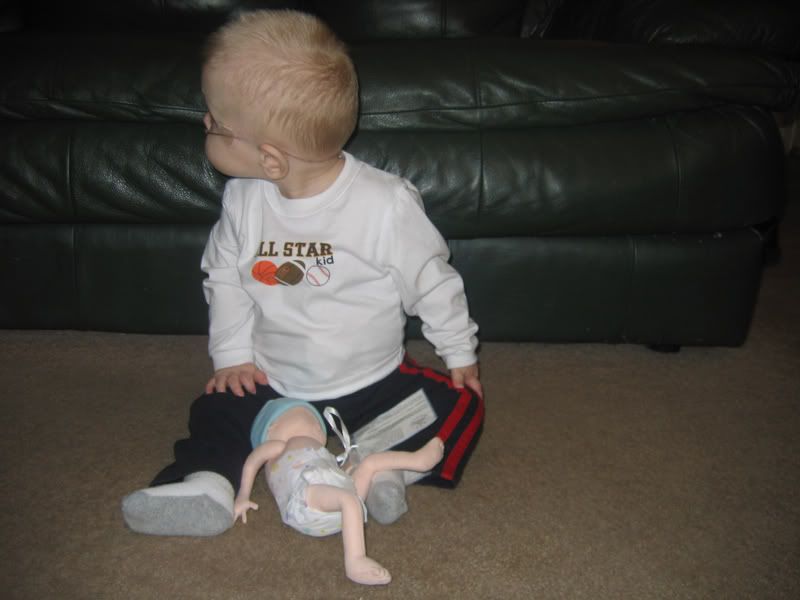 Then he decides he wants to take out his frustrations on the baby doll
He says "I'm warning you, Mom - if you don't get away from me with that camera, I'll beat you with an umbrella!"
Finally - the ONE good shot I took.
Oh, and this is funny. He couldn't figure out how to get up - it was so sad/funny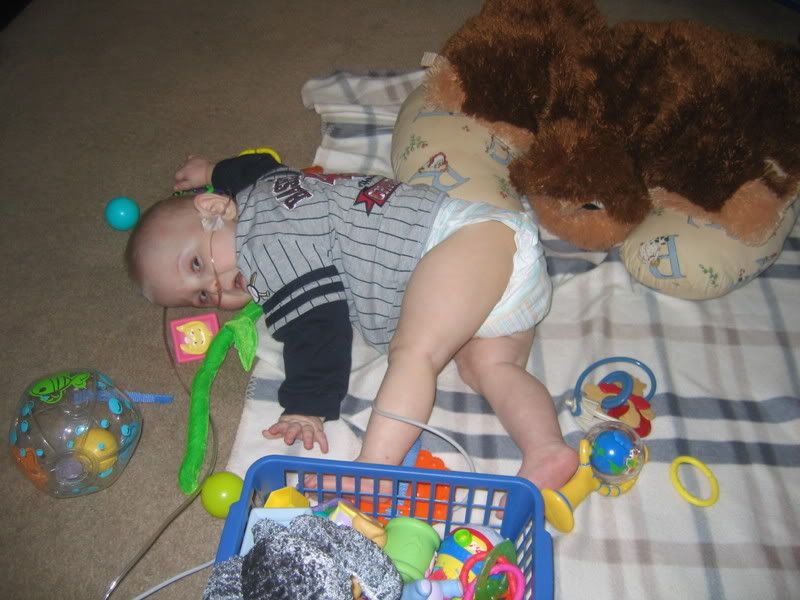 ***************************************
3/7/07
Where's your nose?
watch! (it's short)
***************************************
3/8/07
David's yearly ECI evaluation was today
Here's what they said -
Cognitive he's at 11 months, which is an 8 month delay
Language he's at 11 months, which is an 8 month delay
Gross motor he's at 7 months, which is a 12 month delay
Fine motor he's at 7 months, which is a 12 month delay
Social he's at 8 months, which is an 11 month delay
Self help he's at 8 months, which is an 11 month delay
So... I'm a little sad about that. But... I guess I knew it already.
***************************************
3/10/07
Whew! What a day!
David tried peaches this morning for the first time (besides baby food.) That did NOT go over well. As soon as I put a piece in his mouth he FREAKED out and started trying to barf. So, I gave him some crackers instead.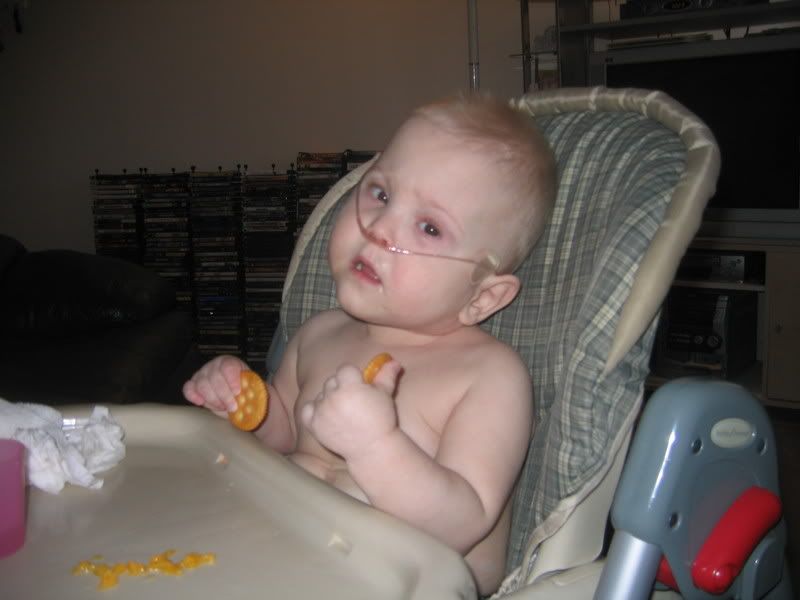 Then we had physical therapy. This is my favorite picture from today - cheesy grins!
Angie (the PT) was trying to get this chain away from him so that she could make him do something else - and so he put it in his mouth and clamped down! He would NOT let go!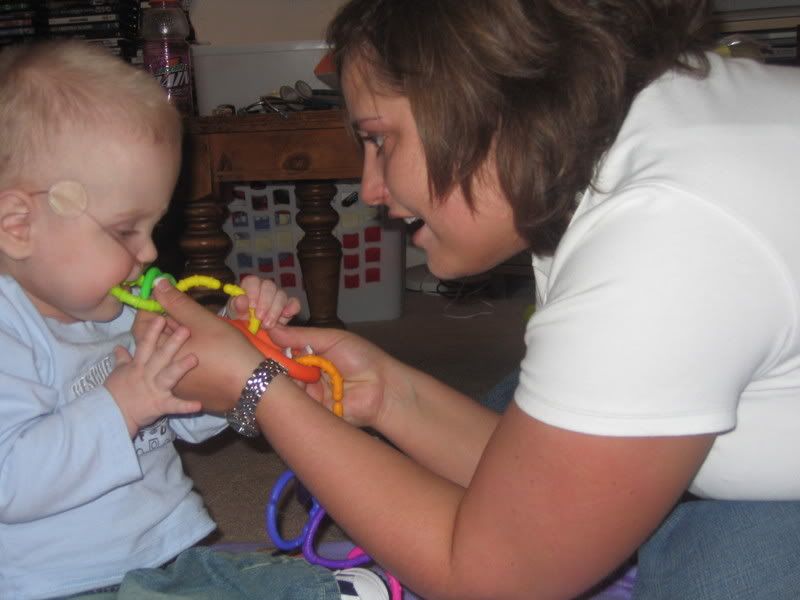 Playing with his new ball that Mommy got for him!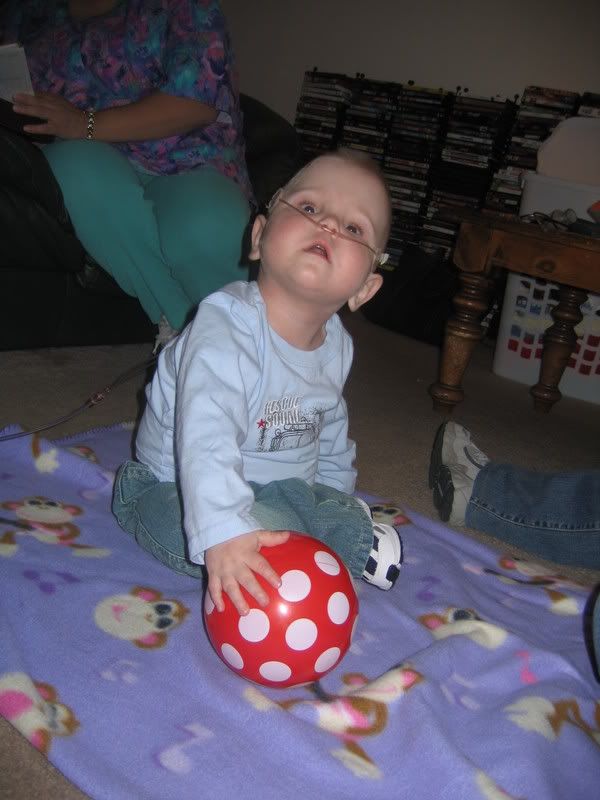 Here he is standing - and having a fit about it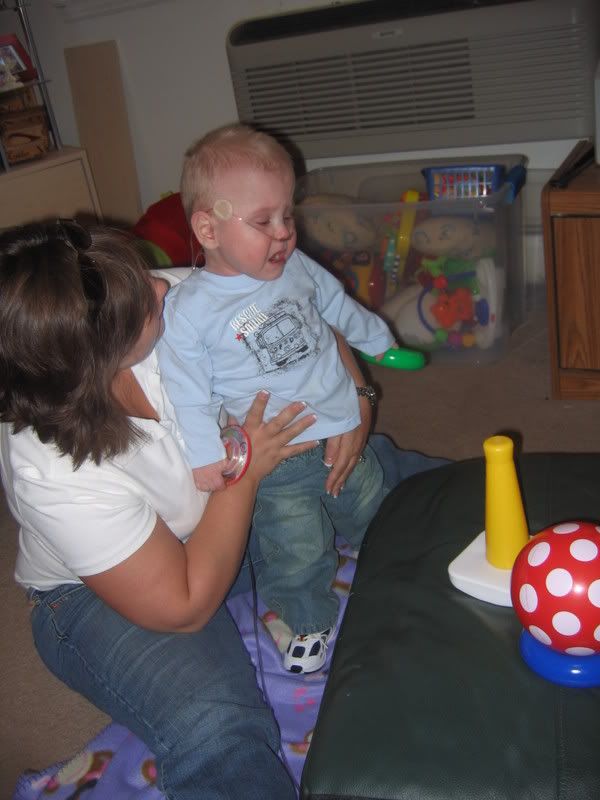 This would have been SUCH a cute picture, if he hadn't of been such a stinker.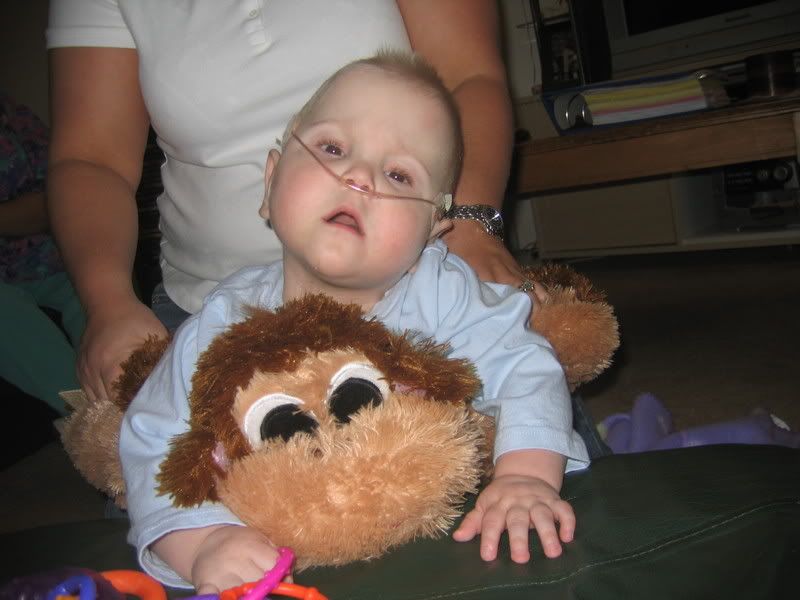 But, he was getting tired...
And he finally crashed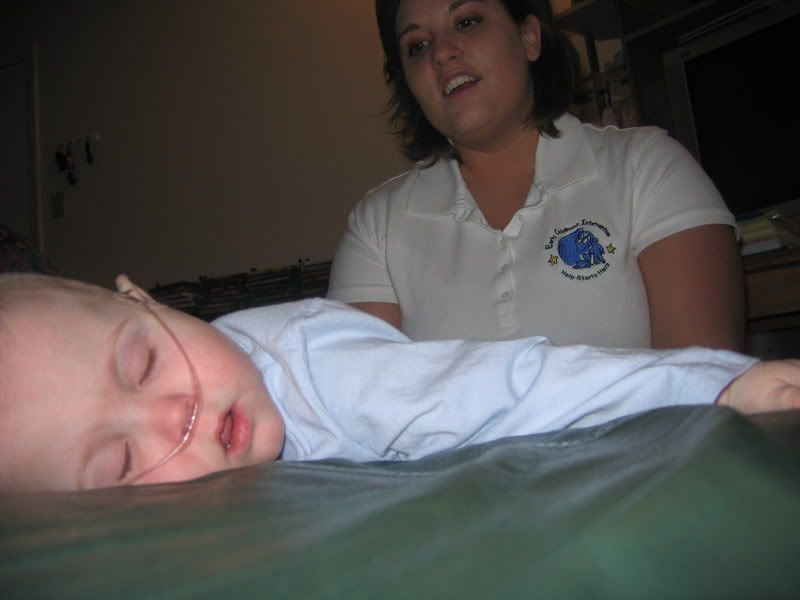 When Angie picked him up it broke his heart!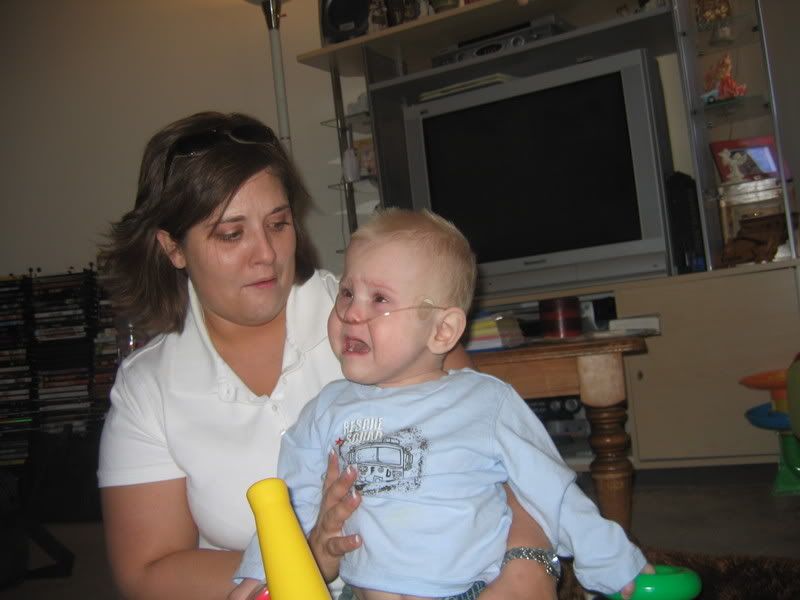 And finally Daddy saved him from the mean old PT.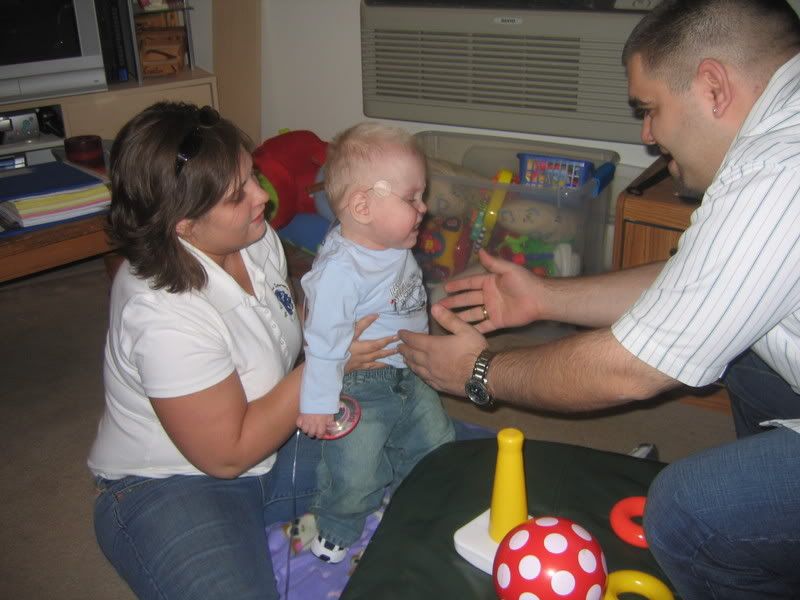 We had a nurse yesterday that we had never had before. She's been a nurse since like 1985 or something. She seemed pretty confident in what she was doing.


But something told me - "you'd better check those medicines before she gives them to David."

I NEVER check the medicines - I've always trusted that they were giving the proper doses - I mean, they have his chart that has the correct dose, the bottles have the proper dose, and I personally have made a med chart that hangs on the fridge (for my personal use) that has the doses.

But something told me to check her.

I'm so glad I did - she had mixed up the baclofen and clonodine.

She was going to give him FOUR ccs of baclofen (he gets only .8cc) and .8 ccs of clonodine (he's supposed to get 4ccs)

I don't know what that would've done to him. I know a long time ago, when he was in the hospital, they accidentally overdosed him on baclofen - and his respiratory rate went from 80 to 16.

REALLY scary.
And then today, the nurse accidentally pulled out David's J-Tube (different nurse - and neither of these was our primary one.) So we had to go back up to the hospital to get ANOTHER one put in.
I asked them if they'd consider going ahead and giving the GTube another shot, since the JTube is out anyways... they apparently didn't think enough time had passed.
This is the THIRD time!
***************************************
3/16/07
And the Academy Award goes to....
David! For his convincing work in "how to drive an occupational therapist crazy"
He did that through the entire session - it was by far the least productive occupational therapy session - like - EVER. Anyways, here are some pictures...
Playing with the balls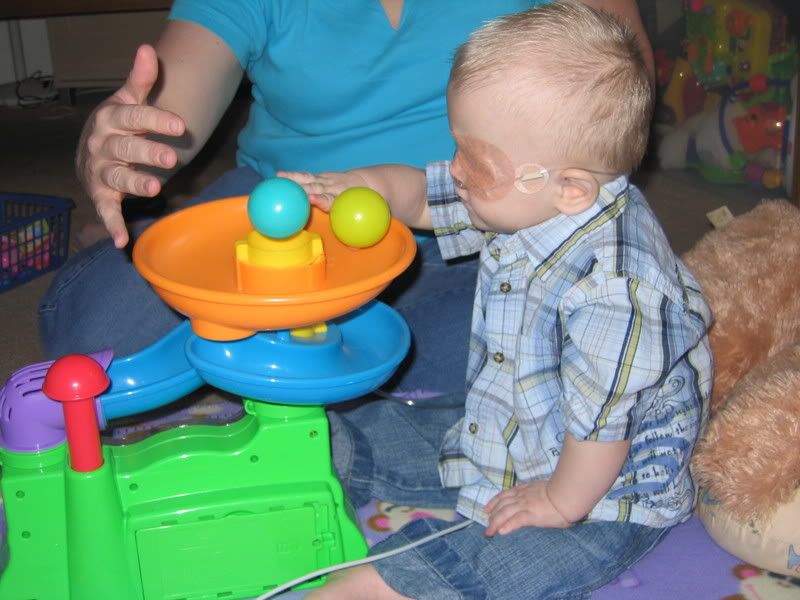 Pretty bracelet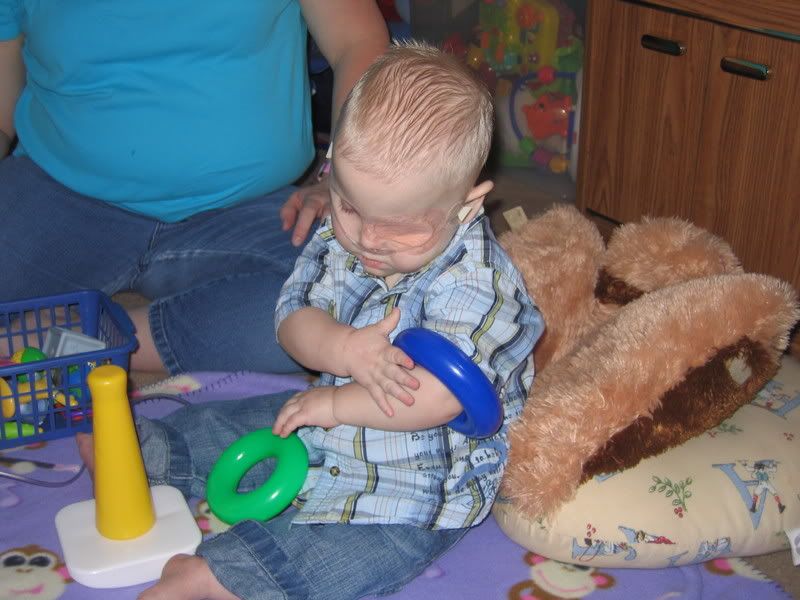 Smile!
Hat!
Here's a couple from the other day, eating beef vegetable soup from a big boy spoon - so cute!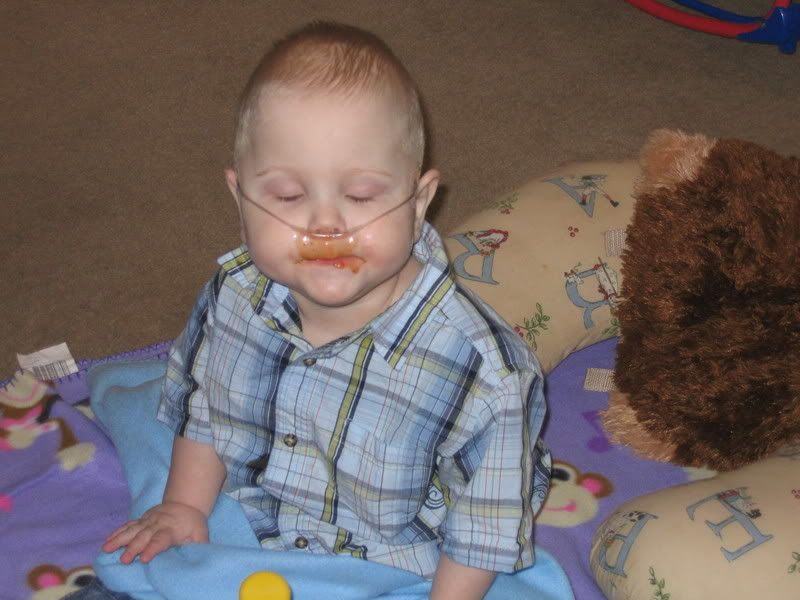 And today I took St. Patrick Day pictures - here are some of my favorites that I won't be using:
Where's David?
This is what he does when he's tired - puts his thumb to his nose.
Meme & Lizzie came over in the middle of it, and they brought him bubbles! At first he was terrified, but then he warmed up.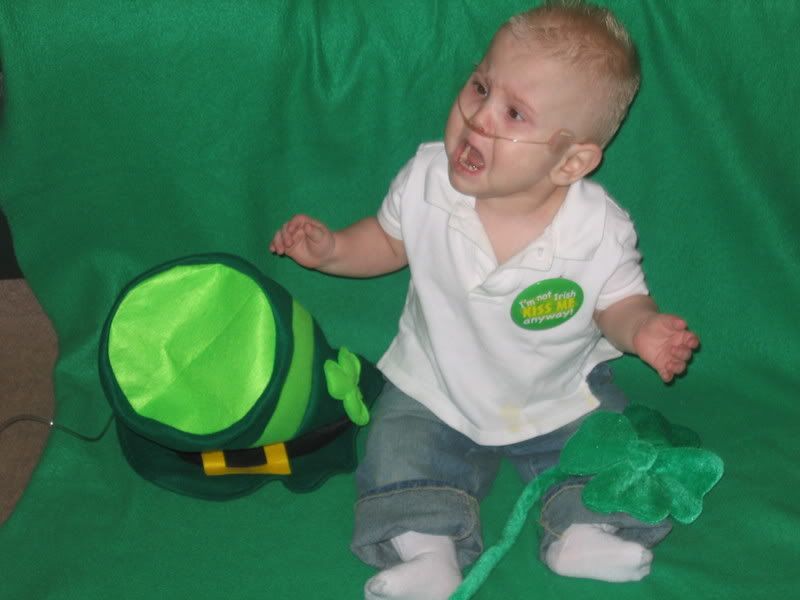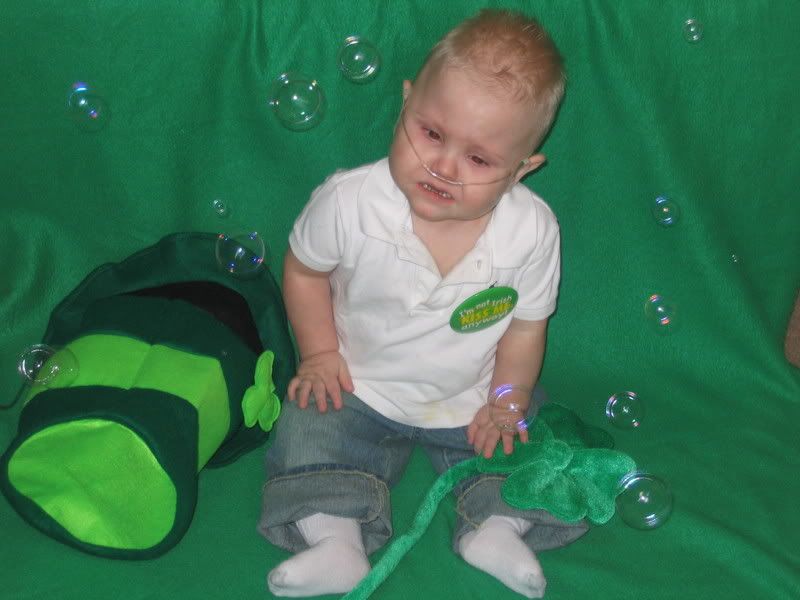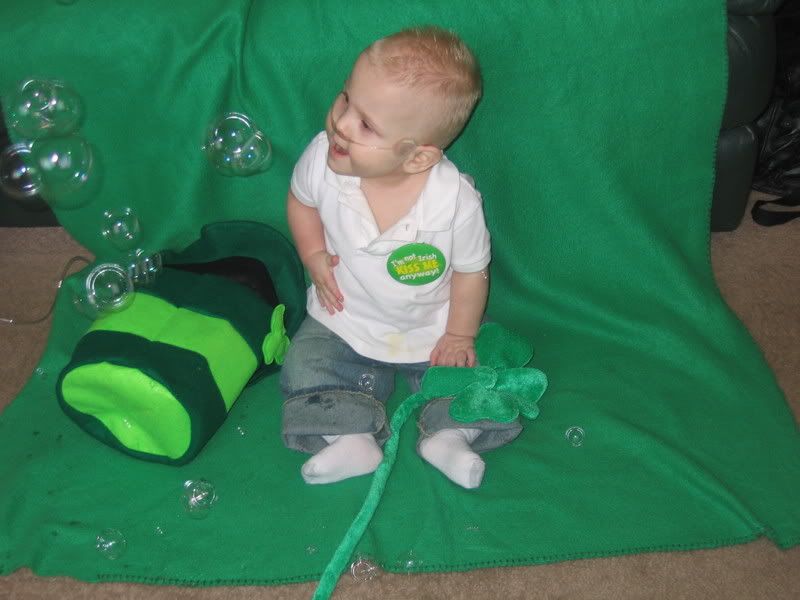 Lizzie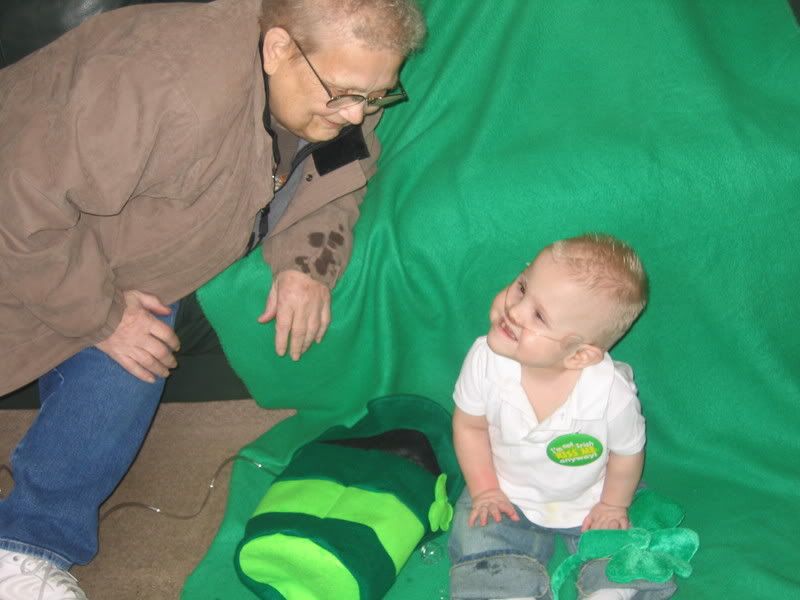 Meme (I love this picture)
And finally, here are the ones I'm deciding between. No matter which one I choose, I'll be photoshopping out the couch, and if I pick the first one here, I'll photoshop in the hat. Anyways, help me pick between these three: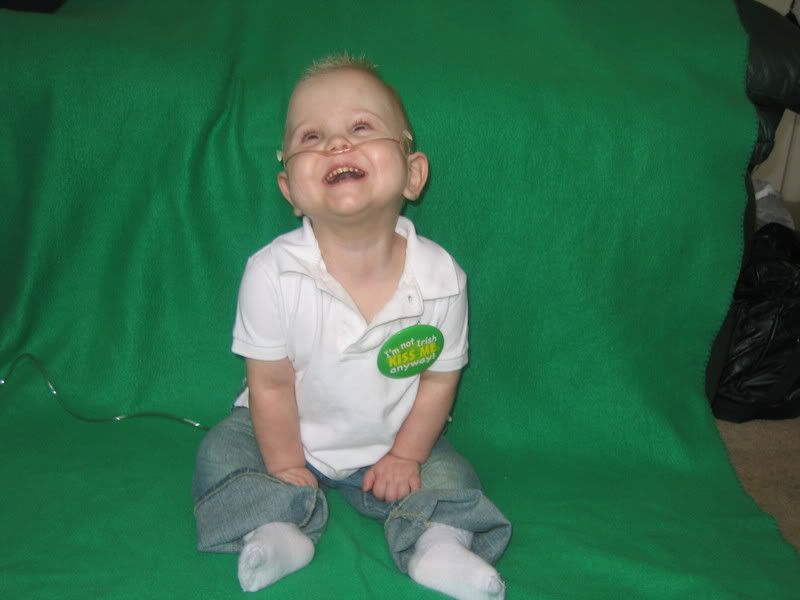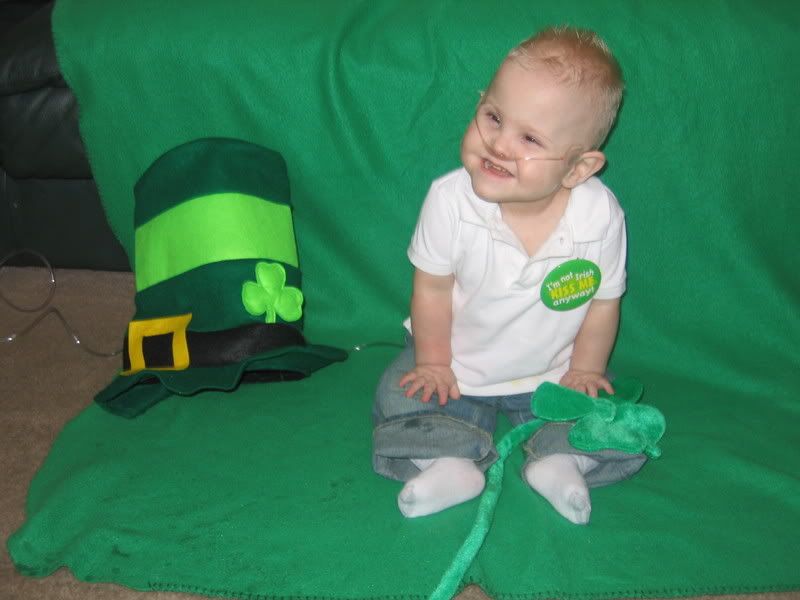 ***************************************
3/18/07
More pictures (what else?)
Here's Meme singing to David to distract him while making him stand up. He did pretty good!
A couple of pictures from today - playing in the bubble bath: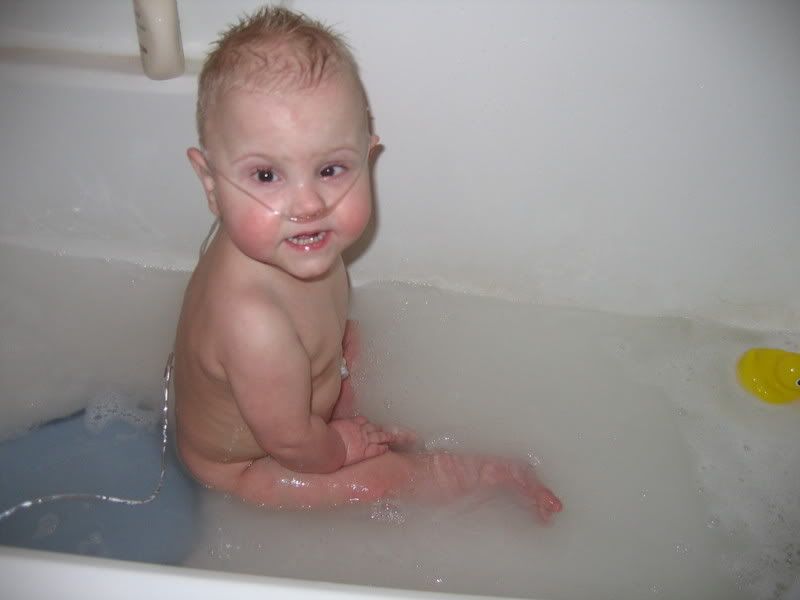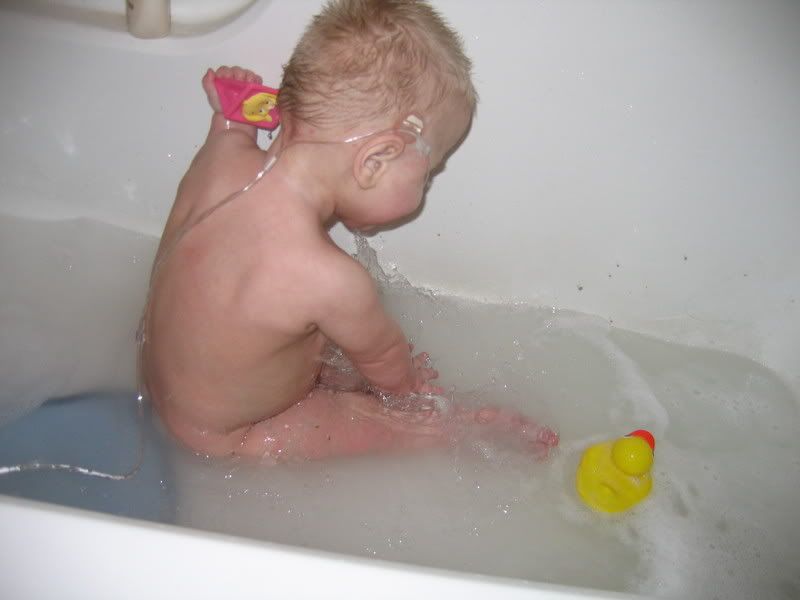 All clean!
Also, I entered this picture in a shutterfly contest - I'm in the top four! Vote for me if you have a chance! (CLICK HERE to vote!)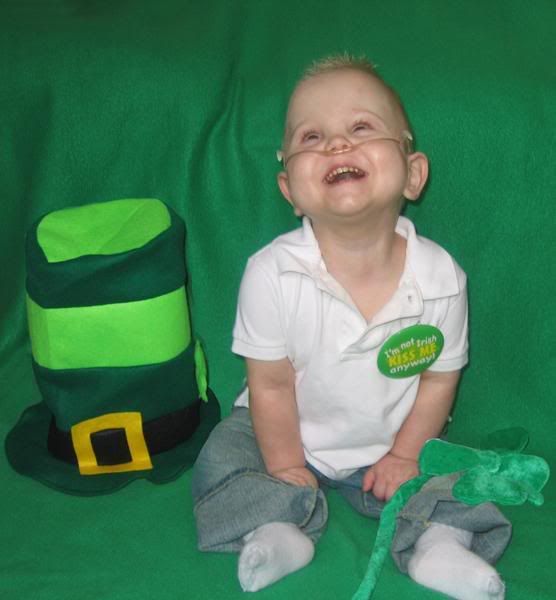 ***************************************
3/22/07
David is sick again
OK... long update for today.
David woke up this morning running a fever (I don't know how high because my thermometer broke) and a very nasty, productive cough. I gave him an extra xopenex treatment and some motrin and waited for the nurse to get here.
We had a doctor's appointment scheduled anyways, so we took him in and they tested him for strep and flu, both of which came back negative. They said that we'd know about the RSV by the end of the day. The nurse practitioner commented that he "sounded" like he had RSV, based on his cough. She upped our breathing treatments back to every three hours.
The test results for RSV came back positive, and so the nurse practitioner also prescribed alpha intron, that apparently is supposed to boost his immune system. His lungs are still clear, so hopefully this will resolve without much further incident if we're aggressive enough with his treatments.
The only thing I worry about is now he's had two diarrhea diapers.... and the nurse said "this smells like rotovirus"... but I'm not going to worry about that until I absolutely have too.
Other than that, David has lost more weight, and so the NP suggested we go ahead and up his feeds so we can hopefully get him to at least stay at his current weight as opposed to continuing to lose. We asked her about the gagging, she said we can try to give him zantac (great - ANOTHER medicine) but she didn't know if it would make a difference. Apparently, according to her, some kids with J-tubes "just do that."
Anyways, if he continues to gag even after the zantac we are going to try to wean different medicines to see if they are doing any good or not - I figure if he's going to "just do that," then there's no sense in pumping him full of medicines that he doesn't need.
Developmentally - David is putting more and more weight on his legs each day. I'm really impressed with him!! Hopefully soon he'll be able to stand with no support!
***************************************
3/26/07
Update on David
David's hanging in there - at home! His respiratory rate has not increased, he is not retracting, he's not needing more oxygen, he's hardly even coughing - no fever, no runny nose, nothing. The only symptoms I see is that he's fussier than normal, does not want to eat or drink anything (worse than normal), and coughs every once in a while.
We're giving breathing treatments every three hours, and he gets alpha intron (which apparently boosts his immune system.) So I think he's gonna pull right through this without any problem.
I, on the other hand, feel like crap. Yesterday was awful, but today is a little better.
Anyways, here's some pictures of my sick kid:
***************************************
3/28/07
Look what came in the mail today!
DAVID!! haha...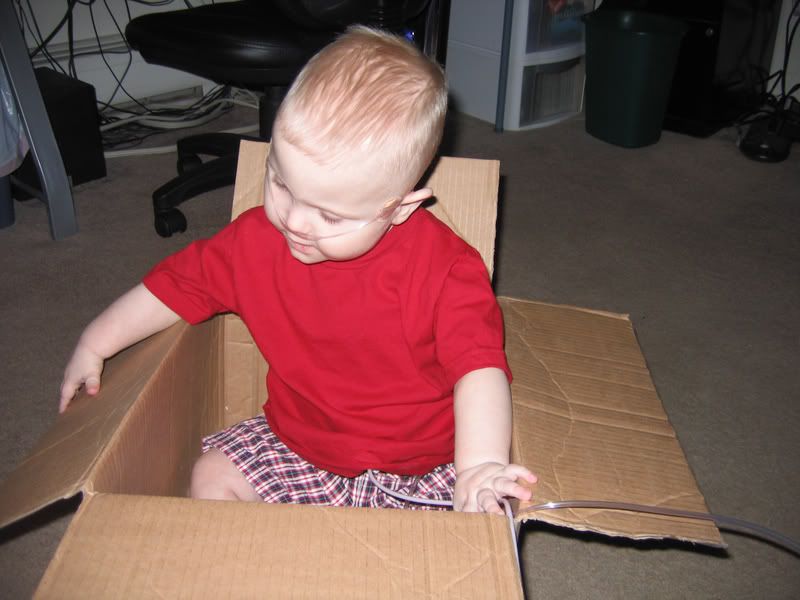 But seriously, we got a package from Javier's parents in the mail today - David had a good time in the box, and...
We got a GIANT Winnie the Pooh book!!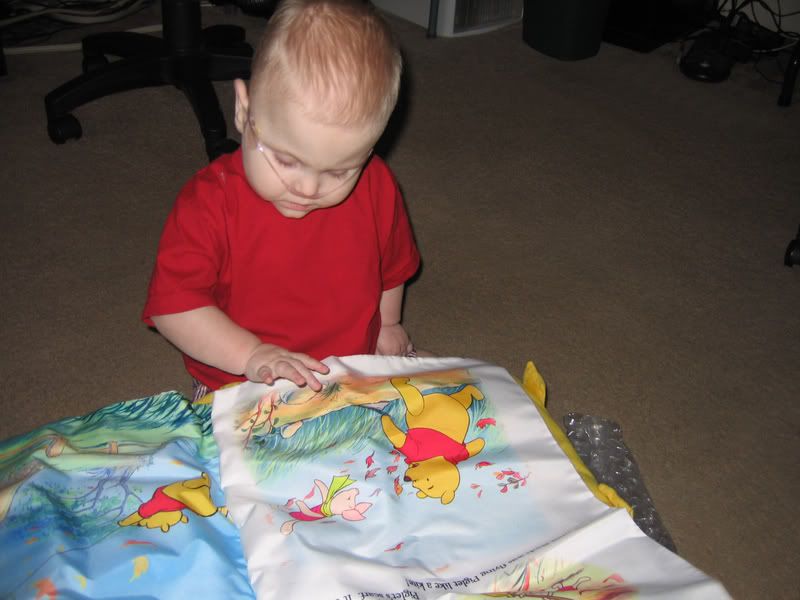 ***************************************
3/29/07
Look what David can do!
I know he looks funny in tennis shoes and a shirt, but he hasn't had his bath yet and he's still in his PJ top.
Anyways - look how good he stand up now!!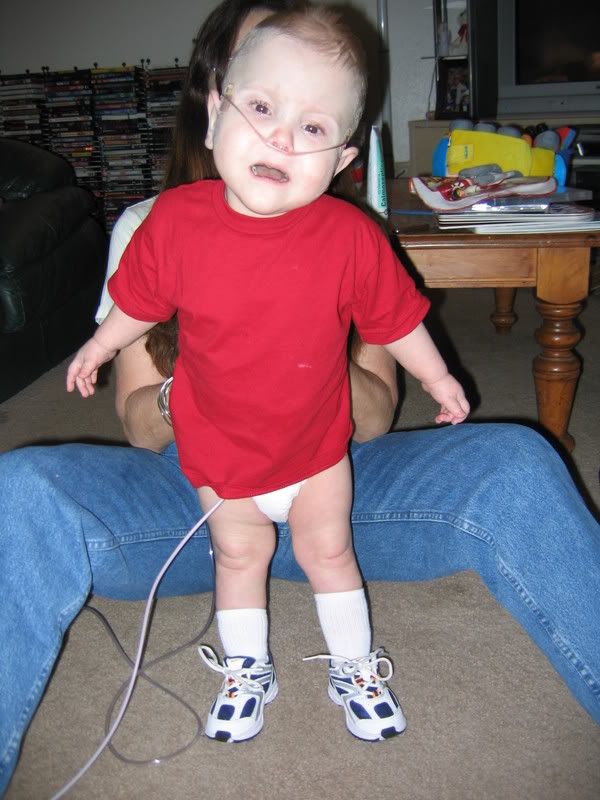 And then this is funny - this is another box that we got from our inlaws today. There's a book in there with the wiggles - and you push buttons and music plays. Anyways, everytime we push a button he starts crying! I don't know why but it's so sad/funny!!
Well, you all know that he has RSV... well, I thought we were in the clear because he wasn't needing any additional O2 or anything - just one extra medicine and frequent breathing treatments.
Well, today things got worse and worse. He started to get really congested - it's gotten so bad that I can feel his lungs rattle when he breaths. A few minutes ago he started coughing and coughed out some really really green snot - which the nurses in the past said means infection? ( I don't know if that's true or not )
So they've prescribed Pulmizime (sp?) which is another breathing treatment. Sigh...
So now he gets eight breathing treatmens a day of xopenex, eight breathing treatments a day of intal, two breathing treatments a day of pulmicort, and one breathing treatment a day of this new pulmizime.
Something kinda crazy though - is this new medicine costs FOURTEEN HUNDRED FIFTY DOLLARS a box! For two weeks supply!!
Anyways, I wasn't too worried about it because he was keeping his sats up - but now I can't get him to come up above 90 on his current setting. If he's not up after his breathing treatment that's running right now I'll go up on his oxygen, but the fact that he's requiring more oxygen at all scares me.
I'm just really worried because I've been down this road all too many times
Anyways, we go to the doctor in the morning to get another RSV shot. Say a prayer that we don't end up in the hospital okay?
***************************************
3/29/07
David Update and Pictures
Well, when we got to the doctor's office, David was satting 100% on 1 1/2 liters of oxygen and the nurse said his lungs sound good (which is weird because he still sounds terrible according to Susan, our home health nurse.) Anyways, he's lost even more weight - he's down to 24lbs, 13oz, even though we went up on his feeds last week. She said not to worry about his lymphnodes being swollen and gave us some nystatin (sp?) for a minor rash he has under his neck. David got his RSV shot, which he handled fine, and then she sent us on our way
Here's some cute pictures! I think he looks SO handsome!!! Getting ready to go
Playing after his shots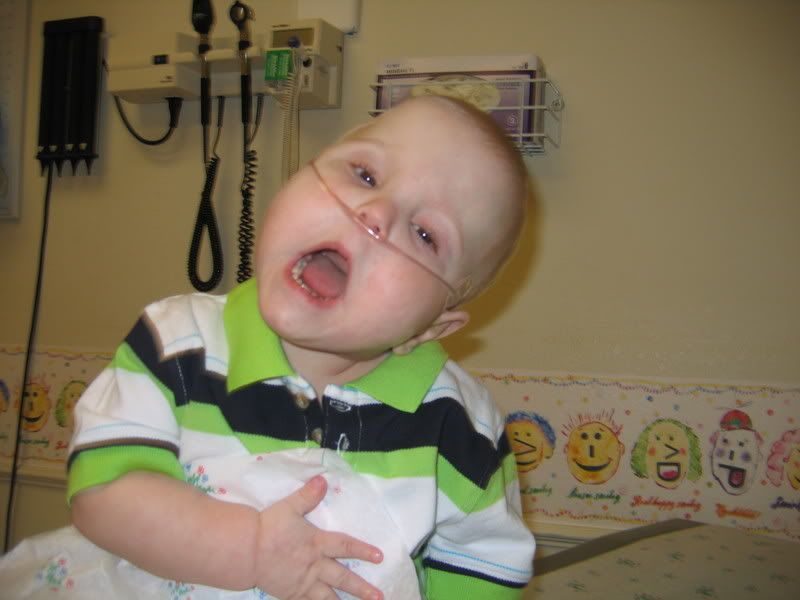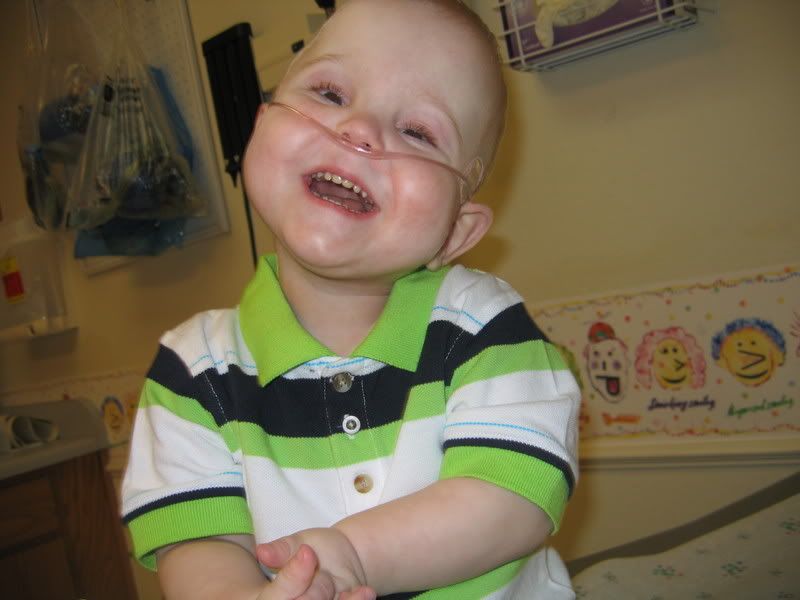 ***************************************
3/31/07
David tried refried beans today for the first time
He was NOT impressed.
So we gave him some graham crackers instead - he LOVES graham crackers.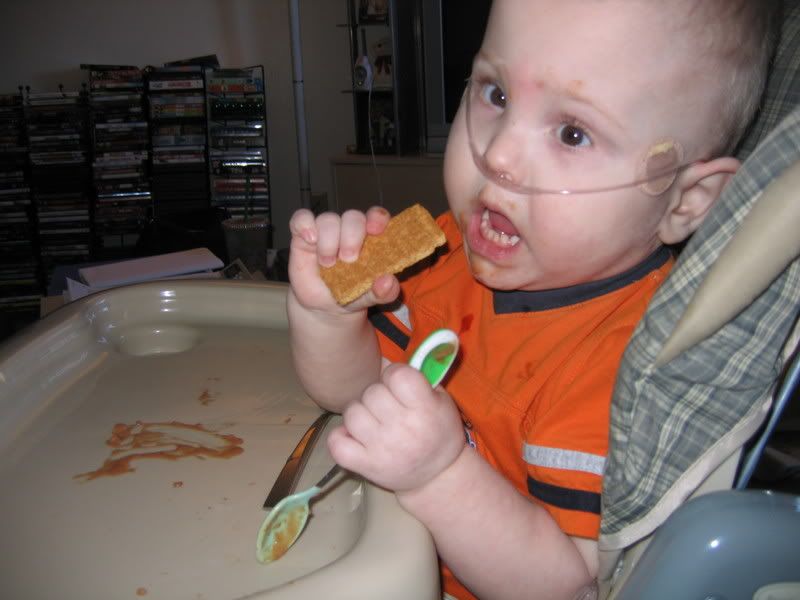 We should work on his table manners.