Well, my little man turned two on Friday. I can't believe it. We threw his party on Sunday, August 5th. The guests included Meme, Lizzie, Weston, Mom, JoAnn, Susan, Yvonne, Alex, Aty, and Christian. We had a great time. He got lots of clothes - he's in size 4T now! He also got lots of cool toys including many puzzles, dinosaurs, a set of golf clubs, a piano/xylophone in the shape of a cow, some books, and much much more! We really had a good time.
Here are the pictures from the party:
The house (big thanks to Mom and JoAnn for helping with - ok doing all of - the decorations) :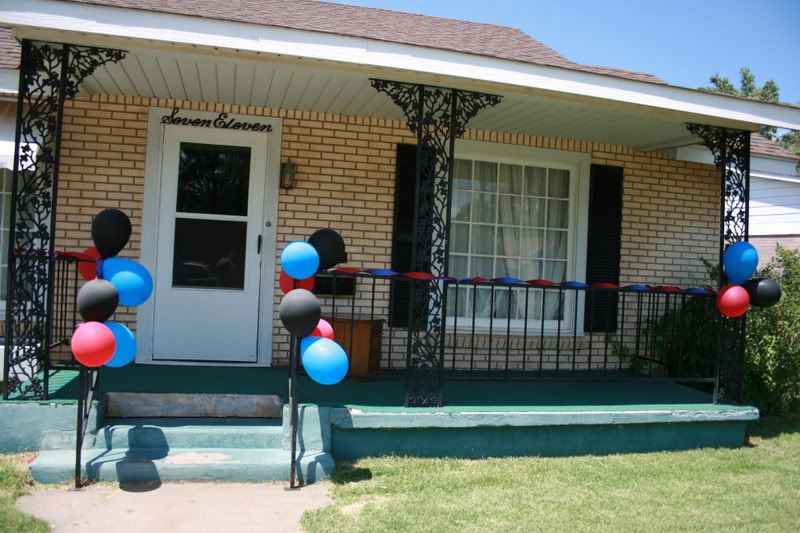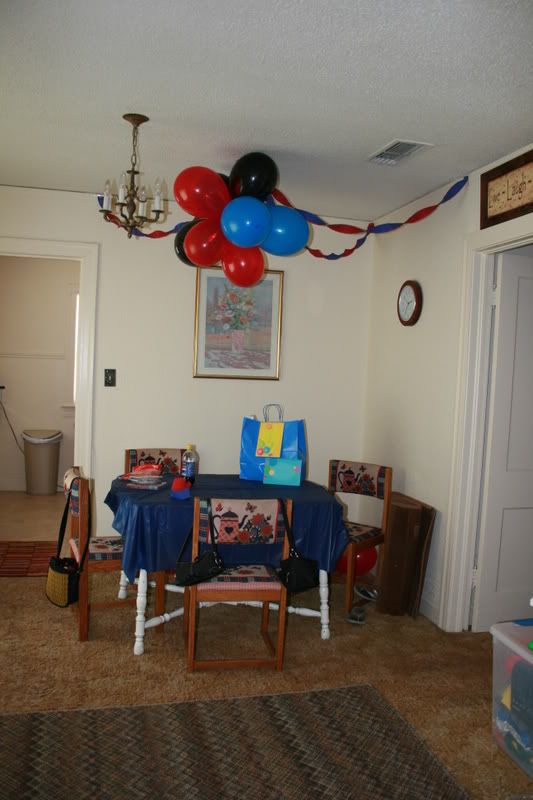 The cake: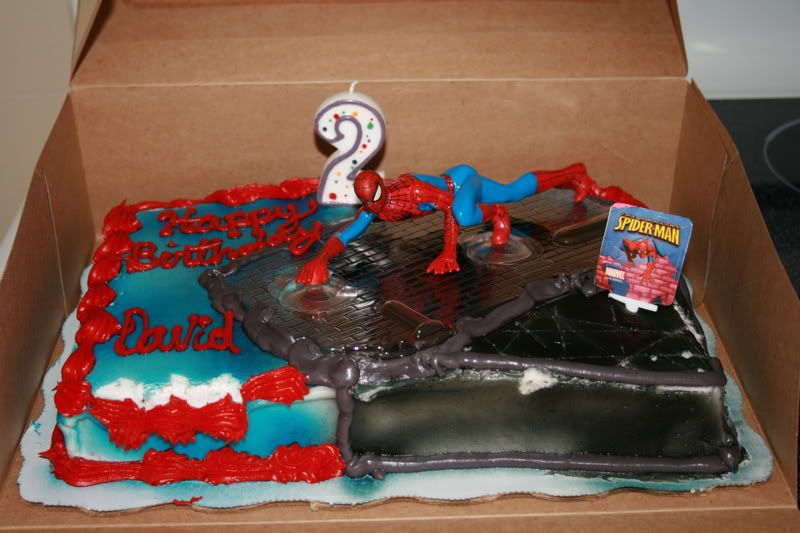 David and Mom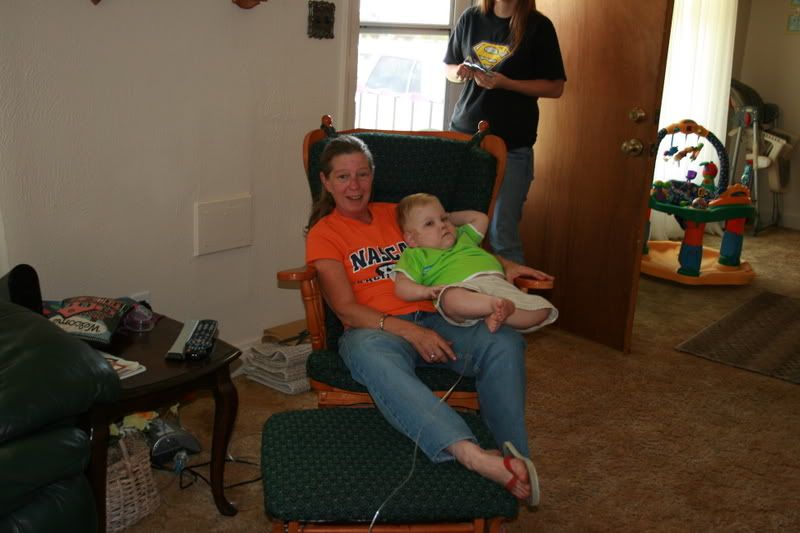 David, wearing Weston's hat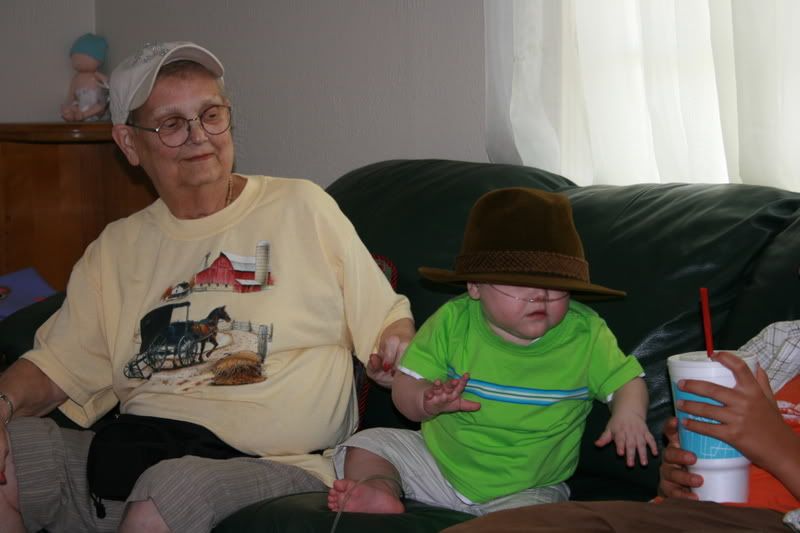 Presents!!!
This was his FAVORITE present. Yes, it's an envelope.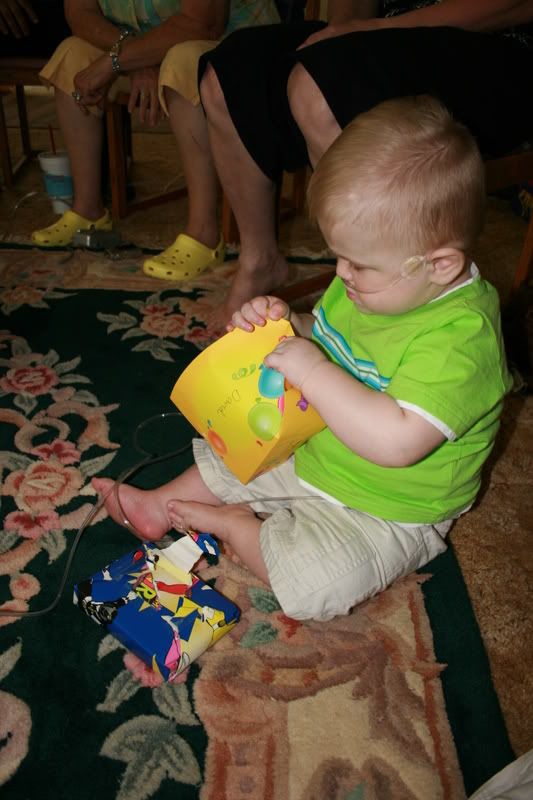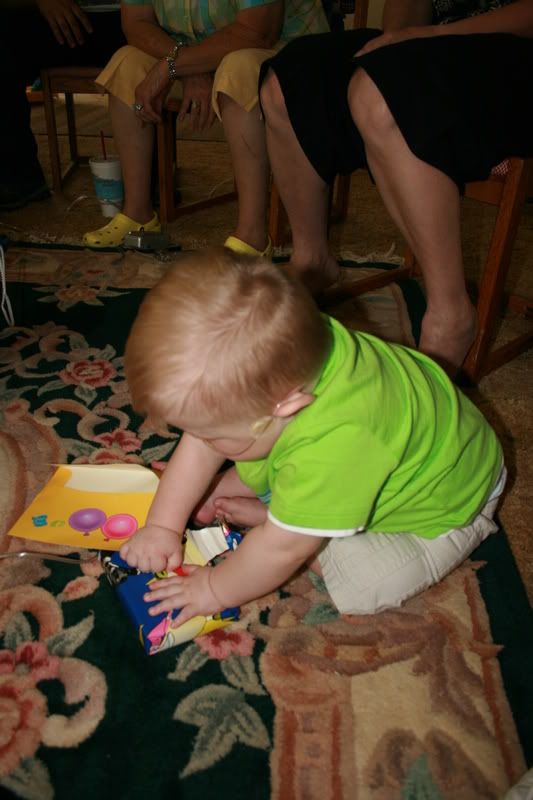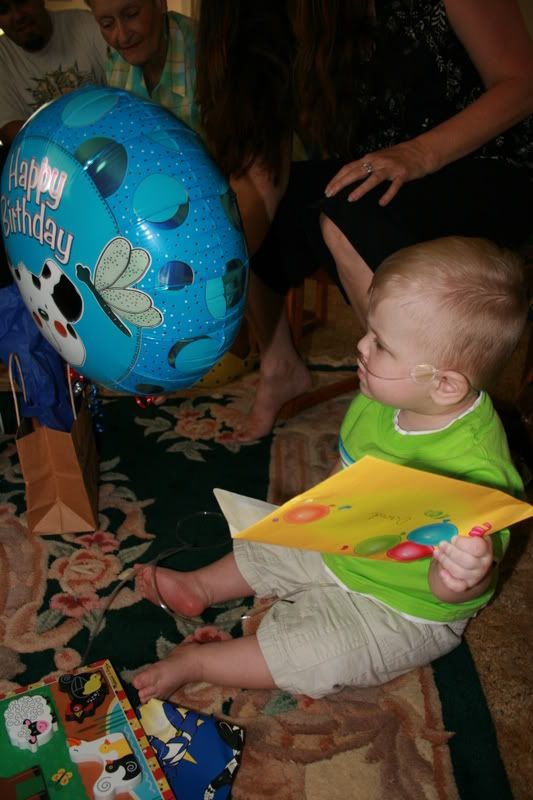 I tied this balloon to his wrist - but it kept getting in his way. Here he is, trying to push it away. LOL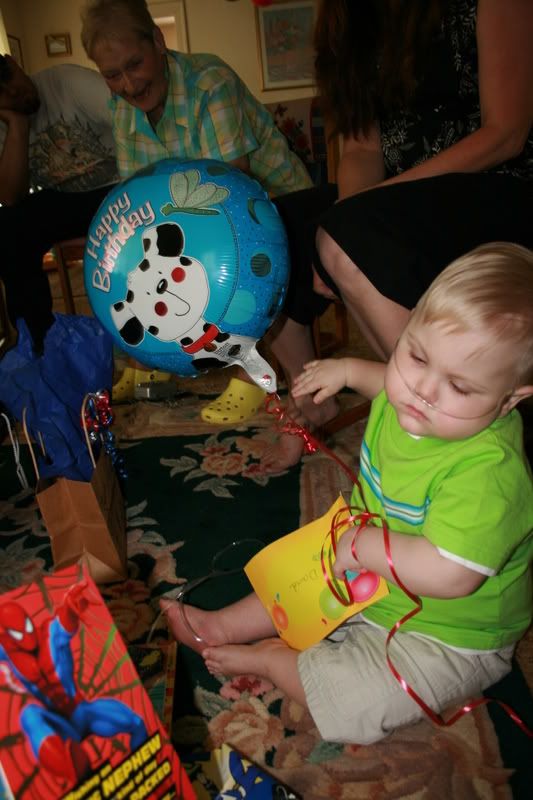 Back to the best present ever.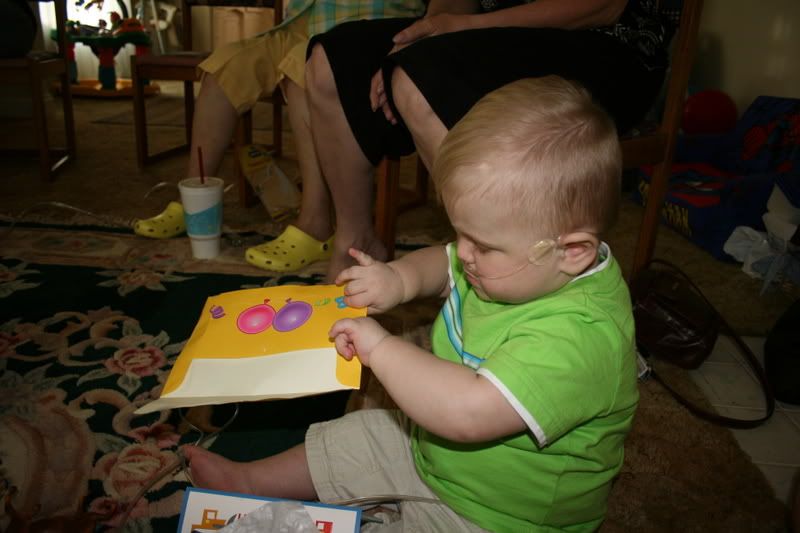 Cake time!!!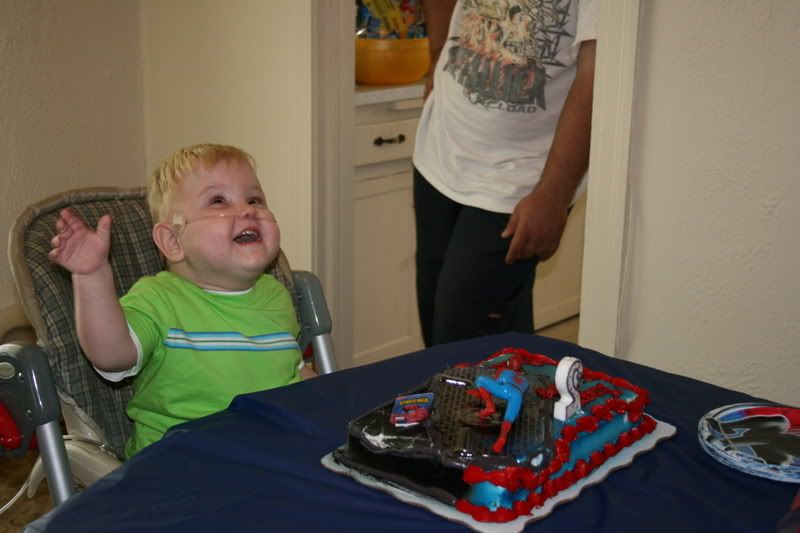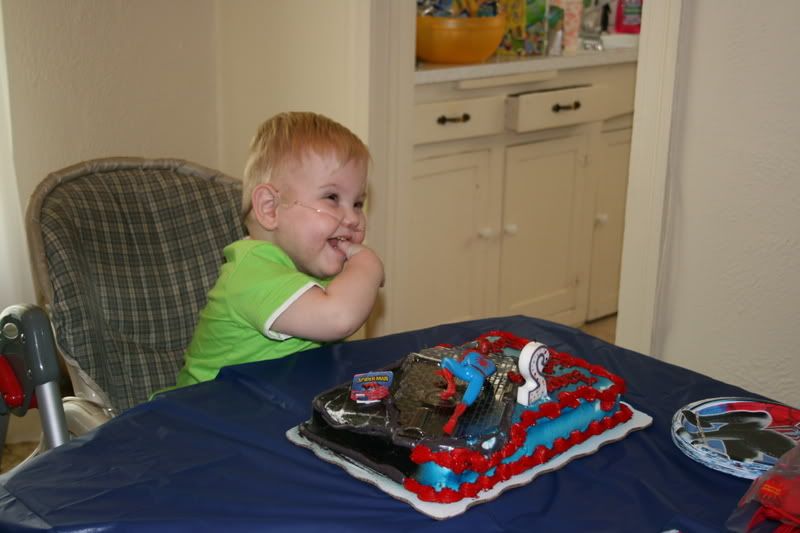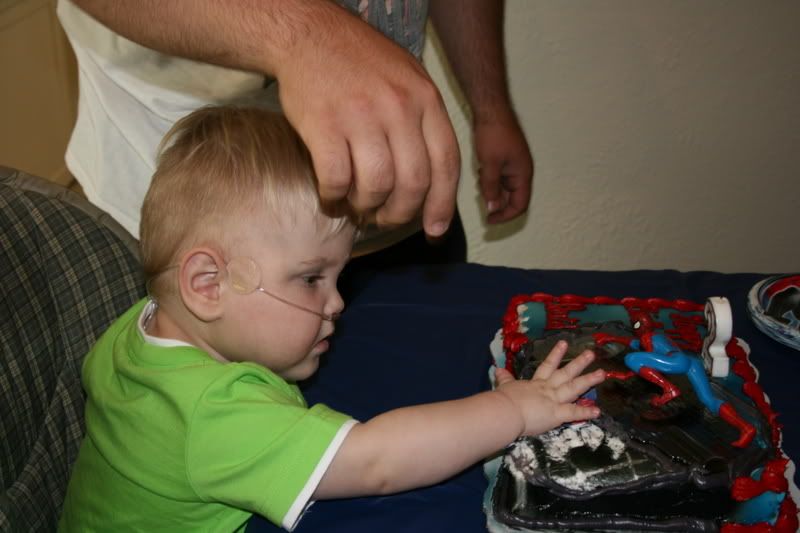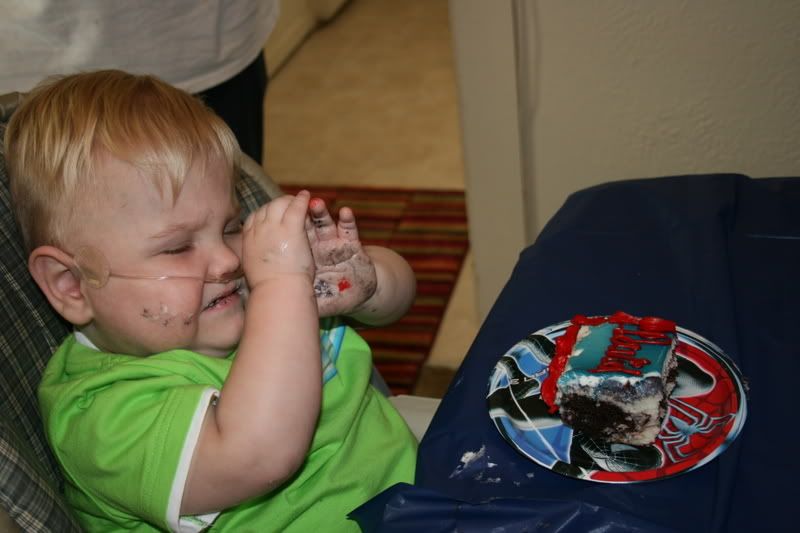 Daddy helping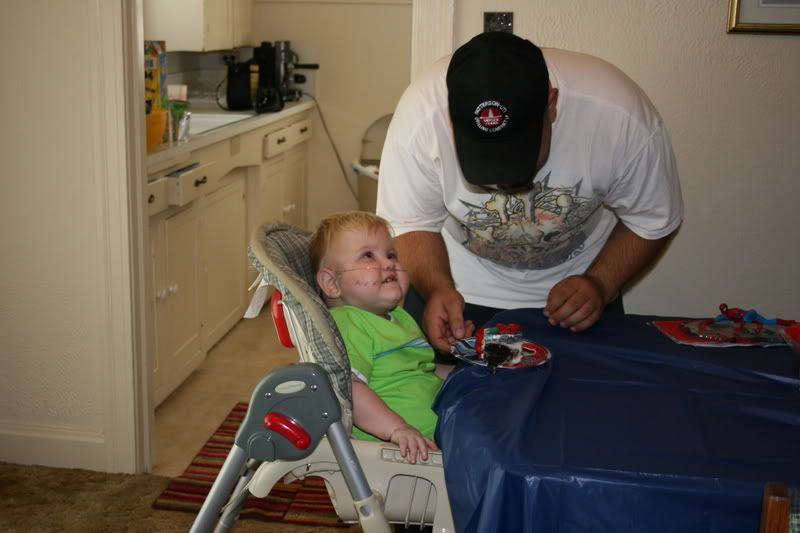 My nephew, Weston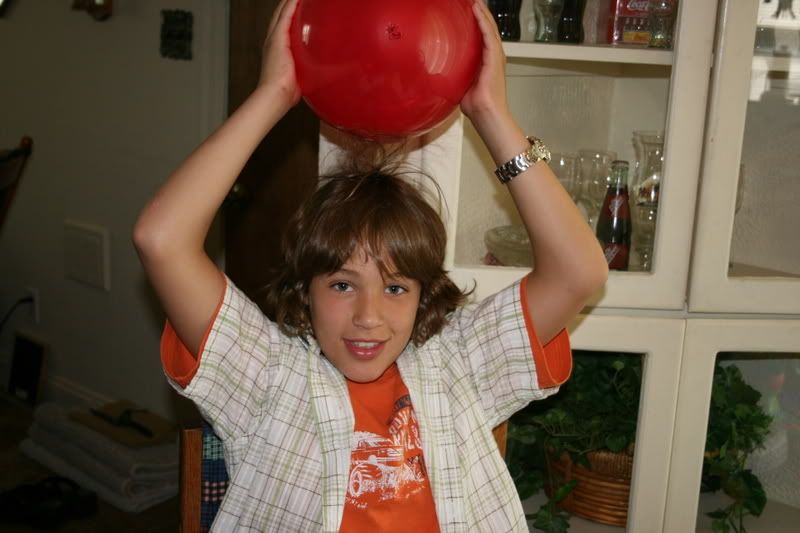 Then it got even messier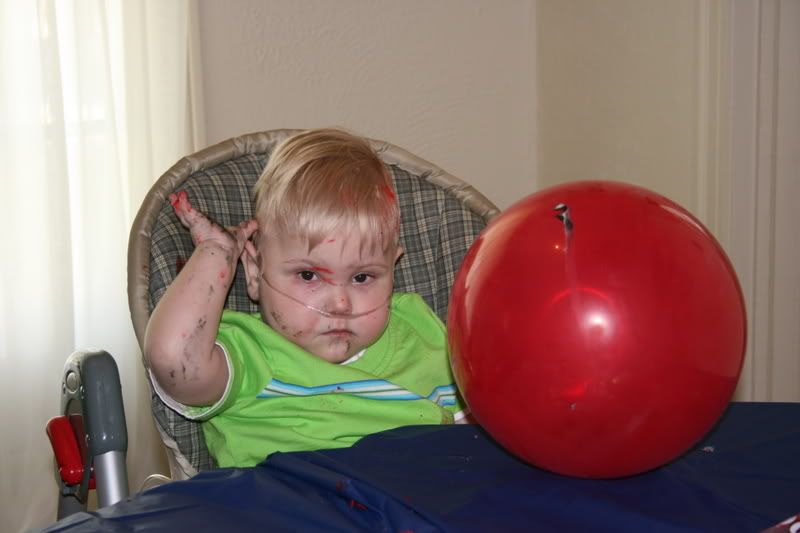 And - so the rest of the pictures he looks like he's been in a fight.
David playing with my friend Aty and her son, Christian.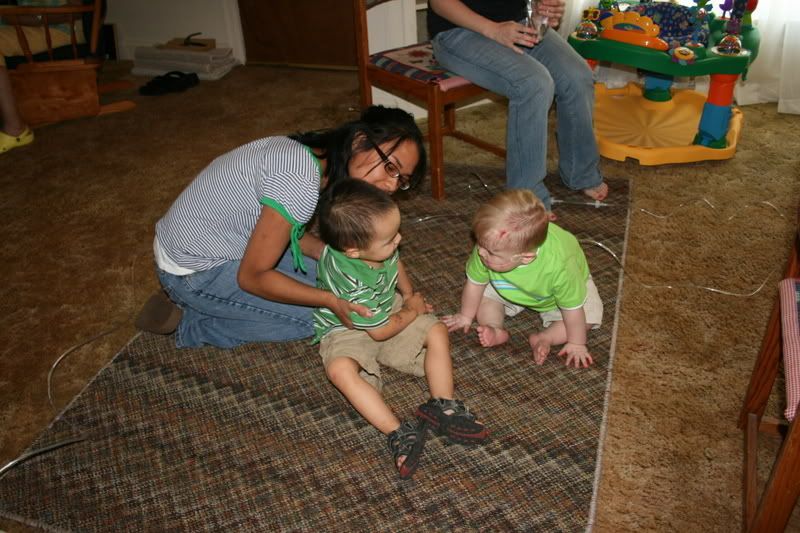 Giving Aty kisses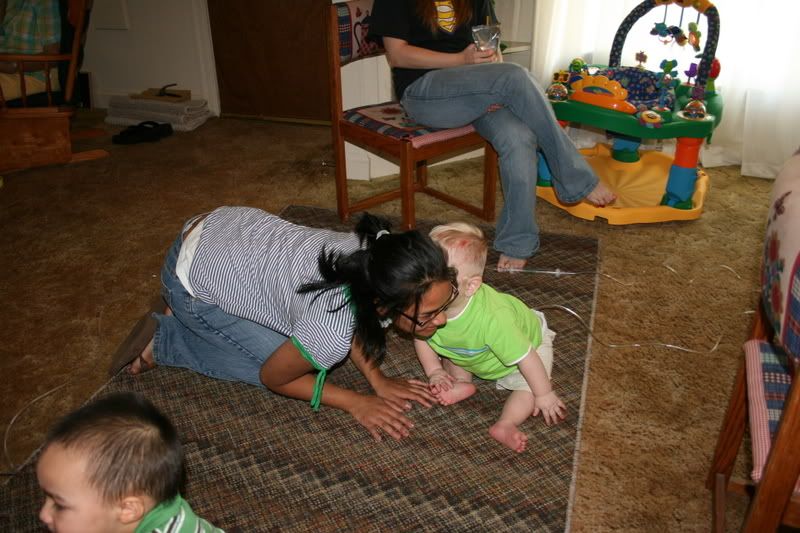 Golf clubs!!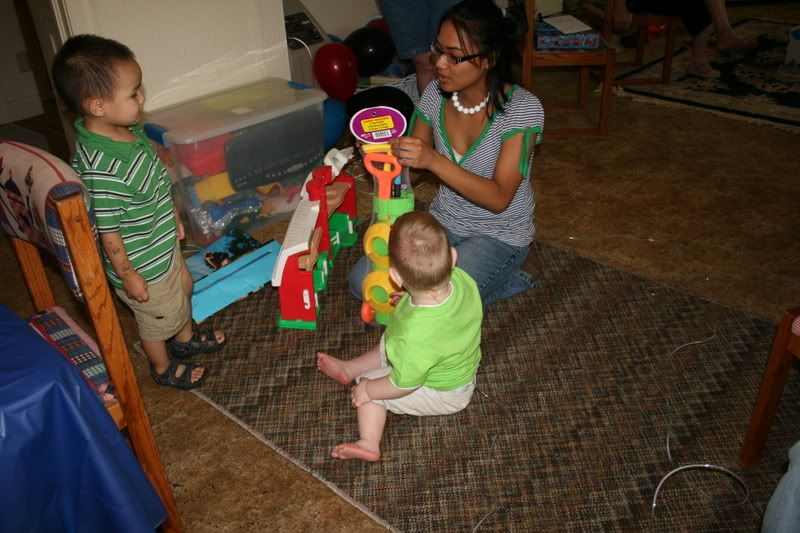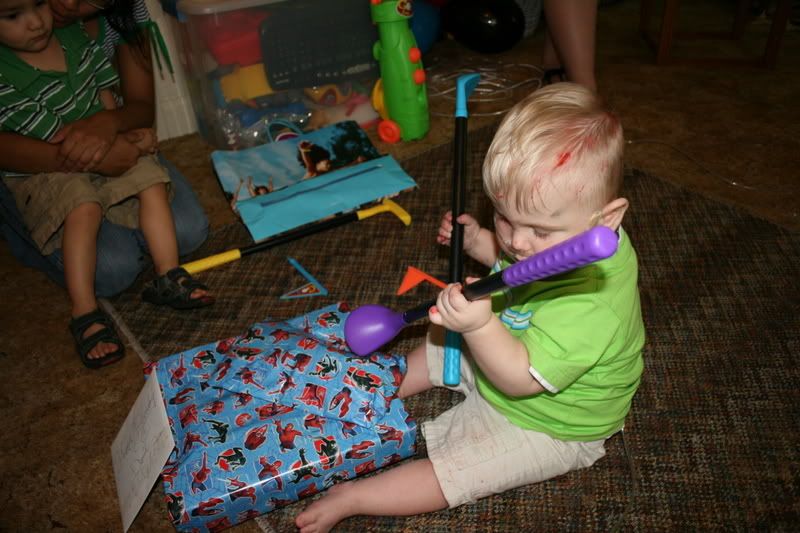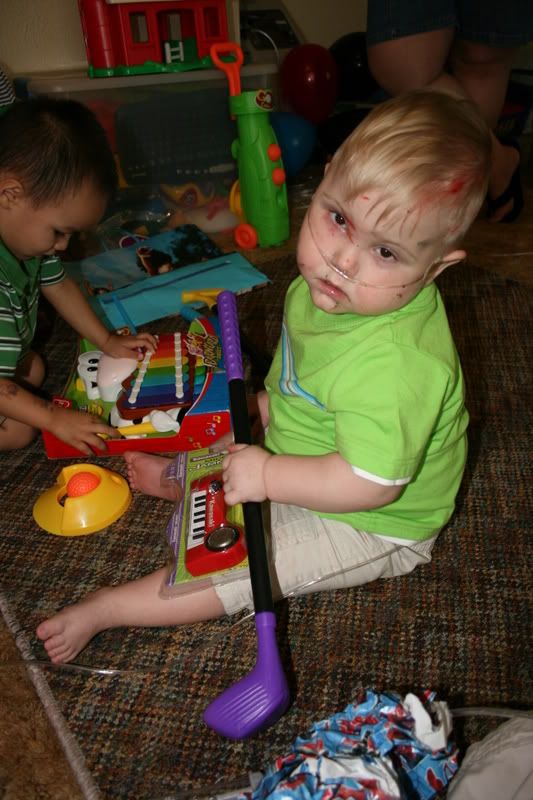 The aftermath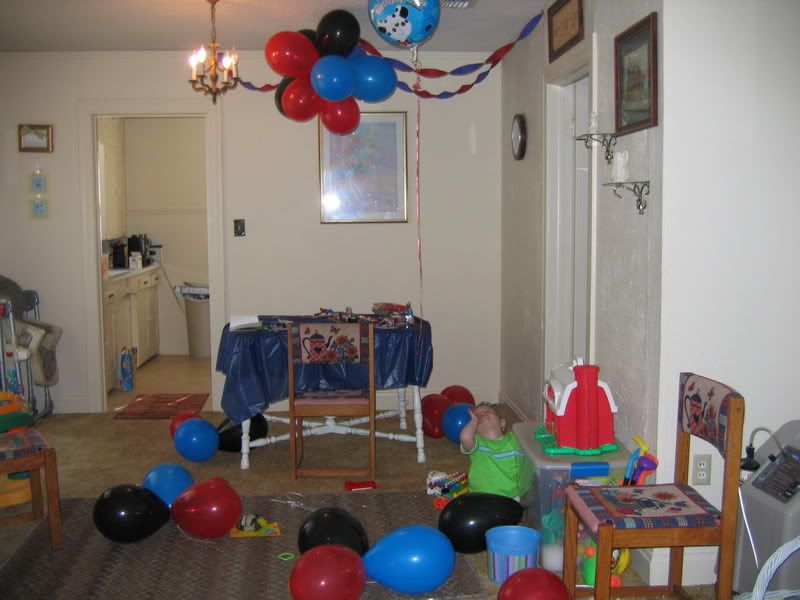 All in all, a great party. Mom and JoAnn stayed after and we grilled some steaks... oh, and my mom made her world famous (well, it should be anyways) potato salad.
OK... so we've been so busy lately it's crazy. My job is great. A little overwhelming right now but still great. It would be even better if I could get more sleep at night and didn't have to worry about staying awake during training. haha.
The house is finally put together and in working order. Well, not so much RIGHT NOW since we just had a party - but it WAS. I love it here - this is such a nice home, and I really feel relaxed when I walk through the door. Not like at the apartment when I was mad the whole time I was there - constantly tripping over everything. Ugh.
Here's what you saw when you looked out my window the other day, in fact:
A beautiful rainbow!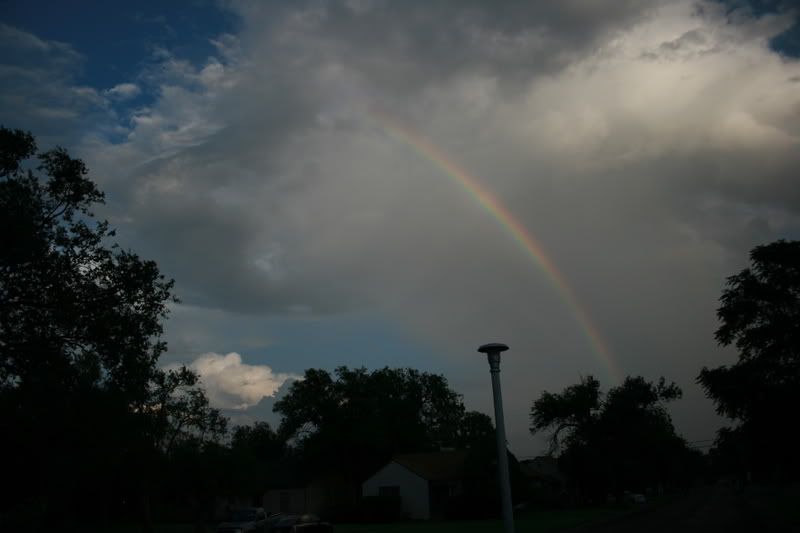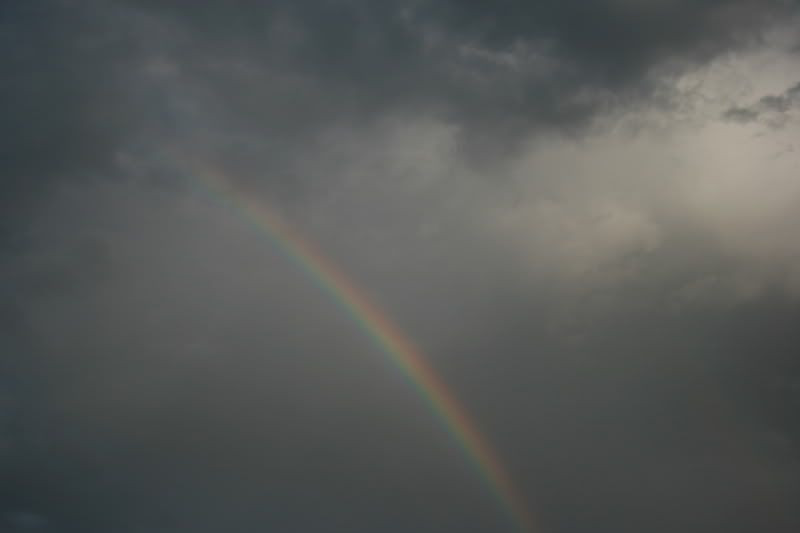 And, a bird, strutting his stuff.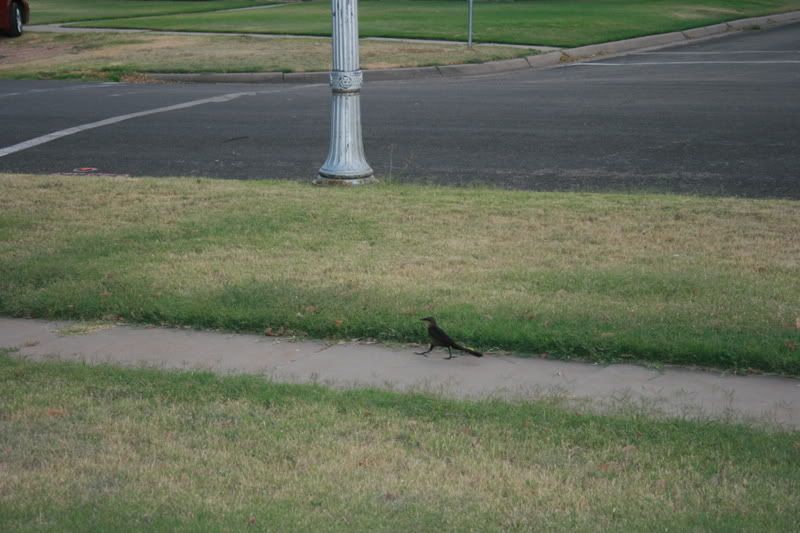 David went to the doctor today for his two year check up. He now weighs 36 pounds... even though last friday he only weighed 35. Holy moly! He's getting so big! So, they've put him on half strength formula. Also, they're going to try to wean him off of one of his medicines - which will be great.
He's got a little bit of a cold right now. Well, we all do. It's not strep, thankfully - so hopefully he'll get over it soon.
David is crawling all over the place. It's amazing -and sometimes I get a little teary eyed when I watch this little boy crawl. I know it sounds cheesy - but they told me that David would likely never do many of these things due to his neurological damages. But he's proving everybody wrong everytime he crawls across the room for a toy!
Finally, here are the rest of the pictures that I haven't shared here yet.
His new look: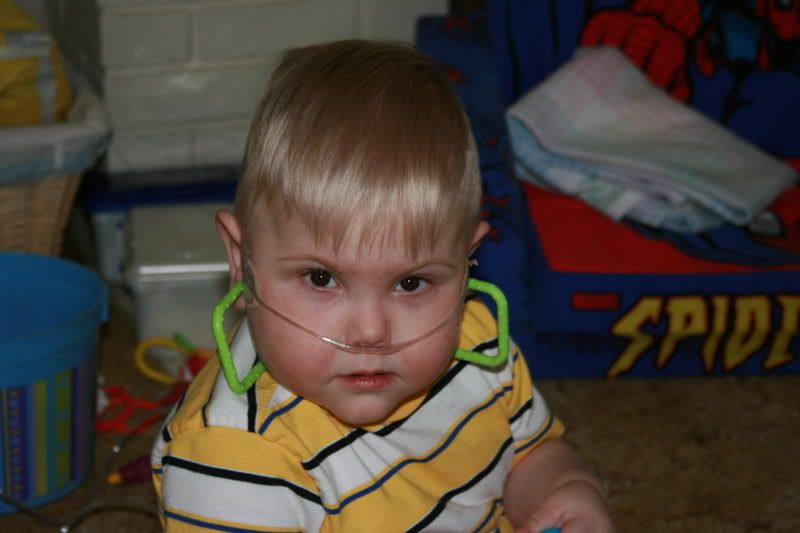 Anyways, here's a couple of pictures of his new tricks - this is what he does when you tell him "byebye" - he waves to himself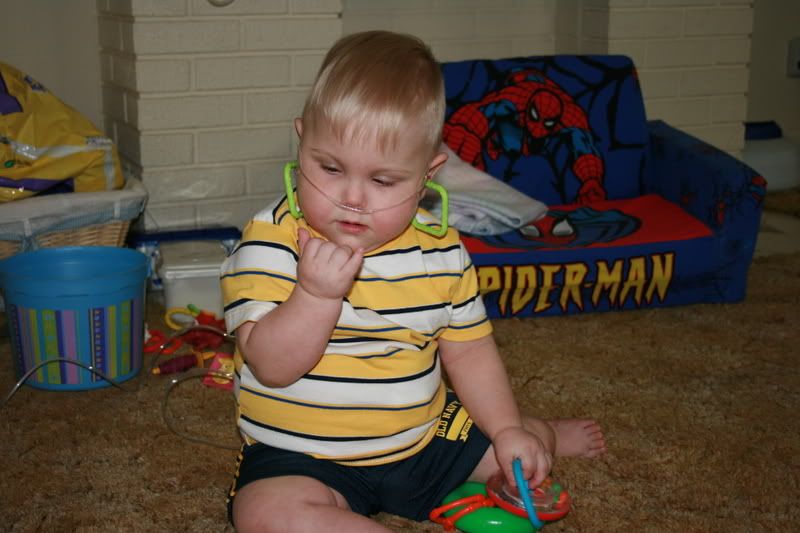 And when you say "where is your hair?"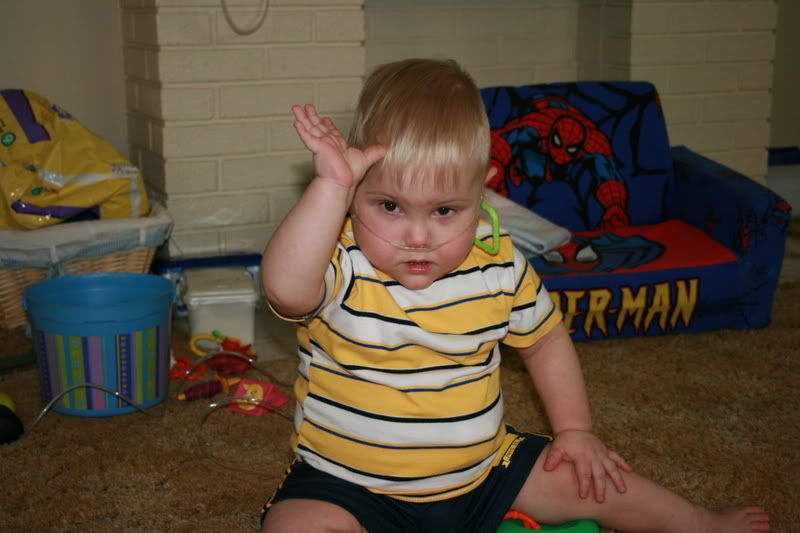 I was trying to tell him to take off his "earring" - and I would say "where's your ear?" well, he thought it was the funniest thing in the whole world.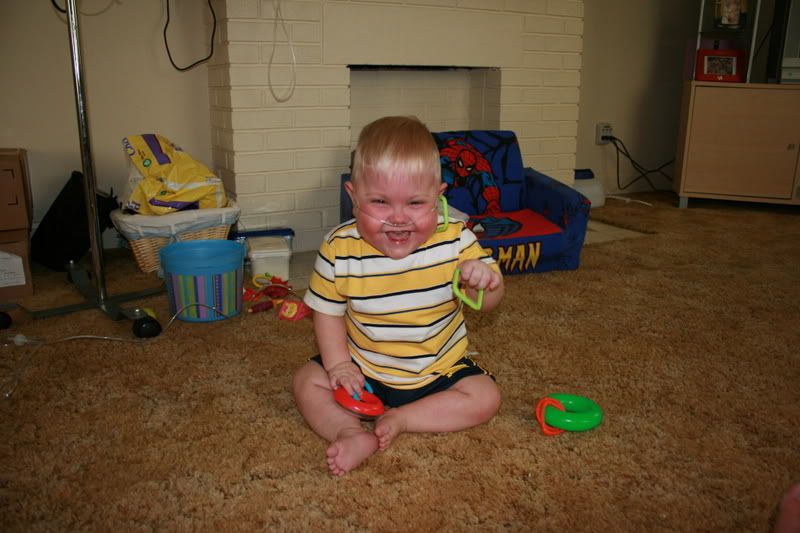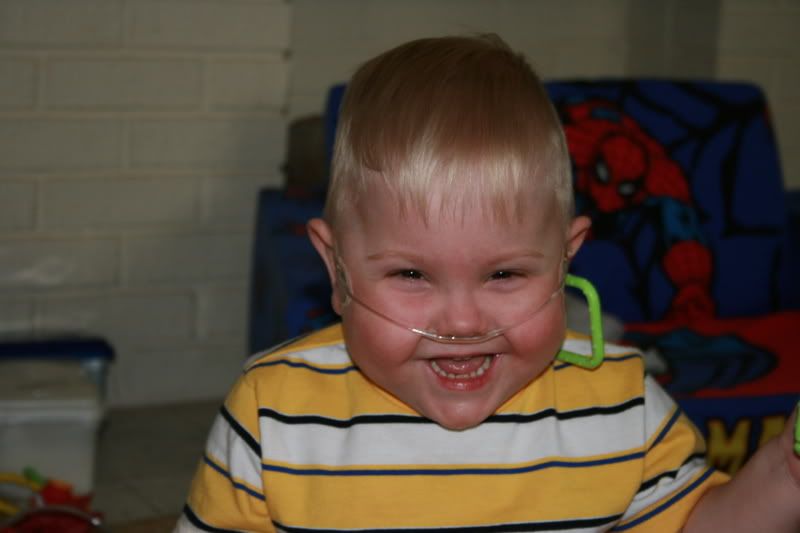 He finally got it!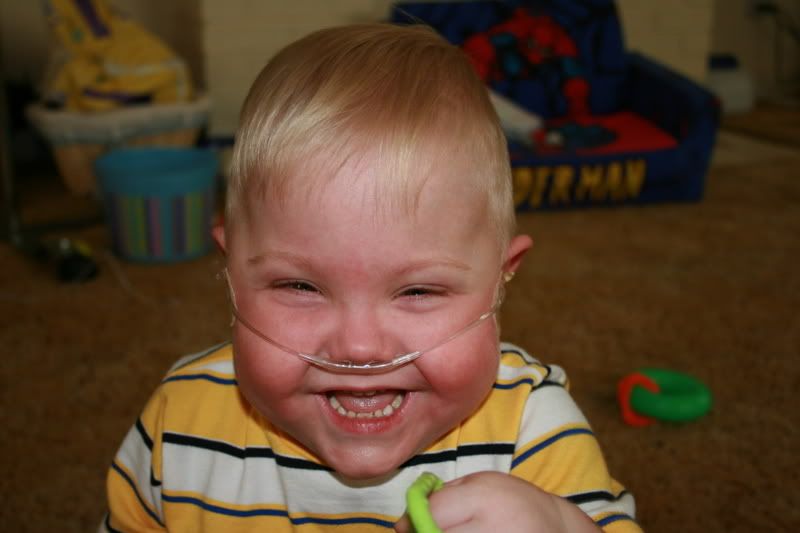 OK I *think* I got everything for now. I'll try to be better about updating - I promise!!