Oh my god I think I'm gonna cry.
Anyways - Javier's parents came into town on Saturday. They'll be here until next Monday. It's always so nice to have them in town - mostly because I don't have to cook or clean or anything. I was actually BORED on Sunday... do you know how long it's been since I've been BORED? Haha...
David is LOVING them. And who wouldn't? It's constant entertainment and spoiling!
So anyways, let me see what we've missed here.
Javier took this picture the other day when David was getting his oxygen tubing changed. It's funny, though because when Javier showed me the pictures - I was commenting on how cute he was and how he had been crying and how cute his little fat rolls were... Javier's like "notice anything else?"
He doesn't have his oxygen on!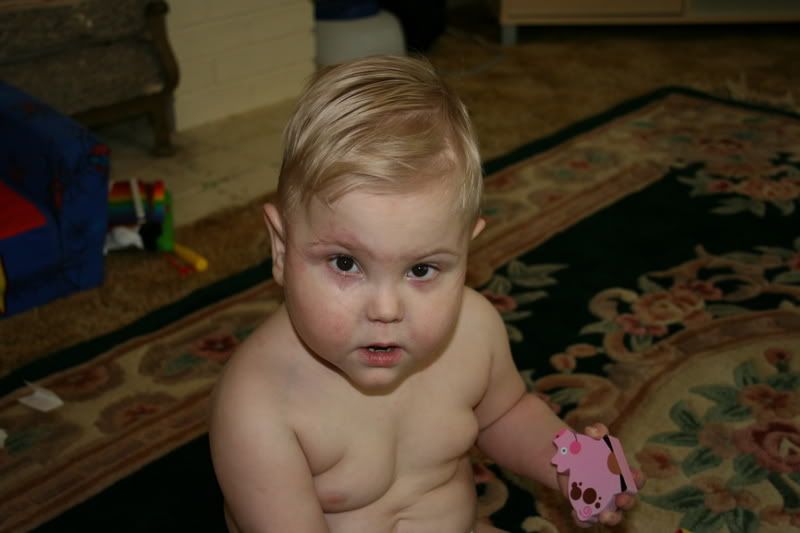 Here's David playing with the card that Amber sent us!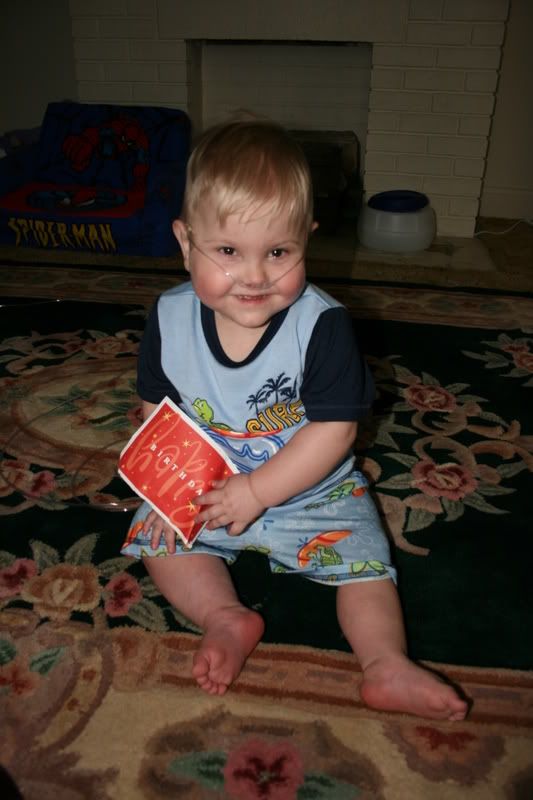 I took this picture because I was thinking how much I'm going to miss these little toes and fingers when they turn into big hands and feet... I wish I could just keep them.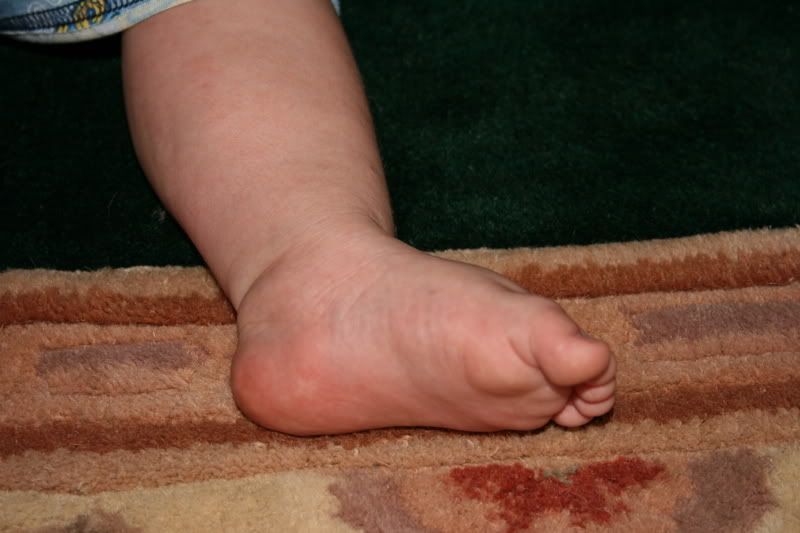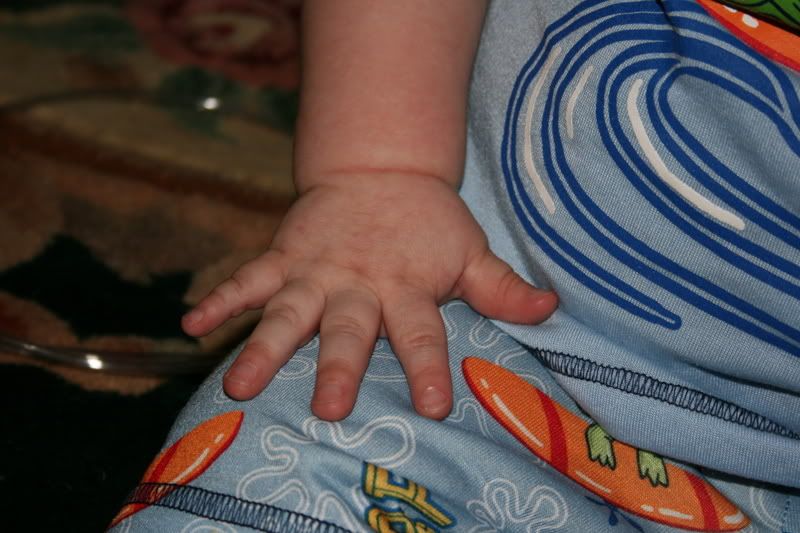 And, fun with breathing treatments!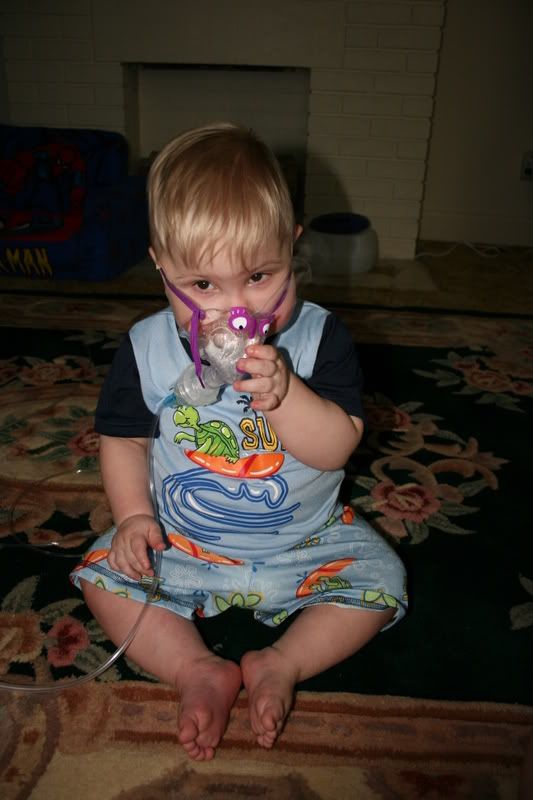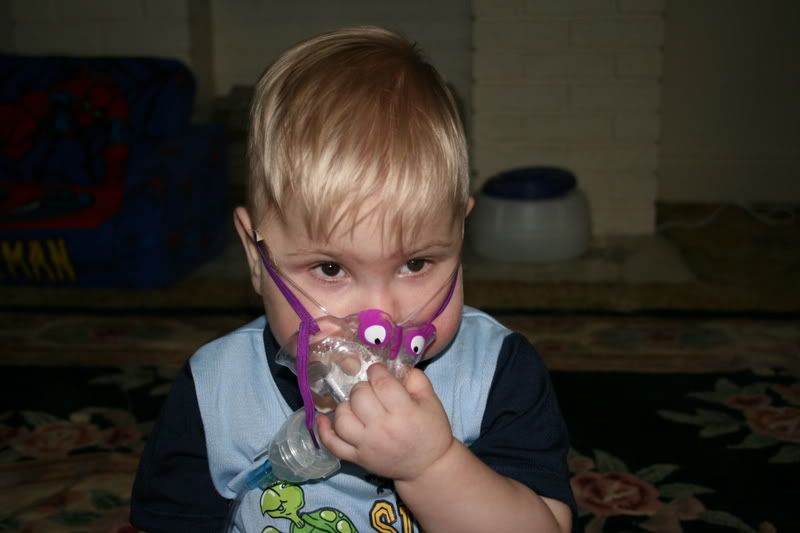 David is so much fun sometimes. I never thought having a kid would be so much fun.... seriously. He cracks me up.
The other day Maria was giving him some medicine, so she had him laying down on his back so she could access his button. He was having a fit. She looked up and was talking to me when he flipped over, and started to crawl away. Then he goes "byebye!"
And then my MIL was playing with him when David let a big one rip.
He proceeded to look at my MIL and give her the sweetest smile you'll ever see. I was rolling.
Here's David combing his hair - his new favorite past time.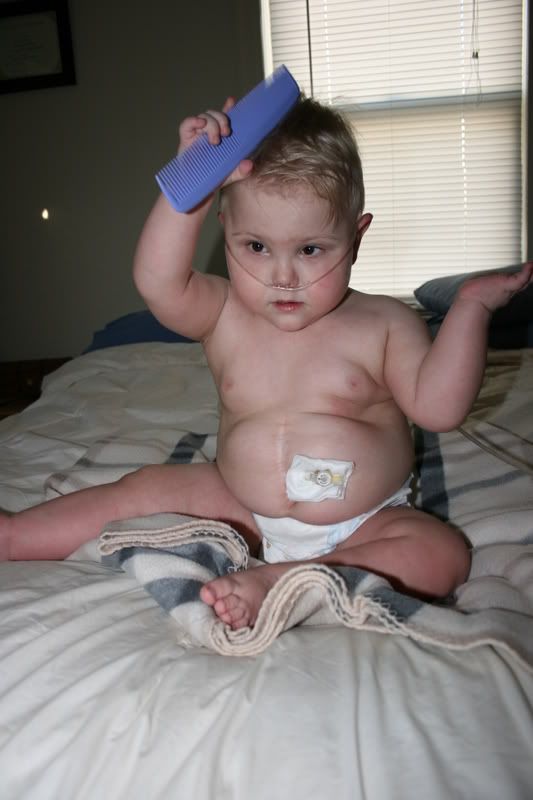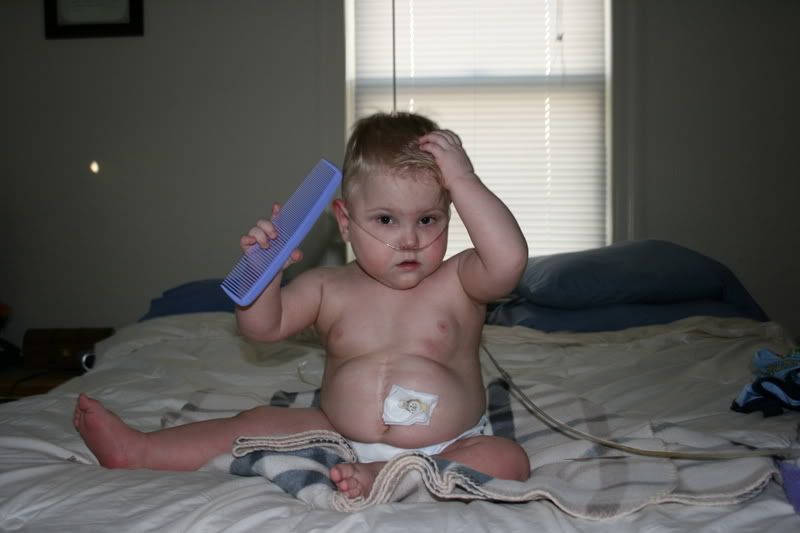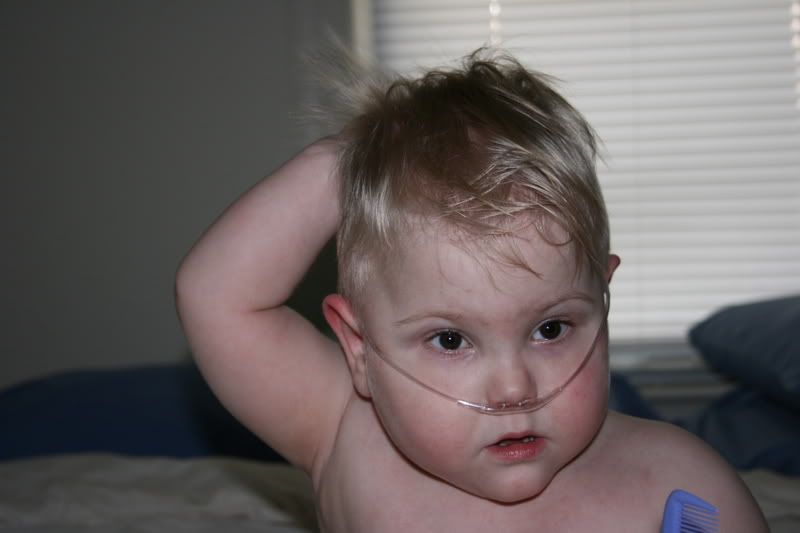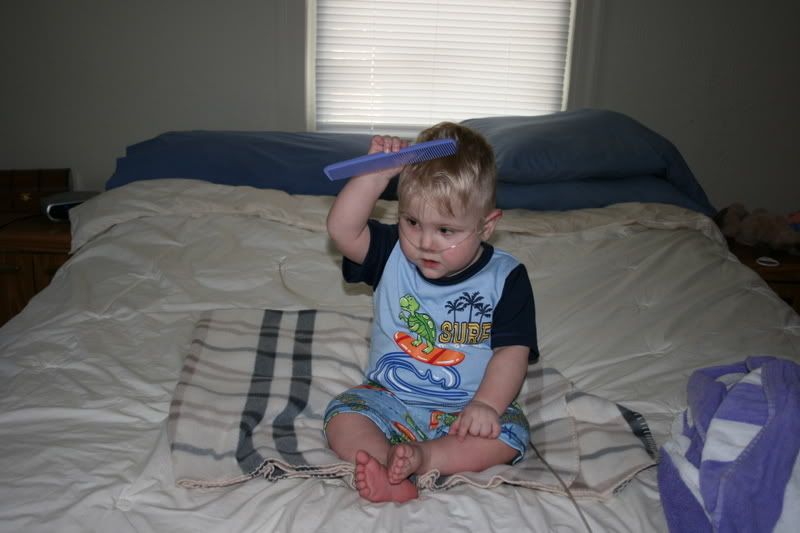 Here he is asleep after a long day of playing with Abuela.
And throwing a fit for some reason only known to him.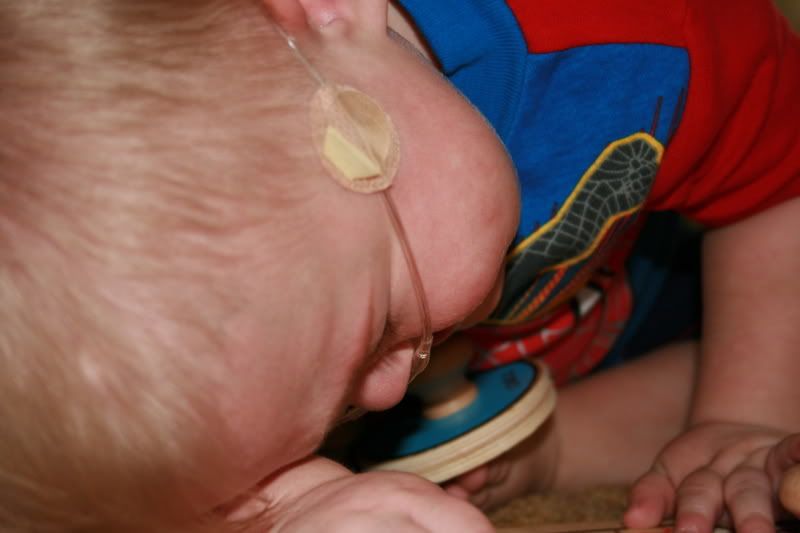 I love these pictures - David was playing with my mother in law today - he was sitting and standing on the rocker chair stool - he thought it was SO much fun!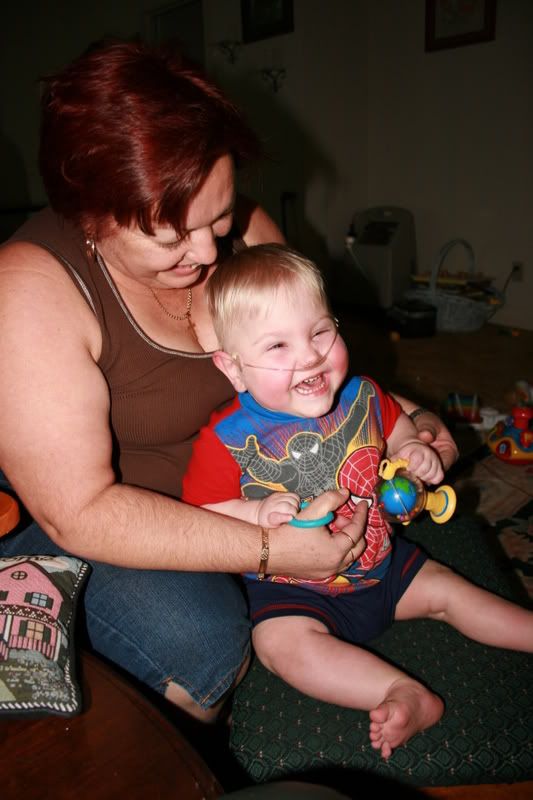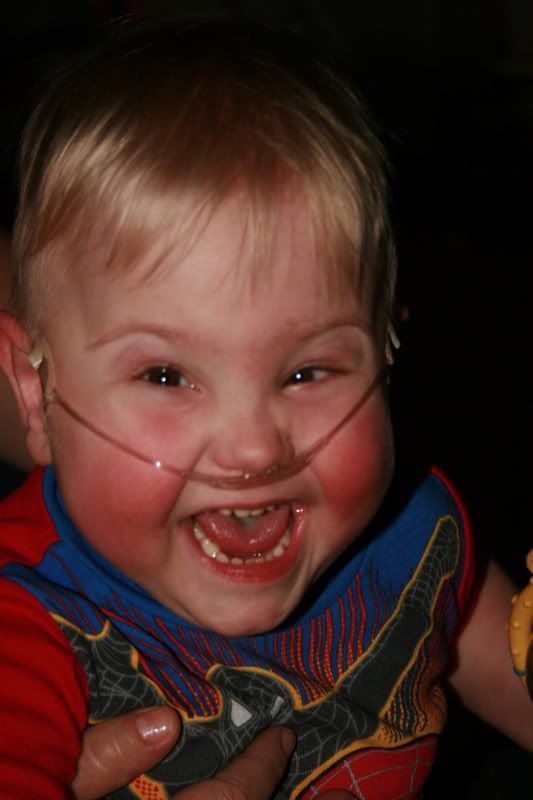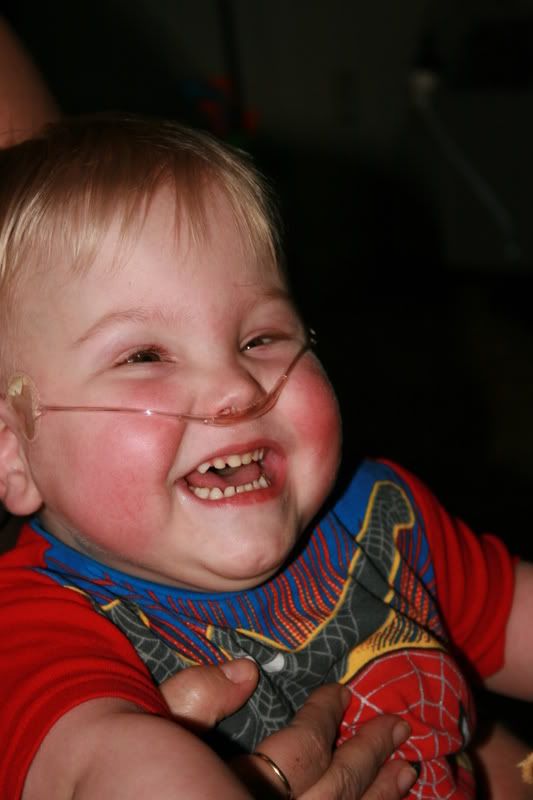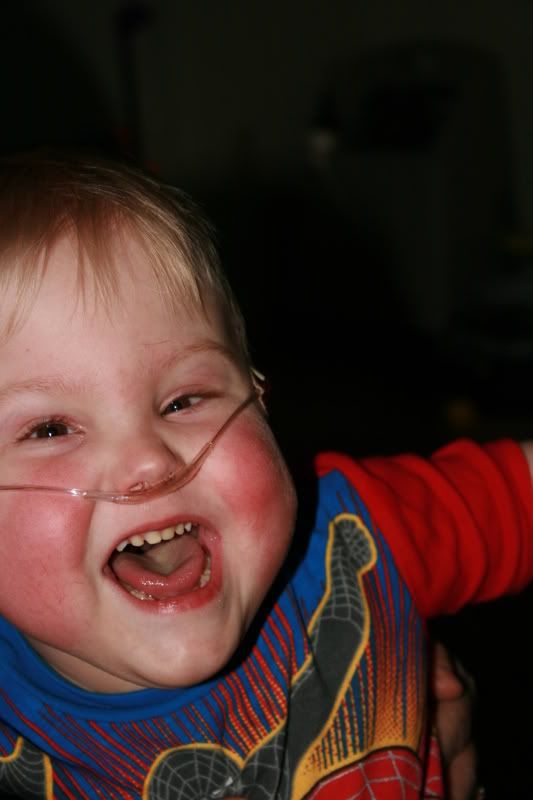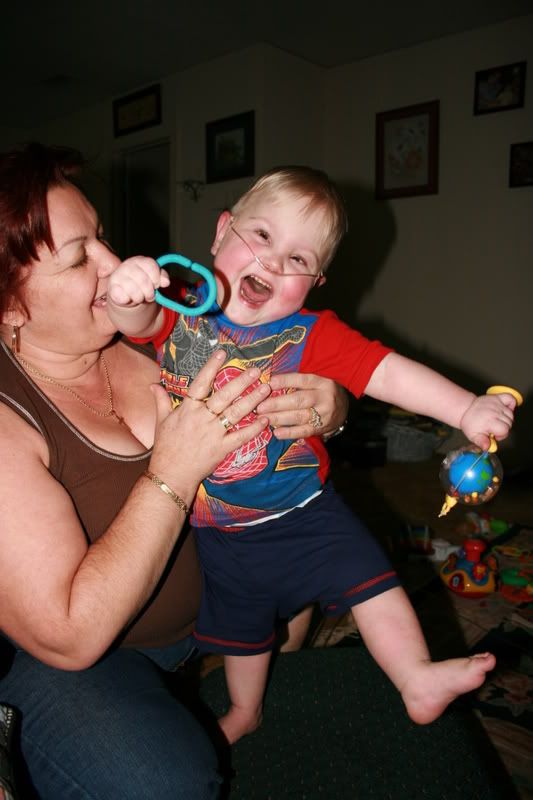 My nurse called me at work the other day to tell me that the air conditioner had stopped running and the thermometer was showing ninety degrees in the house.
Anyways, so I come home and here's what I see - they're hanging out on the porch (it rained today so it was cooler outside than it was inside)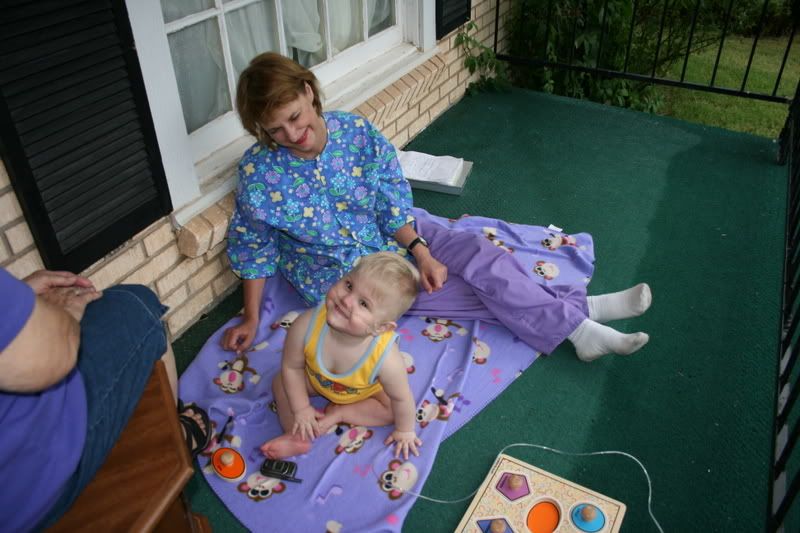 Back inside after it cooled off - What a big boy!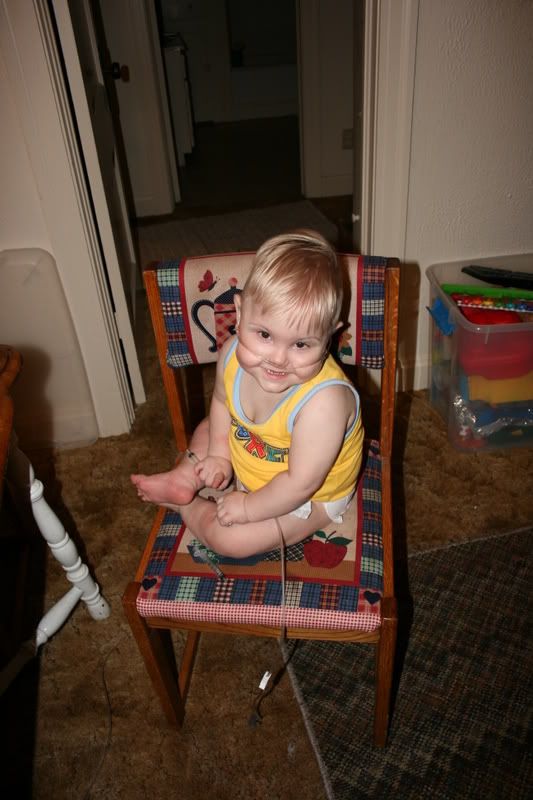 BTW we did get the air conditioner fixed... the motor was out. Ugh.
And here's David, being a nosy neighbor.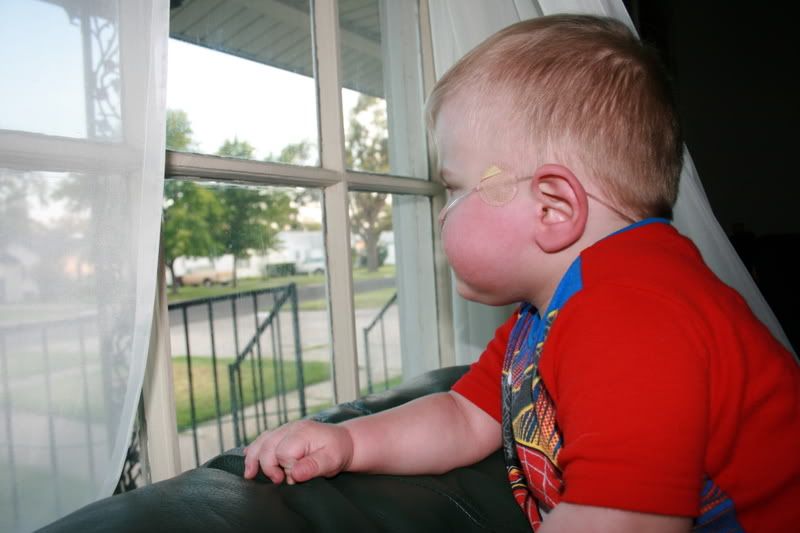 He says "what is all that racket out there?!?"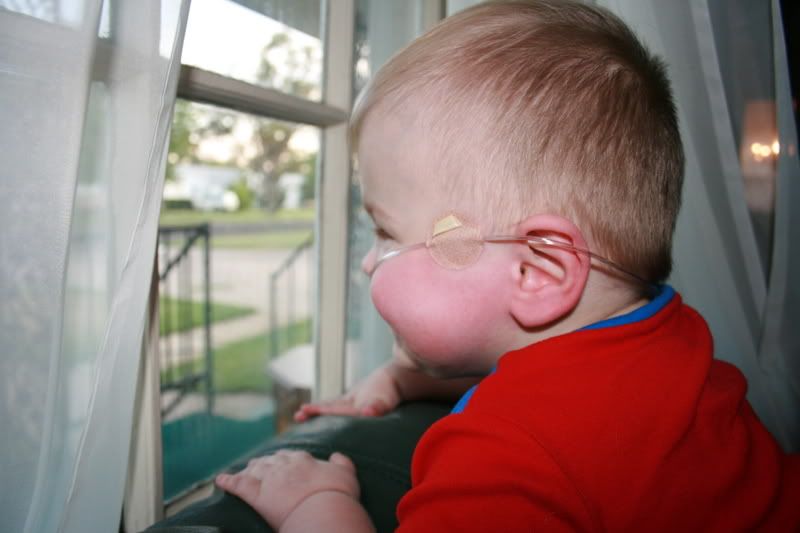 By the way, David hits himself in the head. Hard. With anything - his hand - his WOODEN PUZZLE PIECES - cell phones... whatever he has in his hand. He hits himself with it. My nurse seems to think it's because he likes the way it sounds... which I guess is possible... but he's leaving big old red marks on his head.
I've told him firmly to stop it... but I'm wondering if the best approach here wouldn't just be to ignore the behavior? I don't know.
Thoughts?
We had to go to the hospital Saturday to get routine chest xrays and blood tests. I was DREADING it. Normally it is an absolute NIGHTMARE getting blood drawn with David. He kicks and screams and fights - and they normally have to stick him several times before they get enough blood for there tests.
Anyways - so I was not looking forward to this at all, but David was an absolute ANGEL. Before they stuck him I started singing the ABCs and he cried for about two seconds while they poked him - but for the remainder of the time, even when they were holding him down to get enough blood - he just listened to me sing.
It was great. He didn't cry for his chest xrays, either. I was so proud of him!
So, we decided to get him some ice cream. Which is ironic because he still has the whole oral aversion thing going on and hates to eat. So basically we were forcing him to eat ice cream.
Anyways, here are the pictures of that.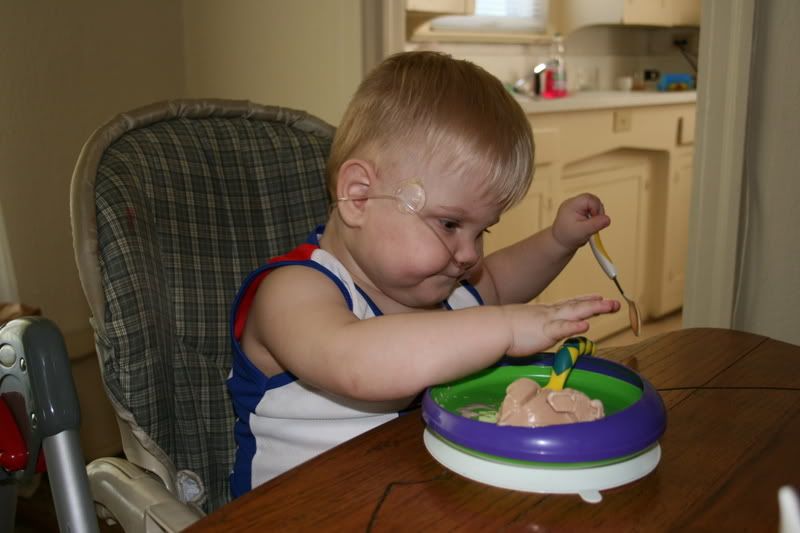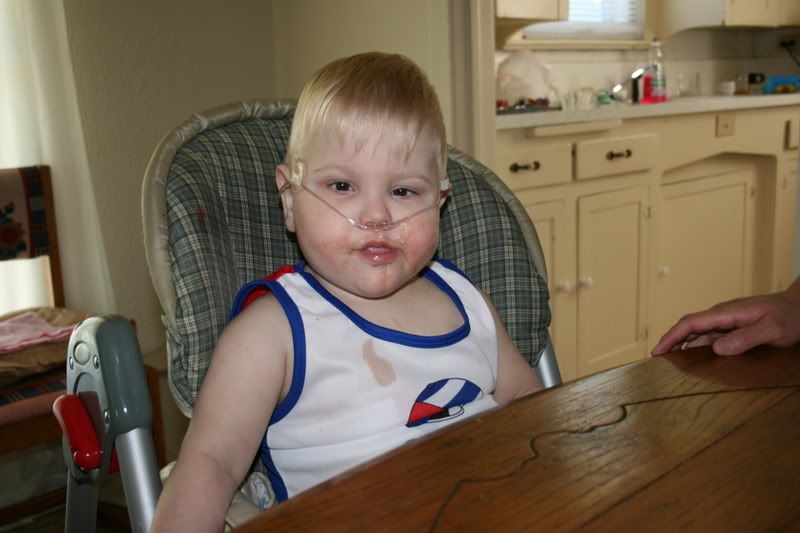 He says "are we freaking done yet?"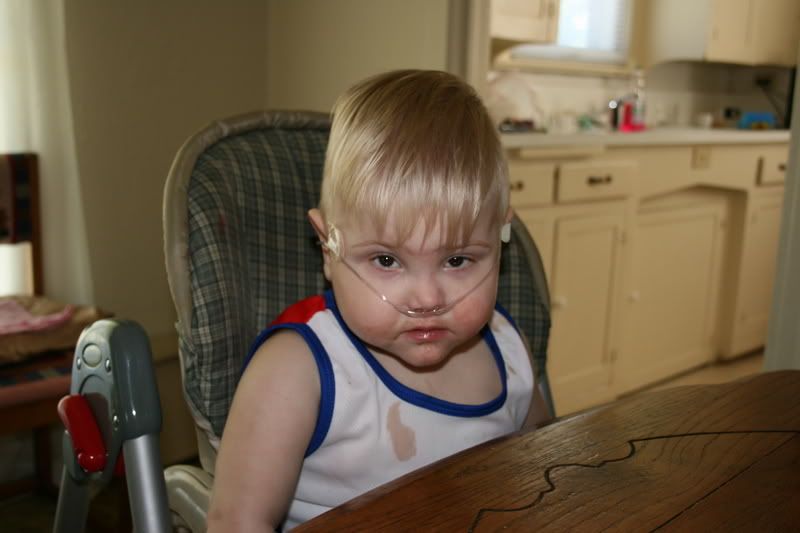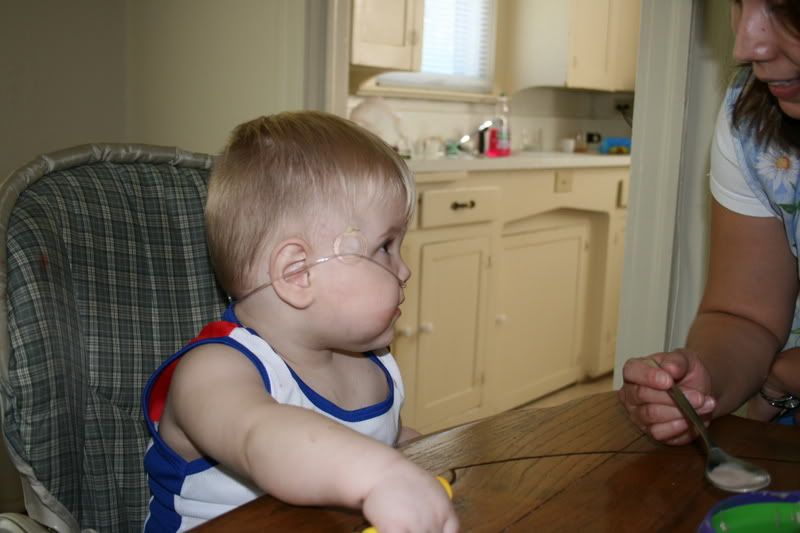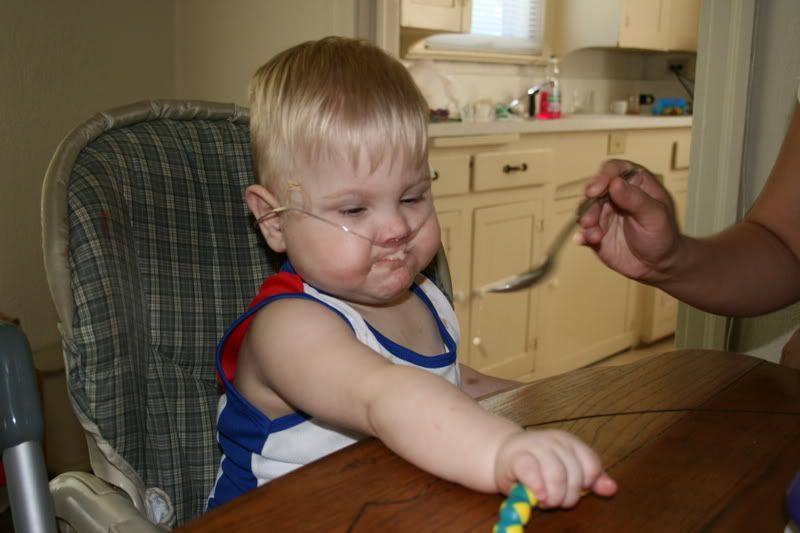 David's chest xrays looked good this last week so the NP said we could wean him off of the Lasix.
Also, we're trying again to get him off the Viagra (and for those of you who don't know and are wondering - he's on viagra because it helps loosen the blood vessels around his heart. Not for any OTHER reason... pervs.
)
Anyways, we're cutting out two of the doses of Potassium, and two of the doses of Clonidine.
Basically, we're cutting out 10 doses of medicines a day!
OK... 10 down, 28 to go. Haha...
We took David outside to play the other day after it cooled off. He had fun watching the neighbor kids perform death defying tricks on their bicycles and ramps. EEK!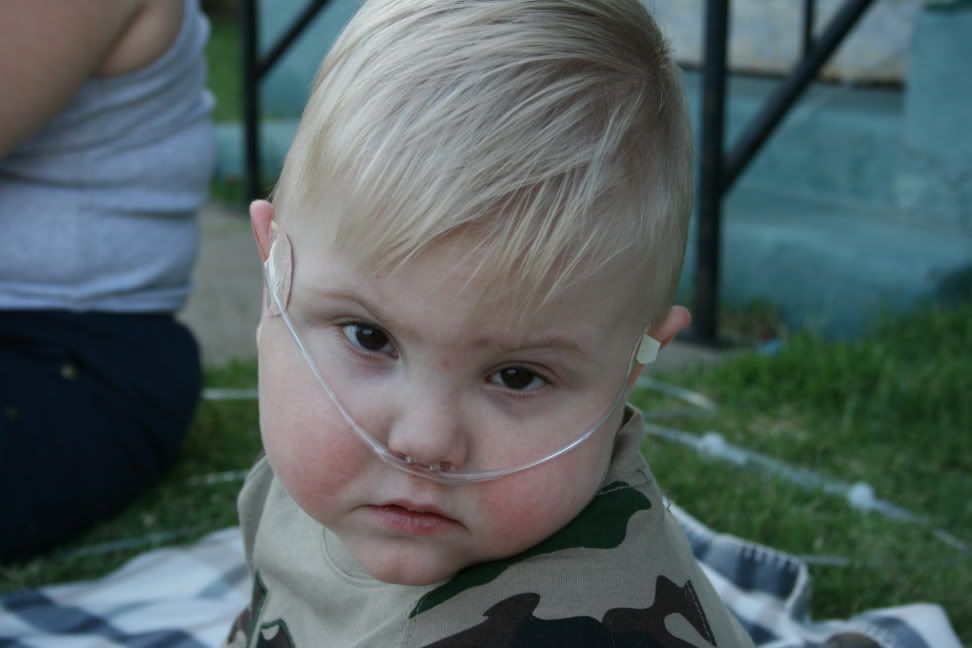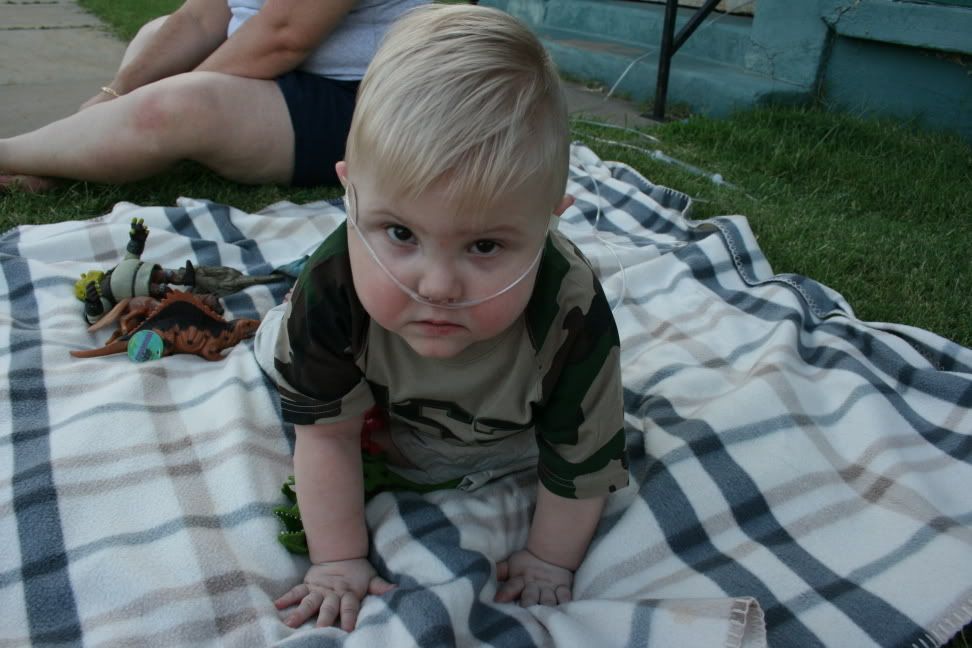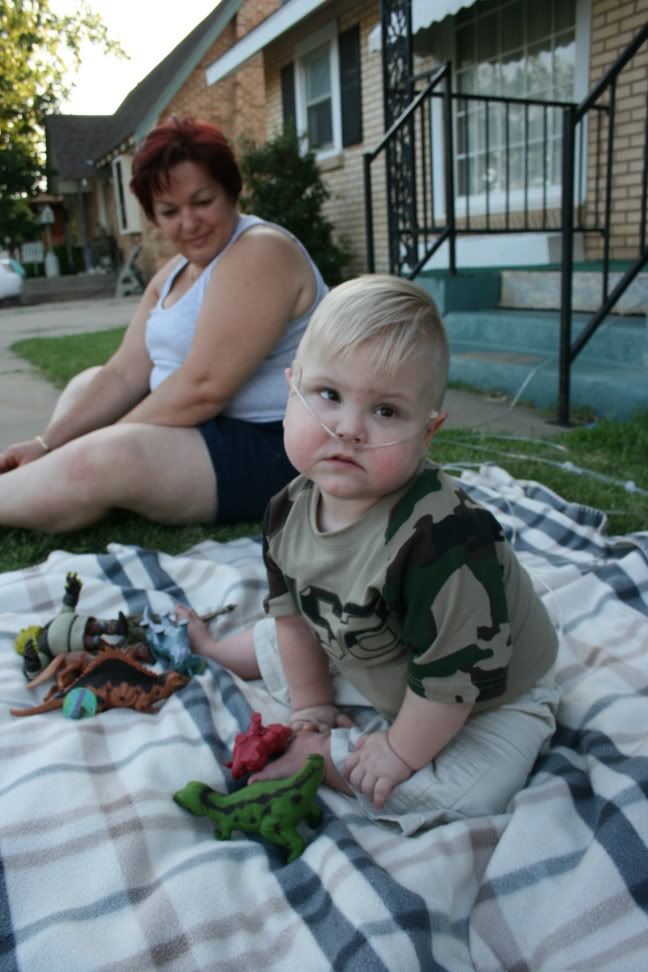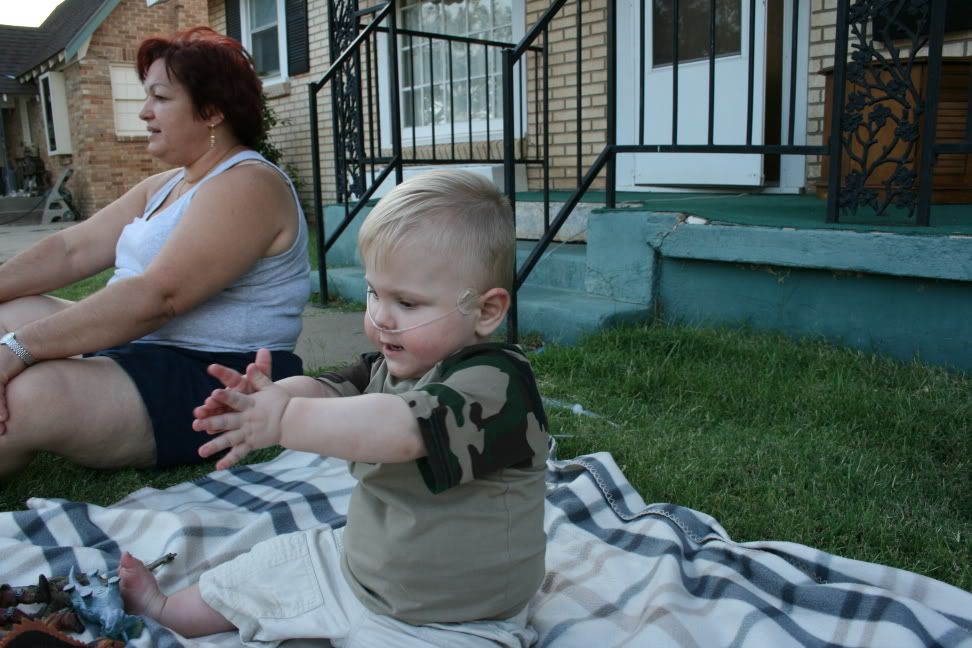 Also, here's a picture of the shirt that my inlaws bought him - it's the cuban flag.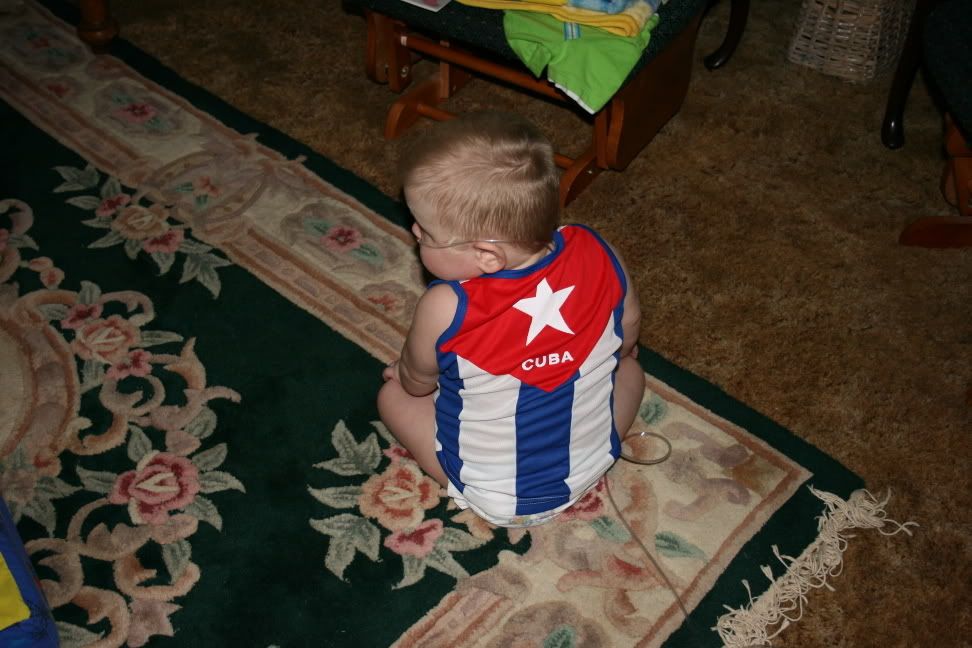 OK... I *think* that's all... until next time.