Lizzie was my "honorary" grandma. She was my grandmother's best friend. She's in my earliest memories - she was the one driving the truck when I lost my flip flop off the back, at less than three years old.
I got closer to her these last few years. She moved in with Meme eight or so years ago when Meme wasn't feeling well. They helped eachother out and kept eachother company.
Lizzie had such a great sense of humor. She was honestly one of the funniest people I've ever met! She also loved to cook new and different meals. She always had a roast in the oven or a pot of beans on the stove.
Lizzie was the kind of woman who would give the shirt off her back. Rarely did I go visit them without leaving with something. Be it avocado, a can of soup, a cookie, or a diet coke, she always made sure I had something before I left. And right after I had David, I was not able to drive due to my c-section, but Lizzie would take me to and from the hospital when Javier had to work so that I could visit my baby.
And oh, how she loved David! She always talked about what a miracle he is.
One thing that Lizzie taught me is how to be nonjudgmental. I've never heard Lizzie say one sour thing about another person. One of her favorite things to say, it seems like, was "don't worry about it." That was the way she lived her life, and it was so inspirational to me. She honestly taught me that worrying does no good. Fix it if you can, otherwise don't worry.
Lizzie passed away on December 10th while vacationing in Washington.
Even though Lizzie was not a blood relative, she definitely had an impact on me, and I'm richer having known her. I'm really going to miss her.
Here's some pictures of her: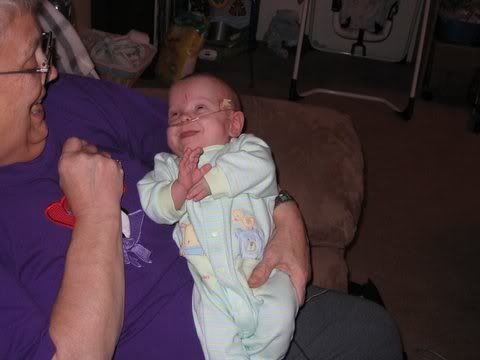 (Lizzie's the one on the right)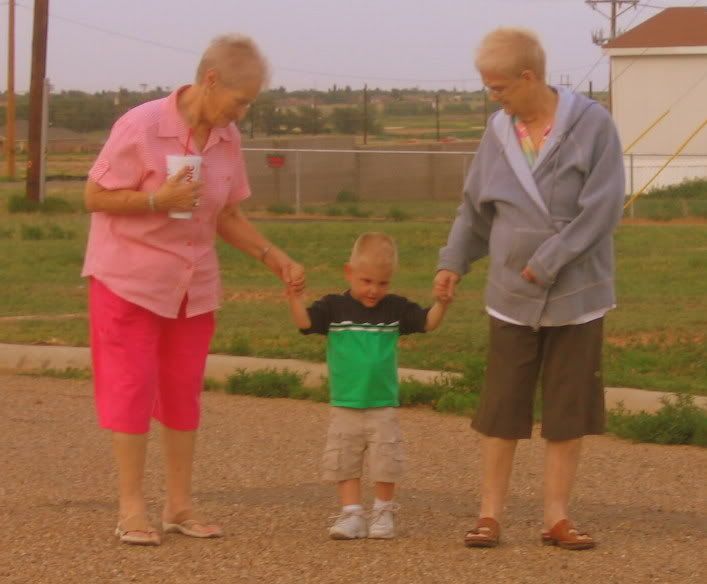 ************************************************************************
Here's a few pictueres of David riding his new tricycle on the few days that it's been warm enough to go outside since he's gotten it. By the way - he loves that thing! We keep it in the living room (where do you keep something like that?) and he loves to sit on it and play with the buckles. He hasn't figured out how to make it go by himself yet (it has a handle on it so I can push) but he really enjoys it anyways.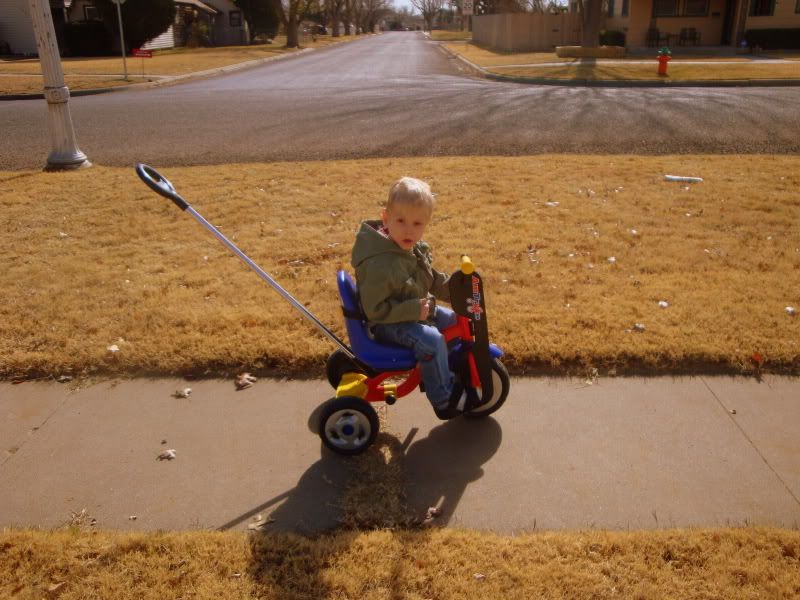 I decided to give David's teachers cookies for Christmas, and I thought it would be fun if he helped. He pretty much just thought it was funny, and was not the least bit interested in touching the cookie dough.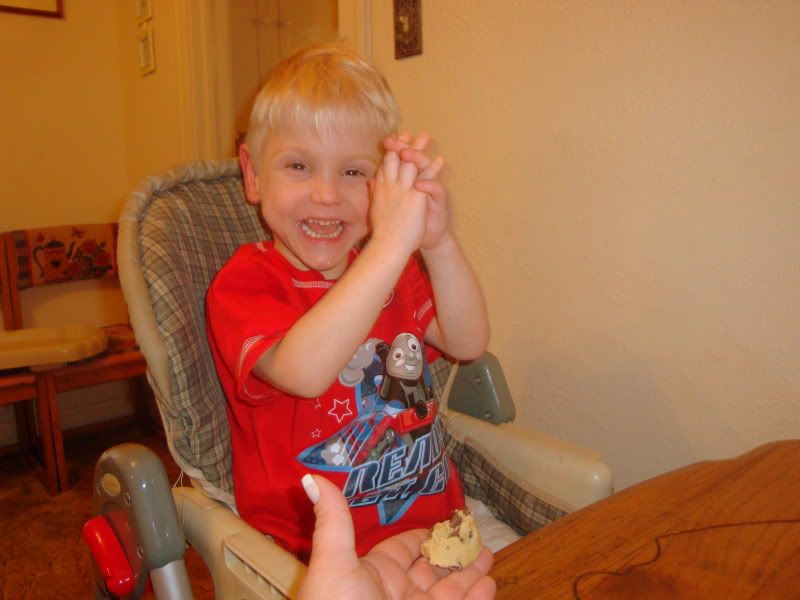 We saw Santa Clause at Walmart! He was shopping! So I'm pulling out of the chips aisle when I see a group of people standing around some guy. When the people part, I see it's an old man with a white beard, wearing regular street clothes, and a santa's hat!
I told David - LOOK! It's Santa Clause! He shops at Walmart, too, who knew?
"Santa" stood behind David and let me take a picture with my cell phone. It would have been perfect, except my phone is stupid and it didn't save.
Oh well, it was the highlight of the trip
David's Christmas party was Thursday. I took some time off of work so I could go spend it with him, and I'm glad I did. The kids got to enjoy some holiday cookies and I got to talk to some of the other parents. Here's the pictures.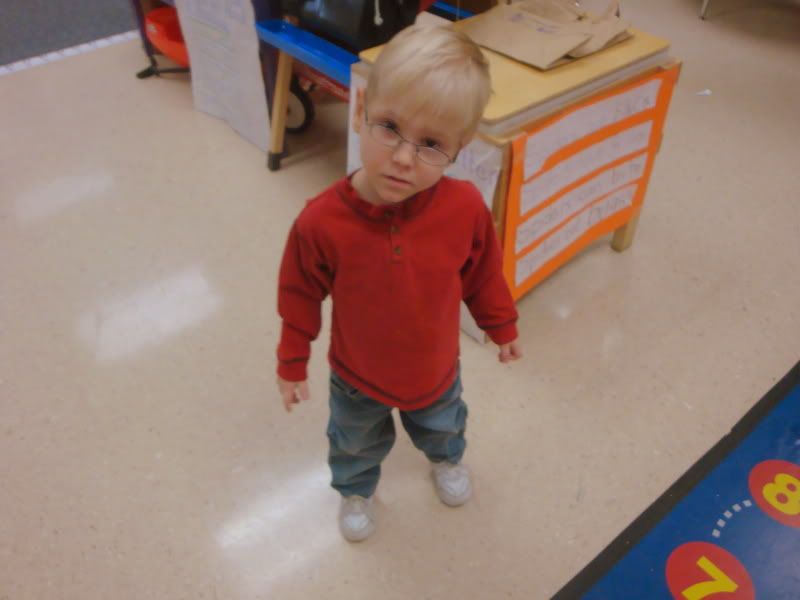 Oh, and by the way, this is how David's gotten in the habit of wearing his glasses - he looks over them. I'm starting to wonder if they really are helping?
This is Ms. Groome. She's one of his teachers.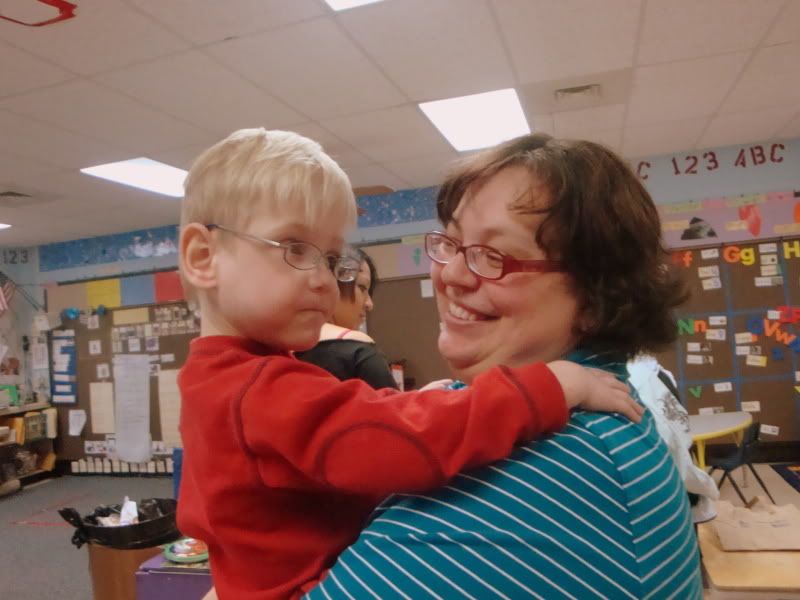 Here you can see all three of his teachers. Standing in the back wearing the green shirt is Ms. Hernandez. Ms. Groome is wearing the blue shirt, and Ms. Davis is the one serving the food.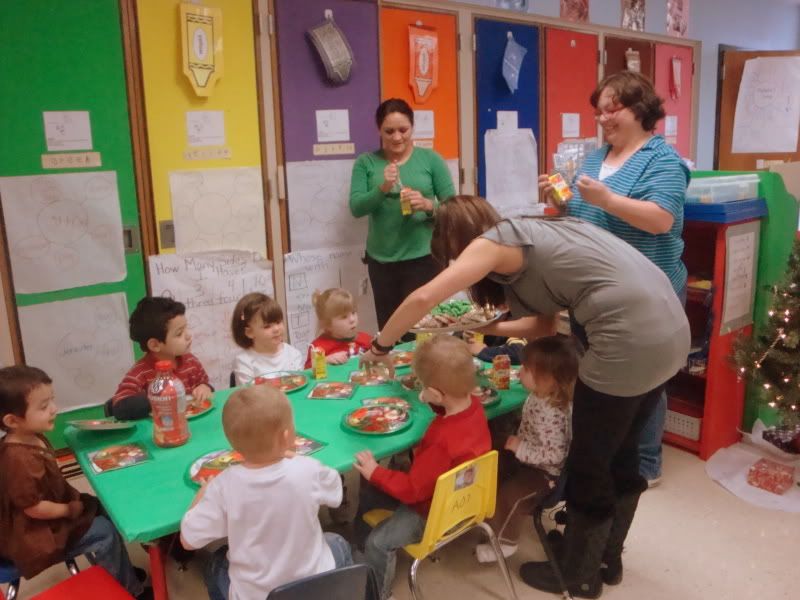 From the left, going clockwise around the table is Bella (Diego's little sister), Diego, Olivia, Katelyn, Julian, Olivia's little sister, David, and DJ.
While I was there his teachers told me that earlier, during speech therapy, David had fallen asleep.
Apparently they were boring him.
I found it amusing, because I thought sleeping during class didn't become an issue until they were teenagers.
And one more emotional post before I finish up... I've been thinking alot about
Kayleigh
and what they're going through. I knew from the very first time I read that blog that I was going to have a hard time emotionally, following their story. So much of what Kayleigh's father has written about her hits so close to home that it hurts.
It makes me realize how incredibly lucky I am to have David still in my life. I came *so* close to losing him. And it's so easy to forget that, when he's having a fit in the middle of the night and keeping me up, or when he's getting into things when he knows he's not supposed to. Or when he gets mad in the middle of the convenience store and lays down on the floor to have a temper tantrum.
I think I am going to start one of my new years resolutions early. I am going to take a few minutes every day, especially on difficult toddler days, to remember how ridiculously blessed I am to be able to raise such a sweet little kid.