January 26 - We met David's new pediatrician today.
It wasn't the ped that I was expecting, it was another doctor in the practice. But he seemed nice enough. Although he seemed a little rushed, which made me kinda nervous, he took the time to answer all the questions I asked. And he didn't seem completely shocked to hear of David's medical issues, which I was relieved about since I "forgot" to tell them about David being a special needs child when I got his appointment. I didn't tell them because everyone else who I'd called said that no, they wouldn't take new special needs patients.
One thing that scared me a little was that I asked about the lymphnodes again, and he said "It's probably nothing, but I'm going to let you see the specialist just in case." I tell you what though, at least they aren't blowing me off like the other pediatrician always did. Even so, I'm going to cling to the "it's probably nothing" part of that sentence until I have any reason not to.
We also go back and see the cardiologist soon. We haven't seen him since David was about two.
David is 37 1/8 inches and weighs 32 pounds. And, he got the flu shot (remember, his old ped REFUSED to give him one
)
That's it, I think
January 27 - David is sick
OK so I *know* the flu shot doesn't make you sick. But here's the facts: David was fine yesterday, got the flu shot, and now he's sick.
He's running a fever of 101.5 and his nose is like a faucet. He's also coughing so much that he's making himself puke.
JoAnn gave him a dose of tylenol before I got home, but when I got here he was still running a pretty high temp. So I gave him some motrin. Then, before bed, I gave him some benedryl to help with his running nose.
He seems to be fine now. The fever has gone down, and he's resting comfortably with no coughing or anything.
January 29 - Ear Infections
After missing school since Monday, I decided to take David into the doctor today. His cough was getting worse and his fever wasn't really going down with Motrin.
Turns out he has pretty severe ear infections in both ears.
I feel really bad because I feel like maybe I should have taken him in earlier. But the doctor had checked his ears on Monday and they were fine. And he wasn't pulling at them or anything, so I really had no idea.
Anyways, she said the fever, runny nose, and coughing were all related to the ear infections. She put him on antibiotics.
Hopefully he'll feel better soon. He's been crying on and off all night. I think he hurts
January 30 - I'm having working mom's guilt
For some reason today I feel really guilty. JoAnn watches David during the day while I'm at work, and I feel like she spends more quality time with him than I do. And, he cries every day when she leaves. He cries his sad cry, too, not the "I'm pissed because she didn't take me with her" cry. But when I leave him, at school or otherwise, he's like "see ya, mom."
I know that, especially in this economy, I'm fortunate to have a decent job, and I know that it's vital for me to go to work every day in order to keep food on the table and a roof over our heads. I know that I'm not emotionally scarring him by leaving him every day. But I just really wish I got to spend more time with him.
As irrational as it sounds, sometimes I feel like - I went through so much to bring him into this world, and fought so hard to keep him here, I should spend every waking moment with him.
February 2 - David's appointment with the lymph node specialist
We had the appointment with the lymph node specialist today and he confirmed my suspicion that there was nothing to worry about.
He said that, because of him numerous sinus/respiratory/etc infections, he probably has built up scar tissue in there. He said that they will become less prominent as he gets older and I shouldn't worry unless they begin to grow.
So there, stupid school lady.
February 3 - David, what does a cow say?
BAAAA!!!! *giggle*
David! A cow doesn't say BAA!! What does a sheep say?
WOOF, WOOF!!
David! A sheep doesn't say woof!! What does a horse say?
MOO!!!!
he thinks it's the funniest thing, like, ever.
February 5 - I almost got in a wreck with a school bus who ran a stop sign!
So I drive a little bitty Honda Accord. Which, I didn't really REALIZE how little bitty my car was, until I was about two feet away from a gigantic school bus! Geez! That thing could have ran RIGHT over me!!!
So I was pulling out of my driveway yesterday morning. Right across the street from my house is a stop sign. So, I pulled out of my driveway, and began heading down the street, when a school bus didn't stop at that stop sign, and I had to swerve WAY out of the way, honking and screaming!
I was so mad that I didn't think to get a school bus number. But I'm tempted to call the transportation department anyways, just to let them know. I got a good look at the driver, and I know approximately what time it was. The problem is, I live a block away from a school, so I imagine most of the school buses come down that street and they wouldn't be able to tell who it was just with the information I have.
It was especially scary because I had David in the car. I seriously think that bus could have rolled right over my car and not even noticed!!
February 7 - Totally honored!
One of the nurses who took care of David when he was in the PICU called me today. She said that they are redoing the unit, and they have to remove all of the pictures that they have hung up. She said that they fought and fought because they love to look at all of them, so finally their bosses agreed that they could choose nine patients that have been in that unit and, once given parental consent, have their pictures professionally taken and hung in the PICU as "success stories."
Well, of ALL the patients that have EVER been in the PICU, the nurses chose David to be one of their nine!!
So, I have to set up an appointment to go to a studio and get David's picture taken - all free of charge. Hopefully, if I smile real pretty, they'll let me get some copies too.
At any rate, I'm floored that they chose us, and totally flattered.
I got a letter in the mail from the hospital:
We are currently in the process of redecorating the PICU and will be posting some large professional photographs of former patients and will include their first name, a very brief description of the reason for their hospitalization, as well as their length of stay in the unit. The staff has chosen David as a former patient that they feel would provide inspiration and hope to families who are in the unit with their child.

If you are interested:
-There is no cost to the family
-A consent for advertising will need to be signed
-The family will need to contact the studio to set up the appointment and seek additional information.
-The photo needs to be taken and consents received by February 28, 2009
-The photos will be framed and displayed in the PICU

Please return the consent, either by mail or fax to the following....
I can remember looking at the pictures and displays that they had up when we were in there, especially in the NICU when I was desperate to hold onto any sort of hope that it was possible for such a little baby to survive. I'm so proud of David, and so proud that he will be a part of giving other families that are in situations like ours hope.
My heart is beaming
February 10 - Starting to feel the rise of panic in my stomach...
I know that David's surgery is no big deal, and I know that, compared to everything else we've been through, this should be a piece of cake.
So someone tell me why it is that I feel like I'm going to puke? Screw butterflies, it feels like someone is kicking me in the stomach.
Ugh. I just want today to be over with.
February 10 - We're home! And David is fine.
So *maybe* I panicked for nothing LOL...
It all went very smoothly. No issues with being on the ventilator, no reaction to the sedation. The nurses all sang to him all day. He was a big hit in there.
Something that melts my heart - they said he asked for me when he woke up awwww....
And I knew he was okay when the first thing he said to me when I saw him was "bye bye?"
No school tomorrow, it's up to me if I want to send him Thursday or Friday. No physical therapy or riding his tricycle for two weeks. Other than that, everything is normal.
I have to go pick up his pain medication now. Thanks for the prayers and well wishes.
February 11 - David update today
David is absolutely fine after his surgery.
He acts like it is uncomfortable when he coughs (the surgeon said he might cough for a few days but that is normal after anesthesia) but other than that, he's fine.
I'm still giving him the Tylenol with codeine every six hours - I figure I'll give it through tonight and then tomorrow, only give it when he acts like he's in pain.
All day long today he wanted to go "bye bye?" - and he would get pissed off if someone left without him. My mother-in-law took him for a walk around the block a couple of times today.
JoAnn came over and visited for a few minutes tonight and David was DELIGHTED to see her. It was so sweet - he misses her!!
February 12 - We finally moved up to a booster seat
To tell you the truth, it makes me nervous. Because I can't put him in the middle of my car anymore (you have to have shoulder belts, and my middle seat doesn't have them) and instead of having it's own straps like a car seat does, it uses actual seat belts.
I didn't know all that before I bought it and assembled it.
I guess it will be easier to get him in and out when he's on the side instead of in the middle... but aren't they supposed to be in the middle?
Am I worrying about this too much?
February 15 - David is running a fever
Friday night David started running a temp of about 100.9 or so. But, we gave him some Motrin and the fever stopped and he was fine all day long on Saturday.
Well, I just woke up because David was whimpering and I felt of him. He is in fire. His temperature is 102.
I was reading through the post op paperwork and it says to call the doctor if he gets a fever over 101. But his surgery was Tuesday, and this is Saturday night... is that still applicable?
I gave him some Motrin. I'm going to wait a little while, but if his fever doesn't go down I guess we'll be heading to the emergency room in the morning.
I'm only worried since he just had that surgery.
February 15 - I called the doctor about David's fever
they want us to go to the ER to be seen.
Ugh. I know that he needs to be seen, but I hate to go to the ER - especially since he's acting fine right now and so they'll put us at the bottom of the list to be seen, and he could catch something he doesn't already have while we're there.
February 15 - We're back from the ER
We waited in there for about an hour, and not one single person was called back. There were people in there coughing and sneezing - I decided that it was too much of a risk for him to catch something he didn't already have in there so we left.
While in the ER one of the guys who was waiting to be seen asked me about David - "Is he autistic?" (*side note - when did it become OK to ask someone something like that anyways?... but I digress...)
I said "No, he was a preemie."
He says "Oh. Did you notice right away?"
Finally - some pictures of David.... I need to get better about taking more pictures! (I never thought I'd say THAT! LOL)
These are from David's Valentine's party at school - we had a good time! Everyone missed David since he hadn't been there since the Monday before his surgery.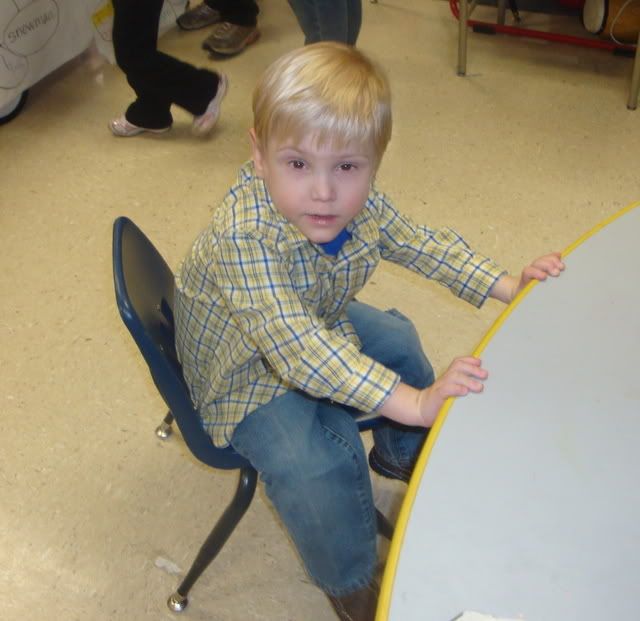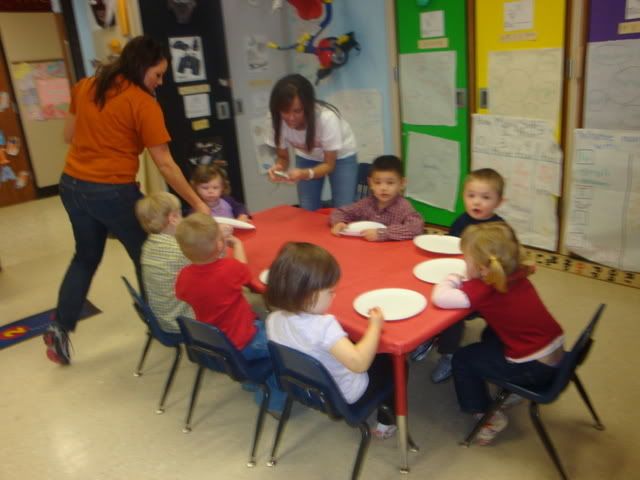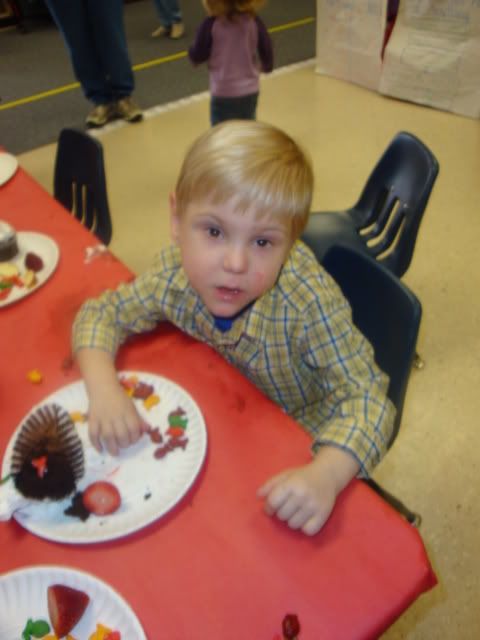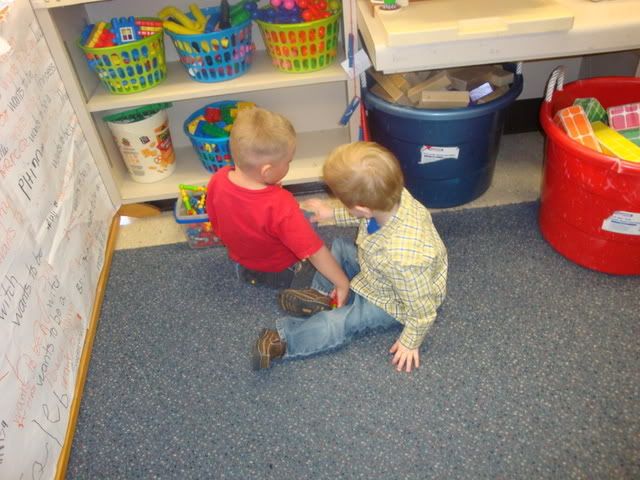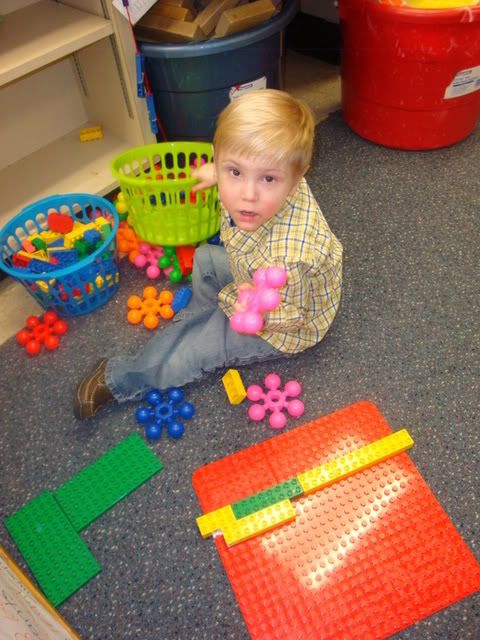 Here he is later, sans pants, wanting to go somewhere in his new booster.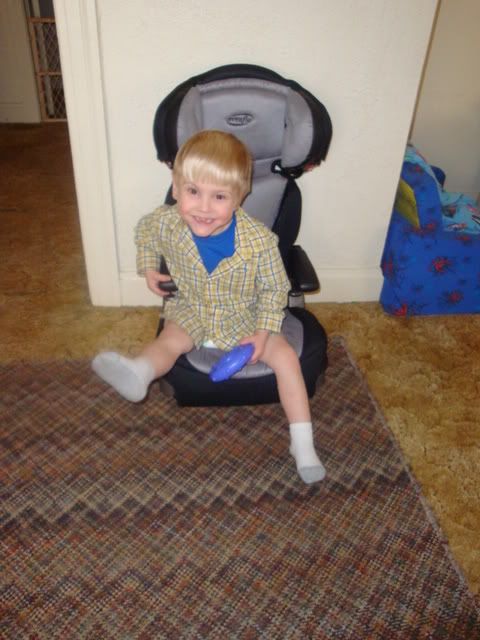 I don't remember when these were from, but I remember that he was laughing so hard he was crying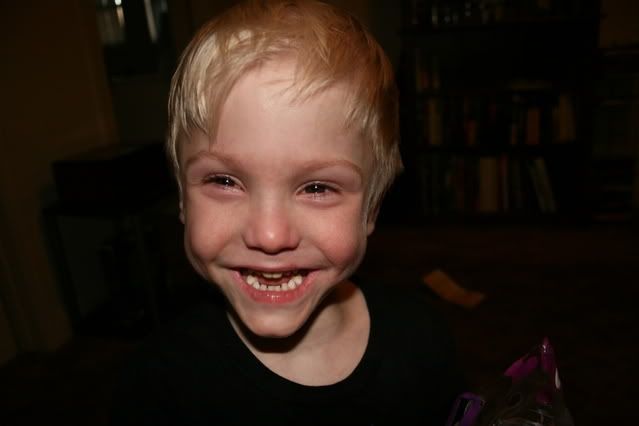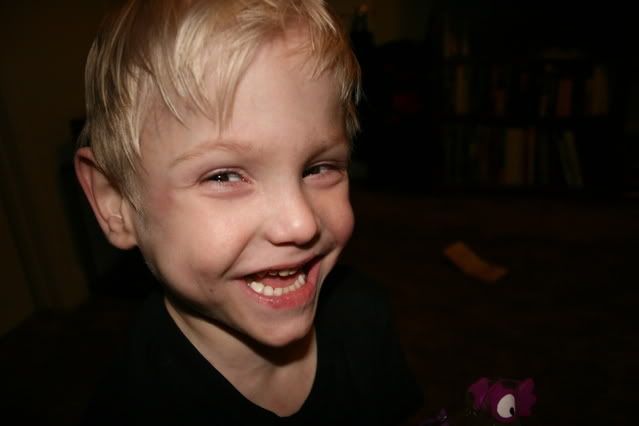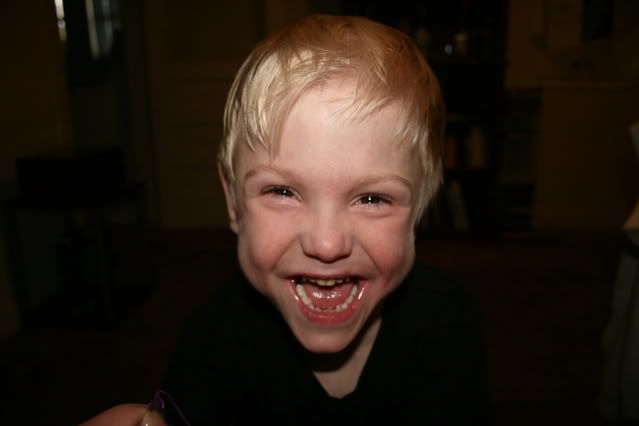 What happens when he's left alone in my bed?
He was so tired the other day - he fell asleep like this
Chillin' on the couch with Grandma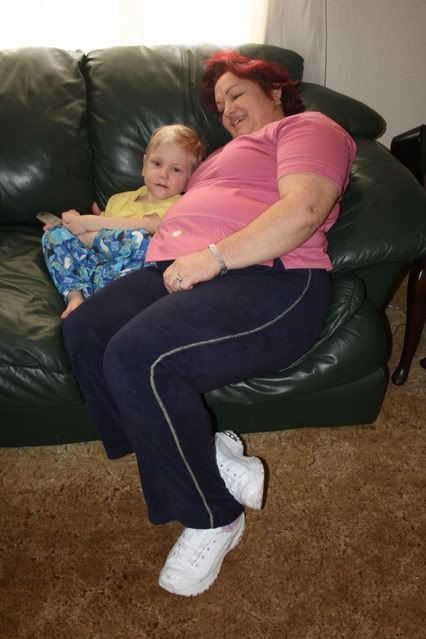 And these are from our dance party we had today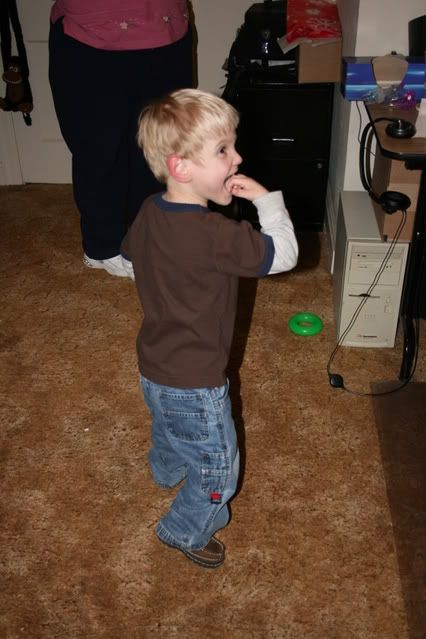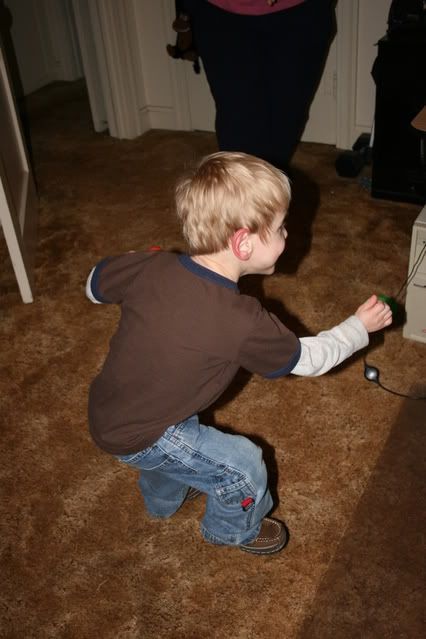 And my new all-time favorite picture